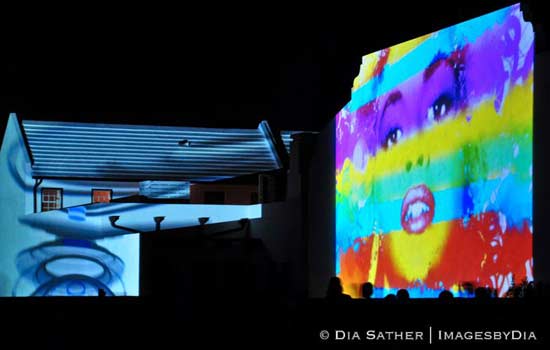 Left: "Take Care" by Matt Pearson, Right: "Bombshell" by Don Relyea at Digital Graffiti 2010 in Alys Beach FL, Photo By Dia Sather, ImagesByDia
I am very excited to be a part of Digital Graffiti 2011 this year! I try to enter this festival every year as it coincides with my usual visit to my Grandmother and is on the way back to Texas from that trip. We were planning to go this year whether or not my work got in but it did, yea!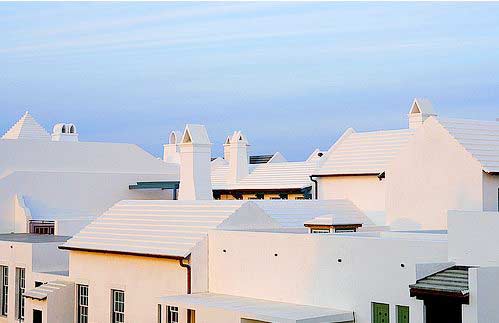 Digital Graffiti is an awesome party, the whole town of Alys Beach is white and during this festival they paint the entire town with spectacular video art! There are Djs around every corner and it is a blast.
Bombshell at Digital Graffiti 2010, Photo by DesignerLife
I will be covering this event in person for Art Digital Magazine as well.
Flowers and Tendrils is my entry for this year's Festival, you can see it in the vimeo video below. I used some of the same flower photographs and scans from Mark Charneski that have used in the Generative Flowers series and ran them through a modified version of my particle painting program done in openframeworks. I made a lot of improvements to the drawing code in this branch which I will definitely need to pull back into the main drawing program.
Flowers with Tendrils Final from Don Relyea on Vimeo.
The music in this video is a track called Singularity which I have been working on for a couple years off and on. This version is good enough for the video, I have been waiting for the perfect soundbite from Ray Kurzweil to incorporate into this track but have yet to find it.
You can right click to download Singulalrity it is an 192kps MP3 file about 11mb.
Below article is reblogged from: 2011 Digital Graffiti Finalists Announced!
2010 DIGITAL GRAFFITI FESTIVAL AT ALYS BEACH FINALISTS
The following works have been selected for display and competition during the 2011 Digital Graffiti Festival at Alys Beach:
"Another Perspective" by Stephanie Thompson of Belford, New Jersey
"Blue Orange" by Polina Zaitseva of Hackensack, New Jersey
"Boyson" by Erin Stevens of Destin, Florida
"changes embedded in nature" by Mathew West of Souix Falls, South Dakota
"DG Kaleidoscopia" by Andy McKewon of Shrewsbury, United Kingdom
"Digital Graffiti 02" by Graffiti Technica of Brisbane, Australia
"Duchamp Spinning Glass" by Francesca Fini of Rome, Italy
"Ebrio" by Amber Bushnell of Missoula, Montana
"Florida Earth/Sky" by Russell Deaton of Fayetteville, Arkansas
"Flowers with Tendrils" by Don Relyea of Dallas, Texas
"FLUX" by Candas Sisman of Izmir, Turkey
"FocusPocus-videoparadox" Albert Laine & Kristina Laine of Helsinki, Finland
"From All Over" by Yandell Walton (credit for animator Tobias J Edwards) of Victoria, Australia
"Helios" by Coral Morphologic aka Colin Foord and Jared McKay of Miami, FL
"Here Be Dragons" by Manuel Barenboim of ValVerde, California
"Interpose" by Shyra DeSouza of Alberta, Canada
"It's Sad, but the Telling Takes Me Home" by Brandon Neubauer of Brooklyn, New York
"Love Will Guide You" by Niky Roehreke of New York, New York
"N1.0" by fuse* of Modena, Italy
"Once More" by Florence Artur of Montreuil, France
"Playground" by Amber Bushnell, Charles Raffety & Charles Nichols
"Reulf" by Tout Court of Paris, France
"Sound Architecture" by Michael Murphy of Milledgeville, Georgia
"Spooker" by David Terranova of Brooklyn, NY
"Sun Beginning" by Linh Lam of Chandler, Arizona
"Tawhirimatea" by Tanya Ruker of New Zealand
"The City Unfolds" by Dmitry Kmelnitsky/Lustre of Venice, California
"The Colorflow" by Jonathan McCabe of Turner, Australia
"The Garden" by Michael Burton of Lincoln, Nebraska
"The Path EYE See" by Russell Beans of Panama City Beach, Florida
"Untitled #76" by Stefan Reibel of Liepzig, Germany
"Veils" by Irene Mamive of New York, New York
"Warm Signal" by Silke Sieler of Hamburg, Germany
"Wrestle" by Ann Carter of Nashville, Tennessee
"Wool and Water" by Lemeh42 of Monterado, Italy
"Yellow Whirl #2" by Marjan Moghaddam of Brooklyn, New York
For the fourth year, Alys Beach is allowing its iconic white walls and understated architecture to be the screens on which innovative digital works of art will be projected at the Digital Graffiti Festival, a juried digital art competition and exhibition. Alys Beach gives artists from all over the world the opportunity to display their original work while competing for $10,000 worth of combined prize money, awarded in five different categories.
The digital works will be evaluated by a panel of esteemed judges with backgrounds involving the arts, film, architecture, and journalism. Among them are Florida's State Film Commissioner, Lucia Fishburne as well as the Museum of the Moving Image in New York City's Assistant Curator of Digital Media, Jason Eppink. Works will be judged in five categories including Best of Show, Judge's Choice, Most Innovative/Experimental Submission, Best Local Submission, and Best Animated Submission.
"We are seeing work that continues to push digital materials in unique ways, allowing for more expressive, even soulful, results. The diversity of work has expanded as well, with submissions coming to us from Turkey, New Zealand and Senegal, to name a few. This year's walls at Alys Beach will see even brighter and more provocative work, building on a global awareness and maturity that makes the festival an important venue for projected art and artists," says Brett Phares, Digital Graffiti Curator for Alys Beach.
The festival will be held from 8:30pm until Midnight on Saturday, June 11th, 2011, rain or shine. Advanced tickets are on sale now by clicking here. Tickets are $20 for adults (12+) and $5 for children (ages 3-12) until May 15th. From May 16 through June 10, tickets are $25 for adults and $5 for children. Any tickets sold at the event gate will be $35 for adults and $10 for children.