One of the things I have been making an effort to do is add femine color schemes to the database of color schemes available to the space filling curve algorithm. This is one of the other generative images created by the buggy version of the program. I am going to print this one for sure I just have not decided whether I will just print one big one for my daughter or a small edition.
I have been diligently tweaking my space filling curve algorithm now for almost 2 years. That is a long time to refine an algorithm but the hard work is really starting to pay off.
I am working on several candidates for prints. Floating Point Error is on the short list. It is titled Floating Point Error because of an error in the program that was causing me to have to fix things in photoshop which I don't like to do. Several of the secondary levels of recursive drawing were 1 pixel off due to a floating point rounding error in the program. I have fixed that error now yielding far more exact results. There are three images I kept that were generated with the error prone version of the program. I'll post at least one of the other two later this week.
More whimisical creatures by Ellen Jantzen

Ellen Jantzen emailed me last week to let me know about a new series of works she has up along the lines of the Anomalies series. She is continuing to make whimsical creatures in a digital surrealist fashion.
I typically do not like most photoshop experimentation, however these works are quite interesting. What gets me about her work is that she is doing all the things that I don't like in a digital work but she manages to pull it off anyways. The center layout, image mirroring, all things I normally do not like, but with these creatures I like it. They are quite nice actually. The new work is in her portfolio section under the heading of Newest Work OCCCA Exhibition.
Victory Media Network launch party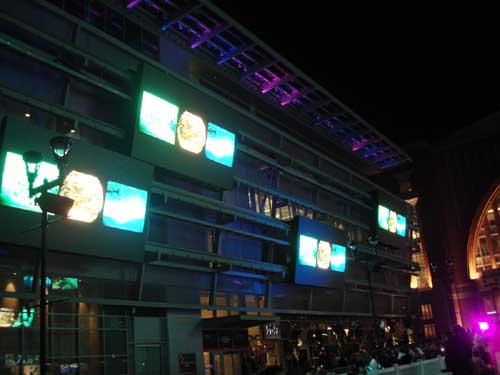 My wife and I went to the Victory Media Network launch party last night. It was impressive. The giant HD screens looked fantastic. This place should be a video art heaven provided it does not get whored out to too much advertising. That said, some of the advertising that they had between the art segments was actually better than some of the video art I saw. The Target ads were particularly well done. My work, Generative Flowers II will not be showing on these screens until some time next week. When I get the schedule I will post it on my main site page.
The entertainment for the evening was Addictive TV from the UK. They put on a very energetic and entertaining set. Their powers of live AV manipulation were impressive. They appeared to be scratching video much like a normal DJ scratches a record.
Real Time Contextual Art Generator video frame export added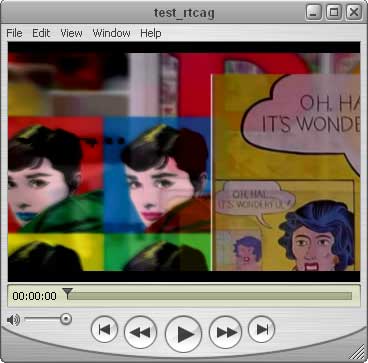 Above video generated with search for
"pop art" and "contextual art"

(click to launch 2.4mb quicktime in new window)
I got up early today and I went ahead and added the video frame export to the Real Time Contextual Art Generator. Now you can generate your own custom contextual video art by simply entering a search query. Download itHERE! (4mb rtcag_1_1_VID_Alpha.zip) ! Please email me( don at donrelyea.com ) with any bugs you find.
To export PNG Video Frames do the following:
1. Enter a Search query, "Billy Idol" for example.
2. Under the Video Mode pulldown menu select on off preview and you should see video moving now.
3. Under the Video Mode pulldown menu select on off render frames and you will be asked to chose a file name and location to save your video frames. The file name will be appended frame numbers automatically.
It is possible to adjust fonts and transparency while it is running. I like it best with maximum transparency, it tends to accidentally make fades and blends.
The Real Time Contextual Art Generator generates art from user entered queries.
Systemic Abstractors vs Pubic Realists on CultureTV


Systemic Abstractors vs. Pubic Realists makes the Culture TV playlist! From Culture TV Email....
Did you miss the first major international exhibition of contemporary urban art at Baltic? Watch the video of Spank the Monkey outdoor bus tour. February 7th Art Rotterdam 2007 will open. For the opening, GRL specially organizes a unique 'one-off' event that puts the spotlight on Art Rotterdam and the direct vicinity in a spectacular way. With their video Interactive Architure you will get a little preview of their performance. And we added two beautifull art videos to our playlist. LOS PIES LIBRES by Grimanesa Amoros and "Systemic Abstractors vs. Pubic Realists" by Don Reyea.
LOS PIES LIBRES by Grimanesa Amoros. "To have naked feet means freedom ("la libertad"). Since I was little I always had the sensation that when I freed myself from shoes, I would also free my body and the voice of my soul." For this reason—to free her soul—, Susana chooses to perform in bare feet so that it will shine through in her voice. Susana's elation is visible in her performance, making it intensely beautiful. Grimanesa Amorós is an interdisciplinary artist with diverse interests in the fields of social history, scientific research and critical theory, which have greatly influenced her work. She was born in Lima, and lives and works in New York City and Peru. Amorós studied at The Art Students League (1984–1988) and Private Ateliers in Lima, Peru (1981–1983).
Spank the Monkey was the first major international exhibition of contemporary urban art. Bridging the gap between traditional art spaces and the street, the show featured twenty-two artists from urban centres across the world. Site-specific, one-off artworks and new commissions were sited in BALTIC and on the streets of NewcastleGateshead. BALTIC Curator Alessandro Vincentelli led the Spank the Monkey outdoor works bus tour.
"Systemic Abstractors vs. Pubic Realists" by Don Reyea is an exploration of conflict within a generative art work. In a traditional drawing, there is evidence of the artists efforts to push and pull the image into place. Artifacts from buildup and erasure contribute to the character of the image and leave the viewer with evidence of a struggle between man and materials. In this art work, program objects fight with one another for control, the image is the evidence of the struggle.
The Graffiti Research Lab will be in Rotterdam from February 7th through the 10th. They're taking control of the Renzo Piano KPN Telecom Building and turning the Kop Van Zuid into the People's Revolutionary Green Laser Light District. They´re turning the 37 x 72 meter screen into a place to display your uncurated animations and graphics. The back-side of the KPN is becoming a giant open wall you can write on with a BFL (big fucking laser). And throughout the week, the G.R.L. will venture outside the green zone on sorties to laser tag and projection bomb the city of Rotterdam on the BORF riot bike.
New sort of ....Don Relyea mp3 tracks...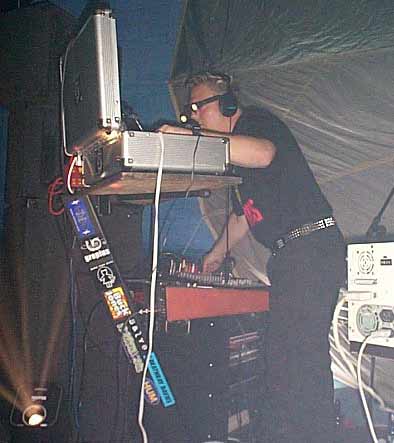 Don Relyea (me) playing live several years ago =)
Well, I completely forgot to post these mp3 songs. They are about 9 months old but better late than never I guess.
The very observant may have noticed them in my flash music player off and on but I never posted them. There are a couple more songs I can't find 128khz versions of so I will have to post them later. I have some new evilcomputergenius downtempo dub stuff coming soon too.

Don Relyea - Serpentine(6.4mb) MP3 100BPM
Progressive | Breaks | Electronica

Don Relyea - Silver Tongue (7mb) MP3 125bpm
Progressive | House | Electronica

Don Relyea - The Longing (7.1mb) MP3 120 BPM
Progressive | House | Electronica

Don Relyea - Komputer Kontrol (6.3mb) MP3 125BPM
Progressive | House | Electronica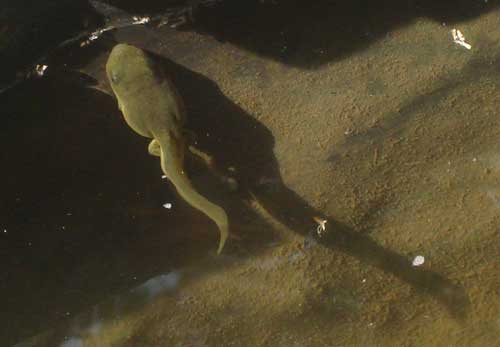 It is springtime again and time to attempt to teach the kids lessons about life and wildlife. So several weeks ago I put some tadpoles into the kids pond hoping to establish some frogs this year.

Frogs, according to the experts I have consulted, typically try to return where they spawned to procreate. This is why no frogs got busy in the pond last year even though the pond is less than 100 feet from a creek that has wild frogs in it.

Many American toads are also in the vicinity and I am hoping one will hop in and discover this pond as well. Unfortunately most of the small toads I see have developed minor deformities, like a small extra limbs sticking out of their heads. I have read that this is a result of pesticides in the water runnoff. I guess its a good thing we only drink bottled water.

So far it looks like only one of those tadpoles has survived, but it appears to be thriving. It has sprouted its back legs and is starting to sprout its front legs. I am really hoping the water snake does not return to the pond before this one completes its transformation.

Dubpocalypse used in Emergency Room PS1 MoMA New York
While poking around the various referers to my webste I noticed that Dubpocalypse was used at some point in Emergency Room at PS1, MoMA, New York during February.

Emergency Room PS1 MoMA New York
Raphaele Shirley, Lee Wells, and Paul Middendorf exhibit new collaborative works and installations for Emergency Room at PS1/MoMA. Raphaele, Lee, and Paul are artists who are specializing in political critique, public interventions and collaborations. Emergency Room is a constantly evolving collaborative exhibition conceived and led by artist Thierry Geoffroy, a.k.a. Colonel. Emergency Room at PS1/MOMA - ER NYC February 8 - March 19 For more information please email paul@galleryhomeland.org or info@ifac-arts.org or visit http://www.perpetualartmachine.org

evilcomputergenius aka Don Relyea - Dubpocalypse (6.9mb) MP3 69BPM
DUB | Dub-Step | Breaks | Electronica Dubpocalypse is also little to busy and breaky for straight up Dub-Step, it is a rework of an older Messian Dread track Apocalypso. I'm pulling the usual tricks of deep subs with heavily filtered bassline halfstep breaks with some double-time dnb breaks over the top. Also some sparse sprinkling of Sci-fi end of the world b-movie samples.



Ars Combinatoria at UCF SFDM brief review


ARS Combinatoria Juried Show curated by Megan Alrutz, Stella Sung, Jeff Wirth, Craig Saper, Matt Roberts and Barry Mauer. Lecture by Professor Artur Matuck, University of Sao Paulo, Brazil, Forum of Scholars and Artists at the University of Central Florida Expo Center (UCF SFDM), Orlando, Florida. March 1-31, 2007
The show is presented by the University of Central Florida school of film and digital media graduate student organization. In particular it was organized by Kristin Powers and Traci Yeager.
Overall the show was very strong but there were definitely some stand outs from the crowd. Paul Stout's work Apparition was really interesting and took first place as it should have. The show was a mixed bag of work from university professors, international artists and grad students.
I came to visit UCF a week after the show opened, by coincidence I had a business meeting in the area. I was really glad I got a chance to go see the show. I had the opportunity to meet Kristin Powers one of the show organizers, she was really nice and enthusiastic about the show and art in general. She was very knowledgeable about all the works in the show.
I did not get to see all the works. Unfortunately there were a few pieces that had to be taken down after the opening for various reasons. Scott Hall's sound installation was being removed for repair although I did get to snag a complimentary promotional CD.
The show runs through the end of the month March 2nd -31st and is available by appointment. Your best bet is to phone the UCF school of film and digital media and ask for Kristin or Traci to set up an appointment. The building access hours are typically M-F 9am-5pm.
Show Honors:
1st Place "Apparition" by Paul Stout
2nd Place "Breathe" by Esther Kelty
3rd Place "Silent Performers by Margaret Noble and Edyta Stepien
HM "Everyday" by Adam Trowbridge, Ron Buffington, and Jessica Westbridge
HM "Unfettered III" by Laurel Lueders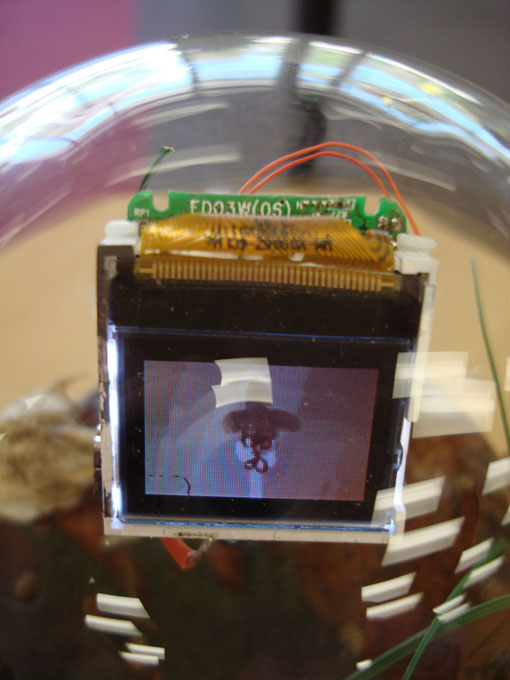 Paul Stout Apparition (close up)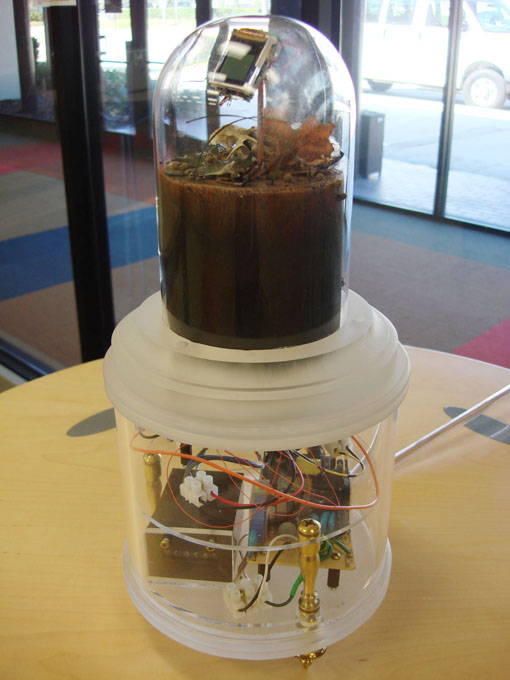 Paul Stout Apparition
Paul Stout's Apparition is really well done. There is a small screen, probably from a cell phone, attached to some electronics encased in a plastic enclosure. On the small screen there is a butterfly that flaps its wings. When the butterfly flaps its wings a counter at the bottom registers every flap. This work was by far and away my favorite of the show and took first place.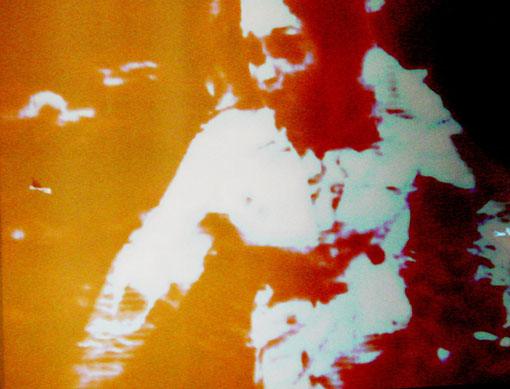 Adam Trowbridge Given the Undead Film
I liked Adam Trowbridge's Given the Undead Film, it has a very campy yet pleasing visual feel. It would go well as a backdrop for a live electronic music performance too. It has a jerky treatment that would go well with breaks and cut up dubbed out music. I really wanted to see Every Day - (Ron Buffington' Jessica Westbrook' Adam Trowbridge), unfortunately someone ran off with the disc when i was there. I bet it is good too.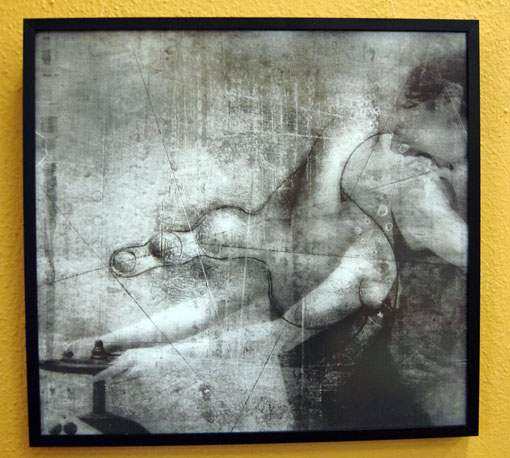 Hyeonjin Kim - Once Upon a Tree Digital Print
Hyeonjin Kim's - Once Upon a Tree was my favorite of the 2d print works. It appears to be a digitally modified black and white photograph. The photos don't do this work justice it is a very rich image.
Kim writes..."Grounded in my reaction to the absurdity in our daily lives' my art is intended as an imaginary arena where flexible boundaries between the real and the unreal can be visualized.My choice of objects/subjects is based on those objects/subjects power to suggest a plurality of meanings shared with the sense of symbol. It is also driven by the common phenomenon of art object seen positioned as parallel to the condition of the human subject. Thus' my work does not deal with real people' but imaginary and symbolic constructions (often in the form of objects as surrogates for fractured existence)' by which personhood might be signified. With this use of the object as symbol of person' I focus on an ambivalence of specific identification of these constructed "people'" reflecting the subject"s unconscious fantasies' in which the self oscillates' within a scene' between positions of subject/person' object' or specter. In my work' fragmented images' which reflect the fragmentation of the 21st century' are put together through multi-layering processes' establishing larger rhythms' conjunctions' and references among the parts. By offering a range of different' but sharable' levels of the visual' I want to invite the audience into a state of suspension where fiction and truth mingle and resemble each other and by what might be called our memories of both inside and outside world"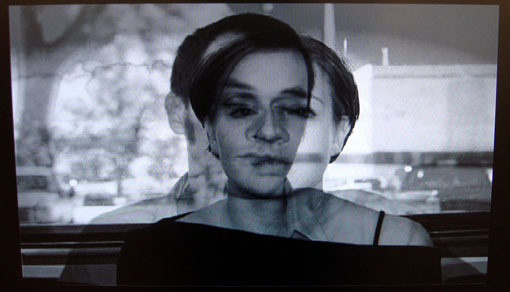 Shreepad Joglekar Oblivion
Shreepad Joglekar's Oblivion is very impressive as well. It was installed on an Imac. Joglekar juxtaposes travelers sitting opposite each other on a bus. Joglekar writes... "When the sequences are overlaid' the identities seem to intersect forming a relationship between the strangers. This silent video reinvents the greatest commonality between us: our mutual oblivion."
I have included several more pictures and more information on the show in a detailed age here: Ars Combinatoria Review. Go check it out if you get a chance.
Spamtrap by Bill Shackelford
Spamtrap, by Bill Shackelford, has to be one of the finest new media art projects I have come across in a while. This project should speak to everyone who gets too much spam.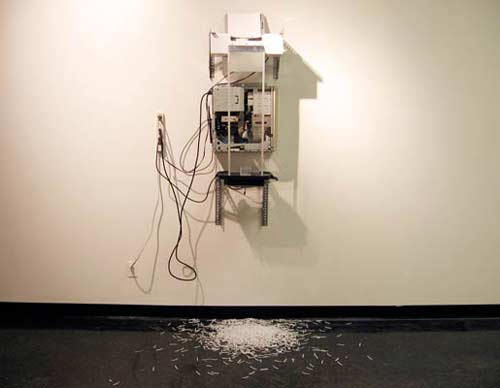 Spamtrap
(from the Bill Shackelford website and blog)

Tear it apart.

Watch the Video Documentation

"Spamtrap" is an interactive installation piece that helps me fine tune my spam email filter. My Spamtrap monitors an email address I created specifically to lure in spam. I do not use this email address for any other communication. I post this email address on websites and online bulletin boards that cause it to be harvested by spambots and then to start receiving spam. Because I know that all email sent to this email address is spam, I can adjust my spam filter to look for characteristics found in those confirmed spam messages when filtering out spam for my personal email account. Click here for more information about Spamtraps.

The installation uses a wirelessly network connected Pentium II computer, personal printer, personal shredder and a Spamtrap email address. When a new spam email is detected by my installation, it automatically prints it out. The printed email slides down a track into the shredder that analyzes it. After the spam email has been analyzed the paper is then recycled.

Spamtrap project page originally from rhizome raw


IP Monochrome by Reynald Drouhin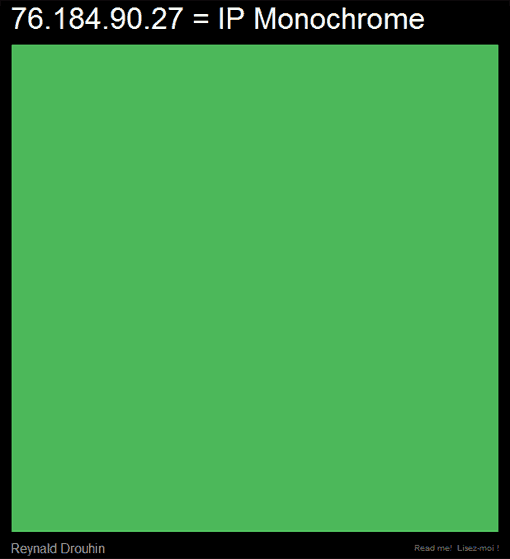 IP Monochrome is an interactive piece in which monochrome is seen as a collective and autonomous piece.

When one connects to Reynald Drouhin's web site, a monochrome is generated, using its IP address. Initially coded in numbers, the IP is transformed in RGB (red-green-blue) values. These values are themselves converted in hexadecimals codes, thus giving a unique individual reference colour to the user. The monochrome is generated immediately on the web site and without visible steps.

Without asking, Reynald Drouhin transforms the user in a creator, in the author of an unknown monochrome, since no one can anticipate the colour that will come out. Depending on the country, the tonality of the monochrome can have similarities, but millions of possibilities exist.

The active memory, which comes out of these connections, is participative and evolving.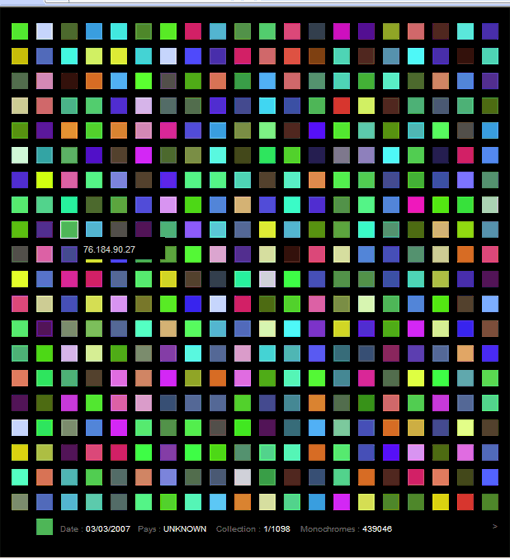 Clicking on one's own monochrome takes you to a griddles mosaic made of multicolour squares. It is a monochrome alignment collection of the previous connection and your own. On the top left corner of your screen, a small sized image your monochrome appears and gives you an access of your monochrome in the context of the network. These colours are fragments representation of all the people who connected before you.

The true digital catalogue of your passing and your own identity on the internet.

An "Other" monochrome

Just like any particles in the ever-growing, immeasurable network, you are identified but not recognized. You belong without controlling. Your colour can be desired or not, you can like it or not, it is yours but you do not possess it. It is enforced on you.
Another monochrome stands next to yours, you meet the other monochrome – in its exact psychoanalytic meaning. You co-exist, even though you might never be next to each other in real life, say in the underground, or in a common space.
Chris Ashley February HTML drawings

So I was reading Chris Ashley's blog and I noticed the image below titled "What kind of fool am I?" There is some really nice applied color theory in this image. The blocks of green are solid colors not gradients. If you stare at the center the blocks of green on the outside appear as gradients due to the way he has the warm and cool colors arranged. Well done.
Aside from the really nice things happening with color in this HTML drawing, I just had to write him and ask if this work was in response to a frustrating Windows Vista install.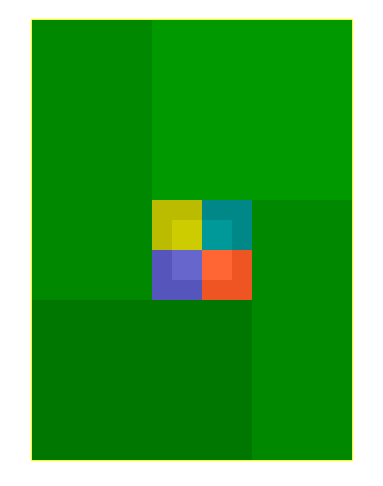 "What kind of fool am I?" by Chris Ashley (above)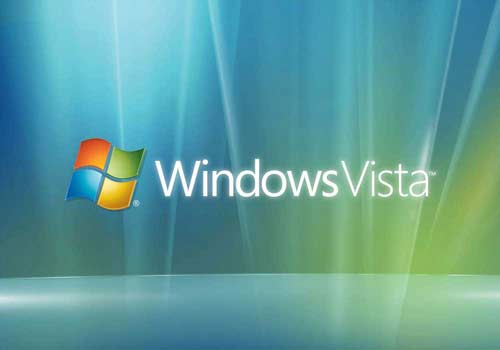 Windows Vista (above)
Chris wrote me back that the similarity in color scheme was total coincidence and that he did not have an unfortunate user experience with a Vista install gone awry.
I had also mentioned that I really liked the images he has posted for the month of February. They are indeed fantastic. Chris wrote back that, "These 28 images were made for a group show in June at Marcia Wood Gallery in Atlanta. The 28 images will be printed and hung in a grid- 7 columns, 5 rows- with each image placed where it would sit on the calendar." So those of you in Atlanta should go check that out for sure!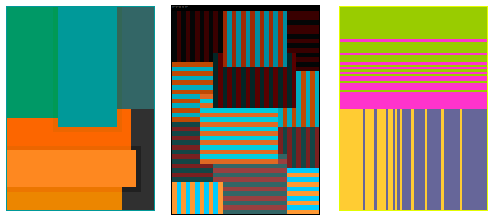 "I Ain't Living Long Like This","A Change Is Gonna Come", "Sabotage" by Chris Ashley
This particular group of images from February are some of my favorites of Ashley's HTML works. But don't take my word for it, go see them for yourself on his blog.
Systemic Abstractors vs Pubic Realists in Ars Combinatoria


Systemic Abstractors vs. the Pubic Realists in ARS Combinatoria Juried Show by Professor Artur Matuck, University of Sao Paulo, Brazil, Forum of Scholars and Artists at the University of Central Florida Expo Center, Orlando, Florida. March 1-31, 2007
The show is presented by the University of Central Florida school of film and digital media graduate student organization.
These video samples of are scaled down from 1080p:
Video sample( 640x360 42mb Quicktime mpeg 4 ) 1 minute 30 secs.
Video sample( 320x240 29mb Quicktime mpeg 4 ) 1 minute 30 secs.
HD 10 second silent clip ( 1280x720 15mb Quicktime mpeg 4)
Abstract:
"Systemic Abstractors vs. Pubic Realists" is an exploration of conflict within a generative art work. In a traditional drawing, there is evidence of the artists efforts to push and pull the image into place. Artifacts from buildup and erasure contribute to the character of the image and leave the viewer with evidence of a struggle between man and materials. In this art work, program objects fight with one another for control, the image is the evidence of the struggle.
Since I just found some more information on this show the other day I figured I would just append it to this post. I am listing the participating artists and the juror information from the ARS Combinatoria site. I am not sure about the accuracy of artists names or titles as mine was listed as Systematic Abstractors vs Public Realists.
Artists:
Esther Kelty - Breathe Installation
Scott Hall - untitled Sound Sculpture
Stephanie Wyatt - Sunlight of the moon Mixed Media
Bonnie Ebner - Untitled Digital Print
Rodger Wolf - Archaemerea Type 3 On Screen
Alexis Block - Image 3 Arylic and Digital Print
Kim Hyeonjin - Once Upon a Tree Digital Print
Laurel Lueders - Unfettered III Digital Print
Matt Dombrowski - Jetty 3 Maya
Caleb Larson - Submission 3 Digital Print
Don Relyea - Systemic Abstractors vs Pubic Realists On Screen
Danny Daneau - I see Film
Joel Weishaus - Traces of the Catacombs
Vanessa Vobis - Body Beast Film
Shreepad Joglekar - Image One On Screen
Aaron Bowles - Alarmclock
Heather Freeman - Logophilia-Metamorphosis Print
Paul Stout - Twenty States of Desire Sculpture
Jessica Westbrook, Adam Trowbridge, Ron Buffington - Everyday Film
Adam Trowbridge - Given the Undead Film
Margaret Noble and Edyta Stepien - Silent Performers Film
Forum and Selection Commitee:
Craig Saper Professor and Coordinator of the Texts and Technology PhD program in the English Department at UCF, is the author of Networked Art (2001) and Artificial Mythologies (1997), both published by the University of Minnesota Press. He has published more than 50 articles and reviews including recent chapters in Directed by Allen Smithee and The Fluxus Reader. He has edited multiple volumes, organized conferences, curated exhibits, and is on the editorial boards of a number of journals . He was previously on the faculty at Indiana and Penn, and since the late 1990s he has served first as the Director of the New Media Center and other administrative positions, and later as Associate Professor at The University of the Arts.
Professor Saper received his Ph.D. in English from University of Florida in 1990.
His academic interests include Digital Rhetoric, Film and Media Studies, Networked Art and Literature.
---
Jeff Wirth has taught interactive performance for Cirque du Soleil, Blue Man Group, Disney, and Universal Studios. He founded and served as Executive Editor of the Interactive/Improv Theatre News, and authored the book Interactive Acting. In addition to being a skilled actor, improviser, and instructor, his diverse background encompasses clowning for the Ringling Brothers Circus, exhibition ballroom dancing, and computer programming.
Mr. Wirth is the Director of the Interactive Performance Lab (IPL), where trained inter-actors perform with non-actors (spect-actors) releasing their natural capacity to become co-creators of live interactive story experiences. IPL continues to develop cutting edge applications supported by digital technology, including StoryBox, a new live-action performance stage inspired by Star Trek's Holodeck; Simu-life, inspired by the movies The Game and The Truman Show; and iRoleplay, which has been described as role play training on steroids. Click here to read more about Jeff
---
Matt Roberts is a new media artist specializing in real-time video performance and new media applications. His work has been featured internationally and nationally, including shows in Brazil, Canada, Argentina, Italy and in the following cities of the United States, New York, Miami, and Chicago. He is the founder of MPG: Mobile Performance Group (http://www.mobileperformancegroup.com), an Assistant Professor of Art and Program Director of Digital Arts at Stetson University ( http://www.stetson.edu). He received his M.F.A. from The University of Illinois at Chicago and lives in Florida, USA.
---
Megan Alrutz is an Assistant Professor of Theatre and the Coordinator of the MFA in Theatre for Young Audiences at the University of Central Florida and the Orlando Repertory Theatre. She earned a Ph.D. in Theatre (with an emphasis in Theatre for Youth) from Arizona State University, and a B.A. in Theatre from Rutgers University. Her creative and scholarly interests focus on using drama to teach across the curriculum, employing drama and digital storytelling to explore voice and identity, and investigating drama-based pedagogy for the university classroom. Megan continues to write and present on using drama to teach elementary science and employing multi-media and devising techniques in community based settings with young people, as well as drama workshops for pre-and in-service teachers. She is the director of Artsbridge UCF, co-managing Editor for ASSITEJ USA's TYA (Theatre for Young Audiences) Today, and was recently appointed as a service-learning faculty fellow for UCF.
---
Stella Sung is a Professor of Music at the University of Central Florida's School of Film and Digital Media. She has also served on the Theory/Composition faculty of the Interlochen Arts Camp, Interlochen, MI. She holds the Bachelor of Music degree (piano performance) from the University of Michigan (Ann Arbor), the Master of Fine Arts degree (composition) from the University of Florida, and the Doctor of Musical Arts degree (piano performance) from the University of Texas at Austin. She has been recognized as a "Distinguished Alumna" and an "Alumna of Outstanding Achievement" from the University of Florida, and has recently received a "Distinguished Achievement Award" from UF. Click here to read more about Stella
---
Barry Mauer earned his doctorate in Cultural Studies from the University of Florida's English Department in 1999. Since 1999, Dr. Mauer has been at the University of Central Florida in Orlando where he now serves as an associate professor. His primary responsibility at UCF is to the Texts and Technology Ph.D . program, which is housed in the English Department. In addition to his work as a teacher and researcher, Mauer also writes and records music. His CDs are available through CDBaby and Amazon.
---
Save as dialogue box failed to save repeatedly when I changed name
> Does not save in layers > Transparency option is great > Render Frames does not save to my documents but to the C Drive > Not enough control in the capturing of video, (tag certain elements to > emphasize would be nice.) > Video captures are not as rich as the renderings. Seem to lack color > and more complicated layering
Lincoln Schatz One Arts Plaza commission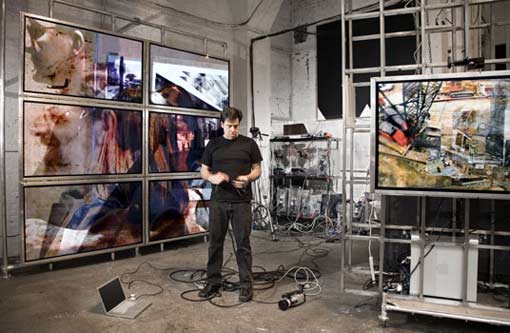 Chicago-based artist Lincoln Schatz in front of the One Arts Plaza commission WIP
As a Dallas resident and a generative artist it is really nice to see all the attention being given to generative art and video art locally. For a long time I used to think Dallas was the cultural armpit of the earth, but it has really changed here over the past several years. Attention to new media and non traditional media is getting to be much more common around these parts. I am looking forward to seeing this installation when it comes here after bitforms gallery.
From Lincoln Schatz site....
Dallas developer Billingsley Company has commissioned a new large-scale interactive work by Chicago-based artist Lincoln Schatz for the entrance of One Arts Plaza, currently under construction in the heart of Dallas' Arts District. The building is situated on the museum campus opposite the Dallas Museum of Art. The artwork is scheduled for installation in March 2007 and will preview at bitforms gallery nyc in January during a solo exhibition including other recent work.
This commission presents Schatz with an opportunity to advance his explorations in the creation of memory and the idea of reality as perception. It will experiment with how reality is defined and whether revisiting an image of oneself on-screen can affect memories of a particular event. Focusing on the phenomenon of how multiple observers can experience the same thing and come away with separate and distinct memories of it, two independent memory works will be installed in the entrance of One Arts Plaza. They will both be born at the same time, establishing their own unique memory of that space over the next eight years.
While standing between the two works, viewers will see themselves on both screens juxtaposed with video memories unique to each screen's perspective on the past. At this point the viewers and the screens enter into a feedback loop whereby the works and viewers are each developing and affecting the others' memories of that point in time.
I ran across a show promo email on Rhizome Raw from member Ellen Jantzen. I clicked to check it out and ended up at her web site clicking around. I was really intrigued by her anomalies series. I have seen these before somewhere although I do not remember where. She describes these as computer manipulated photo assemblages. I really like how fun these images are. My kids like them for sure, particularly these orange creature looking things!
Ellen Jantzen will feature a new body of her digital transformations in the exhibition PAINT + pixels at the Orange County Center for Contemporary Art March 3 - 31.

This exhibition is taking place in three galleries; the front gallery will feature the work of Karin Schminke, the middle gallery the work of Pamela Keilson and the back gallery the work of Ellen Jantzen.

There will be an opening reception to meet the artists on March 3 from 6:30 - 10:00
For further information contact Pamela at pkeilson@pure-art.biz
Ellen's current work can be seen at www.ellenjantzen.com
Karin's work can be seen at www.schminke.com
Pamela's work can be seen at www.pure-art.biz
Real Time Contextual Art Generator video frame export added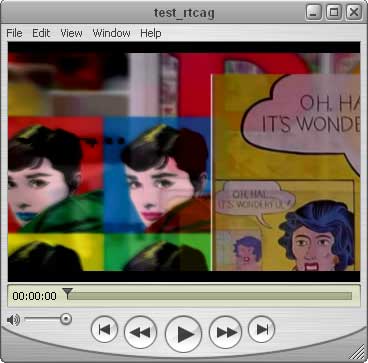 Above video generated with search for
"pop art" and "contextual art"

(click to launch 2.4mb quicktime in new window)
I got up early today and I went ahead and added the video frame export to the Real Time Contextual Art Generator. Now you can generate your own custom contextual video art by simply entering a search query. Download itHERE! (4mb rtcag_1_1_VID_Alpha.zip) !
To export PNG Video Frames do the following:
1. Enter a Search query, "Billy Idol" for example.
2. Under the Video Mode pulldown menu select on off preview and you should see video moving now.
3. Under the Video Mode pulldown menu select on off render frames and you will be asked to chose a file name and location to save your video frames. The file name will be appended frame numbers automatically.
It is possible to adjust fonts and transparency while it is running. I like it best with maximum transparency, it tends to accidentally make fades and blends.
The Real Time Contextual Art Generator generates art from user entered queries.
Real Time Contextual Art Generator 1.1 alpha update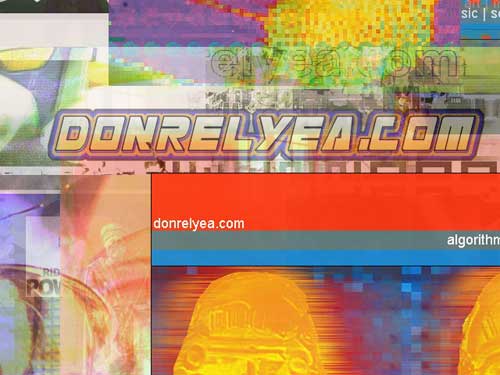 Above layout generated with vanity search for

Don Relyea



Due to changes in Google Images much of my Real Time Contextual Art Generator project was broken. This is an older project of mine originally released in 2004. It scrapes Google image search results and uses them in a layout it throws together much like a collage. The shockwave preview was broken and the main executable broke just recently.

So I have fixed the shockwave preview and I have updated the executable! Download it here(4mb RTCAG_1_1_alpha.zip)!

There are still some bugs in exe but they will get worked out soon hopefully. Thanks to Kai Griebenow for the bug report.

The Real Time Contextual Art Generator generates art from user entered queries.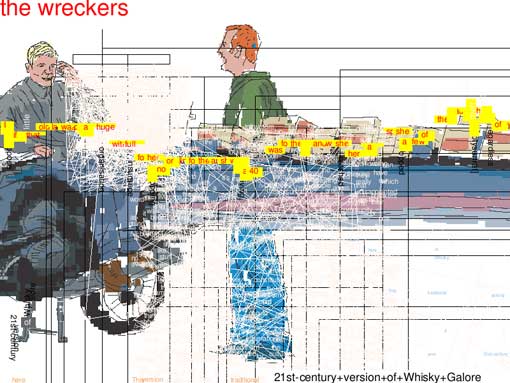 Dave Miller: the wreckers

Miller writes from Rhizome Raw.....
The wreckers is an online tool which generates a collaborative networked illustration on a specific issue - the recent story of the looting of goods washed ashore from the grounded container ship MSC Napoli on the Devonshire coast.

Each illustration aims to project an objective/ rounded view of the subject. I do this by mixing live public comments with my drawings.

There are two sets of comments being pulled into the picture: a BBC 'Have your say' RSS feed on the subject of the wreckers, and the user comments posted on the wreckers website. The comments support or conflict with each other - there's a debate going on within the picture. This mix aims to make the work more relevant/ connected to the subject, but also to give rise to chance forms and connections that can make interesting pictures, with chance unintended meanings.

The RSS feed and user comments are converted into shapes, so all the forms in the picture are built dynamically by the data.

Miller invites everyone to participate and generate their own pictures - there is an option to print at postcard size at 300dpi. The more participators, the richer the work becomes, as all user comments are integrated into the generated pictures.

About Miller's work:
"I'm interested in democratising art creation, and believe that by making my work open I can make it more interactive, relevant and richer."

"The core of my work is illustrated stories: satirical and socio-political - using traditional media as well as online and networked media. My works aim to exploit the online medium, especially: collaborative, networked, computer generated. This work is a progression of my past recent works which integrate networked data into stories and illustrations."
Also be sure check out Dave Miller's Art Blog


Micro Modernist Google Gadget added to the Rhizome ArtBase
The Micro Modernist Google Gadget was just added to Rhizome artbase!


The Micro Modernist Google Gadget generates a unique image for you every time you load your customized Google home page. You can click on the applet to generate a new image. The Micro Modernist requires the Shockwave plug-in and a customized Google home page.

The Micro Modernist Google Gadget uses generative and systemic processes to create the image. Each image is unique and created for that instant in time. First the program loads a lookup table of color palettes from a database of palettes generated from actual artists works (Josef Albers for example). The engine then generates a 3d virtual world, populates it with primitive objects and assigns them shaders from the loaded palette. This handles of the general layout and also creates some volumetric shapes and lines that can work their way into the design.


The program then extracts the image from the 3d objects. A decision tree determines how the image is deconstructed and reconstructed. The decision tree spawns graphic layers in memory much like layers in Photoshop and manipulates them before merging them into one image layer. The layered process iterates a couple of times arbitrarily choosing various manipulations, systemic reductions and effects. All resulting layers are arbitrarily assigned a stacking order and then they are merged. Finally vector shapes are drawn in the foreground and the graphic generation process is complete.

When the graphic processes are complete, the The Micro Modernist creates a title by combining a noun, an adjective and a random number attempting in futility to assign meaning to the work. While this is a trivial task to program it is an important step in the process of creating a modernist work since modernism seeks to make sense out of the senseless and impose meaning through art where there is none.
Html Portrait of Casey Hess 1997

|||||||||||||||||||||||||||||||||||||||||||||||||||||||||||||||||||||||||||||||||||||||||||||||||||||||||||||||||||||||||||||||||||||
|||||||||||||||||||||||||||||||||||||||||||||||||||||||||||||||||||||||||||||||||||||||||||||||||||||||||||||||||||||||||||||||||||||
|||||||||||||||||||||||||||||||||||||||||||||||||||||||||||||||||||||||||||||||||||||||||||||||||||||||||||||||||||||||||||||||||||||
|||||||||||||||||||||||||||||||||||||||||||||||||||||||||||||||||||||||||||||||||||||||||||||||||||||||||||||||||||||||||||||||||||||
|||||||||||||||||||||||||||||||||||||||||||||||||||||||||||||||||||||||||||||||||||||||||||||||||||||||||||||||||||||||||||||||||||||
|||||||||||||||||||||||||||||||||||||||||||||||||||||||||||||||||||||||||||||||||||||||||||||||||||||||||||||||||||||||||||||||||||||
|||||||||||||||||||||||||||||||||||||||||||||||||||||||||||||||||||||||||||||||||||||||||||||||||||||||||||||||||||||||||||||||||||||
|||||||||||||||||||||||||||||||||||||||||||||||||||||||||||||||||||||||||||||||||||||||||||||||||||||||||||||||||||||||||||||||||||||
|||||||||||||||||||||||||||||||||||||||||||||||||||||||||||||||||||||||||||||||||||||||||||||||||||||||||||||||||||||||||||||||||||||
|||||||||||||||||||||||||||||||||||||||||||||||||||||||||||||||||||||||||||||||||||||||||||||||||||||||||||||||||||||||||||||||||||||
|||||||||||||||||||||||||||||||||||||||||||||||||||||||||||||||||||||||||||||||||||||||||||||||||||||||||||||||||||||||||||||||||||||
|||||||||||||||||||||||||||||||||||||||||||||||||||||||||||||||||||||||||||||||||||||||||||||||||||||||||||||||||||||||||||||||||||||
|||||||||||||||||||||||||||||||||||||||||||||||||||||||||||||||||||||||||||||||||||||||||||||||||||||||||||||||||||||||||||||||||||||
|||||||||||||||||||||||||||||||||||||||||||||||||||||||||||||||||||||||||||||||||||||||||||||||||||||||||||||||||||||||||||||||||||||
|||||||||||||||||||||||||||||||||||||||||||||||||||||||||||||||||||||||||||||||||||||||||||||||||||||||||||||||||||||||||||||||||||||
|||||||||||||||||||||||||||||||||||||||||||||||||||||||||||||||||||||||||||||||||||||||||||||||||||||||||||||||||||||||||||||||||||||
|||||||||||||||||||||||||||||||||||||||||||||||||||||||||||||||||||||||||||||||||||||||||||||||||||||||||||||||||||||||||||||||||||||
|||||||||||||||||||||||||||||||||||||||||||||||||||||||||||||||||||||||||||||||||||||||||||||||||||||||||||||||||||||||||||||||||||||
|||||||||||||||||||||||||||||||||||||||||||||||||||||||||||||||||||||||||||||||||||||||||||||||||||||||||||||||||||||||||||||||||||||
|||||||||||||||||||||||||||||||||||||||||||||||||||||||||||||||||||||||||||||||||||||||||||||||||||||||||||||||||||||||||||||||||||||
|||||||||||||||||||||||||||||||||||||||||||||||||||||||||||||||||||||||||||||||||||||||||||||||||||||||||||||||||||||||||||||||||||||
|||||||||||||||||||||||||||||||||||||||||||||||||||||||||||||||||||||||||||||||||||||||||||||||||||||||||||||||||||||||||||||||||||||
|||||||||||||||||||||||||||||||||||||||||||||||||||||||||||||||||||||||||||||||||||||||||||||||||||||||||||||||||||||||||||||||||||||
|||||||||||||||||||||||||||||||||||||||||||||||||||||||||||||||||||||||||||||||||||||||||||||||||||||||||||||||||||||||||||||||||||||
|||||||||||||||||||||||||||||||||||||||||||||||||||||||||||||||||||||||||||||||||||||||||||||||||||||||||||||||||||||||||||||||||||||
|||||||||||||||||||||||||||||||||||||||||||||||||||||||||||||||||||||||||||||||||||||||||||||||||||||||||||||||||||||||||||||||||||||
|||||||||||||||||||||||||||||||||||||||||||||||||||||||||||||||||||||||||||||||||||||||||||||||||||||||||||||||||||||||||||||||||||||
|||||||||||||||||||||||||||||||||||||||||||||||||||||||||||||||||||||||||||||||||||||||||||||||||||||||||||||||||||||||||||||||||||||
|||||||||||||||||||||||||||||||||||||||||||||||||||||||||||||||||||||||||||||||||||||||||||||||||||||||||||||||||||||||||||||||||||||
|||||||||||||||||||||||||||||||||||||||||||||||||||||||||||||||||||||||||||||||||||||||||||||||||||||||||||||||||||||||||||||||||||||



Generative HTML portrait of Casey Hess by Don Relyea 1997
While cleaning up some junk on my servers I found one of my early generative art works. It was made using a bitmap to html generator script I made back in 1996-1997 for the web site of The Jump Rope Girls, a band for which I had just become a member.
I remember Casey joking around about me joining the band. He said, "Sure why not? Every band needs it's own computer programmer."
AltGeo : Curated by Douglas Witmer

Chris Ashley just sent me this evite for an upcoming group show he is in. This looks like an exciting show. Be sure to check out the artist links as the bottom of this post, they are all really nice and well suited to a group show. I really like James Erikson's big paintings, also Tim McFarlane's work looks really interesting.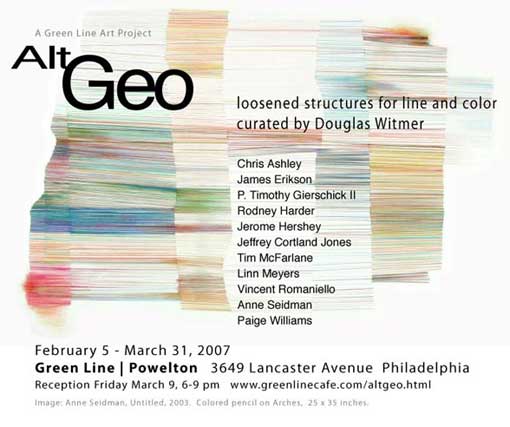 AltGeo: loosened structures for line and color Curated by Douglas Witmer

"AltGeo" brings together eleven nationally-recognized artists, and includes a new one-of-a-kind wall drawing done on site by Washington-based artist Linn Meyers.
February 5 - March 31, 2007
Reception Friday March 9, 6-9pm

Green Line | Powelton
3649 Lancaster Avenue Philadelphia
215-222-3431
http://www.greenlinecafe.com/altgeo.html
Explore the artists's work:
Chris Ashley
James Erikson
P. Timothy Gierschick II
Rodney Harder
Jerome Hershey
Jeffrey Cortland Jones
Tim McFarlane
Linn Meyers
Vincent Romaniello
Anne Seidman
Paige Williams
Douglas Witmer, exhibition curator

Well, the 005 version of the Reductionizer is coming along more slowly than previously anticipated. I am having some issues with the table background image features.
The image above looks somewhat nice. However, that is not how it is supposed to look. The table background image is signifigantly out of alignment and scale from the wyswig view. I know how to fix this problem and I am working on it. I had really hoped to have the 005 update released by now and I apologize to anyone who is waiting for it. Once the background image bug is fixed and a bug with the reduction slider is fixed it will be ready for release.
Chuck Close and Brian Fridge at Dunn and Brown Contemporary

Last Saturday I went gallery hopping with my daughter Sophie. We had a fantastic time and I learned a lot about what she likes and dislikes. We went to see the 500x Gallery's Expo 2007 show (review archived here) and the Chuck Close and Brian Fridge shows at Dunn and Brown Contemporary.
My daughter is very opinionated and clearly likes some types of art over other types. She was really creeped out by the Chuck Close exhibit and disliked even being in the same room with it. The larger than life portraits may have simply rubbed her the wrong way or melted her 3.5 year old brain, but nevertheless she much preferred Brian Fridge's work. Even at the time of this writing she saw the photos on this post and mentioned that it was the art she didn't like from last Saturday.
I liked Brian Fridge's work and I was also very impressed with Chuck Close's big prints.
I was really excited to get to see Chuck Close's work up close and in person. I have seen it in books and on web sites for some time and I can see how people who have not seen his work in person dismiss his work as somehow being digital or involving digital processes. After inspecting his works close up I could see how I would code a Chuck Close art generator, but I could also see that clearly he uses no digital processes in his work. He is clearly aware of modern printing processes and digital processes too, but he emulates them by hand.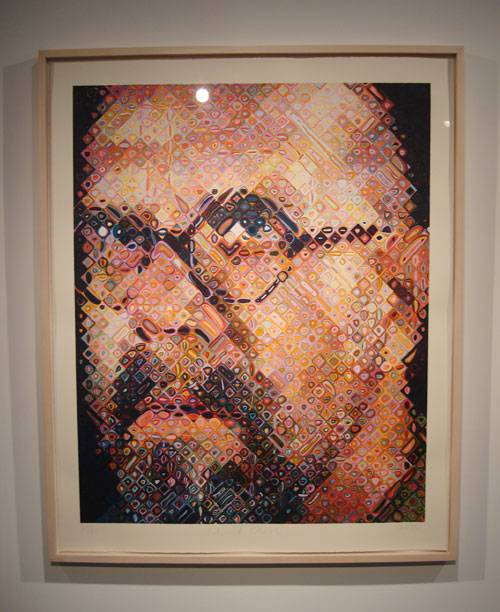 Self Portrait, 2000, Chuck Close

From a distance Close's portraits look almost like photos of people through a shower door. The further you get away from the portraits the more photo realistic they appear. As you approach them they begin to appear more and more abstract.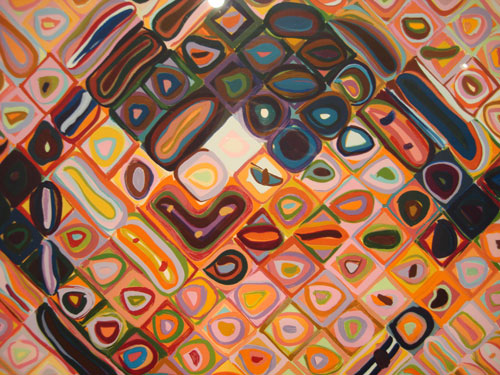 Self Portrait, 2000, Chuck Close (detail of right eye)

Upon further inspection you can see that Close is using some nice color tricks combined with your eyes internal ability perceive and blend colors at a distance. As you move away from his portraits your eye averages and blends the colors much like it does when you look at printed halftone pattern image in a newspaper color photo. In fact, Close has emulated cmyk printing processes in the past so this may be exactly what he is doing here.
From the Dunn and Brown press release....."The exhibition consists of nine portraits; three large-scale color silkscreen prints, two large-scale black and white stenciled handmade paper prints and four smaller black and white linoleum etchings and Ukiyo-E woodcuts. Alex Katz, Lucas Samaras, James Siena, Lyle Anton Harris, and Chuck Close himself are among the many faces that line the gallery walls. Featuring images from 1991 to 2006, Chuck Close shows an evolution of Close's various innovative printmaking techniques. As a master printmaker, Chuck Close devotes more labor and time to his prints than to all other mediums. While a painting may take him months to complete, a single print can take up to two years. Close has often referred to his admiration of the complex printmaking process as well as his respect for the close collaboration required to make a finished product. The significant relationships that he has developed with printmakers across the world has proved helpful since a spinal artery collapse left him paralyzed at the peak of his career. With limited mobility in his arms and hands, Close has forged ahead and remains a progressive painter, printmaker, and photographer in today's art world."
Brian Fridge's work kept Sophie interested for some time. She did not want to leave his work when it was time to go. Her favorite was his Sequence 4.3 (pictured below). In Sequence 4.3 the bright spots move very slowly and seemingly randomly over the orange background. From the press release..."The scattered spots (appearing like suns or reflections of some other phenomena) form a symmetrical constellation for a brief moment and then move apart, their pre-programmed history determined." The symmetrical constellation is a recurring theme in some of his other prints as well.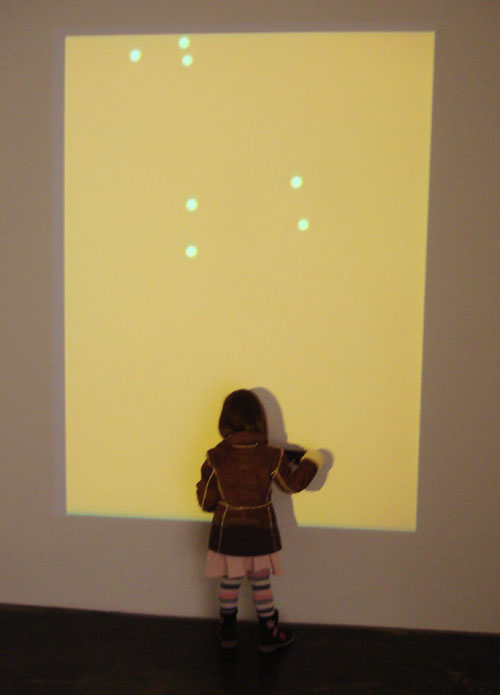 Sequence 4.3, Brian Fridge
Also from the Dunn and Brown press release on Brian Fridge...."The series of photographs and video frame space and time with psychological and metaphysical significance. Place and passage are rendered symbolic through monochromatic color and figure/ground pictorial devices. "

If you are in town you want to go see these shows. Dunn and Brown Contemporary is open to the public Tuesday through Saturday from 11:00 am until 5:00 pm and by appointment. These shows run through February 10th.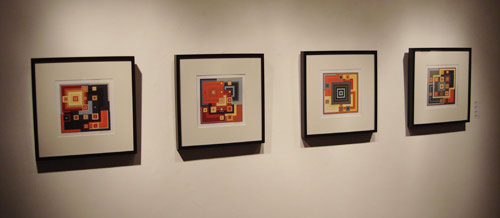 The 500x Expo 2007 opening was surprisingly packed considering the icy weather on the opening evening. The opening almost didn't happen due to weather and the Juror was unable to make the drive from Fort Worth. I was able to meet and chat with lots of people. My wife and I had a really good time. All of the work there was fantastic. Unfortunately not all of my pictures turned out, including the pictures of my own work (see fuzzy pictures above grrr!).
All four of my entries from the WC68-69 series made it in and they looked much better in real life than the photos let on. The show runs through mid February and you should check it out if you are local.
Eric Blake's for Proof of Concept took the first prize, my photos of his video projection did not turn out. It is an interesting piece. I did not get to watch all of it since it was in a small darkened room and there were a lot of people in there when we tried to get in. It looked like video from a mounted camera inside the cab of a commercial truck driving around town. I'm looking forward to finding out more about this work at the artist talk next Saturday (January 27th at 4 PM ).






Austin Turley, Lorena Garza, Miryam Prodanovic, Teresa Nelson and Mary Benedicto
Pictured above are just a few of the works that made it in the show. I really liked Austin Turley's painting, there is a nice texture to it that the photo did not capture well. Lorena Garza's painting reminds me of my uncle's work from the 60's.
The Project Room features Jim Burton and Andy Holtin: Insecurity. While this installation was not part of the juried show it is a fun conceptual installation. The room has 3 large oversized wooden faux cameras that move every so often. When a camera moves it makes an exagerated mechanical sound drawing your attention. Through a cracked doorway in the back there is a table and chair in a darkened room. On the table you can see a monitor featuring a video loop of the project room as seen by the cameras. The video loop appears to be a pre-recorded loop leaving the viewer with an intentional disconnect. Insecurity manipulates the viewer in a clever way. There is a subtle humor to this work that I really like a lot.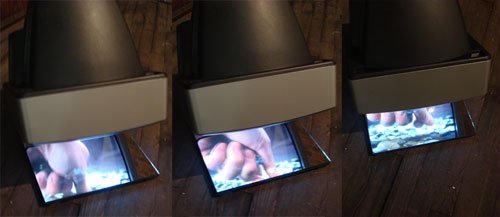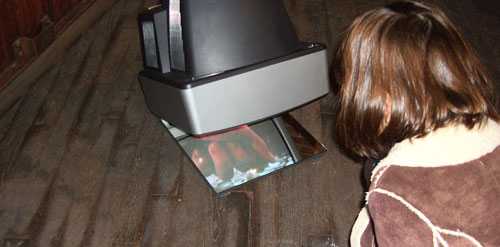 My Daughter Sophia is intrigued by Serena Lin Bush's video installation (pictured above). It is a video loop of a hand picking up stones and placing them back down. The video is visible only via a mirror placed on the ground under the TV. The stones made pleasant clicking noises. The sounds of the stones were what grabbed my attention initially. I really liked this installation, it is small and unassuming but pulls the viewer in.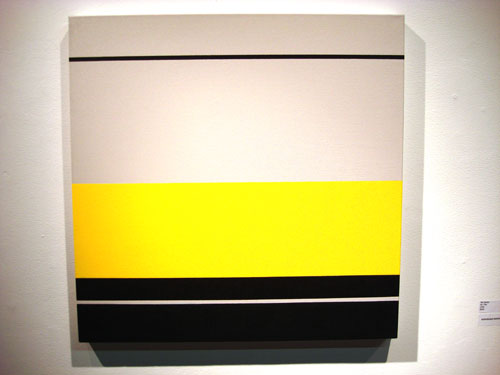 My personal favorites of the show are Bill Barter's works (1 pictured above). His work is notoriously minimal but most excellent. If you do not know the title of one of Barter's works it is usually safe to say its untitled. Every work I have every seen by him and all of the works on his site are untitled or no title. He has two pieces in the show and received an honorable mention by the juror.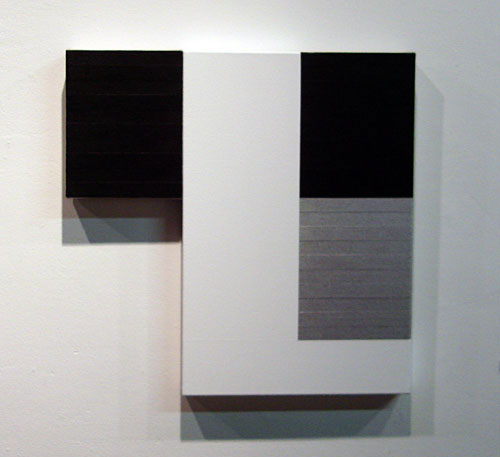 My wife's favorite of the show is Lane Banks work (pictured above). Banks employs mathematical procedures in his work and is also a favorite of mine. His work is also in the DFW airport and Neiman Marcus locally.
Banks writes on his site..."Every element in the work has a precise mathematical relationship to all the other elements as well as the outer framing edge of the entire work. This may be a whole number ratio, such as 1:2, or a fractional one, such as 1: ½. Mathematics are employed to eliminate as much as possible subjective decision making and to emphasize order and universal, stable principles."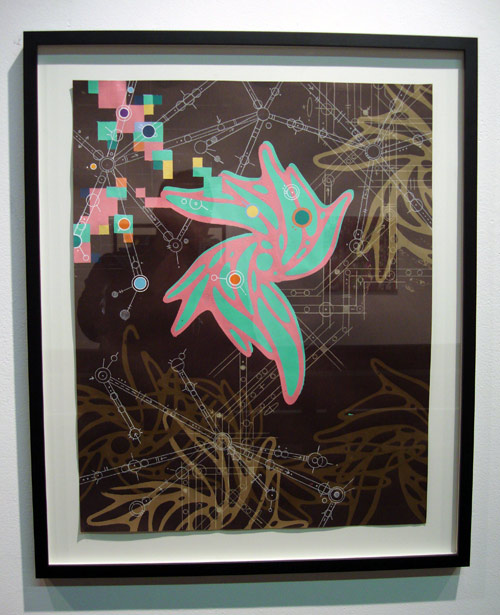 My Daughter Sophia's favorite piece is by Kiki Ishihara (pictured above). Unfortunately I can not find much information on this emerging artist. Ishihara had at least one other piece in this show and both are very well done. Both works feature a contrast of organic shapes with what look like techno robotic appendages. Nice work.
In addition to Ishihara's and Lin Bush's works Sophia also likes Jesse Meraz's work but that photo did not turn out. She mentioned Mary Benedicto's upstairs piece as a favorite (pictured in thumbnails at top of post).
Congratulations to the Expo 2007 Award winners-- Juror Dr. Frances Colpitt
1st place: Eric Blake for Proof of Concept, (2006)
video performance, digital projection
2nd Place: Richard Martinez for Splice II, (2005)
oil on canvas
3rd Place: Monica Vidal for A good day for Susan, (2006)
gouache on paper
Honorable Mention Awards:
Andy Amato for Bound to Inherit (2006) assemblage
Bill Barter for No Title (2006) oil on canvas
Jesus De La Rosa for Cluster (2006) mixed media
Saturday, January 27th at 4 PM Artist Talk
Juror Dr. Frances Colpitt will lead a discussion regarding the current exhibition, EXPO 2007.
I am still working on the 005 release of the reductionizer. I have 5 more bugs to fix before I can release this new version and I hope to have it ready soon. I have included some screenshots of the reductionizer in action with the new popup eyedropper tool that can be used to define document level properties such as page background color, table background color etc. This allows the artist to draw in table cells over the colored background in some cases reducing file size.
Notice that a lot of the funtionality has been moved into pulldowns in the title bar. All the tool windows and property windows can be hidden and opened again.
Later today I planning to take my daughter to the Chuck Close and Brian Fridge exhibit at Dunn and Brown and back to the 500x gallery to see the show there. I am planning to post a review of the 500x Expo 2007 show and some pictures of some of our favorites.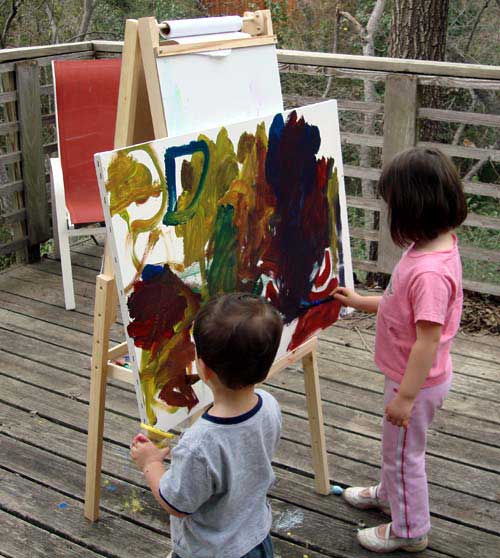 Sunday I had a spectactular time setting up my kids with paint and painting supplies out on the back deck. They had even more fun and filled the canvas. They were totally covered with paint by the end of the afternoon.
Sorry for the pause in posting. I just got a new computer last week and only recently managed to get all set up. ARS Combinatoria review with pictures coming soon!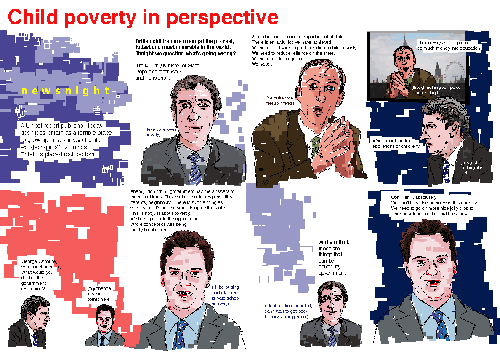 illustration by Dave Miller
"The UK has been accused of failing its children, as it comes bottom of a league table for child well-being across 21 industrialised countries." according to a BBC article. Dave Miller (whose blog I read) watched the UK politicians debate the issues and writes.."I felt angry: the politicians don't listen and look for excuses, they seem disinterested and disconnected, why should they care- their kids go to private schools, they went to private schools, they're unqualified to do these jobs, they have no interest in kids, they are discussing lives/ worlds they have no contact with or understanding, they just think of themselves."
This is sad but the same thing rings true here in the US where we only rank one notch higher in the UNICEF study than the UK. The polticians here don't care either. They campaign based on popularity polls not the issues and change their goals from what they promise the people to what they promised their campaign contributers as soon as they get into office.
I have 3 kids now and they get plenty of loving and nurturing, but it is a constant concern of mine how I am going to afford to get them the kind of education they deserve. The public school system in the US is a joke and the school system in Texas is ranked among the worst of the school systems in the US. Our current plan is to suck it up and save for private schools, my wallet says ouch!
It is amazing to me with the vast amount of tax dollars the govenment gets from us that they can't get the school system right. We are supposed to be a world super power but our schools can't afford advanced math, advanced science, art programs, bi-lingual or physical education programs. It is maddening.