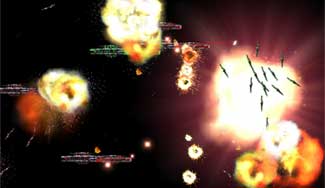 Space Battle Screensaver 1.1
The Space Battle 1.1 Screensaver has finally been released! New for 2006 now supporting dual monitor configurations!
See two opposing space stations unleash devastating attacks against each other in an infinite unrelenting Sci Fi battle of epic proportions. Watch squads of fighters attack destroyer class ships and the survivors regroup with other fighters to form new squads.
I am a video game programmer and application designer by trade. I like solving math and physics problems and creating animated simulations. This Screensaver uses fascinating flocking and herding behaviors to manipulate the fighter squads realistically! No battle is the same!
This Screensaver features amazing pyrotechnic displays and fantastic explosions! Version 1.1 now with speed optimizations and improved star field generation.
This screensaver will scale to fit your monitor resolution on its own. Screensaver should work on 2 monitors now!.
Requires a color monitor and screen resolution of 800x600 or higher. Pentium III 1ghz or higher recommended with 20mb of free ram.
Free Space Battle 1.1 installer(6mb Windows only).