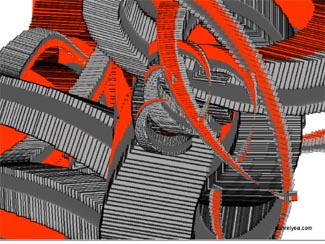 Algorithmic Art Screensaver var08

This screensaver is similar to my very old yet popular neo-futurist art generator shockwave movie done way back in 1995. That work was partially inspired by the Italian Futurist Cubist art movement. This work is based on an interactive art work inspired by the neo-futurist art generator.
Requires a color monitor and screen resolution of 640x480 or higher. Pentium III 600mghz or higher recommended with 5mb of free ram.
Algorithmic Art Screensaver var08(2mb Windows only).
You can support me by linking to this site!