ARS Combinatoria Juried Show curated by Megan Alrutz, Stella Sung, Jeff Wirth, Craig Saper, Matt Roberts and Barry Mauer. Lecture by Professor Artur Matuck, University of Sao Paulo, Brazil, Forum of Scholars and Artists at the University of Central Florida Expo Center (UCF SFDM), Orlando, Florida. March 1-31, 2007
The show is presented by the University of Central Florida school of film and digital media graduate student organization. In particular it was organized by Kristin Powers and Traci Yeager.
Overall the show was very strong but there were definitely some stand outs from the crowd. Paul Stout's work Apparition was really interesting and took first place as it should have. The show was a mixed bag of work from university professors, international artists and grad students.
I came to visit UCF the week after the show opened, by coincidence I had a business meeting in the area. I was really glad I got a chance to go see the show. I had the opportunity to meet Kristin Powers one of the show organizers, she was really nice and enthusiastic about the show and art in general. She was very knowledgeable about all the works in the show.
I did not get to see all the works. Unfortunately there were a few pieces that had to be taken down after the opening for various reasons. Scott Hall's sound installation (Scultura Sana 5) was being removed for repair while I was there, although I did get to snag a complimentary promotional CD. The installation was pretty interesting though, a modified black cooler with internal and external speakers and a little boom box inside. Apparently it was overheating. The CD sounds good too, although I have only had time to listen to short excerpts.
The show runs through the end of the month March 2nd -31st and is available by appointment. Your best bet is to phone the UCF school of film and digital media and ask for Kristin or Traci to set up an appointment. The building access hours are typically M-F 9am-5pm.
Show Honors:
1st Place "Apparition" by Paul Stout
2nd Place "Breathe" by Esther Kelty
3rd Place "Silent Performers by Margaret Noble and Edyta Stepien
HM "Everyday" by Adam Trowbridge, Ron Buffington, and Jessica Westbridge
HM "Unfettered III" by Laurel Lueders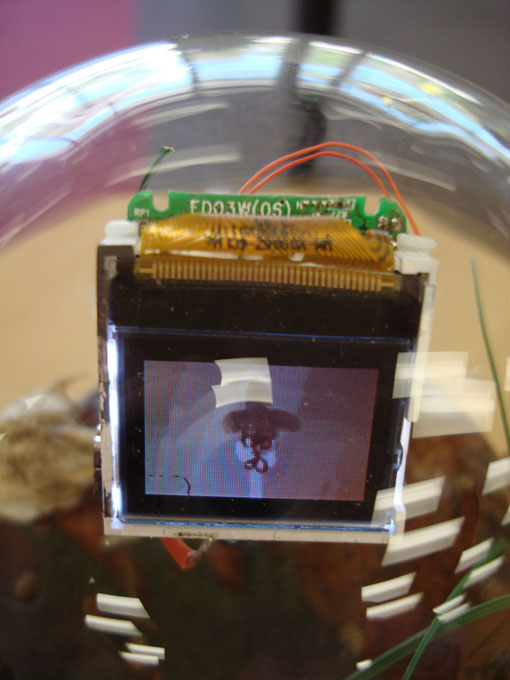 Paul Stout Apparition (close up)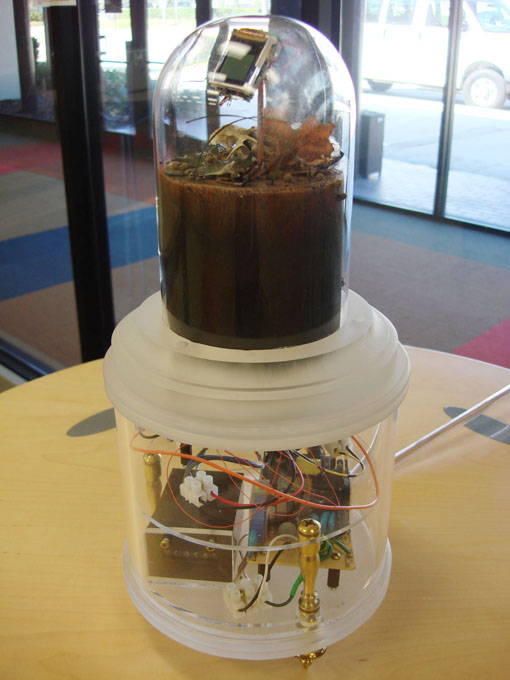 Paul Stout Apparition
Paul Stout's Apparition is really well done. There is a small screen, probably from a cell phone, attached to some electronics encased in a plastic enclosure. On the small screen there is a butterfly that flaps its wings. When the butterfly flaps its wings a counter at the bottom registers every flap. This work was by far and away my favorite of the show and took first place.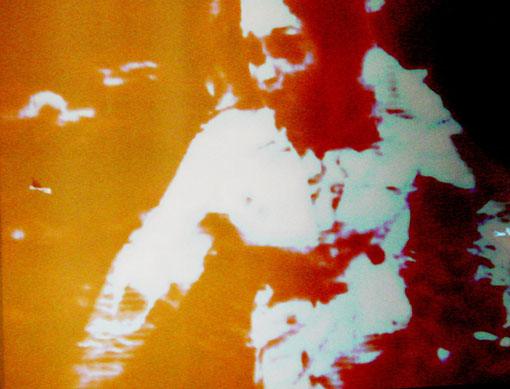 Adam Trowbridge Given the Undead Film
I liked Adam Trowbridge's Given the Undead Film, it has a very campy yet pleasing visual feel. It would go well as a backdrop for a live electronic music performance too. It has a jerky treatment that would go well with breaks and cut up dubbed out music. I really wanted to see Every Day - (Ron Buffington' Jessica Westbrook' Adam Trowbridge), unfortunately someone ran off with the disc when i was there. I bet it is good too.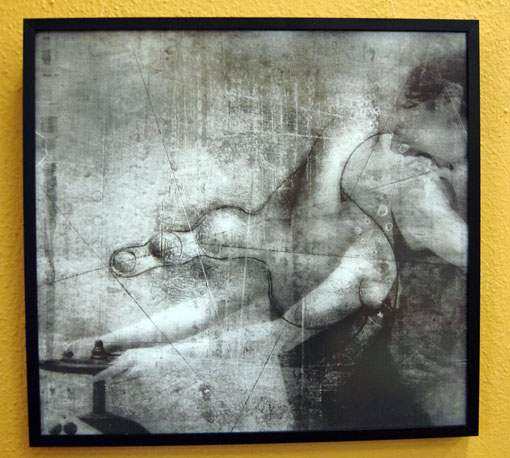 Shreepad Joglekar untitled Print
Shreepad Joglekar's - untitled Print was my favorite of the 2d print works. It appears to be a digitally modified black and white photograph. The photos don't do this work justice it is a very rich image.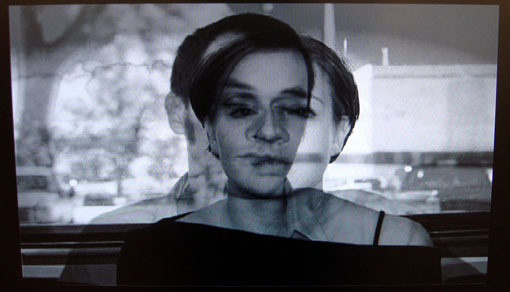 Shreepad Joglekar Oblivion
Shreepad Joglekar's Oblivion is very impressive. It was installed on an Imac. Joglekar juxtaposes travelers sitting opposite each other on a bus. Joglekar writes... "When the sequences are overlaid' the identities seem to intersect forming a relationship between the strangers. This silent video reinvents the greatest commonality between us: our mutual oblivion."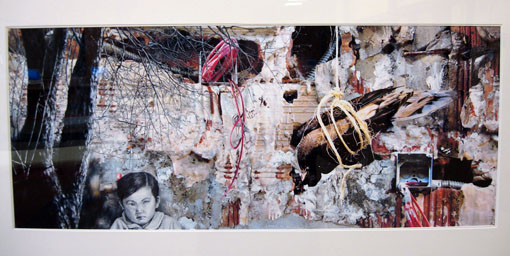 Hyeonjin Kim - Once Upon a Tree Digital Print
Kim writes..."Grounded in my reaction to the absurdity in our daily lives' my art is intended as an imaginary arena where flexible boundaries between the real and the unreal can be visualized.My choice of objects/subjects is based on those objects/subjects power to suggest a plurality of meanings shared with the sense of symbol. It is also driven by the common phenomenon of art object seen positioned as parallel to the condition of the human subject. Thus' my work does not deal with real people' but imaginary and symbolic constructions (often in the form of objects as surrogates for fractured existence)' by which personhood might be signified. With this use of the object as symbol of person' I focus on an ambivalence of specific identification of these constructed "people'" reflecting the subject"s unconscious fantasies' in which the self oscillates' within a scene' between positions of subject/person' object' or specter. In my work' fragmented images' which reflect the fragmentation of the 21st century' are put together through multi-layering processes' establishing larger rhythms' conjunctions' and references among the parts. By offering a range of different' but sharable' levels of the visual' I want to invite the audience into a state of suspension where fiction and truth mingle and resemble each other and by what might be called our memories of both inside and outside world"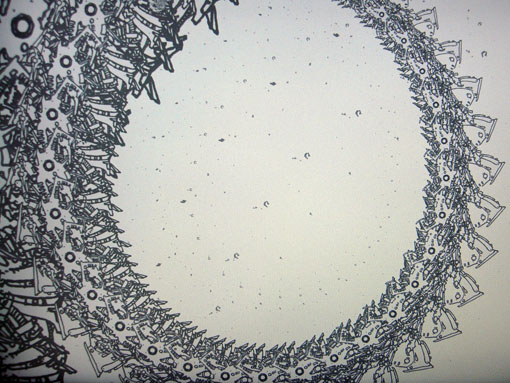 Roger Wolf - Archaemerea Type 3 On Screen
Roger Wolf's piece Archaemerea Type 3 looked interesting. It is a generative art piece done in Flash that was drawing very very slowly over the hour I was there. Kristin said it gets better the longer you let it run. I can see where Roger is going with this work.


Caleb Larson - Google search for art and life Digital Print
Larson writes..." This print was generated by graphing the Google search frequency for "Art" and "Life" between 2004-2006. The two graphs synchronize a surprising amount and are generally very close in volume' At least on the web, Art and Life imitate each other."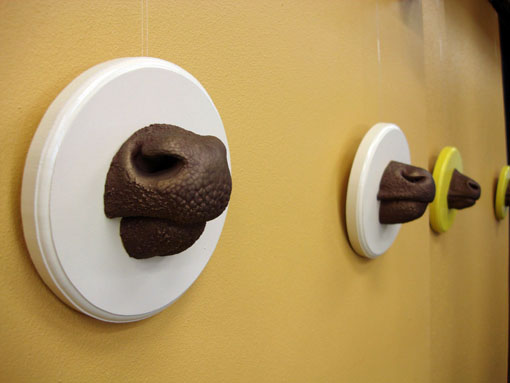 Paul Stout - Twenty States of Desire Sculpture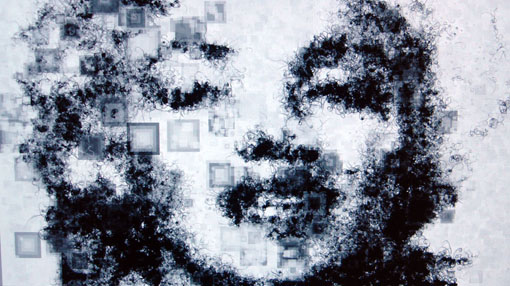 Don Relyea - Systemic Abstractors vs Pubic Realists
My work Systemic Abstractors vs Pubic Realists was installed on an imac as a several minute video loop.
Vanessa Vobis Body Beasts was also not set up when I visited, I really wanted to see this one too but I excerpts are on the her web site. She has creatively documented her installation of large knit body mites.
I am listing the participating artists and the juror information from the ARS Combinatoria site. I am not sure about the accuracy of artists names or titles.
Artists:
Paul Stout
Apparition - 2006
Mixed Media
Paul Stout
The Twenty States of Desire: The Postures of Deer' Antelope and Goat Nostrils from Ennui to Ecstasy. - 2000
Bronze powder on plastic nose references purchased from a taxidermy catalog
Laurel Lueders
Unfettered III - 2006
Digital Print
Shreepad Joglekar
Oblivion - 2005
Still Image sequence
Shreepad Joglekar
untitled - 2006
pigment print
Don Relyea
Systemic Abstractors vs. Pubic Realists - 2007
Animation' Generative Art
Danny Daneau
iSee' - 2005
Mixed Media
Adam Trowbridge
Given: The Undead - 2006
Video
Ron Buffington' Jessica Westbrook' Adam Trowbridge
Every Day - 2006
Video
Aaron Bowles
Death Bed Alarm Clock - 2004
Oil on canvas (fully wrapped)
Aaron Bowles
How Dark Do You Like It - 2006
Oil on canvas
Caleb Larsen
Archival Inkjet print on Somerset velvet - 2006
This print was generated by graphing the Goggle search?frequency for "Art" and "Life" between 2004-2006.??The two graphs synchronize a surprising amount and are generally very close in volume' At least on the web; Art and Life imitate each other.

Joel Weishaus
Traces of the Catacombes -
PC Display Online
Heather Freeman
Logophilia-Metamorphosis - 2005
archival inkjet on paper
Scott F. Hall
Scultura Sana 5 - 2007
Sound Sculpture (mixed media with audio electronics)
Hyeonjin Kim
Once upon a tree II - 2007
Digital print
Stephanie Wyatt
and then it came to be a time to shine - 2007
mixed media on canvas
Bonnie Ebner
untitled - 2006
ultrachrome inkjet print-digitally manipulated photography
Vanessa Vobis
Body Beasts - 2006
Video
Roger Wolf
archaemeraType3 - 2006
dynamically generated system' scanned ink-drawn organisms in combination with an Actionscript
Esther Kelty
Breathe - 2006
Interactive video installation
Matt Dombrowski
Jetty - 2006
Digital Ultra chrome Print
Margaret Noble and Edyta Stepien
Silent Performers - 2006
Mixed Media Video/Audio
Alexis Block
Untitled - 2007
Painting and digital manipulation' Computer display
---
Forum and Selection Committee:
Craig Saper Professor and Coordinator of the Texts and Technology PhD program in the English Department at UCF, is the author of Networked Art (2001) and Artificial Mythologies (1997), both published by the University of Minnesota Press. He has published more than 50 articles and reviews including recent chapters in Directed by Allen Smithee and The Fluxus Reader. He has edited multiple volumes, organized conferences, curated exhibits, and is on the editorial boards of a number of journals . He was previously on the faculty at Indiana and Penn, and since the late 1990s he has served first as the Director of the New Media Center and other administrative positions, and later as Associate Professor at The University of the Arts.
Professor Saper received his Ph.D. in English from University of Florida in 1990.
His academic interests include Digital Rhetoric, Film and Media Studies, Networked Art and Literature.
---
Jeff Wirth has taught interactive performance for Cirque du Soleil, Blue Man Group, Disney, and Universal Studios. He founded and served as Executive Editor of the Interactive/Improv Theatre News, and authored the book Interactive Acting. In addition to being a skilled actor, improviser, and instructor, his diverse background encompasses clowning for the Ringling Brothers Circus, exhibition ballroom dancing, and computer programming.
Mr. Wirth is the Director of the Interactive Performance Lab (IPL), where trained inter-actors perform with non-actors (spect-actors) releasing their natural capacity to become co-creators of live interactive story experiences. IPL continues to develop cutting edge applications supported by digital technology, including StoryBox, a new live-action performance stage inspired by Star Trek's Holodeck; Simu-life, inspired by the movies The Game and The Truman Show; and iRoleplay, which has been described as role play training on steroids. Click here to read more about Jeff
---
Matt Roberts is a new media artist specializing in real-time video performance and new media applications. His work has been featured internationally and nationally, including shows in Brazil, Canada, Argentina, Italy and in the following cities of the United States, New York, Miami, and Chicago. He is the founder of MPG: Mobile Performance Group (http://www.mobileperformancegroup.com), an Assistant Professor of Art and Program Director of Digital Arts at Stetson University ( http://www.stetson.edu). He received his M.F.A. from The University of Illinois at Chicago and lives in Florida, USA.
---
Megan Alrutz is an Assistant Professor of Theatre and the Coordinator of the MFA in Theatre for Young Audiences at the University of Central Florida and the Orlando Repertory Theatre. She earned a Ph.D. in Theatre (with an emphasis in Theatre for Youth) from Arizona State University, and a B.A. in Theatre from Rutgers University. Her creative and scholarly interests focus on using drama to teach across the curriculum, employing drama and digital storytelling to explore voice and identity, and investigating drama-based pedagogy for the university classroom. Megan continues to write and present on using drama to teach elementary science and employing multi-media and devising techniques in community based settings with young people, as well as drama workshops for pre-and in-service teachers. She is the director of Artsbridge UCF, co-managing Editor for ASSITEJ USA's TYA (Theatre for Young Audiences) Today, and was recently appointed as a service-learning faculty fellow for UCF.
---
Stella Sung is a Professor of Music at the University of Central Florida's School of Film and Digital Media. She has also served on the Theory/Composition faculty of the Interlochen Arts Camp, Interlochen, MI. She holds the Bachelor of Music degree (piano performance) from the University of Michigan (Ann Arbor), the Master of Fine Arts degree (composition) from the University of Florida, and the Doctor of Musical Arts degree (piano performance) from the University of Texas at Austin. She has been recognized as a "Distinguished Alumna" and an "Alumna of Outstanding Achievement" from the University of Florida, and has recently received a "Distinguished Achievement Award" from UF. Click here to read more about Stella
---
Barry Mauer earned his doctorate in Cultural Studies from the University of Florida's English Department in 1999. Since 1999, Dr. Mauer has been at the University of Central Florida in Orlando where he now serves as an associate professor. His primary responsibility at UCF is to the Texts and Technology Ph.D . program, which is housed in the English Department. In addition to his work as a teacher and researcher, Mauer also writes and records music. His CDs are available through CDBaby and Amazon.
---
Special Thanks to:
UCF School of Film and Digital Media
UCF College of Arts and Humanities
Artur Matuck
Matt Roberts
Barry Mauer
Taylor Smith
Susan Hawkins
Phil Peters
Our forum and Selection Committee members Megan Alrutz, Stella Sung, Jeff Wirth, Craig Saper,
All the amazing artists in the Ars Combinatoria Art Show
The Film and Digital Media Graduate Student Organization Members Adam Lenz, Dan Novatnak, Matt Walsh, Caley Lyles, Kirsten Kischuk, Erica Peterson, Carole McDaniel, Amy Vanschaik, Travis Bell, Andrew Gay, Ryan Pomeranz and all the amazing artists in the Ars Combinatoria Art Show
organized by: Kristin Powers & Traci Yeager