Art of Digital show 2007, Lyceum Theatre Gallery, San Diego, CA
Lots of pictures on this page, be patient!
The Art of Digital Show
A Juried Iinternational exhibition of digital art at the elegant Lyceum Theatre Gallery in San Diego's historic Gaslamp Quarter
Exhibition: October 6 - November 11, 2007
Judge: Neal Benezra
Director of the San Francisco Museum of Modern Art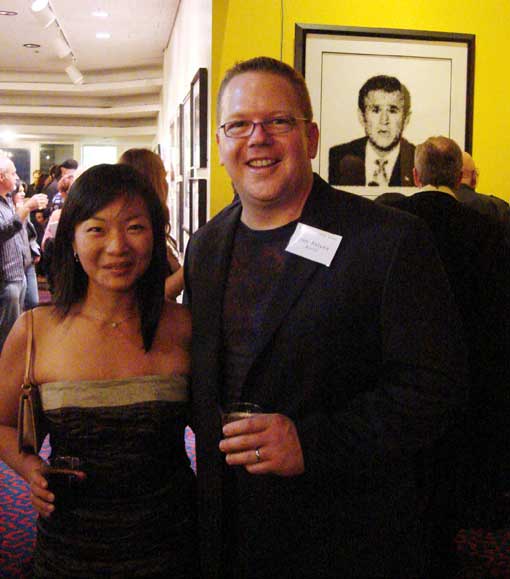 Hye and I went to the Art of Digital Show in San Diego, California to see the reception since we heard it was going to be awesome. In short, it was awesome. We had a fantastic time. Curator Steven Churchill really knows how to put on an art show and throw a party.
The show was packed and most of the downstairs was shoulder to shoulder. The show was very well put together as the artwork was selected by Neal Benezra, director of the San Francisco Museum of Modern Art (SFMOMA). It did seem a little heavy on the digital photography side but all the pieces worked well together. There was a great section of video art works that were all fantastic.
We were able to meet up with Joe Nalven from the digital art guild and his wife and several other fantastic artists. Some nice ladies even asked me to autograph their catalog of the show. I have to say I was flattered to the point of being somewhat in shock and at a loss for what to say other than "thanks!".
I took a lot of photos of this show and I have included some of my favorite works below. There were about a 100 works selected from a pool of roughly 2800 entries of digital art and video art. I tended to be drawn to the more systemic pieces but that is probably since I have been working on systemic sky for the past 2 months.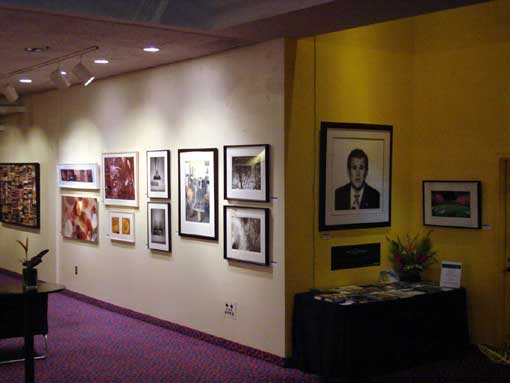 My Hairy Bush II overlooking the sponsor table.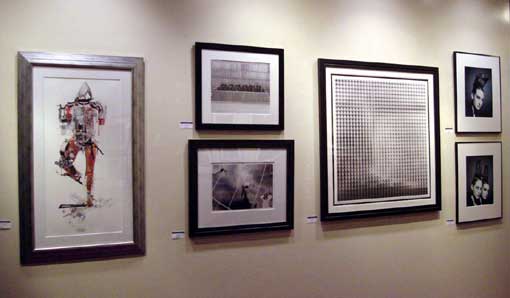 L to R works by Shravan Rajagopal, Camilo Cruz, Alexander Kruglov, Nathan Selikoff and Bill Halford.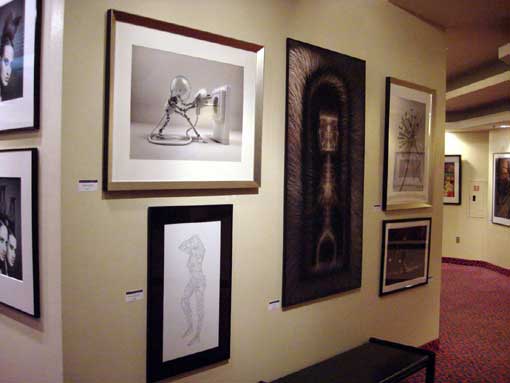 Andre Kutscherauer's "Self-Illumination" upper left won Second Place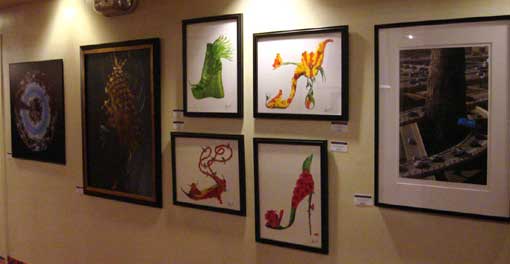 Tcherevkoff's "Shoe Fleur" series ( 4 pictures in center)
The video art pieces were well presented on 8inch LCD screens downstairs. Our favorite piece by far of the video works was "The Late Mr. Cubicle" by Franz Keller.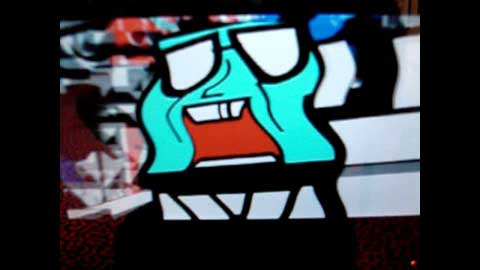 "The Late Mr. Cubicle" by Franz Keller (click to open mpeg sample 7.2mb)
Keller's work centers around Mr. Manley Cubicle and his descent into madness. It is a shame the my camera was unable to pick up the music from this work as it was most excellent. Keller created and performed most of the music on this work in Reason with a little help from a guitarist friend Henry Barnes of Amps for Christ. His work pays homage to the music and videos of the 80's and touches the subjects of information overload and corporate dehumanization (a subject I am intimately familiar with). My wife and I had the great pleasure of meeting Mr. Keller who was smartly dressed and well spoken. Keller lives in LA and is an active VJ.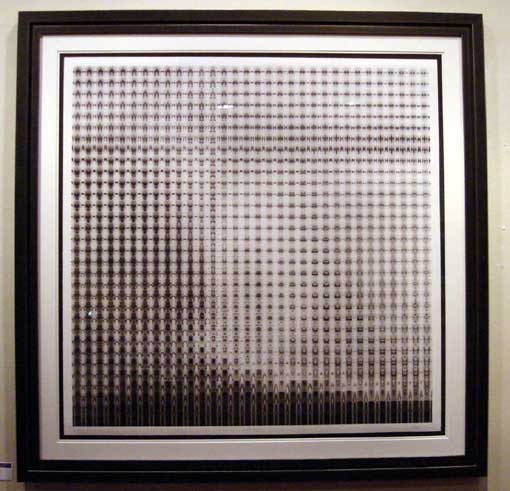 "Tiled Faces" by Nathan Selikoff
My personal favorite 2d print piece of the show is a systemic piece by Nathan Selikoff titled "Tiled Faces". I remember seeing his series "Strange Attractors" online a while back and it is really nice to see this new work of his in person. You really have to get close to this one to appreciate it. So I took some close ups so you can see them below.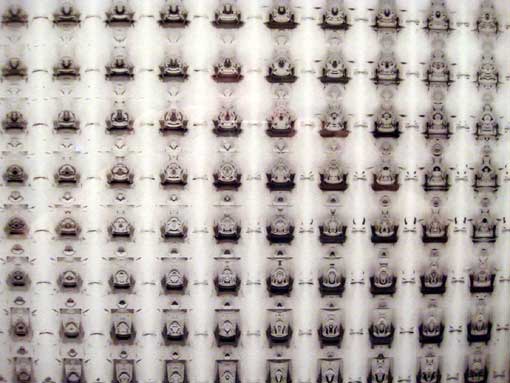 "Tiled Faces" by Nathan Selikoff close up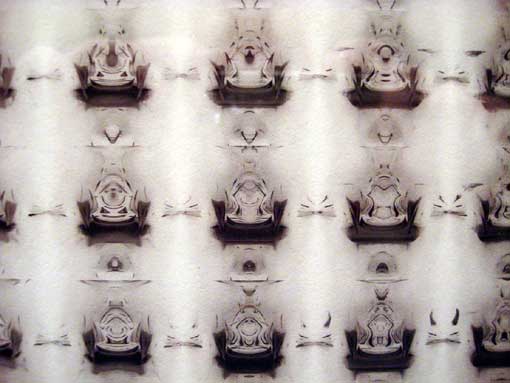 "Tiled Faces" by Nathan Selikoff even closer up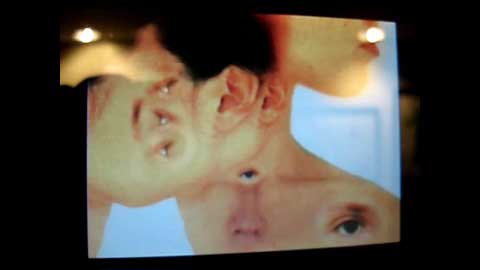 "Faces" by Ofek Wertman (click to see sample video clip mp4 1.3 mb)
I liked "Faces" by Ofek Wertman, this striking piece of video art subtly challenges the viewer to question their senses of perception.
My wife really liked Jane Gottlieb's "Lawnbowler Series: Life". She writes that this piece is about expressing her need to take chances and experience life. Jane's work won and honorable mention.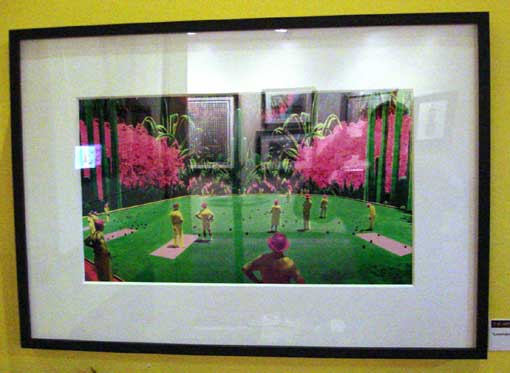 "Lawnbowler Series: Life" by Jane Gottlieb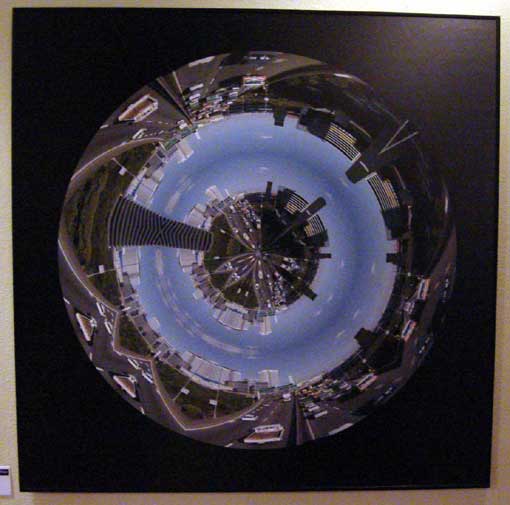 "Scan Gate 1" by Kazuhiko Kobayashi
Kazuhiko Kobayashi's work "Scan Gate 1" was one of my favorites, I saw this work at Siggraph 2007 along with several other works in this series of his. Nice big prints. "Scan Gate 1" won 3rd place in show.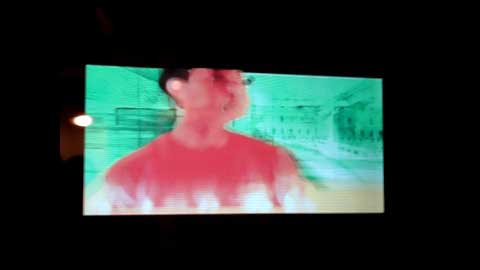 "Affirmative" by Kevin Dooley (click to see sample video mp4, 3.4 MB)
Kevin Dooley's video "Affirmative" won first place and a $1000 dollar prize, congrats! Dooley releases CDs on Waveform Records under the moniker "zerO One".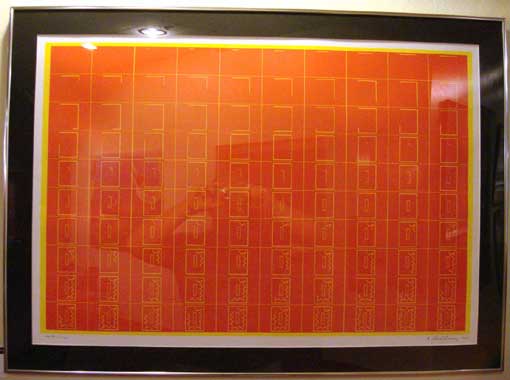 "100 Faces" by Daniel Durning
Another of my favorites of the show was "100 Faces" or "100 drawings" by Daniel Durning. Durning is a New York based artist, educator and new media designer. He writes that "100 drawings" reveals his artistic process and ritualistic practice of drawing the pure geometry depicted in the icon of the radiant rectangle, a minimalist motif he has been cultivating for years. Durning also produces and hosts Art and technology , an internet radio program on MOMA's WPS1.


"Waiting for a Telephone to Call Me" by Joohyun Pyune
Hye and I both really liked "Waiting for a Telephone to Call Me" by Joohyun Pyune. Pyune has a backround in textile design. Her work is about encompassing human emotions like agony, rancor and grief. She tries to capture solitude, pain and marginality and presents them as conditions of our existence. As gloomy as she sounds a visit to her site will reveal that she is actually an existentialist and she is smiling in the photo on her site =)
"Waiting for a Telephone to Call Me" was another of the works that you had to get up close to appreciate the ways the light and the artists process played tricks on your eyes.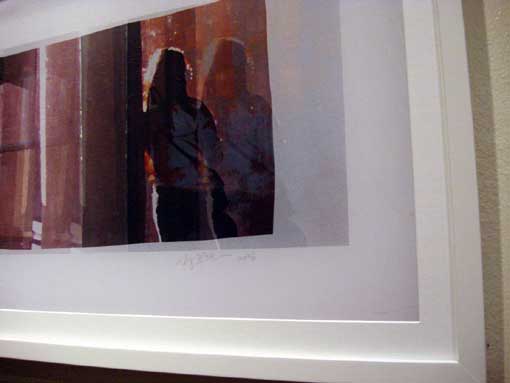 "Waiting for a Telephone to Call Me" by Joohyun Pyune
Pyune used a heat transfer process to get the image printed onto a mesh like fabric stretched over another printed image on paper set back an inch or so. Where the images overlap there is a multiply like effect that makes the image appear darker where you can see through the fabric to the image beneath. Since I am a process freak, I spent some time explaining this process to interested parties at the reception who could not get enough of this piece. I would not be a bit surprised if this piece sold on opening night.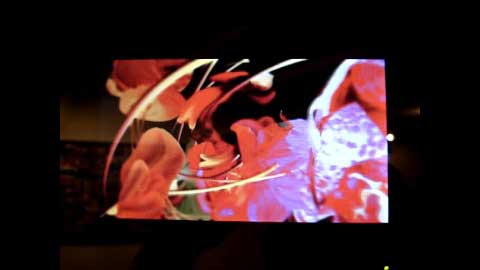 "Durian" by Thomas R. Williams ( click for video sample 2.7 MB mp4)
I really liked this music visualization by Thomas R. Williams. Williams writes, it takes place inside an imaginary biological system, and travels through its inner organization with syncronicity, suggesting the inner workings of the mind. Using various generative methods it fuses 2d and 3d in unexpected ways, expanding on the possibilities of dancing architecture. Williams is a long time VJ and creator of music videos.
Hye and I also loved the works by Michel Tcherevkoff. He has been exhibiting photographic work since I was just a year old. His current series "Shoe Fleurs" is fantastic. He had four pieces in the show and all of them were really nice. The following photos don't do justice to these works, they realy are quite impressive.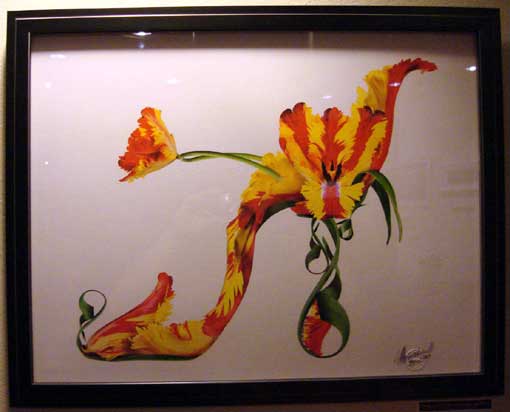 "Divine" by by Michel Tcherevkoff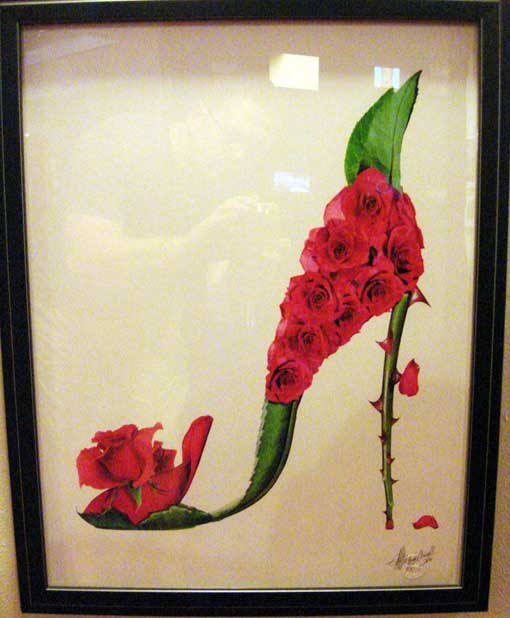 "Fatal Attraction " by by Michel Tcherevkoff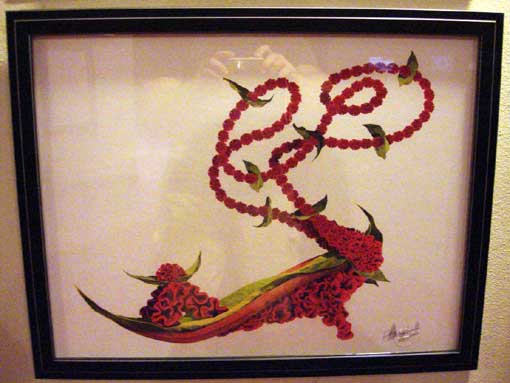 "Feet to be Tied " by by Michel Tcherevkoff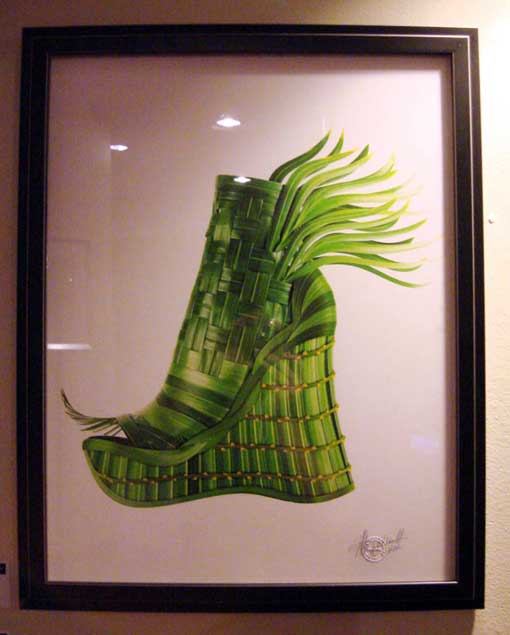 "Her Mess " by by Michel Tcherevkoff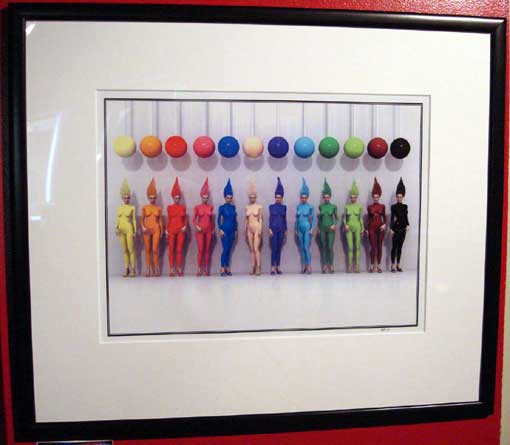 "United Colors of Women" by Jean-Francois Heurtaux
Heurtaux is a 3d artist from the Netherlands. My wife and I instantly conected with this piece since we have kids and it reminded us of the colored pencils our kids use. It turns out that was the inspiration for this artist as well. Heurtaux uses 3d rendering software and Poser to make the models of the women.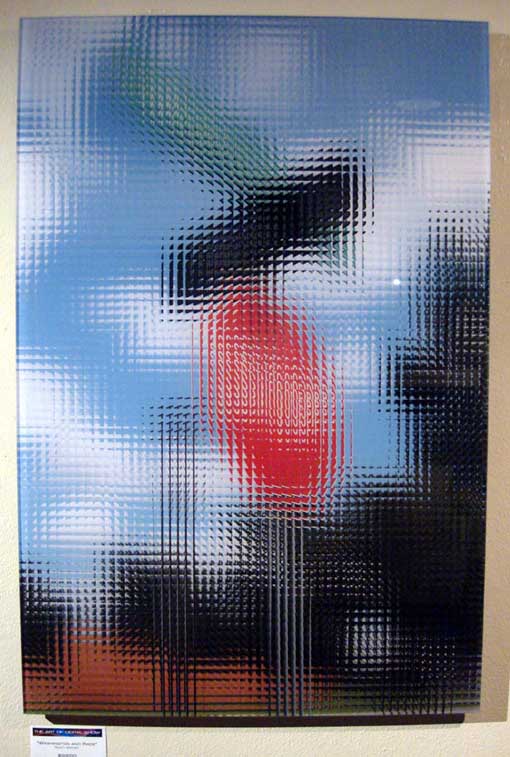 "Washington and Race" by Rusty Scruby
I liked this systemic piece by Rusty Scruby a lot as well, it was printed at a size that made it seem more abstract than it looks here on this web page. He is a Texas artist like me and I have seen his work around. He studied at the Universtiy of North Texas (UNT) a mecca for good art and music in this region.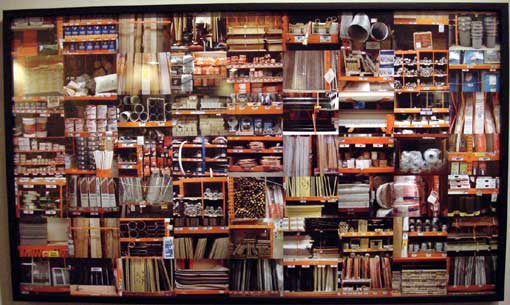 "Home Improvement" by Joseph Yorty
"Home Improvement" by Joseph Yorty was one of the larger pieces in the show and several folks were standing around it most of the evening scratching their heads. But this piece really worked for me. Yorty says he lays images together like bricks and again this work was appealing to my interest in systemic processes. He is capturing images of items arranged systemically and arranging them in a systemic manner making me a very happy viewer.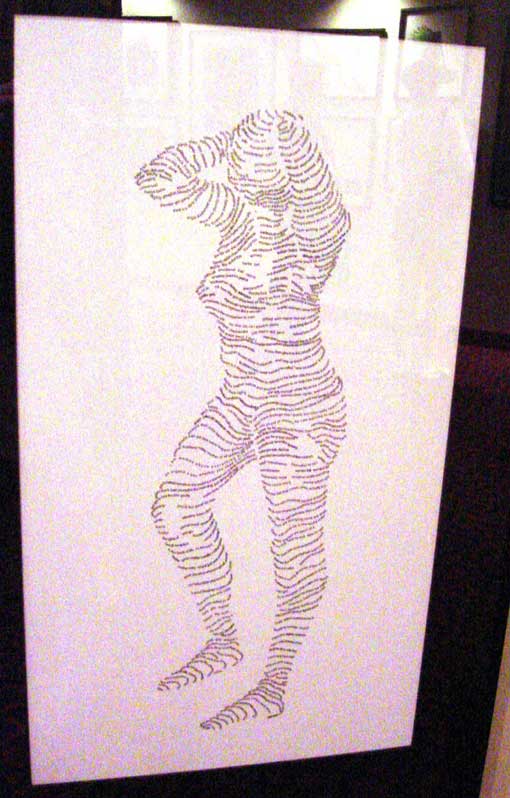 "For, By and About" by Cal Navin ( Caroline Navin )
Navin's work "For, By and About" drew me in with a nice use of both form and context. This piece warrants a close look at the detail. Unfortunately my closeup did not turn out. It is made of text about the concept of "woman" as perceived by the artist and her friends. She use the words to create the form of a woman.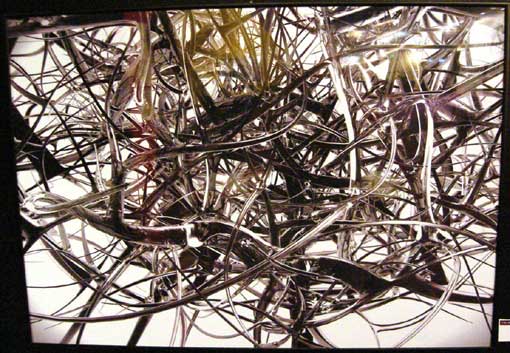 "Beginning" by Takehisa Igarashi
I saw this work at Sigraph 2007 as well, it is a nice work and I think it is a still from an animation actually.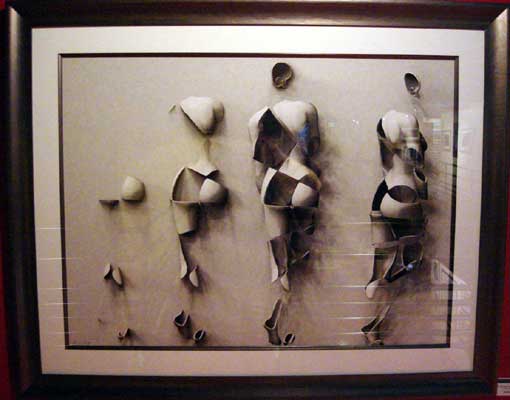 "A Study in Motion" by Murray Kruger
My wife and I both liked "A Study in Motion", it has a very nice elegant feel in person and pays virtual homage to drawing. Kruger writes, Here the female form is broken down into the basic geometric shapes. It moves and rotates through the flat surface of the background. Instead of representing a fixed moment in time I am trying to convey a dynamic sensation. While capturing a sense of motion, the work breaks down the distinction between the body and the body in motion.
Kruger works in Zbrush, a 3d modelling and animation program. He also has in interest in rapid prototyping to generate real sculptures of his 3d modelled visions.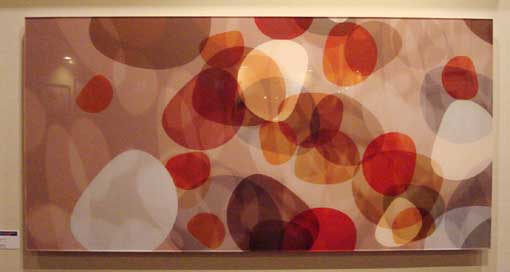 "Avoca" by Cambell Laird
My wife and I met Cambell and his wife the day after the reception while shooting the pictures for this review. We discussed the contrasts in the ways we work with Laird working in vectors using Illustrator and me working with code using my own software. We found common ground on the perceived need for works to have a sense of the "hand of the artist". Something that is a little easier to do with your actual hands than with custom generative software. Cambell is an award winning artist from Tasmania who has relocated to Southern California and a super nice guy.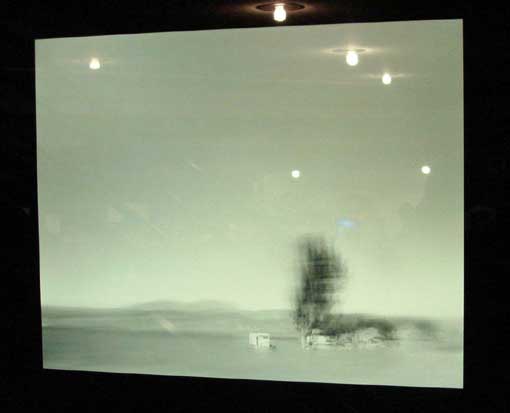 "DB-System 19" by Davide Coltro
The system is a motherboard, GPRS receiver, industrial LCD screen and an aluminum frame. It is connected to the artists studio in Milan via Satellite. It receives new images periodically and performs algortihmic manipulation to create a nice duo tone effect. This work was a striking piece and I saw it update a few times while I was at the reception.