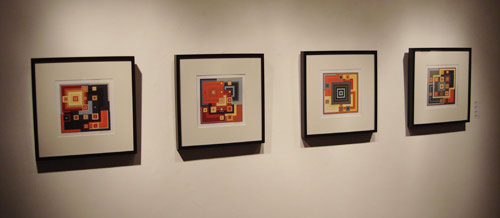 WC68-69 series at 500x Expo 2007
The 500x Expo 2007 opening was surprisingly packed considering the icy weather on the opening evening. The opening almost didn't happen due to weather and the Juror was unable to make the drive from Fort Worth. I was able to meet and chat with lots of people. My wife and I had a really good time. All of the work there was fantastic.
All four of my entries from the WC68-69 series made it in and they looked much better in real life than the photos let on. They are mathematical works and they are part of my space filling curve project. The show runs through February 5th and you should check it out if you are local.
I went to the artist talk with Dr. Frances Colpitt and she discussed the jurying process, a revitalization of painting in North Texas, the award winning works and the use of computers in art. There were around 700 entries to this show and of those only 50 individual works were chosen. Out of the 700 entries around 300 were top notch and worthy of showing. She expressed that she partially curated the show trying to take a snapshot of the major trends in contemporary art in this region. Dr.Colpitt is a relatively recent addition to the DFW area and she expressed surprise at how many paintings were entered into the show. I was able to meet a few more artists this time including Bill Barter and Kiki Ishihara both super nice and talented guys.
Eric Blake's for Proof of Concept took the first prize. (7 second clip 5mb mpeg download). It is an interesting piece. I finally got to watch all of it after the artist talk. It is video from a mounted camera inside the cab of a big rig truck driving around Houston. After a while you get the feeling of the weight of the rig. The video is oddly unsettling at times.






Austin Turley, Lorena Garza, Miryam Prodanovic, Teresa Nelson and Mary Benedicto





Christopher Crowder, Jesse Meraz, Monica Vidal, Jesus De La Rosa and Richard Martinez
Pictured above are just a few of the works that made it in the show. I really liked Austin Turley's painting, there is a nice texture to it that the photo did not capture well. Lorena Garza's painting reminds me of my uncle's work from the 60's. Richard Martinez's work incorporates uniquely shaped canvases, decorative motifs and stenciled patterns. Christopher Crowder's work Executive is an amazing pen and ink drawing with insane detail, it is a 900k download but worth it. De La Rosa's painting on textured panel is really nice, photos do not do it justice.
The Project Room features Jim Burton and Andy Holtin: Insecurity. While this installation was not part of the juried show it is a fun conceptual installation. The room has 3 large oversized wooden faux cameras that move every so often. When a camera moves it makes an exaggerated mechanical sound drawing your attention. Through a cracked doorway in the back there is a table and chair in a darkened room. On the table you can see a monitor featuring a video loop of the project room as seen by the cameras. The video loop appears to be a pre-recorded loop leaving the viewer with an intentional disconnect. Insecurity manipulates the viewer in a clever way. There is a subtle humor to this work that I really like a lot.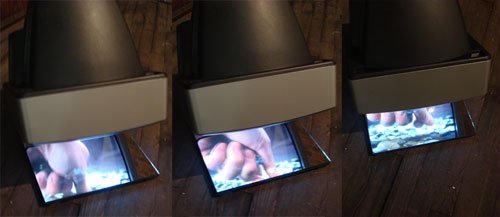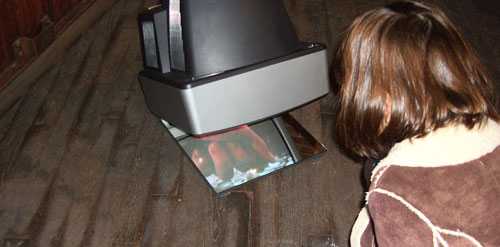 My Daughter Sophia is intrigued by Serena Lin Bush's video installation (pictured above). It is a video loop of a hand picking up stones and placing them back down. The video is visible only via a mirror placed on the ground under the TV. The stones made pleasant clicking noises. The sounds of the stones were what grabbed my attention initially. I really liked this installation, it is small and unassuming but pulls the viewer in.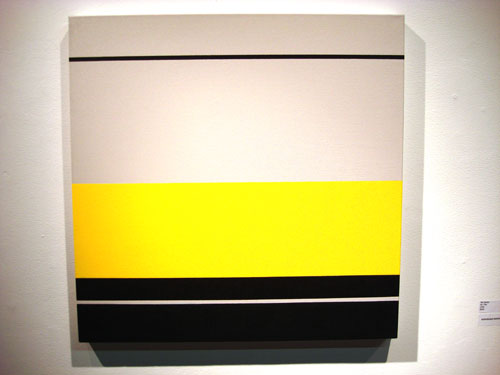 My personal favorites of the show are Bill Barter's works (1 pictured above). His work is notoriously minimal but most excellent. If you do not know the title of one of Barter's works it is usually safe to say its untitled. Every work I have every seen by him and all of the works on his site are untitled or no title. He has two pieces in the show and received an honorable mention by the juror.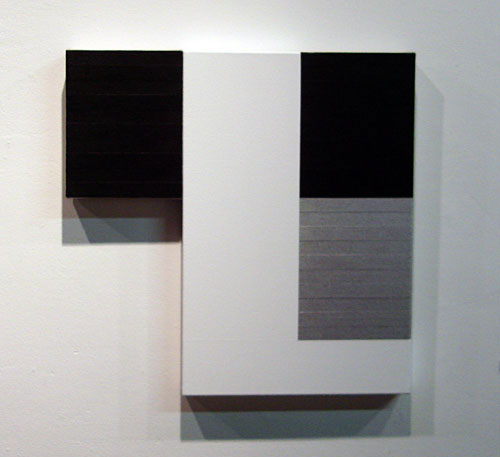 My wife's favorite of the show is Lane Banks work (pictured above). Banks employs mathematical procedures in his work and is also a favorite of mine. His work is also in the DFW airport and Neiman Marcus locally.
Banks writes on his site..."Every element in the work has a precise mathematical relationship to all the other elements as well as the outer framing edge of the entire work. This may be a whole number ratio, such as 1:2, or a fractional one, such as 1: ½. Mathematics are employed to eliminate as much as possible subjective decision making and to emphasize order and universal, stable principles."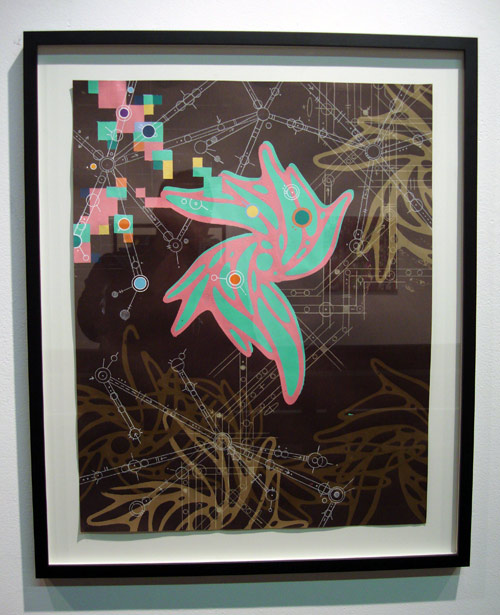 My Daughter Sophia's favorite piece is by Kiki Ishihara (pictured above). I was fortunate enough to meet him at the artist talk, super nice guy. Ishihara had at least one other piece in this show and both are very well done. Both works feature a contrast of organic shapes with what look like techno robotic appendages. Nice work.
In addition to Ishihara's and Lin Bush's works Sophia also likes Jesse Meraz's work (pictured in thumbnails at top of post). She mentioned Mary Benedicto's upstairs piece as a favorite (pictured in thumbnails at top of post).
Congratulations to the Expo 2007 Award winners-- Juror Dr. Frances Colpitt
1st place: Eric Blake for Proof of Concept, (2006)
video performance, digital projection
2nd Place: Richard Martinez for Splice II, (2005)
oil on canvas
3rd Place: Monica Vidal for A good day for Susan, (2006)
gouache on paper
Honorable Mention Awards:
Andy Amato for Bound to Inherit (2006) assemblage
Bill Barter for No Title (2006) oil on canvas
Jesus De La Rosa for Cluster (2006) mixed media
Saturday, January 27th at 4 PM Artist Talk
Juror Dr. Frances Colpitt will lead a discussion regarding the current exhibition, EXPO 2007.
Dr. Frances Colpitt earned a B.F.A. in Painting and an M.A. in Humanities from the University of Tulsa, as well as a Ph.D. in Art History from the University of Southern California. Dr. Colpitt's books include Minimal Art: The Critical Perspective and Abstract Art in the Late Twentieth Century. She is a corresponding editor to Art in America and frequently contributes to ARTL!ES. Dr. Colpitt has organized numerous exhibitions, which have appeared in such venues as the Phoenix Art Museum, the University Art Museum (UCSB), Fisher Gallery (USC), Blue Star Art Space, Artpace, and the UTSA Art Gallery. She taught at the University of Texas San Antonio from 1990 - 2005 and currently is a professor and the Deedie Potter Rose Chair of Art History at Texas Christian University.
**If you are an artist in this show and you have a website please let me know and I will link to your site. If I googled you and found the wrong you let me know as well. --Don