Networked Image Abstractor
New project released, the Net Image Abstractor. The concept is simple, it downloads an image from the internet and abstracts it using a variety of systemic and procedural processes and then displays a composite and thumbs of steps to get to the composite.

You can download NIA from here if you want to try it out.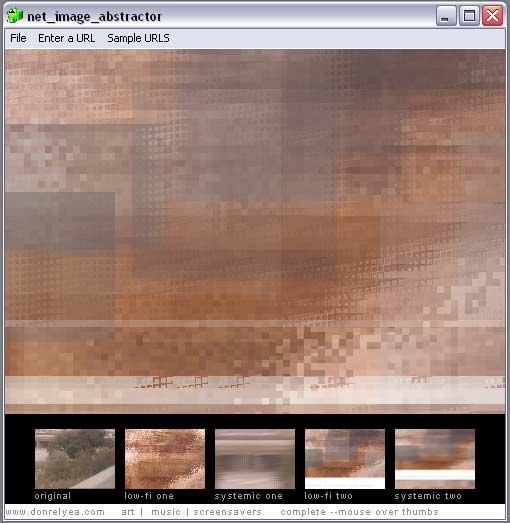 Screen shot of

Dealy Plaza Web cam

run through NIA.


Customizing Sample URLs menu:
NIA was originally designed to abstract web cam output. It includes a flat text file named "url_conf.txt" that contains a list of sample urls to choose from. The text file can be edited in wordpad or notepad and you can add whatever URLs you want to it and they will appear under the sample URLs menu listing next time you open the application. I would refrain from entering weird characters in this config file, I'd stick to URLS of webcams or images. The default list contains urls for webcams, dynamic weather images and some random image links.

System Requirements:
Windows os NT/2000/XP and an internet connection is required for the application to locate files not on your computer. If you have security software or a firewall installed it will alert you that NIA is trying contact a dns server. This is normal, the default url for NIA is a web cam in NYC, it is simply trying to download the latest image to abstract it.


Screen shot of NIA url entry screen.


Instructions:
Select Enter a URL from the menu bar at the top(see image above). Simply cut and paste the url of an image or web cam into the text entry field and hit abstract it. If you know the absolute path to a file on your computer you can abstract it too. NIA only works with jpg, gif and png files as far as I am aware.

If you try it out let me know if you have any issues.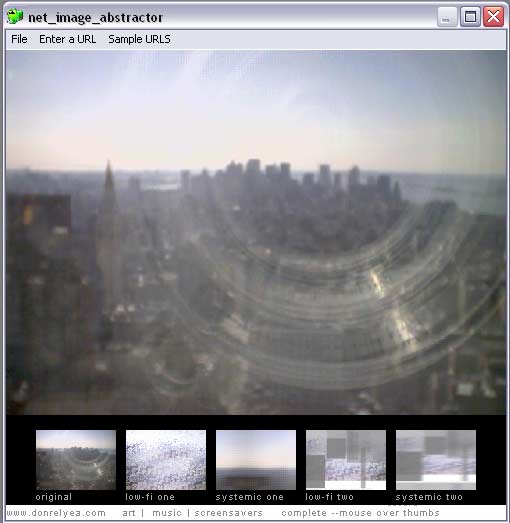 Screen shot of the default
NYC Web cam
run through NIA courtesty of
www.acronym.com