Junior/Senior Prom: 500X Gallery's Annual Open Invitational
The 500x Open Show: May 12 - June 2. Reception Friday May 12th 6-9pm.
This years open show had a very large response in comparison to last year. While the work still spans the gamut of students and seasoned artists it seemed better than last year, at least for me. There were many more large works this year as well. The sheer volume of work is a bit overwhelming. I kept wandering around and various works kept catching my eye. I spoke with one of the member artists Nancy Brown, she indicated that the reception was packed. I was unable to attend the reception since I was on family vacation.
If you have not had a chance to see this show you should. I only had an hour to wander around and it did not feel like enough time to take it all in. Overall the show was really good with an unusual high quality of entries for an open invitational. Clearly a lot of work was put in by the gallery members getting ready for this show, so a big thanks to them.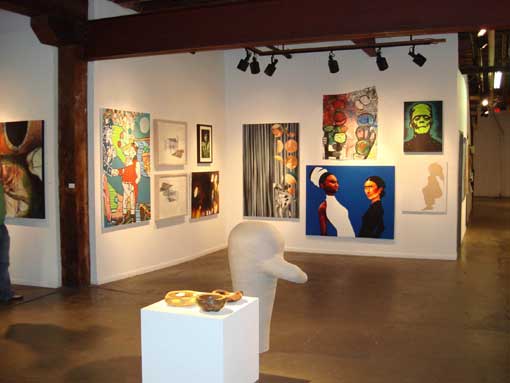 500x gallery downstairs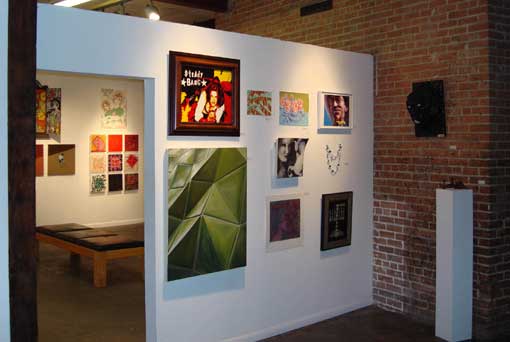 500x gallery downstairs peering into the project room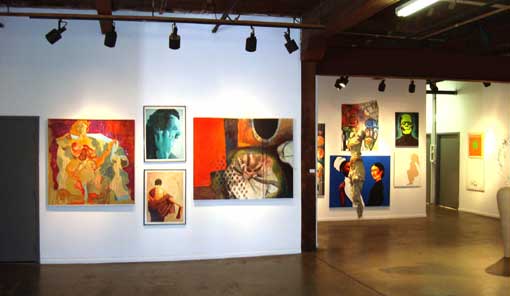 500x gallery downstairs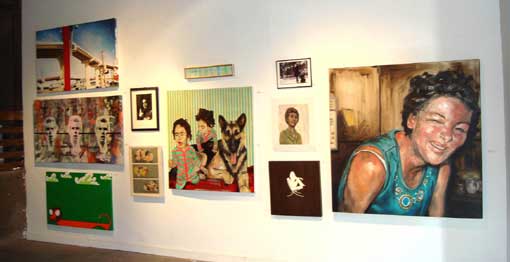 500x gallery downstairs by the front door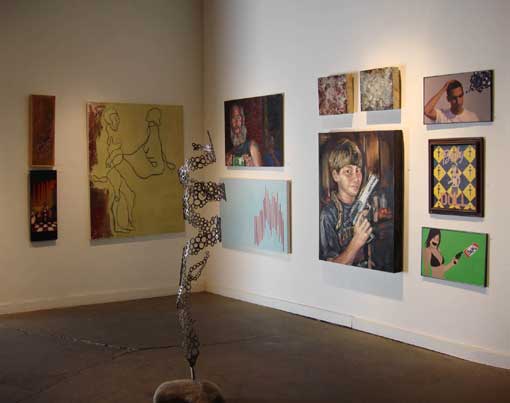 500x gallery downstairs by the front door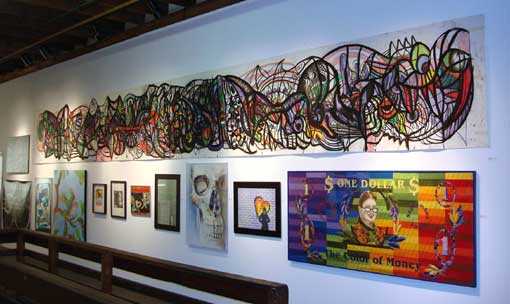 500x gallery upstairs, large charcoal drawing untitled by Alejandro Trevino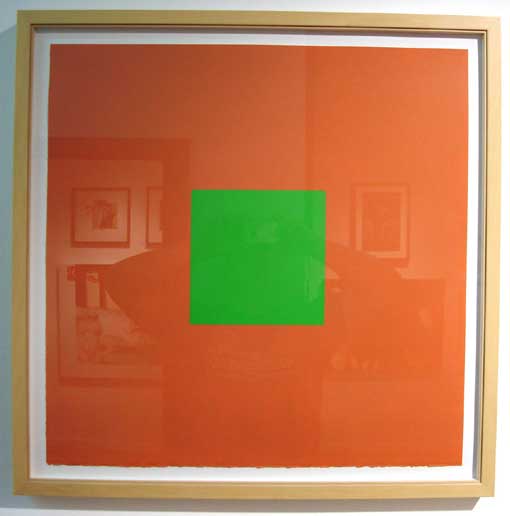 Bill Barter, untitled, monotype
Bill Barter entered the show with an orange and green monotype. I really liked this one and knew it was Bill's before I saw the card.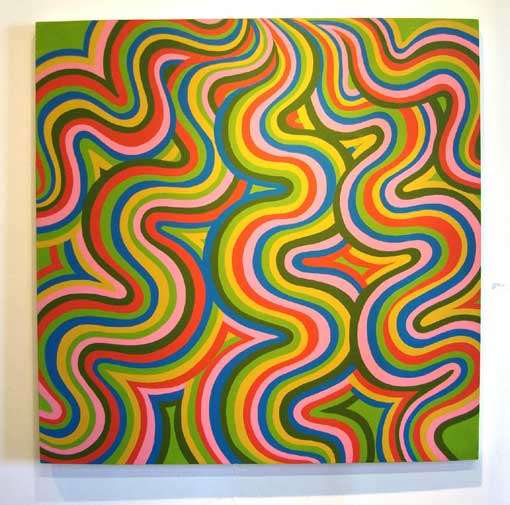 Criselda Saenz, Tune In. Tokyo, Acrylic
This is a fun work with a nice use of color. It is a reasonably big acrylic painting with some really nice wavy line intersections going on. I think some one was trying to figure out how to buy this one while I was there. Nice work.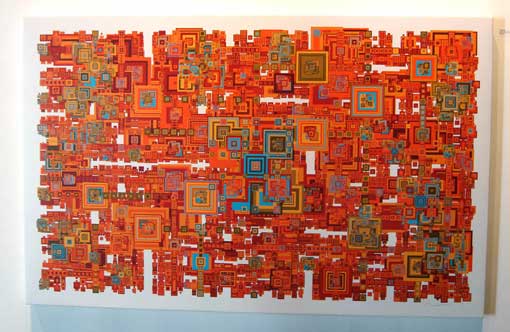 Don Relyea, Untitled, Digital Monoprint on Canvas (5ft x 3ft)
I entered a new piece as an experiment this year again. This work is modified output from my latest version of my ongoing space filling curve project. I have been refining this project since 2005 and I feel that I have only scratched the surface of possibility.
The WC68-69 series was well received at 500x Expo 2007 Juried show earlier this year but I got a lot of requests to see more of the larger detailed pieces from some of the other artists I met at that show. So for this years open show I decided to go big again and try to push the level of detail further than before.
I also tried out a new printer and a new canvas stretcher company for this work. I also wanted to try out printing on canvas. For my smaller works I have my own Epson R2400 printer that prints with a pigment based ink set. I wanted the look of the surface of the larger works to match the look of my smaller ones. So I searched high and low for a printer capable of printing large format with the same Epson K3 ink set.
I ended up finding a local professional artist/photographer, Sean Fitzgerald, who has the Epson 9800. The 9800 uses the same ink set as my smaller R2400. Sean is a super nice guy and I was really happy with his printing work. The print turned out fantastic and I will most definitely use him again. Check out his photographs as well they are excellent.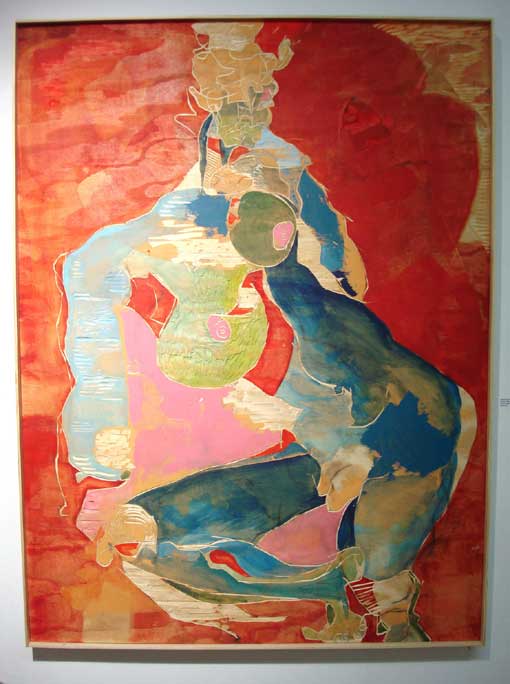 Harmony Padgett, Close, Oil on Wood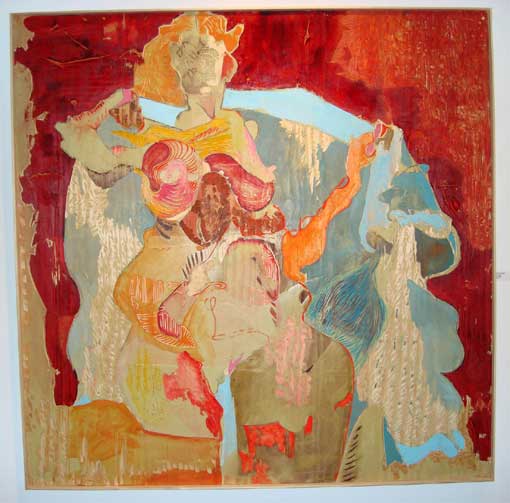 Harmony Padgett, Only, Oil on Wood
Harmony Padgett entered two works that I saw this year and they were both very impressive. The works have a really nice texture to them both from the wood and the carving done on the wood. As someone who has created many wood cut blocks I can appreciate the labor put into these fine pieces.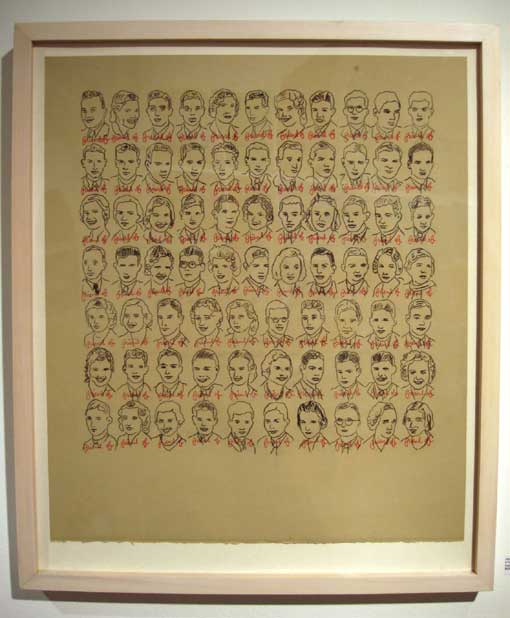 John Bell, A Parade of Friend of Friends, Carbon and colored pencil
John Bell entered two pieces I could find as well. The photo of other one did not turn out. I liked A Parade of Friend of Friends best anyways. I was not familiar with Bell's work before seeing it at this show and a google search yielded no results that look like this artist. So whoever you are keep up the nice work.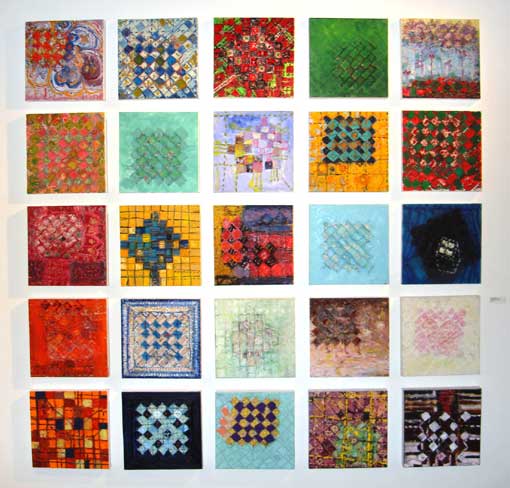 Jung Ok Whang, In the Safety Zone I, Oil and fabric on canvas
Whang had 2 works in the show and both were collections of 1 foot square canvases with square and cube influenced patterns. The small canvases on their own are unassuming but put together as a group they become very powerful.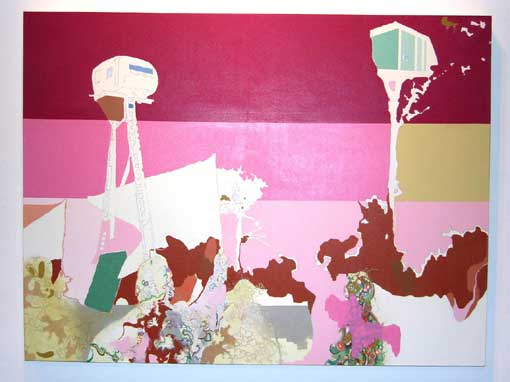 Laura Jennings, Above land, Acrylic
Laura Jennings work is really nice as well. The photo does not do this one justice. I like the contrast between the hard edge lines and very detailed organic lines and shapes towards the bottom.

Mark Pease, Pad Site 23 , Screen print
Mark Pease's screen prints caught my attention too. The compositions and muted colors on slightly off white paper are really nice in these prints. They look computer generated but are screen prints. Perhaps the source for the screens are computer generated. Either way they look good.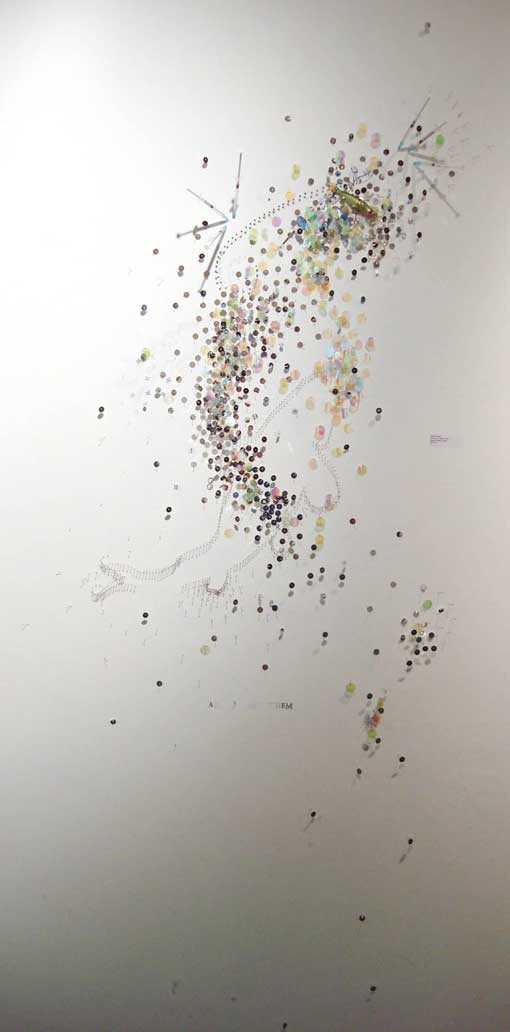 Nancy Brown, Know Your Rights, Mixed media on wall
I really liked this work by 500x member artist Nancy Brown, I am kicking myself for not taking the opportunity to ask her more about the work since she was also working the show when I was there. The way the lighting interacts with this piece is really sublime. Someone opened the front door to the gallery while I was looking at it and the shadows all shifted subtly and momentarily, almost activating the work. There is a close up shot of the top of the work here.
I did find a recent artist statement of her's online, she writes, "I create installations using ornament as a tool to make suggestions about the nature of narrative structure. I draw highly decorative arrangements of shapes to be embedded with unexpected motifs that are in reference to an enigmatic story continuously changing as it unfolds. I hope to inspire the intellectual creativity of the viewer to uncover new stories or meanings from within the psychological experience of seeing." ~ Nancy Brown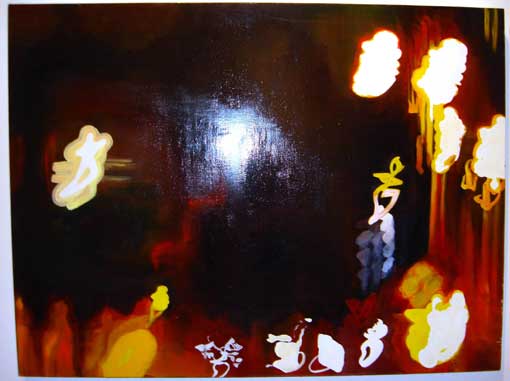 Nicole Neeley, Bianca, Oil on canvas
Nicole Neeley's oil painting looked really rich to me. I liked the ghosting that looks like it was caused from many layers of paint. I couldn't find any information on this artist online but this painting sure is nice.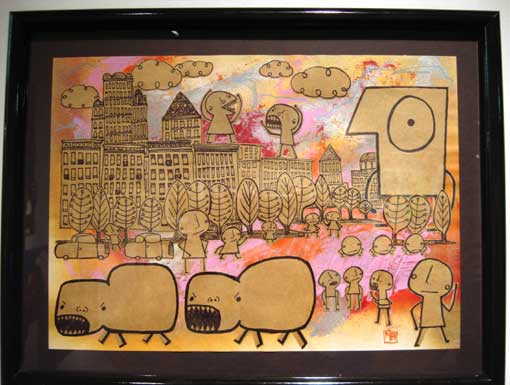 Richard Ross, Time Bombs and Peas Beneath the Gaze of an Eye, Mixed Media
I really liked this small work by Richard Ross. There were several sort of iconic cartoonish graffiti style works at the show but this one seemed really original to me and it appears to tell a story.
I could not find any info on Richard Ross online other than this...Richard Ross is a self-taught artist from Irving, Texas, who in his work is searching for new icons by sifting through old beliefs and a disposable contemporary society.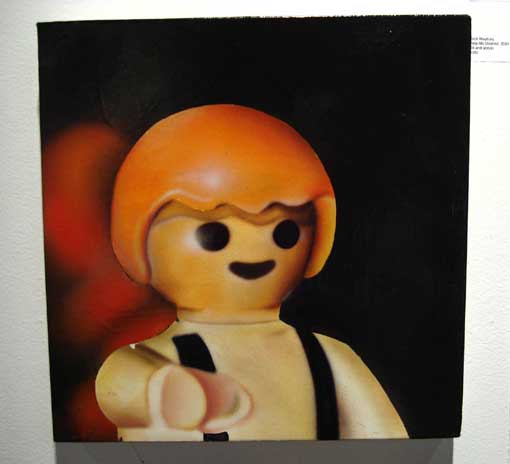 Erick Maybury, Help Me Dammit, Oil and acrylic

This work made me smile. I couldn't find any info on this artist either but congrats to Erick, his work sold.