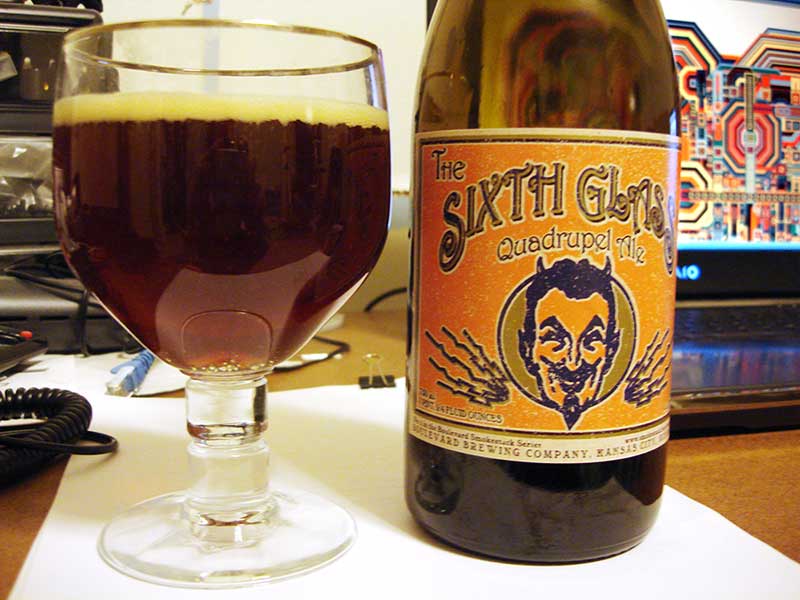 I picked this beer up at my neighborhood Albertsons grocery store which has very recently become wet. I had never seen this beer before and it was stocked next to some other nice beers so I decided to check this one out.
Since my neighborhood Albertsons hasn't quite got their beer inventory under control this one was not in the database and nobody could figure out what it cost, subsequently they gave it to me for a steal at $6.99. I am guessing that this beer is probably about 8 or 9 dollars when it makes its way into the database.
That said, I will be back to get more. The Sixth Glass Quadrupel Ale has cemented its place as one of my favorite quadrupel ales. It is bubbly and drinkable with a sweet brown sugar, caramel mixed with fruit flavor aftertaste. It is 10.5 percent ABV but it is very smooth for a strong beer. If you like a strong beer and a great quadrupel ale you gotta try this one, it is awesome.
The Sixth Glass Quadrupel Ale is part of the Smokestack Series. The Smokestack Series is a collection of more complex and stronger beers than Boulevard's core brands. I will be keeping an eye out for other Smokestack Series beers when I am out and about.
The Sixth Glass Quadrupel Ale is made by Boulevard Brewing Company out of Kansas City MO. Boulevard Brewing has been around since 1989 and currently has distribution in 19 states. I am very fortunate that Texas is listed among them.
Boulevard Brewing has a beer finder on their website where I was able to find several other nearby locations to purchase their products.