Headbangers of the World Unite...Hell is Here by Marco Roso
Artwork removed at the request of the artist...Check out what Marco is doing now at www.dismagazine.com
Well... for the past 5 years my Bloxsom Blog has served me very well. But with my time in short supply and so many things to share I need a very fast, mobile and integrated plaform I can pipe content in from real time projects as well as blog on the run with my mobile device.



So it is time to upgrade to a more flexible and supported platform, so this is my last post here...
From here on out my new blog will exist here:
http://www.donrelyea.com/blog/
Be sure to update your links =)
perdition exultant #446
See also the project page at : Postmodern Modernist and the projects's Tumblr at : Hawt Modernista
jacket soggy #639
See also the project page at : Postmodern Modernist and the projects's Tumblr at : Hawt Modernista
The Root of the Root at Devotion Gallery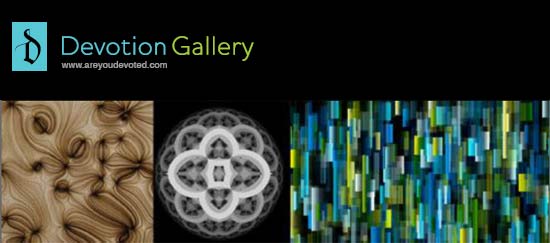 If you are in the Brooklyn area you have to check out this show. I definitely list Watz and Prudence among my inspirations and influences and Meyers work looks fantastic as well. Thanks to Miss Zapata for the heads up.
DEVOTION GALLERY PRESENTS: THE ROOT OF THE ROOT
Generative Art by Marius Watz, Paul Prudence and Aaron Meyers

Opening 6pm on Friday, October 22nd. On view until Sunday November 21st 2010.
Marius Watz will be teaching a special workshop on Processing at
Devotion Mon Oct 18th – Tues Oct 26th.
More details >

This exhibition showcases three artists working with generative code
to create abstract and reactive works. Marius Watz and Paul Prudence
have been contributing to the dialogue for computational art since
2005 with seminal essays, some of the foremost blogs and
ground-breaking software. As a seminal member of the processing
community, Marius Watz has, in many ways, defined part of the
aesthetic associated with code-based art. Paul Prudence works with
VVVV and with visual feedback systems to create audio-visual
performances. Aaron Meyers is an artist and programmer using
generative strategies in the creation of software and moving image. He
is currently a fellow at the Eyebeam Art & Technology center where he
recently led the Visual Music Collaborative workshop in collaboration
with Ghostly International.

In generative art, works are created at least in part by some process
that is not under the artist's direct control. Generative processes
have been applied to music, dance, and all forms of visual art over
thousands of years. With the advent of computers, complex digital
generative art has become one of the defining art forms of the
twenty-first century. While this art may harnesses the power of
computation to create work enacted via machine, the human originator
is ever present, even if acting by proxy. The works in this show
amalgamate the organic and the methodical, seducing with pattern,
texture and beauty.

BIOS:

Marius Watz
Works: Blocker, sound-reactive software piece
Images: http://www.box.net/shared/7uxsnych5i
Materials: Realtime software, PC speakers or headphones
Size: Variable (32" screen)

Artist Statement: Marius Watz is an artist using software processes to
explore visual abstraction. His work is known for its bold colors and
hard-edged geometries.

Biography:  Watz (NO) has lectured and exhibited his work
internationally at venues that include Künstlerhaus (Vienna),
Fondation Vasarely (Provence), Victoria & Albert Museum (London), Itau
Cultural (Sao Paulo) and Club Transmediale (Berlin). He is a lecturer
at the Oslo School of Architecture and Design.

Aaron Meyers
Works: 5 generative laser-etched wood pieces
Images: http://www.flickr.com/photos/admurder/4252091173/in/set-72157623158008618/
http://www.flickr.com/photos/admurder/4252182538/in/set-72157623158008618/
http://www.flickr.com/photos/admurder/4778254758/in/set-72157623158008618/
Materials: Laser-etched birch plywood
Size: 3 x 30"x16", 2 x 16"x16"



Artist Statement: Often interactive, Aaron's work playfully forges
rich perceptual experience through the manipulation of generative
systems, physical simulation, data and media. Using a laser cutter and
custom software written in Processing, Aaron's work on plywood pulls
into sharp focus the interaction of complex line work with the organic
burning process.

Biography: Currently a fellow at the Eyebeam Art & Technology Center,
Aaron's work has been shown at Ars Electronica (Linz), the Performa
Biennial (New York), Fondation Cartier (Paris), Eyebeam MIXER (New
York), Wired NextFest (New York), and Where 2.0 (San Francisco). As a
teacher, Aaron has taught at UCLA Design|Media Arts and led the Visual
Music Collaborative workshop at Eyebeam in creative partnership with
Ghostly International.

Paul Prudence
Works: Autotroph series 4 x b/w prints & Bioacoustic Study [Video,10mins]
Video: http://www.vimeo.com/14903121
Images: http://www.flickr.com/photos/transphormetic/sets/72157612289168910/
Materials:  Prints: Archival Ink Jet.  Video: HD mp4
Size: 25" x 25" including frame.

Artist Statement: Paul Prudence is an artist and real-time visual
performer working with generative and computational systems. He is
particularly interested in the ways in which sound, space and form can
be synthaesthetically amalgamated.

Biography: Paul has performed and lectured at various international
shows, festivals and conferences globally including: The International
Symposium for Electronic Arts, Dortmund; Quartz Electronic Music
Festival, Paris; Sonic Acts XIII, Amsterdam; Artware 5, Lima;
Hacktronic, Boston; Art.ficial Emotion, Sao Paulo and Decibelio,
Madrid.

Postmodern Modernist Art Generator Updated in 2010!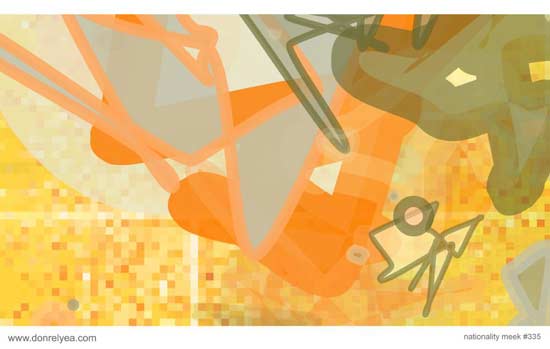 Postmodern Modernist featured in Art Digital Magazine September-October 2010 check it out!
Postmodern Modernist updated with modified algorithms and the ability operate autonomously! This project now creates art and promotes itself on the web without any intervention on my behalf.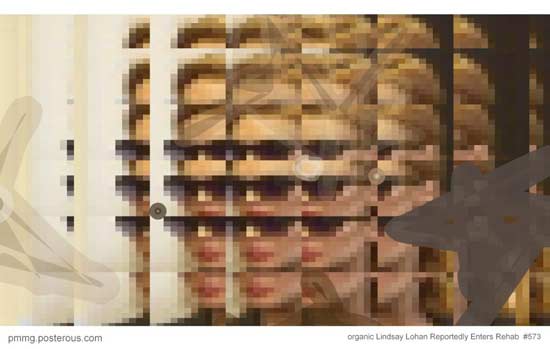 I have added the ability for the Postmodern Modernist to read news feeds and create works based off of current events. At the time of this update Lindsay Lohan is in the news so it will create works seeded by her image with greater frequency.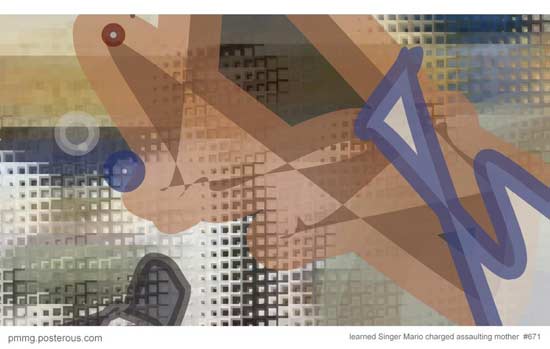 The updated algorithm is much improved from the old version. It now has a much wider variety of types of abstractions at its disposal. Its color database has been updated with new colors and it can generate a suite of color relationships from photos it discovers while reading the news feeds. The above color combination is pulled from a photo of R&B artist Mario who recently is alleged to have assaulted his mother.
The naming of the current event seeded works is handled crudely for now, I am thinking of ways to make this more interesting. Even so it will still make me laugh from time to time as it typically assigns an adjective to beginning which can transform the stripped headline in amusing ways, for example...."demonic Jon Stewart mocks Rick Sanchez controversy #320"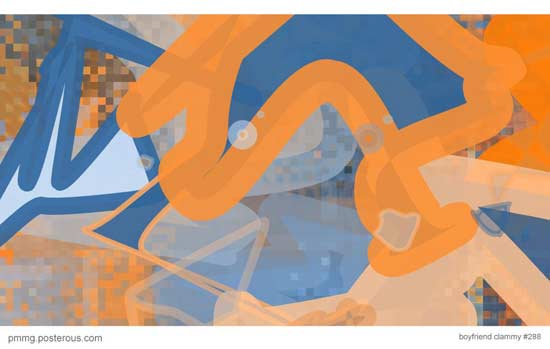 One of the things I always liked about this algorithm was the intentional big pixels that boldly yet nerdishly assert its digital lineage, I definitely kept the big pixels. The new algorithm still generates works completely from scratch like "boyfriend clammy #288" (shown above), and it now saves out a print resolution version of each file before it resizes it down to a more web friendly size. If you would like a print send me an email and let me know.
You can follow the Postmodern Modernist on its blog, twitter, tumblr or facebook page:
http://pmmg.posterous.com/
http://twitter.com/Hawt_Modernista
http://hawtmodernist.tumblr.com/
Add Hawt Modernista as your facebook friend today!

Baby Racoon in backyard - captured in HD

Baby Racoon hanging out in a tree in our backyard. This is the second litter of racoons we have seen since we have lived here 6 years. We filmed him only a few days after the visit from the Barred Owl.
Big Barred Owl visits koi pond - captured in HD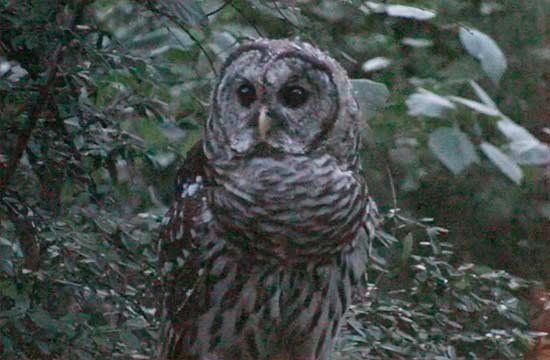 Click to see Barred Owl Video on Vimeo in HD
Building the koi pond was one of the better decisions I have made for the kids and the family in general.We have seen so many creatures as a result of putting a small body of water right under our dining room window.
Baby turtles show up in early summer late spring, baby water snakes in late spring. Big dragon flies hover right outside the window. Anoles and skinks regularly come to the pond to drink water. Frogs come in the spring. If you got to the window and look outside there is no telling what you might see.
Last night was no exception. We heard a rustling by the koi pond and everyone went over to investigate. Sitting on the rail of our deck was a large Barred Owl who was hunting for something in the pond. Barred Owls have been known to fish and there are definitely snakes in the pond he would probably like to eat. We managed to get about a minute of good footage of the owl and it is on vimeo if you want to see it.
I have documented some of the other koi pond visitors in the past few months as well. Below we have a baby Red Eared Slider.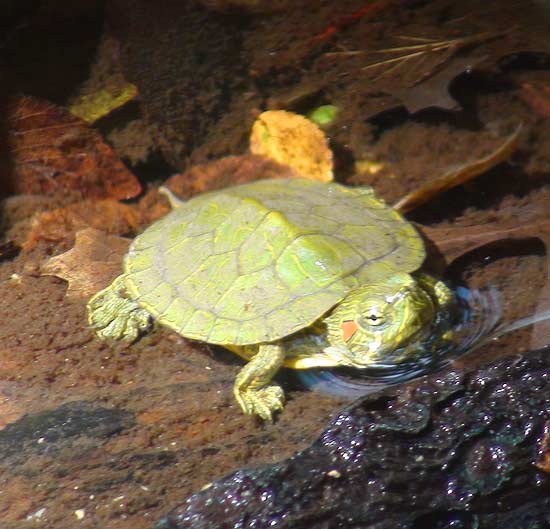 Baby Red Eared Slider
I have seen broad banded and diamond back water snakes this year, both non poisonous. We have never seen a poisonous snake in the pond. Below is one of the babies that showed up this spring..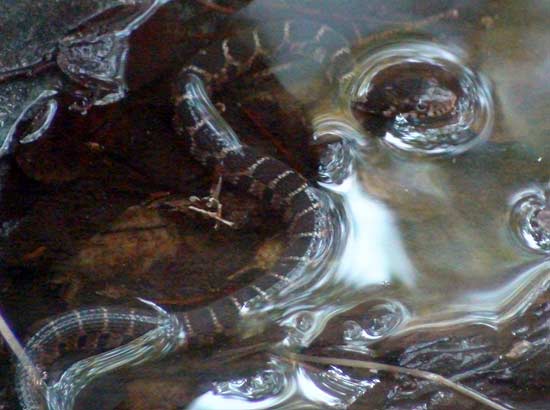 Baby Water Snake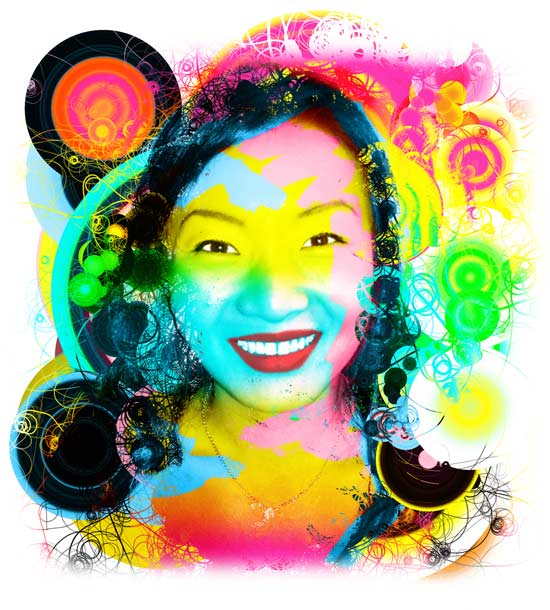 portrait of Hye Relyea by Don Relyea May 2010
I have been working on a new version of my particle drawing/painting program in openframeworks based on the code used in the "Bombshell" video I made for this years Digital Graffiti. This project still needs a lot of work. There are several math errors and some other problems that need to be solved but it is still fun to play with and I can get some decent results.
There are generative elements to this work but its not pure generative art by any means. I am working on the right balance between "loss of control" and "control" in this project. As the particles do their thing the artist loses control of the image but I have added more direct paint like particles that give the artist the ability to push and pull the image in real time. The process of image creation becomes somewhat of a battle between the particles and the artist.
It will be interesting to see where this goes. If I can get all the bugs out of it and get the usability a little better I may put some effort into releasing this as an iPad app. I have been using it on an HP tablet with a stylus and its pretty fun.

OBEY Obama poster near Bush's House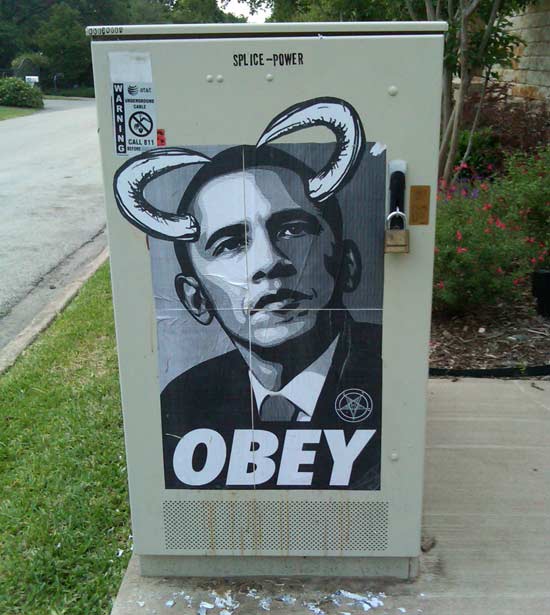 Saw this OBEY knockoff poster near former President George Bush's Preston Hollow house here in Dallas and had to chuckle.
I immediately had a mental image of dubya in a hoodie sneaking around at night pasting these up. I like the way the horns go outside the boundaries of the poster.
Digital Graffiti 2010 Finalists announced
From http://www.digitalgraffiti.com/ the finalists for 2010 festival are announced. This year's Digital Graffiti looks like it is going to be even bigger than last year.
Organizers of the third annual "Digital Graffiti Festival at Alys Beach" said that they were overwhelmed by hundreds of extraordinary submissions from local, domestic and international artists.
Digital Graffiti is the world's first projection art festival, where artists use the latest technologies to project their original video and interactive artworks onto the iconic white walls of an entire beach resort town.
"We received entries from all over the U.S. as well as from digital artists in 17 other countries, including places such as Slovenia, Poland, Mexico, Greece, Australia, Bulgaria, Israel, Scotland, Argentina, Ireland, Italy, The Netherlands and Belgium, among others," said Kelli Arnold, Alys Beach's Events Coordinator. "From a field of nearly 300 entries, our selection committees narrowed it down to 36 amazing finalists."
On the night of Saturday, June 12th, those 36 finalists will compete for $10,000 in cash prizes, including a $5,000 "Best of Show" award sponsored by Alys Beach, a $2,000 prize for the most innovative/experimental creation sponsored by the Florida Office of Film & Entertainment, and a $1,000 "Best Local Submission" award sponsored by 30A.com. The 30A.com "Best Local Submission" honor will be awarded to an artist who resides full-time in Florida's Walton, Bay, Okaloosa, Santa Rosa, Bay or Washington County.
Winners will ultimately be decided by a panel of celebrity and industry judges, including Alan Hunter, film producer and MTV's very first "VJ"; Lucia Fishburne, The State of Florida's Film Commissioner; Colleen Duffley, professional photographer and owner of Studio b; and Brett Phares, professor of interactive media at Marist College in New York, among others.
The festival will be held from 8:30pm until Midnight on Saturday, June 12th, 2010, rain or shine. Advanced tickets are on sale now at www.alysbeachevents.ticketleap.com. Tickets are $15 for adults (12+) and $5 for children (ages 3-12) until May 14th. From May 15 through June 11, tickets are $20 for adults and $5 for children. Any tickets sold at the event gate will be $25 for adults and $10 for children.
2010 DIGITAL GRAFFITI FESTIVAL AT ALYS BEACH FINALISTS
The following works have been selected for display and competition during the 2010 Digital Graffiti Festival at Alys Beach:
"Aesthetic Species Maps" by David Montgomery of Fernandina Beach, Florida
"Alys Beach 3D Structure Projection" by Christopher Lee of Dothan, Alabama
"Eye Spy" by Russell Beans of Seacrest, Florida
"Five Portraits in Five Minutes" by Kasumi of Cleveland, Ohio
"Flightpattern" by Gwen Vanhee of Zedelgem, Belgium
"Frosti" by Matt Pearson of Brighton, United Kingdom
"Geometry of Poi" by Kate Riegle – van West of Chicago, Illinois
"Greenray" by Andre Rangel of Portugal
"Human Flux" by Nikola Mihov of Sofia, Bulgaria
"Inner Klänge" by Lemeh42 of Moterado, Italy
"JD's Fun House 2010? by John Daniel of Panama City, Florida
"Kaleidoscopia" by Andy McKeown of Shrewsbury, United Kingdom
"Laser Art" by Christopher Lee of Dothan, Alabama
"Luminous Curiosities" by Christina Pierson of Los Angeles, California
"Moonlit McGill" by Amber Bushnell of Missoula, Montana
"Night Walkers" by Yandell Walton of VIC, Australia
"Organic Cycles" by Kristen Regan of Pensacola, Florida
"Part of the Surge and Not the Sea" by Kevin Romoser of Wayne, New Jersey
"Planet Caliza" by Kurt Lischka of Santa Rosa Beach, Florida
"Re-Birth" by Said Dokins and Mauricio Rodriguez of Cuauhtemoc, Mexico
"Resonance" by Charles Raffety of Missoula, Montana
"Roberto" by David Terranova of New York, New York
"SAN" by Jackson Petit of The Bahamas
"Sousbleu" by Gwen Vanhee of Zedelgem, Belgium
"Take Care" by Matt Pearson of Brighton, United Kingdom
"The Ancient Mariner" by Michael Burton of Lincoln, Nebraska
"Transmission (32 channels)" by Sam Holden of London, United Kingdom
"True Fictions: Home of the Brave" by The Light Surgeons of London, United Kingdom
"UGOKU" by Kasumi of Cleveland, Ohio
"untitled_(memory)" by Matthew West of Sioux Falls, South Dakota
"Vacio" by Daniel Ivan of Amecameca, Mexico
"Void?" by Bala Boyd of Freeport, Florida
"Walkers" by Nick Rands of London, United Kingdom
"White Dishes" by Stephanie Paine of Lafayette, Indiana
"Winnipeg Stories: Sacrificial Memories" by Clint Enns of Winnipeg, Canada
Sincere thanks to the hundreds of artists worldwide who submitted amazing works of video art this year, and congrats and good luck to this year's 36 finalists!
Bombshell a new generative video by Don Relyea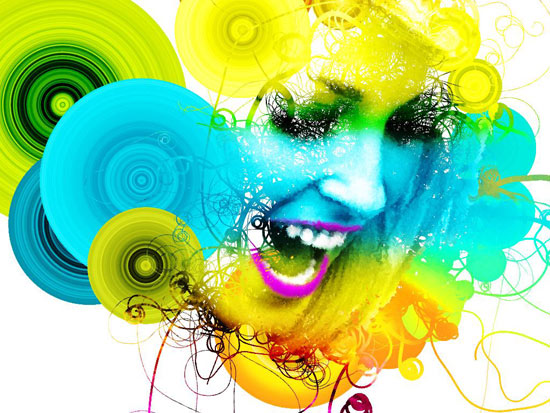 Still of Sharon Tate from Bombshell by Don Relyea 2010
Bombshell
This video is created real time in a custom particle painting program I created using c++ in openframeworks 0.06 + code blocks.
Influenced by the cold war, bombshells, Brigitte Bardot, Jane Mansfield, Marilyn Monroe, Elke Summer, Ann Margaret, Sophia Loren, Stella Stevens, Audrey Hepburn and artist Ed Paschke.
Music: "If we live our lives the right way" by Don Relyea, because I feel too lazy to bother getting this into itunes you can just have it, see the link below.
"If we live our lives the right way"(Bombshell Mix) ( 192khz MP3) Right Click to Download MP3
Bombshell from Don Relyea on Vimeo.
I made this piece specifically for the Alys Beach Digital Graffitti festival in the format they specified of 1024x768. Of course there is no guarantee Bombshell will get accepted as that festival is pretty competitive. Wish me luck =) So I will probably make standard aspect ratio HD versions for Culture TV and Janet Oh Gallery as well.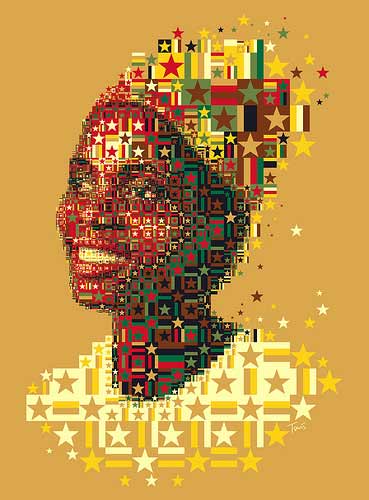 "My African Star" by Tsevis
I have been doing some research on patterns for my particle drawing project and found Tsevis photo stream on flickr. Tsevis is an artist/designer and professor living in Greece who uses scripting combined with Photoshop and Synthetik Studio Artist. Tsevis' entire photostream is extremely compelling and worth checking out.
Space Filling Curve Project and interview in +81 Vol. 47 Pattern Graphics Issue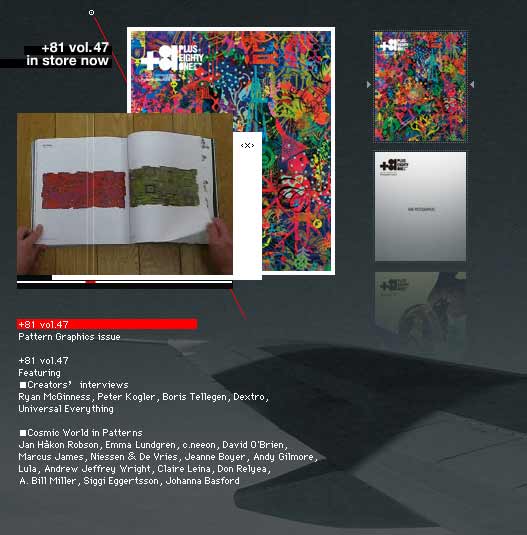 I have a couple Space Filling Curve works and an interview in the Spring 2010 issue of +81, Volume 47, the Pattern Graphics issue. +81 magazine is a visual inspiration art and design magazine published in Japan in its 13th year of publication. It is in both Japanese and English. Check it out if you get a chance.
This issue contains works and interviews for Ryan McGinness, Peter Kogler, Boris Tellegen, Dextro, Universal Everything, Jan Hakon Robson, Emma Lundgren, c.neeon, David O'Brien, Marcus James, Niessen and De Vries, Jeanne Boyer, Andy Gilmore, Lula, Andrew Jeffrey Wright, Claire Leina, Don Relyea, A. Bill Miller, Siggi Eggertsson, Johanna Basford.
Generative Flowers II to be screened at the opening of the Oslo Screen Festival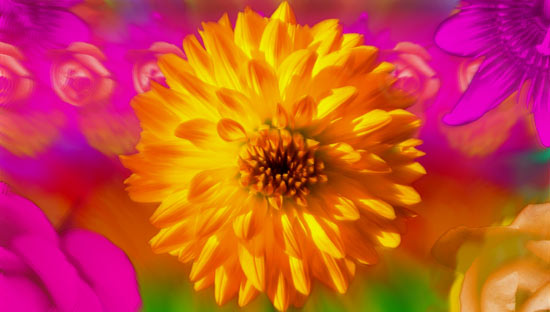 Still from Generative Flowers II by Don Relyea
Generative Flowers II will be screened at the opening of the Oslo Screen Festival, International Festival for Experimental Film & Video Art. The program looks fantastic this year! I am honored to be a part of it. The opening program is curated by Marjan van Mourik of CultureTV
International Festival for Experimental Film & Video Art
March 12th-14th
www.screenfestival.no

FRIDAY, MARCH 12th at BLÅ
Brenneriveien 9
21:00 Special screening Culture TV
Somnio, by Paulo Fernandez; Generative Flowers II, by Don Relyea; Baum, by Nicola Jeremic; Comedy, by Christophe Thockler; Parametabolic, by Robin Voshardt; Imaginary Numbers, by Daniel Piker; Fluxion.curb, by Christopher Warnow
www.culturetv.tv
21:30 Concert Center of the Universe
Inspired by Balkan music, jungle, dubstep, Arabian music, Greek rebetiko, French progrock and lo-fi; Center of the Universe has it's own remarkable sound. They have created music for installations, ballet and performance, published 11 albums, a bundle of remixes, and have performed an insane amount of concerts.

SATURDAY, MARCH 13th at FILMENS HUS
Dronningens gate 16
13:00 - Program 1
The delicate art of the bludgeon, by Jean-Gabriel Périot (FR); Still life with Mattias, by Endre Tveitan (NO); Train Watchers, by Agung Nugroho Widhi (ID); LYMS, by Ottar Ormstad (NO); Into Daylight, by SJ.Ramir (NZ); Distances, by Liliana Resnick (HR); Westcoast, by Ulu Braun (DE); Red Tape, by Lucas Treise (DE); Stone on Stone, by Rob Carter (USA).
14:20 - Program 2
En Milonga, by Guri Guri Henriksen (NO); Trapez Shortcut, by Josephin Böttger (DE); Silent Cry, by Wilfried Agricola de Cologne (DE); Edicisum, by Candas Sisman (TR); LoopLoop, by Patrick Bergeron (CA); Syncronisation, by Rimas Sakalauskas (LT); Way Fare, by Sylvia Schedelbauer (DE); Getaway, by Ingeborg Stana (NO); Cartolina Cellulare, by Peter Vadocz (HU); Dropping Furniture, by Harald Hund & Paul Horn (AT); Windshield Baby Gameboy Movie, by Clint Enns (CA).
15:30 - Special screening LOOP, Barcelona
Ailleurs, Katia Bourdarel, 2008. Courtesy of BK Galerie Bernhard BIschoff, Bern.
Last Year At Marienbad, Kota Ezawa, 2007. Courtesy of Galerie Anita Beckers, Frankfurt.
El Olvido II, Amparo Sard, 2009. Courtesy of N2 Galeria, Barcelona.
Planar, Arturo Fuentes, 2009. Courtesy of Galeria Llucià Homs, Barcelona.
Witness II, Michael Nyman, 2008. Courtesy of Galeria Senda, Barcelona.
La Licorne, Maïder Fortuné, 2006. Courtesy of Martine Aboucaya, Paris.
Sobremesa, Kaoru Katayama, 2007. Courtesy of Galeria Tomás March, Valencia.
Figuring Grounds, Gary Hill, 1985. Courtesy of Polígrafa Obra Gràfica, Barcelona.
*The video Figuring Grounds has been edited to accompany the book An Art of Limina. Gary Hill's Works and Writings, by George Quasha and Charles Stein, edited by Polígrafa, Barcelona, 2009.
www.loop-barcelona.com

16:40 - Program 3
Mamo, by Anders Weberg (SE); disLocation, by Katy Morrison (AU); The sun tattooed, by Shwan Dler Qaradaki (NO/IQ); Raumsonde, by Jürgen Hille (DE); Space Drawing No. 5, by Sai Hua Kuan (UK/SG); Requien Granular, by Tomaz Klotzel (BR); You and Me, by Karsten Krause (DE); Footsteps, by Robert Ciesla (FI); In the mix, by Jan Machacek (AT); Cheval Blême, by Philippe Rouy (FR); Is It Just Another War?, by Espen Faugstad (NO); Natur Kultur, by Geir Esben Østbye (NO).

19:00 - Artist talk and film screening with Per Teljer
Per Teljer (1970) is a Swedish artist working with video in a script based/narrative genre and he's mostly known for the videos Festen (English title: The Celebration, 2001) and Som det nu var (English title: Solidarity Lost, 2006). He's the leader of the time-based art department at Trondheim Academy of Fine Art.
Teljer is screening his latest film Stugan (English title: The Cabin, 2010, 53'). A compact chamber play between two old friends incarcerated in a lonely cabin during an ice-cold winter night. During the Oslo Screen Festival The Cabin will be screened for the first time.
www.teljer.com

SUNDAY, MARCH 14th at FILMENS HUS
Dronningens gate 16
13:00 - Norwegian Video Award/International Video Award
13:20 - Program 4
an*AMOR*phosis, by bicefaliKo (FR); Motholic mobble part 3, by Kaia Hugin (NO); Contra, by Vicent Gisbert Soler (ES); In Transit, by Reinhold Bidner (AT); Par Hasard, by Bull.Miletic (NO); Black Hole, by Johanna Reich (DE); Flights of Sleeping Birds, by Gayatri Kodikal (IN); Planet A, by Momoko Seto (FR/JP).
14:20 - Presentation with curator Wilfried Agricola de Cologne and special screening CologneOFF V - Taboo! Taboo?
White, Lin Fangsuo (China); How to clean a puddle, Roland Wegerer (Austria); Corporate Warfare, Casey McKee (USA); Noli Me Tangere, Masha Yosefpolsky (Israel); (Buried) Over the Roofs, Alex Lora (Spain); Siebensachen-One's Bits and Pieces, Anna Porzelt (Germany); ?Slapstick Social By, Frank Gatti (France); ?Pass, Istvan Rusvai (Hungary)
http://coff.newmediafest.org/
15:40 - Program 5
Copy City, by Denise Hauser (NO); Regents Canal, by Marc Atkinson & Leslie Deere (UK); Exótica, by Sérgio Cruz (PT/UK); Lek, by Wolfgang Lehmann (SE); The Red City, by Sabina Jacobsson (NO); There is a Lot of Joy too, by Johanna Lecklin (FI); My Father's Letters, by Yana Sakellion (RU); Aanaatt, by Max Hattler (UK); Stultifera Garden, by Johanna Domke (DE).
16:50 - Program 6
Vehicles, by Tina Willgren (SE); Jazkamer, Live at Club Urga, Tokyo, by Håvard Gjelseth (NO); The Shelling of Neon Lights, by Paola Vela (PE); Body Trail, by Michael Palm & Willi Dorner (AT); India, by Noemi Sjöberg (ES/SE); Heart Beat, by Mia Nikolic (RS); Grid, by Volker Schreiner (DE); In the Hall of the Mountain King, by Svein Johan Reisang (NO); Sansula, by Dirk Rauscher (DE); React, by Fabien Bourdier (FR).
18:30 - The Dream That Kicks presents 8ISM (Lillebil)
As a domestic format Super8 was wiped out by the rise of the camcorder, but its still around and used by filmmakers and artists the world over - its the gauge that wouldn't die! These six films show Super8 in all its dirty beauty, and highlight the love affair between the streets, Super8 and transgressive music. The Dream That Kicks is a project run by Greg Pope.
This Is A History Of New York (The Golden Dark Age Of Reason), Jem Cohen; Jimmy's Ballet, Jaap Pieters;
Guerillère Talks, Vivienne Dick;
De Blikjesman (The Tin Can Man), Jaap Pieters;
Patti Smith: Long For The City, Jem Cohen;
TG Physic Rally In Heaven, Derek Jarman.

Free entrance.
International Streaming Festival the Hague, Netherlands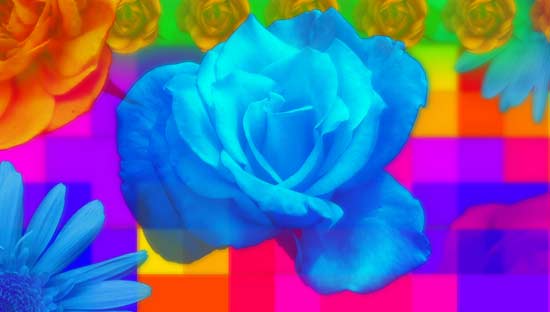 Still from Generative Flowers II by Don Relyea
Generative Flowers II is featured as part of the Generative X February 2010 Program International Streaming Festival the Hague, Netherlands.

This months program focuses on generative art with artworks from Daniel Piker, Glenn Marshall, Gwen Vanhee, Takmi Ikeda, Don Relyea and Christopher Warnow.
The program is curated by Marjan van Mourik for CultureTV
LA INCUBADORA by Grimanesa Amorós 2010 at Lab Gallery at Roger Smith Hotel NYC


La Incubadora, by Grimanesa Amorós, explores the interplay between biology and society. Amorós asks the questions: To what degree are gender-specific roles biologically determined? What happens to those roles as both society and biology evolve?
From her Artist Statement....
"The ideas arose in a very personal context; during my pregnancy, and afterwards when I was nursing our daughter, I noticed how curious my husband was about my experiences. More than once he pressed Shammiel against his own nipple to see if she would suckle. I wanted to create a piece around motherhood, and the unbridgeable gulf between the male and female bodies, specifically in the area of reproduction. Then I began to imagine ways in which that gulf might be bridged."

"Central to this work is the concept of male pregnancy. Given recent startling developments in our understanding of genetics and medicine, we may soon see a future in which women and men will both have the opportunity to carry a pregnancy. This shift would have not only enormous biological ramifications, but would also motivate a reexamination, if not total upheaval, of deep-rooted social conventions. In You Cannot Feel It..., I fantasize what such a world might be like.'


The images of LA INCUBADORA are very effective at challenging viewers to think about the roles we have inherited by our genders. While I do not fantasize about male pregnancy, I do have three kids and I am quite familiar with this element of life experience. I have often wondered what it would be like and I have marveled at my wife's ability to deal with all of the physical changes that occur.
My wife and I do a lot together and I get in the habit of saying "we" when I refer to whatever we are doing or planning all the time. I made the mistake at a brunch with several friends of saying "we are pregnant again". I was corrected immediately by one of our mom friends that only my wife was pregnant, not me. She was right though, I cannot really feel what my wife feels throughout the pregnancy.
Be sure to check out more of Grimanesa Amorós work at her web site.
THE LAB (for installation + performance art) is a New York based, converted storefront turned fishbowl producing 20+ fast paced performance art and installation exhibitions annually. Aimed at the furious midtown foot traffic, THE LAB's programming is designed to confront modern relationships between art and audience and seeks to force interaction between high energy, "outrospective" exhibitions and nearly 25,000 daily passersby. For more information: www.thelabgallery.com

The Aikon Project: computational drawing system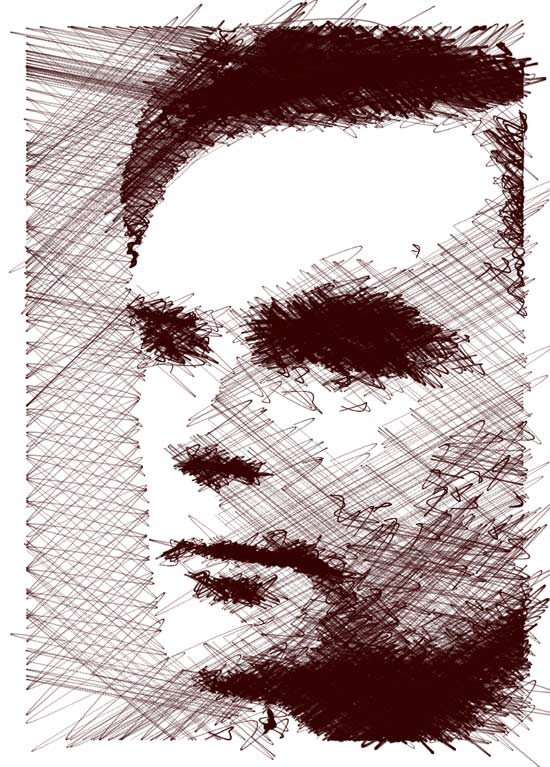 Alan Turing, 23 June 1912 – 7 June 1954. (Aikon, 2010)
Goldsmiths University of London has a great project called the Aikon Project. They have been awarded a grant to explore artistic drawing focusing on portraits. The Aikon Project is supported by a Leverhulme Trust 3 year research grant.

From their web site..."What can explain that for a non-draughtsman it proves so difficult to draw what they perceive so clearly, while an artist is able to do so sometimes just with a few lines, in a few seconds? Furthermore, how can an artist draw with an immediately recognizable style/manner? How can a few lines thrown spontaneously on paper be aesthetically pleasing? "
The sketch of Alan Turing above is really nice, it appears to be drawn with a single line. I love how at the point where the line takes a turn the lines weight gets a bit heavier just like it would with a felt tip pen.
From their web site..."The main objective of our investigation is to implement a computational system capable of simulating the various important processes involved in face sketching by artists. The ensemble of processes to be simulated, including; the visual perception the subject and the sketch, the drawing gestures, the cognitive activity: reasoning. the influence of the years of training, etc., the inter-processes information flows. "
The Aikon Project is very interesting to me as I have a similar one. I have been evolving my Hair Particle Drawing Project into a plain old particle drawing project that will employ a variety of types of marks, open cv, face recognition, etc. My strategy is to keep the particle framework and modify the particle classes to accommodate several marks, continuous line regions, erasing, emphasis, etc. I plan to use the face recognition libraries to determine where to place the really important lines and add extra emphasis. I have been reflecting a lot on how I draw in real life for this project and I have been trying calculate ways to approximate this process based on my own experience.
I am not as far along though and right now I only have some hatching, erasing and emphasis going on. Below is some output from last Fall.
Our British friends at Goldsmiths are basing a lot of their work on archives of sketches and artists notes so I imagine they will have a lot more information to feed their computational drawing system. I really look forward to following the progress of this project. They have a mailing list you can sign up for on their web site if you are interested in following it as well.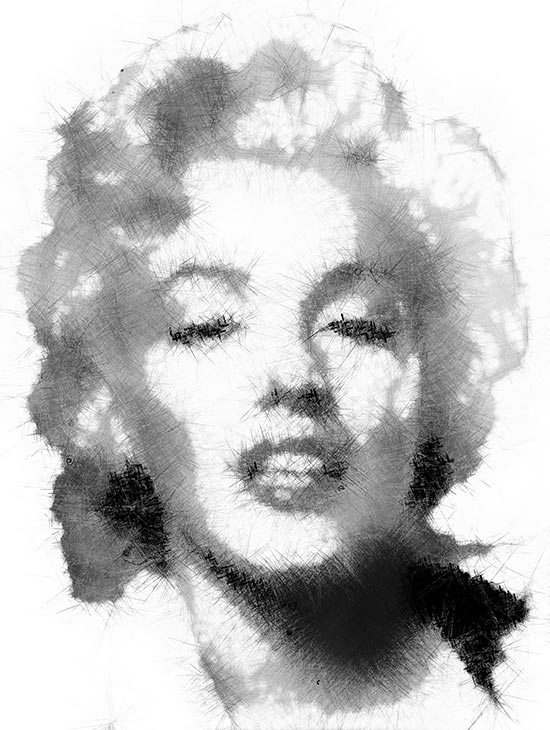 Marilyn Monroe, Don Relyea, Particle Drawing Project, 2009
Jen Stark hand cut paper sculptures and drawings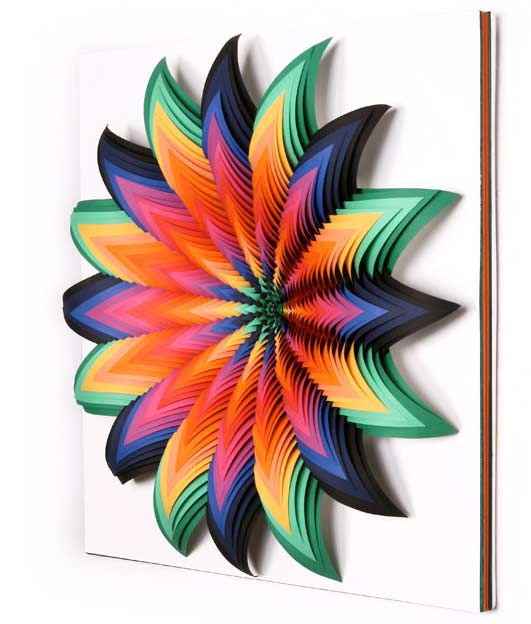 Jen Stark, Prismacolor, hand cut paper 2009
I ran across Jen Stark's work a while back somewhere and then ran across it again while reading a friends blog the other day and meant to post on her work.
Stark is primarily known for her hand cut paper sculptures but she also draws and designs. Her use of color is smart and well done.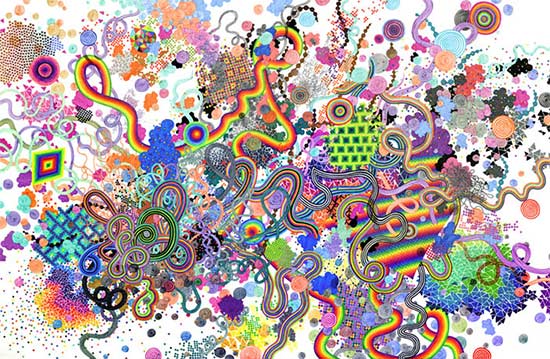 Jen Stark, High on Constellation, felt tip pen on paper, 2009
Stark's hand cut paper works and her drawings exhibit a great natural use of pattern as well. Be sure to visit her site. Her entire site is very well done, reminding me I have been meaning to clean my site up a bit this year as well =)
401_06 in Moscone Center and Meret Oppenheim at LAL Nude 2010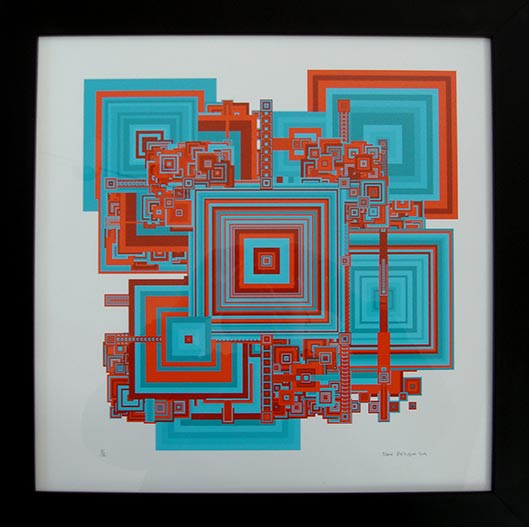 "401_06"
by Don Relyea at JMM 2010 Moscone Center, San Francisco
"401_06" from my Space Filling Curve project at the Mathematical Art Gallery in Moscone Center, San Francisco, CA. January 13-16, 2010, as part of the 2010 American Mathematical Society - Mathematical Association of America Joint Mathematics Meetings.

"Meret Oppenheim" from my Hair Particle Drawing Project will be on display at Nude 2010 January 16 – March 28, 2010 at the Lexington Art League galllery, Lexington Kentucky.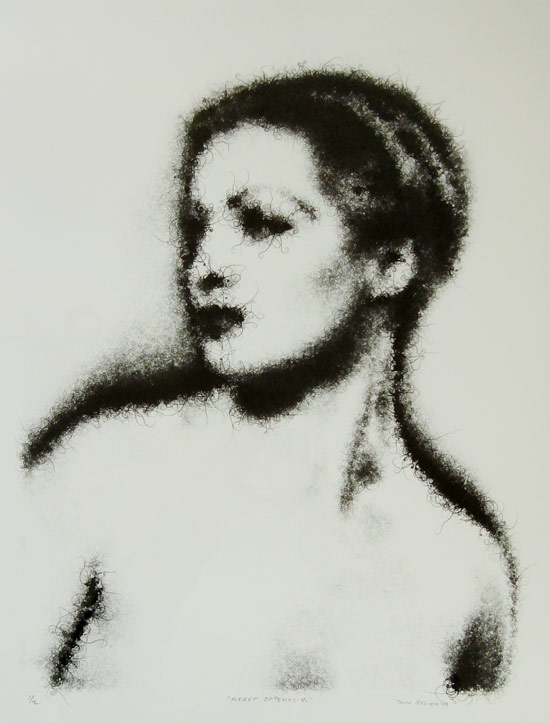 "Meret Oppenheim"
at LAL Nude 2010,
Lexington Art League galllery
, Lexington Kentucky
I received a lot of questions about the Meret Oppenheim piece from LAL and I thought I would share my commentary on the piece here as well.
The Meret Oppenheim piece was developed in C++ using Openframeworks.

Meret Oppenheim was the the artist loosely associated with the Dada movement who made the very famous fur lined teacup. The photo this image is sampled from was taken in 1937 by Man Ray. I thought Meret Oppenheim would be a great subject for a hair particle drawing project.

My "blank canvas" looks a little different from the usual artists "blank canvas". I create my work in a software compiler ( Code Blocks ) so my "blank canvas" looks more like a word processor. Only when the program is executed is the visual output realized.

The hair particles are not real hair but virtual approximations of growing hair generated by my software. I have several works using this drawing engine. It is based around a particle fx engine I wrote for a game some time ago. I altered the particles to behave like growing hair. In the early stages of development the particles rendered long and flowing hair with loose curls. In general, hair growing in darker areas grows longer, thicker and maintains a tighter curl. This is to preserve some of the detail that would get overgrown otherwise. Hair will continue to grow over time.

What is a hair particle? Video games are a good context to think about particles. When something explodes in a video game, debris flies everywhere. The debris is described visually using particles that keep track of various properties such as velocity, physics, scale, luminosity, color etc as the debris flies across the screen. Particles in the context of the Hair Particle Drawing Project can be thought of the same way but instead of a explosion metaphor, imagine 10's of thousands of pencils or dry point tools emanating from everywhere leaving a mark on the drawing plane to draw the portrait all at once. The particles are capable of behaving on their own and no two will ever behave exactly the same.