evilcomputergenius Unmastered pre-release out there on the internet now


For the last almost 2 years I have been working on a collection of new dub influenced bass driven tracks for my project evilcomputergenius. Since my focus is primarily visual art, the collection is just something I have been working on in my spare time. However the tracks are starting to sound really good even in their unmastered state. The collection is beginning to come together to tell a complete story as well.
So...I have decided to just release all the unmastered preview tracks in various forms for free full download on the internet so people can check them out and so I can see if folks respond to any of the tracks. So if you need some fodder for your ipod for the drive to grandmas for turkey day go get em here and here!
The tracks are a wide range of tempo from 80 bpm to 130bpm. Most are very dub influenced electronica with some electro-rock and some progressive breaks and some drum and bass influenced tracks as well. If you have a sub woofer it will get a good work out.
The tracks are mostly finished but they are still unmastered. Casey Hess, old band mate of mine and member of the Burden Brothers is going master them soon when I finfish fiddling with them. I gave him some really early stuff to play with and he assures me the mastered versions will be a marked improvement.
In the mean time feel free to check out the unmastered tracks and put them on your Facebook page and put them in your lastfm.com play lists.


My site on iLike: http://www.ilike.com/artist/evilcomputergenius

My site on Facebook to add files to your facebook page: http://apps.facebook.com/ilike/artist/evilcomputergenius

lastfm.com: http://www.last.fm/music/evilcomputergenius/Unmastered+pre-release
Feel free to contact me if you like them or hate them or just want to say drum break at 4:18 in song whatever is driving you mad.
Spam One Liners by Linzie Hunter


One of my co-workers Greg Johns, who is also a generative art guy (processing, java, vvvv) sent me this link he found on Flickr earlier this week. It is a very well done series of hand lettered spam one liners by Linzie Hunter. These are great!
15_04 Space Filling Curve image


In my perusal of art blogs and web sites I like I found some art gems....
reposted from ArtMoco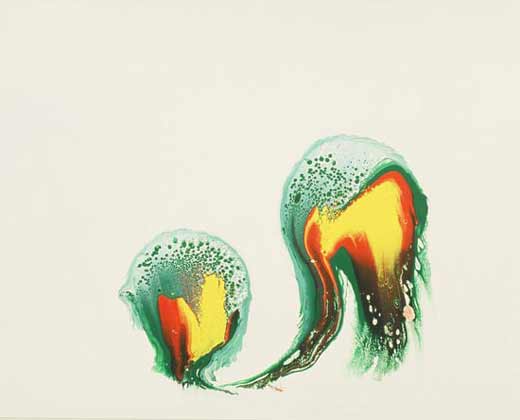 Maternal by Jim Fuess
From Jim Fuess' web site...I work with liquid acrylic paint on canvas. Most of my work is abstract, but there are recognizable forms and faces in a number of the paintings. I am striving for grace and fluidity, movement and balance. I like color and believe that beauty can be an artistic goal. The most recent work deals with negative space and the edges of the canvas. The work is lyrical, energetic, colorful and sometimes spooky or humorous.
The painting technique involves using squeeze bottles with different viscosities of liquid paint, two brands of paint, and a number of interchangeable nozzles of different apertures.
Originally found on nanohedron.com
Hilbert space filling curve project activity


I have updated my home page with a new image from the latest version of my Hilbert space filling curve art generator. The new algorithm is pretty sweet.
In the past I have had to make a few tweaks to the output to fix a few pixels here and there before I print them. The new algorithm is making nearly flawless output now.
I have tweaked the code to where it is presenting me with what I like more often. I really need to focus on upgrading the color theory module now, there are lots of things I can improve there.