hair particle drawing project now in openframeworks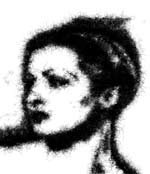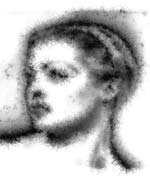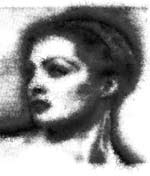 various Sketches of Meret Oppenheim in OF
Click on the above thumbnails to enlarge
For the new Openframworks version(opens project page with source code for hair class) of my old hair particle drawing project(old director version) I have chosen to switch gears from the politcal satire for now and I have chosen a new subject for this exploration. I have decided to do a large portrait of Meret Oppenheim. Oppenheim was the the artist who made the very famous fur lined teacup. The photo this image is sampled from was taken in 1937 by Man Ray.
The above sketches and the below video are just a start. I plan to do a large scale print of this piece and I may have to go through several iterations before I get it just right.

hair particle sketch of Meret Oppenheim from Don Relyea on Vimeo.
Source Code
So you can get an idea of how this works I have included the main source code for the hair particle class with comments on the new project page. The class is pretty simple and works well. In the update function of testapp I am just poll an array of particles to see which ones are active and which ones are not. The ones that are not active get assigned to draw a new hair particle.
I was really surprised how easy it was to port this project over from Director. I was even more surprised how much faster it runs in openframeworks. The performance boost moving to openframeworks is truly impressive.
more slit scan kids test renders

I posted a few more test renderings of sample motion to get a better idea of where I want to go with this project. I am fortunate enough to have some people I can sort of choreograph to do these motion tests with, sort of =).
The video samples are not recorded on the best digital video camera in the world. My next test to try out some HD footage and see how painful that is going to be for my computer to process. I'm guessing it may take a while.
Experiment with a door and a spinning child.
I narrowed the gap in the frame displacement to yield a longer twist in the above sample..
All three kids totally abandoning their choreographic instructions, lol.
slit scan video test render done in openframeworks

I have been doing some new projects in openframeworks lately. I have been having lots of fun. This is a test render from one of my variations on slit scan video. I have bigger concept I am working towards with this project. It will be interesting to see where I get with it.
If you are into generative art and software based art and art tools you should check openframeworks out. It is very similar to processing except it is a framework for c++ and open GL. It is cross-platform and highly extensible. Having played with openframeworks now for a week or so I am pretty impressed with the ease I was able to get something up and running.
MONOCHROME Series Incident.net 2007-08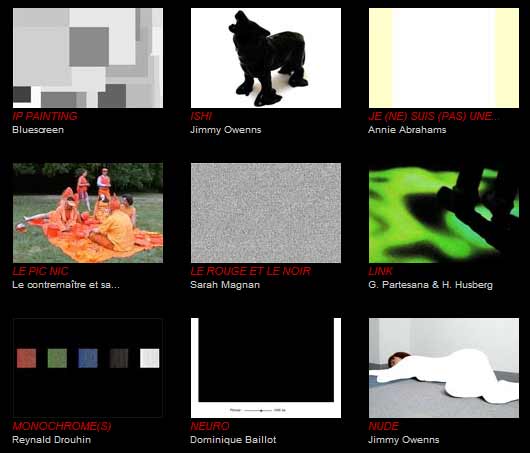 MONOCHROME / Series / Incident.net / 2007-08

Stéphan Barron
Philippe Bruneau
Grégory Chatonsky
Emilie Pitoiset
Clément Charmet & Vincent Dorp
Nicolas Frespech
Claude Le Berre
David Guez
Claire Evans
Cetusss
Julie Morel
Gildas Paubert
Judith Nothnagel
Thomas Cheneseau
Reynald Drouhin
Bluescreen
Jimmy Owenns
Annie Abrahams
Gregory Chatonsky
Yann Bernard
Le contremaître et sa...
Sarah Magnan
G. Partesana & H. Husberg
Leo Morrissey
Don Relyea
Reynald Drouhin
Dominique Baillot
Jimmy Owenns
Guillaume LaBelle
Robert Cottet
Yan Breuleux
James Teng
Stéphane Noël
Renata Padovan
Yoko Hata
Gregory Shakar
Lizvlx & Hans Bernhard
David Crawford
Société Réaliste
Rybn.org
AURA_CLIMA
BLANC
CASABLANCA@HOME
CAUTION
CLIQ
COLORS
CORE MEMORY
DDP
DREAM MACHINE
ELVISSS COMMUNITY
GENERATEUR BLANC
HEXADECIMAL COLORED
INFRA_KAA
INSTANT SINGULIER
IP. MONOCHROME
IP PAINTING
ISHI
JE (NE) SUIS (PAS) UNE...
LAST LIFE
LES SABINES
LE PIC NIC
Le rouge et le noir
LINK
MONOCHROMATIC WALK
MONOCHROME
MONOCHROME(S)
NEURO
NUDE
ONE PIXEL ROOM TONE
POLYMONO
PUR BLUE
RED
RELAY OPALKA
SANS_SORTIE
SITE INVISIBLE
THE ANALOG COLOR FIELD...
THE BLACK WEBSITE
THESE PEOPLE FROM...
TRANSITIONERS
TUBE:MONOCHROME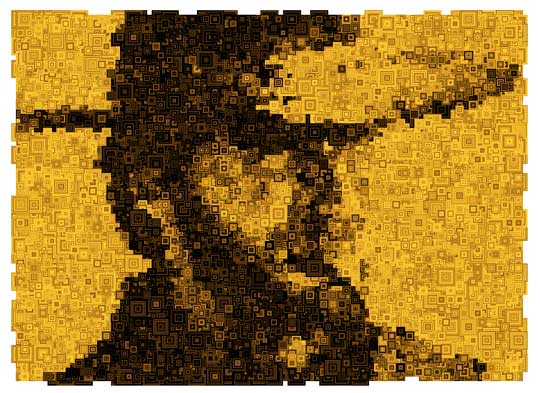 I entered a monochrome portrait generator that works pretty well. I have an exe version that generates very high resolution print output too. For a sample of a higher resolution image of Clint Eastwood ( click here png 250k).
To explore the generator for yourself check out the Monochrome Generator (69k shockwave app opens in new window)!
Using the generator is easy, you can go to google images and search for pictures of people and things you want to make monochromes out of. You view the full size image and copy the URL from your browser bar. Click the load image button near the top left of the applet then paste the URL in the provided field. You should see a grayscale image of the picture you chose in the upper left of the applet. Simply click on a color swatch to generate your MonoChrome!