Data, it fails us now... youtube playlist updated

I have updated my glitch playlist on youtube with a ton of new videos, check it out if you have some time and enjoy digital detritus. The above video I think is my new favorite "Mac the Knife", it is Ben Hernstrom's entry for the 3rd Annual Public Domain Private Dominion - The Pittsburgh Creative Commons Film Festival. It is uploaded by user ambulantic.
I have also added the very well done and informative "how to datamosh part 1" by Datamosher the genius behind the Chairlift, Evident Utensil video. This video provides step by step instructions on how to data mosh in three parts as well as a link to the free software you need.
See: Data, it fails us now.
Interview in Artworks Magazine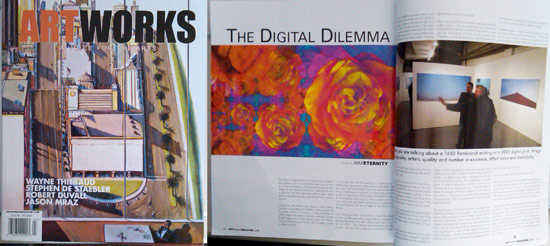 Big Thanks to Max Eternity, contributing writer to Artworks Magazine and editor of Art Digital Magazine who interviewed me a while back on my thoughts on digital art and provenance. He also interviewed Kristin Heming of Pace Prints, David Rudd of Cycleback, Rex Bruce of Lacda and Andy Weimer of Spaightwood Galleries.
The article is published in the Fall 2009 issue of Artworks Magazine and features a frame from my Generative Flowers III video art work.
161 02 space filling curve art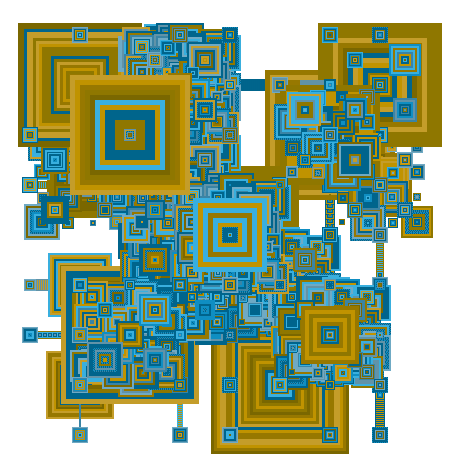 "161 02"
by Don Relyea
I have been using my space filling curve program to generate some textures with transparency for an open gl music visualization program I am working on for fun. "161 02" was a keeper.
I have ton of new ones I need to get around to posting on Flickr or here on my site soon.
Jeffrey Cortland Jones at Some Walls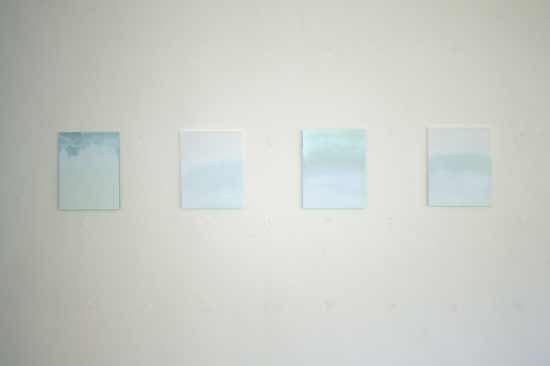 Some Walls is a new curatorial and writing art project located in a private home in Oakland, California. For the inaugural exhibition, Some Walls is proud to present "Jeffrey Cortland Jones: Recent Paintings," from September 10 – October 31, 2009. Images and an essay about the exhibition are at Some Walls.
Jeffrey Cortland Jones is Associate Professor at University of Dayton in Dayton, Ohio. A painter as well as a curator, he is much admired by peers for his lush and serious work, disciplined and productive practice, broad and active exhibition schedule, and friendly and generous spirit.
Some Walls will show four small recent paintings made with enamel on acrylic panels. Known for his use of industrial materials, institutional colors, complex layering, and vigorous mark-making, Jones had in the recent past used a more wild and vibrant palette. The four paintings in this exhibition head in a slightly different direction, however. Returning to his previous use of green and white, Jones has quickened, reduced, and softened his paint application, resulting in images that, though abstractions with a strong physical presence and object quality, with their vertical format and horizontal spatial divisions hint at the wintery-like atmospheric image of haze just as the sun is about to burst through.
Some Walls is open by appointment only. To view the exhibition online visit somewalls.com.