Timothy Leary for President 08 - Question Everything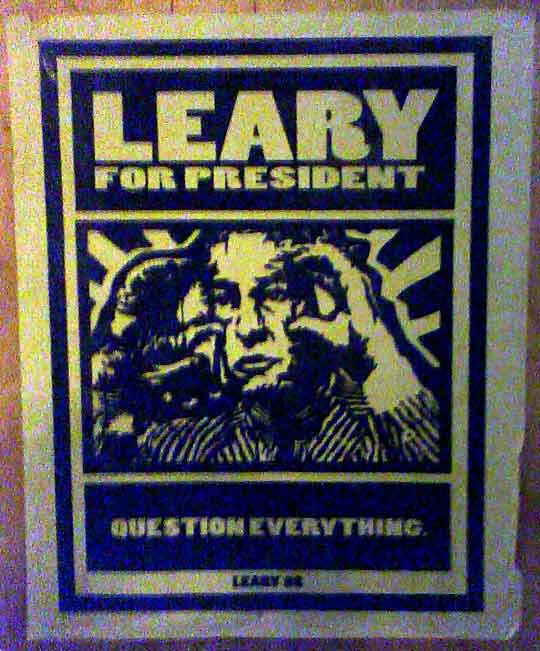 I stumbled past this poster while in San Diego on business...proof of cryogenics?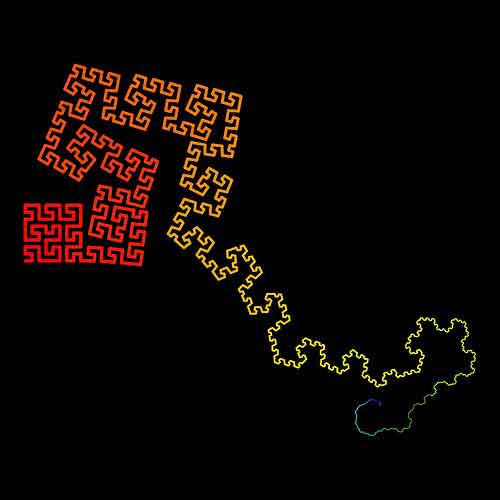 Yozlaşma / Degeneration
by
Eser Aygün
New audio visualizers in processing by Flight404


Solar, with lyrics. from flight404 on Vimeo.
Made with Processing. Audio by Goldfrapp ("Lovely Head" off her first album).

Working on a way to integrate lyrics into the visualizers. Read more about the process here...
flight404.com/blog/?p=111


Magnetic Ink, Process video from flight404 on Vimeo.
Made with Processing. Audio by Flashbulb ("In an Instant" from the album "Red Extensions Of Me") This is a time-based documentation of how the Magnetic Ink prints are created. The orbital vector is quite noticeable in this video. flight404.com/blog/?p=106
theflashbulb.net
Glitch Art Photo Pool on Flickr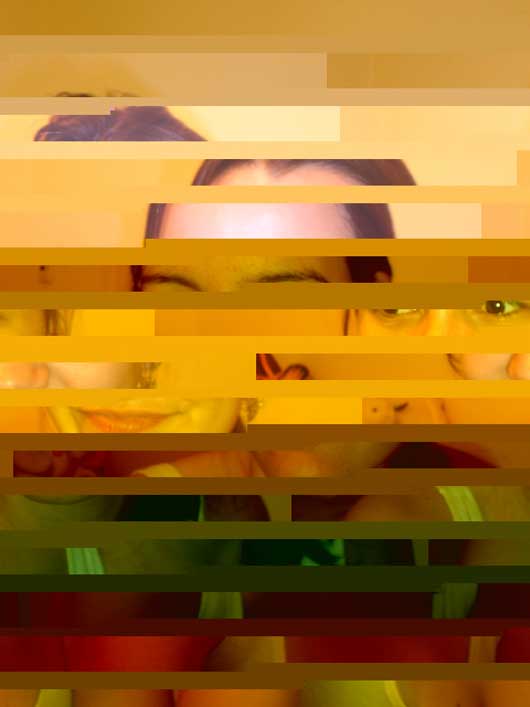 Well I uploaded all the photos from the ready made glitch art set to Flickr and joined the Glitch Art photo pool. There is some awesome stuff there. This fantastic photo is by user Luiza O. S. and while I do not entirely understand the language it appears to be a glitch from an error while loading from a CD-Rom.
For some reason my cable signal this morning was totally jacked! I suspect poor network architecture is the cause but who cares... the result is fantastic ready made glitch art! When I went out to the den this morning and my kids were freaked out by what they were watching and righfully so.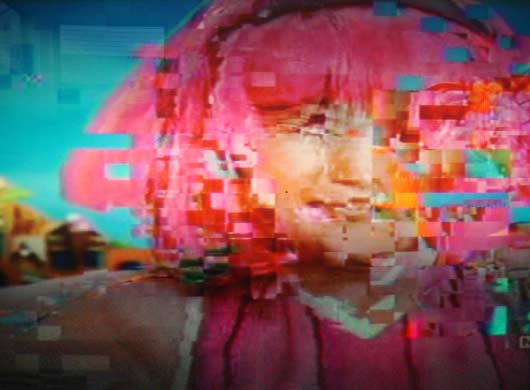 The pink haired girl above is probably my favorite of the still photos of the glitched out video...
I kept seeing amazing accidental compositions happening out of the destroyed video signal and had to document some of it. My kids were watching Lazytown which is a wierd show anyways and when it is damaged it is even weirder.
Ready made Glitch video..38 seconds in is totally sick!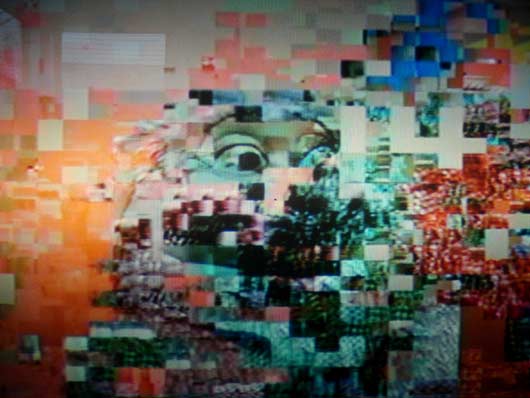 This eye peeking through the video distortion is pretty cool too. I put all the stills and videos on this page of ready made glitch art.
Merce Death: Real Time Canon Test

Found this while checking out Chris Ashley's blog. As usual lots of nice new html drawings there and then this video. I had heard of Merce Death before but never taken the time to check him out until I saw this video on Chris's blog. It is cool check it out. He records himself with samplers and plays over them in real time. Nice work.
30 Years at 500X February 9 - March 2

Your Favorite Artist was a Member: 30 Years at 500X February 9 - March 2, 2008 Reception: Friday, February 22, 5-10PM Panel Discussion: Wednesday, February 20, 6-8PM
This exhibition is a contemporary survey of the thirty-year history of 500X Gallery featuring the diverse works of both former and current gallery members. Artists Will Hipps and Richard Childers founded the gallery in 1978 with a mission to create a collaborative environment dedicated to providing an exhibition space free of commercial restrictions. Through the committment and enthusiasm of generations of artists, the mission of 500X Gallery continues to thrive. 500X Gallery will support this exhibition with a panel discussion addressing the topic: The Viability and Necessity of Artist-Run Spaces

Panel Members:

Will Hipps, Associate Professor of Art & Museum/Galleries Director, Kennesaw State University, Kennesaw, GA & Co-founder of 500X GalleryBen Hirschkoff, Artist/Member, SOIL, Seattle, WA Cynthia Mulcahy, Owner/Director, Mulcahy Modern, Dallas, TX Shannon Stratton, Director/Chief Curator, Three Walls, Chicago, IL Dr. Jennifer Way, Associate Professor of Art History, University of North Texas, Denton, TXModerator: Noah Simblist, Artist & Assistant Professor of Art, Southern Methodist University, Dallas, TX
Exhibiting artists: Frances Bagley . Brennen Bechtol . Iris Bustillos Bechtol . Paul Booker Nancy Brown . Jim Burton . Richard Childers . Steve Cruz . Brad Cushman Curtis Jackson Davis . Dorothy Duvall . Celia Eberle . Vincent Falsetta Garland Fielder . Randall Garrett . Will Hipps . Mirka Hokkanen Clint Imboden . Simeen Ishaque . John Oliver Lewis . Natalie Macellaio Sarah Maxwell-English . Robert McAn . Jessica McCambly . Tina Medina Greg Metz . Rosemary Meza-DesPlas . Trish Nickell . Mary Nicolett Nic Nicosia . Tom Orr . Jennifer Pepper . Steven Price . Lesli Robertson Jen Rose . Tony Schraufnagel . Diane Sikes . Tom Sime . Charlotte Smith Brian Spolans . Shannon Sullivan . Takako Tanabe . Don Taylor . Erik Tosten . Veronica De Anda Tosten . Tara Welch . David Willburn . Vance Wingate
The Members Gallery Features Associate Members: Tim Best . Eric Blake . Keri Oldham Harmony Padgett . Polly Perez . Aqsa Shakil Reception features music by DJ Jeff Ross

500X Gallery 500 Exposition Avenue Dallas, TX 75226 Sat / Sun 12-5PM 214.828.1111 . 500x.org

1978 - 2008

30 Years of Promoting Emerging Texas Artists

Support your local art scene!
My friend Alex on the last leg of his world tour / vacation stopped in Shanghai for Chinese new year. Clearly there are no laws governing the use of fireworks over there and no one is concerned for anyones personal safety. It is awesome!
generative 3d slit scan experiments


These images were created using a digital slitscan process. I wrote a program that generates several groups of 3d primitives. The separate groups of primitives are rotated in slightly different directions slowly while every frame of rotation a column of pixels is sampled from the middle of the image and used to make a picture. The resulting images are an explosion of twisted volumetric shapes.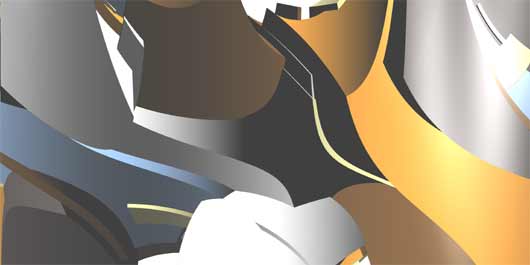 See the project page Generative 3d Slit Scan Experiments for 30 or so images like the ones shown in this post.
Here is a 38k low resolution shockwave demo you can play with!