Ellen Jantzen -- Patricia Vanishing Mother

I have written about Ellen's work before. This series caught me as most folks in my generation are now dealing with aging parents..
Ellen Jantzen writes......
I normally deal with issues of reality in my artwork. I am intrigued with what is real, what is imagined. Are dreams real? Is what one sees, hears, and feels real? Aren't elements of the world flavored and altered by one's own emotional makeup and history?
With all of this in mind, I was drawn to the reality of my mother-in-law's mental state as she slips into dementia. I created a series of images depicting my mother-in-law, Patricia Jantzen, as she goes about her daily business while suffering from Alzheimer's Disease. I have titled the photo essay "Patricia – Vanishing Mother."
Her isolation is evident in No Mail but her humor is intact.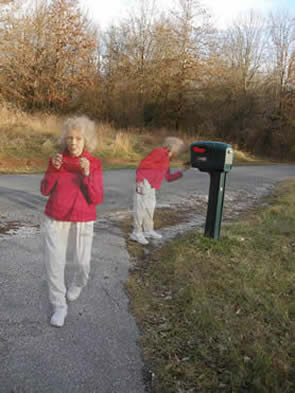 No Mail - (2009)
16"H x 12"W
Archival inkjet on heavyweight matte paper

You can see some more of these interesting pieces as well as read more about what Ellen has to say about this project and her experience with her mother-in-law's Alzheimer's Disease published at medical journal www.hektoeninternational.org. More by Ellen Jantzen at her website http://www.ellenjantzen.com/