Unstoppable!
Unstoppable (breaks dance extended mix) (10mb) | Unstoppable (no sample mix) (8mb) Pounding new track, one of my most accessible tracks yet! This track was originally inspired by the game Unreal Tournament, one of my favorite games. I had to stop playing the game though, I wasn't getting any work, art or music done.
The Real Time Contextual Art Layout Generator(250k opens in new window) is the first in a series of almost a dozen interactive contextual pieces that I am working on. The concepts and theories behind the work are located on the "Real Time Contextual Art Generator Theory" page. Essentially it uses the Google image search engine to contextually match images with user entered query terms. It takes those images and text and then algorithmically lays them out using the rule of thirds and so on.
The above images are real time algorithmically generated images from the query terms "disgust", "disfigured" and "toilet art". When I complete my series later this year (2005) or next year, I intend to solicit locations for a large physical display space using projectors and some undisclosed technical tomfoolery to allow people to interact with the contextual art in real time. Go ahead and play with the Real Time Contextual Art Layout Generator, you know you want to.
Toast in Inquirer and BBC!

The toast has most recently been featured by the Inquirer.net. I'm still gettingpretty funny questions from this auction. Well worth the trouble!

There is now a great article about the toast on NFORCERSHQ.

Also today I fielded a call from a reporter with the London Daily Mail Newspaper who interviewed me regarding the toast auction. He also informed me that the BBC has picked up the toast as a news item. Now that this particular toast is becoming infamous I think that the new owner of the toast could probably sell it at this point for more than she bought it for!
Koi pond construction 1



My Daughter likes fish a lot. So I decided to embark on a journey of manual labor and build her a fish pond. After about 5 total hours of labor the hole is about 2.5 ft deep in the deep part and a little less than a foot in the shallow part. The slow progress is due to lots of roots and big rocks and bricks buried in the location of the pond hole. When we are done digging, the hole should be at least 4ft in the deep end and 2ft in the shallow end. We plan for a small flagstone rock waterfall in the corner and live plants around the perimeter shelf.

This morning, on Father's day, we spent the morning digging together. I can't think of a better way to spend Father's day. It was great to see her trying to help me dig the hole. At 22 months old I am not sure she grasps the big picture of what we are trying to accomplish but she does a good job of looking like she knows what she is doing=)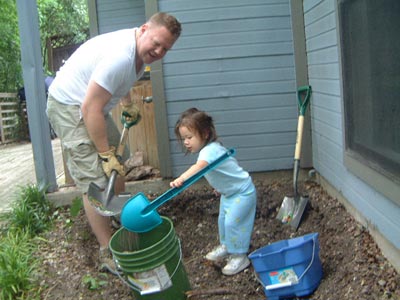 Father and daughter work together to dig the hole for the pond.

new pencil drawing
People who haven't seen me in a while always ask whether I am still doing art. The answer is yes and no. I still draw and paint from time to time but art is one of those things I have to make time for. With two kiddos it is tough. So far this year I have started 8 interactive art works, finished none of them yet, set up my oil painting area in the garage, and drawn one picture of my daughter in pencil(shown below). I am also almost finished with a mobile that will be about 7 feet in height when I am done.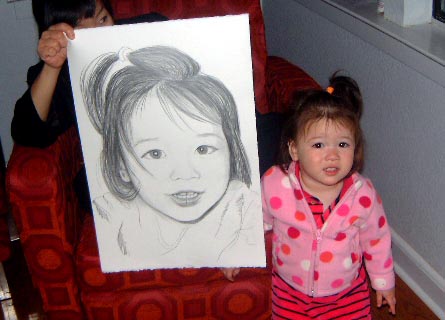 Here is the drawing next to the subject for comparison.

Baby Picture 2 weeks
The baby is cool. He is very mellow for the most part and already withstands a constant onslaught from his older sister. Here is a picture of him at 2 weeks old.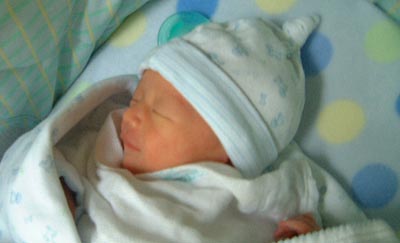 Here he is next to his older sister.



His sister actually loves him quite a bit already. The first thing she asks for when she wakes up or comes home from school is the baby.
Michael Jackson toast auction Closes

What a fun and enlightening internet experiment, it ended somewhat anti-climatic though. The toast sold for 36 dollars to a bidder in Wisconsin. We had about 26,000 page views and around 150000 image downloads. I'm glad its over now, ready to fiddle around with my server and tweak my site.
Algorithmic Art Screensaver var08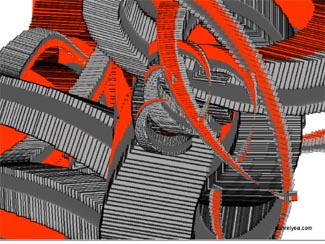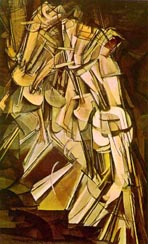 This screensaver is similar to my very old yet popular neo-futurist art generator shockwave movie done way back in 1995. That work was partially inspired by the Italian Futurist Cubist art movement. In a time of uncertainty after WWI, the Futurists embraced technology,action, motion and even violence for their potential beauty. They were best known for their innovative typeface work and the Futurist-Cubist art movement. Duchamp's "Nude descending a staircase",shown above next to the screen shot, is probably the painting most people would have seen in a 20th century art history class. This work is based on an old interactive art work inspired by the neo-futurist art generator.
[/screensavers] permanent link
Michael Jackson toast update 6


The Michael Jackson Toast is still at $36.00, we have 134 watchers with 20hrs to go. My Andale counter is telling me we are at 19,000 views since about 2.5 days into the auction. So far the Toast has been compared to a variety of celebrities including Ron Jeremy.


Judge for yourself. Left to Right: Brandon Lee(the Crow), Yoko Ono, Ron Jeremy, Salvador Dali, Michael Jackson, Janic Joplin, Alice Cooper and Howard Stern. Its also been compared to Joey Ramone of the Ramones and Ace Freely of Kiss. All of these people wrapped up in one toast, what a bargain!

As amusing as this auction has been I am getting ready for it to be over. I am ready with a new 3d spaceship screensaver and two new mp3 tracks, a killer breaks track and an industrial track. I want to upload the new music and screensaver but my server is getting slammed with people looking at the Michael Jackson stuff. My log has ballooned to over 60mb from 12mb in 9 days!
Michael Jackson toast update 5
The Michael Jackson Toast has so far garnered a price of $36.00, we have 120 watchers with 1.5 days to go! The image has been downloaded from my server over 105,000 times! If I'm lucky the trial will end today or tomorrow right about the time the toast auction is over. The Michael Jackson toast is now showing up on messageboards all over and in foreign languages. Pretty wild.
Michael Jackson breakfast toast part 4
The Michael Jackson Toast has so far garnered a price of $30.00, we have 93 watchers with 4 days to go! I took the liberty of making a screensaver and desktop wallpapers to promote this auction even more. The auction will drive people to the free screensaver and wallpapers, the freebies add value to the toast since they are viral components that live on past the auction giving the toast potential resale value! Its entirely possible the toast could be resold on ebay for more money than the person paid who bought it from me.
Michael Jackson breakfast toast part 3
The Michael Jackson Toast has so far garnered a price of $20.50, 9 bids and one retracted bid of 50,000! I am kicking myself for not adding a counter to the auction the first day. Its getting around 20-30 views per minute, with 6 days to go this is impressive. In addition there are 60 watchers! I think this toast is going all the way.
Michael Jackson breakfast toast part deaux
My piece of burnt Michael Jackson Toast has so far garnered a price of $5.50, 4 bids and 19,780 image downloads from my server logs. I have now added an andale counter to my auction and its getting around 30 hits a minute! So far it has not been covered in any major news outlets yet but its got 6 days left. I have spent 20 dollars on this auction so far so I stand to lose about 15 bucks at this point but it has been well worth the price of admission so far. This is great fun for the whole family.
ebay as entertainment
Ebay is becoming a source of niche entertainment. People are posting bizarre items and others are asking entertaining questions about the items. The novelty factor of the item plus the banter generate buzz which drives more traffic to the auction. Eventually people bid, gambling on the growing cult status of item. I theorize that this is what has generated a healthy market for toast on ebay. Various novelty toast are selling for relatively large sums of money on ebay. Britney spears baby footprint toast selling for 10k, runaway bride toast selling for over 10k, an anything you want toast selling for almost 1k so far an many many more.

In order to experience this phenomena first hand I have put up a very unique toast item, one piece of burnt Michael Jackson Toast. I So far I have already gotten a few laughs out of this making it worth the initial investment. I also got my first bid on the item today. Be sure to look at the questions the potential buyers ask. One potetial buyer has asked whether it is safe to eat the toast with rice crispies concerned the toast will molest Snap, Crackle, and Pop, heheh.