A New Perspective In Politics at Artworks! New Bedford MA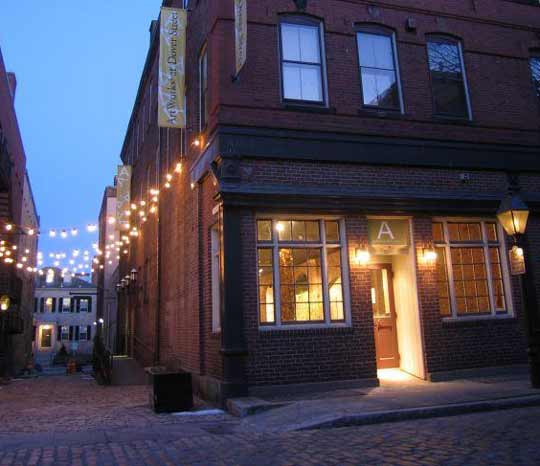 I have entered my Hair Particle Drawing project in A New Perspective On Politics at Artworks! Gallery in New Bedford, MA. Specifically, I entered the smaller Bush portait that was exhibited in Siggraph 2007 last year.
The exhibition features artists' representations of political figures such as George Bush, Fidel Castro, Hugo Chavez, Dick Cheney, Kim Jong-il, John Kerry, Abraham Lincoln, Barack Obama, Teddy Roosevelt, George Washington, Mao Zedong and more. This should be a fun exhibition, check it out if you are in the area!
A New Perspective On Politics
Saturday, June 7 to Saturday, July 19
Artworks! Partners for the Arts & Community
384 Acushnet Ave, New Bedford, Ma 02740
Gallery Hours are Tue-Sat from 12 to 5pm
Saturday, June 7- Opening Reception, 2-5pm
A New Perspective In Politics will be exhibited at the same time as another exhibition titled X-Country, which showcases the work of two artists, Derek Harding of Fall River, MA and Gerald Weckesser of San Diego, CA. The opening reception for both exhibitions will take place on Saturday June 7 from 2-5pm.
Exhibiting Artists:

| | | | | |
| --- | --- | --- | --- | --- |
| Wendy | Allen | New Milford, CT | www.lincolnintoart.com | painting |
| Corina | Alvarezdelugo | Branford, CT | www.corinadotdash.com | ceramics |
| Catherine | Carter | Holliston, MA | www.catherinecarterart.com | painting |
| Jaesun | Duggan | Franklin, MA | www.artanddiscord.com | mixed media |
| Andrew | Fladeboe | Somerville, MA | www.andrewfladeboe.com | painting |
| Len | Gerwick | Marlborough, MA | www.lengerwickpaintings.com | painting |
| Patricia | Gomes | New Bedford, MA | www.patriciagomes.com | drawing |
| John | Hooker | Boston, MA | www.johnhookerart.com | mixed media |
| Jim | Kilmartin | Osterville, MA | n/a | colored pencil |
| Stephanie | Maria | Natick, MA | n/a | painting |
| Peter | Myers | Occidental, CA | www.psmyers.com | photogravure |
| Jennifer | Pellecchia | Menlo Park, CA | www.jennicakes.com | embroidery |
| Don | Relyea | Dallas, TX | www.donrelyea.com | digital print |
| Mike | Ritter | Dorcester, MA | www.ritterbin.com | photography |
| Jack | Summers | Detroit, MI | n/a | digital print |
| Adam | Zucker | Ardsley, NY | www.adamzucker.com | painting |
500x Open Show 2008: Something Made Easy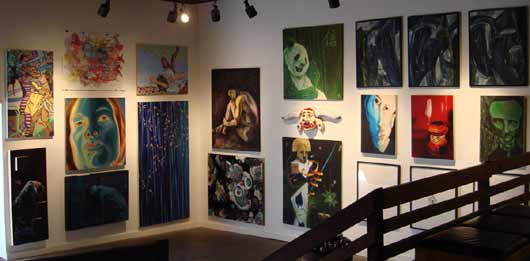 From Kerin Arn's several large prisma color genitalia to the subtle humor in the way the members arranged the works, this years 500x Open Invitational Show was a well hung show indeed. Wandering through I could see logical groupings of the works and got a chuckle when I saw some safari photographs adjacent to a painting of a boy hunting a lion with a pellet gun.
The show had a lot of large colorful high impact pieces that looked very good at first glance. When I had the time to come back later, some of the larger pieces I liked initially lost their appeal. Never the less there was a lot of good work to be seen at this show. Bill Barter had a piece in the show "Orange Curve" my wife and I loved but the photo did not turn out. Below are some of my other favorites.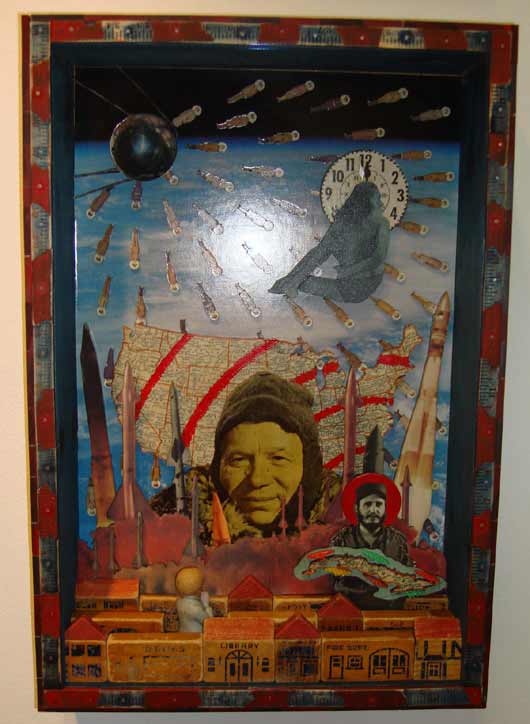 Bryan Gooding "Prayer at an End"
I have seen several of Bryan's works now and I always enjoy them. His assemblages are generally tough to photograph well since they are very three dimensional.
Lassen's painting grabbed me when I saw it upstairs. It reminds me of when I lived in Deep Ellum and haunted various seedy establishments down there for many years. The title implies he painted it from a digital picture, it would be interesting to see if this is part of a series.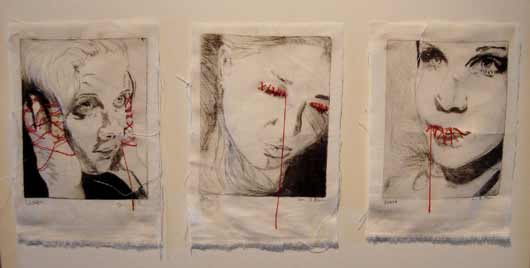 Samantha B. Blaydes "Listen: See: Speak"
Samantha's dry point on cloth triptych caught my eye. The red stitching is just right. While I have seen this theme done before, this work is well executed. She had a nice lino cut print "agony" downstairs as well.
Having obsessed over the sky the better part of last year I was drawn to this piece. The color in this work is great and the grid format works for me.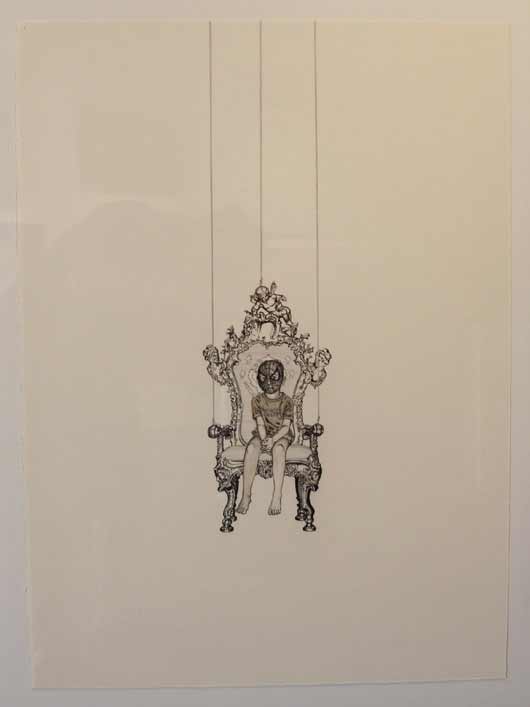 Nathan Porterfield "Throne" part of a triptych
Nathan Porterfield "Throne" grew on me over time. When I first saw the triptych it bugged me a little. I kept coming back to it though and it eventually won me over. The subject matter is quirky and great at the same time. His attention to detail and white space is immaculate. My photo of all three together did not turn out.
Camplin's "World Storm" is a really interesting pen and ink piece with fine detail.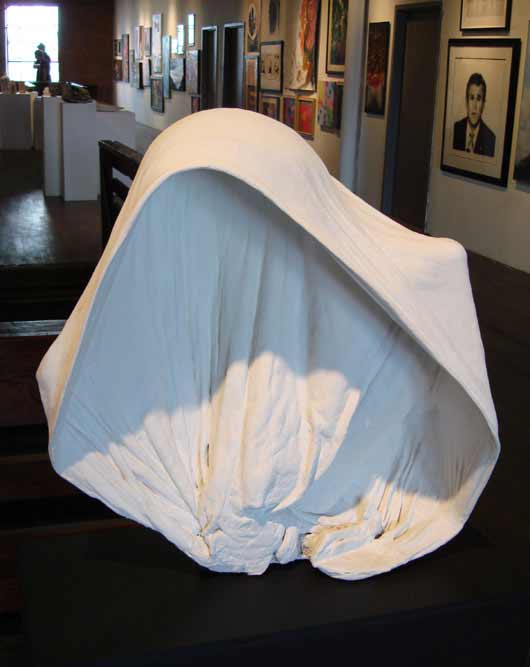 Jennifer Pilon " Viruh:Thrust "
I loved the volumetric negative space of Pilon's piece. Not quite as fond of the scrunching at the very bottom of this work but overall it is very nice.

Loretta Gonzalez "Love Your Self"
"Love Your Self" was my wife's second favorite piece behind Bill Barter's. This work is a fun one and the captions on each tile are worth reading.
The show runs through the 1st of June so check it out before it is down. Its definitely worth seeing.
works in Something Made Easy: 500X Gallery's Annual Open Invitational

Something Made Easy: 500X Gallery's Annual Open Invitational
May 10 - May 31, 2008
Opening Reception: Saturday, May 10, 6-10pm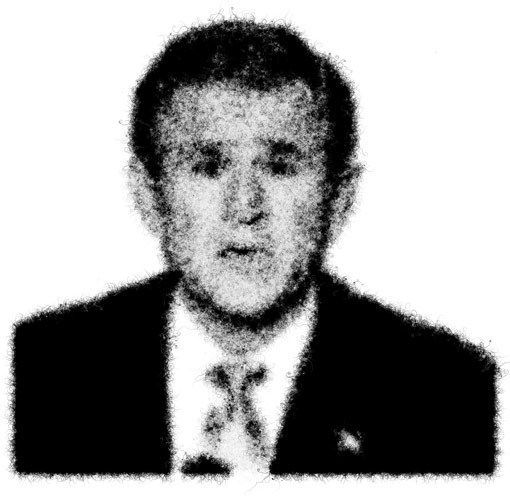 "Big Hairy Bush II" from the hair particle system drawing project
My low brow political humor piece entitled "Big Hairy Bush II" recently made its way back from San Diego CA. It made it back just in time for the 500x annual open show where I dropped it off yesterday. I am looking forward to catching part of the reception where I can see people react to it.
I also entered the print version of the very popular "blue recursive". Oddly when I printed it at 13x19 out it felt off balance so I "hand" modified the print version of "blue recursive" slightly to give the print a better sense of balance. Hopefully the print version will be as popular as the internet version getting passed around on various math art sites. .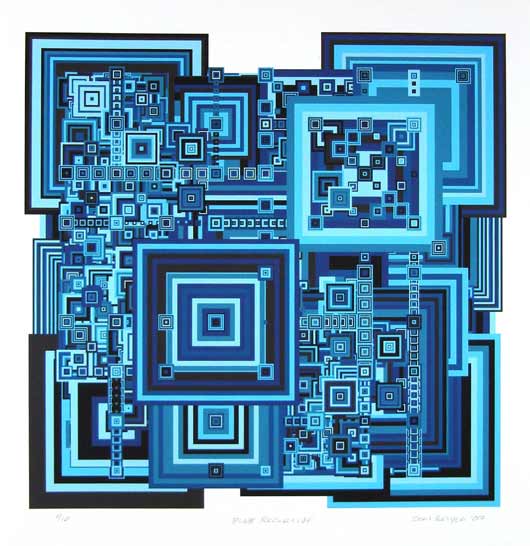 "Blue Recursive" 1/10 printed version, get yours at 500x gallery for $100 woohoo!