Baby Racoon in backyard - captured in HD

Baby Racoon hanging out in a tree in our backyard. This is the second litter of racoons we have seen since we have lived here 6 years. We filmed him only a few days after the visit from the Barred Owl.
Big Barred Owl visits koi pond - captured in HD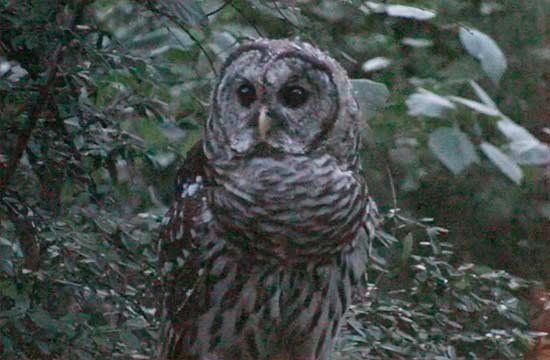 Click to see Barred Owl Video on Vimeo in HD
Building the koi pond was one of the better decisions I have made for the kids and the family in general.We have seen so many creatures as a result of putting a small body of water right under our dining room window.
Baby turtles show up in early summer late spring, baby water snakes in late spring. Big dragon flies hover right outside the window. Anoles and skinks regularly come to the pond to drink water. Frogs come in the spring. If you got to the window and look outside there is no telling what you might see.
Last night was no exception. We heard a rustling by the koi pond and everyone went over to investigate. Sitting on the rail of our deck was a large Barred Owl who was hunting for something in the pond. Barred Owls have been known to fish and there are definitely snakes in the pond he would probably like to eat. We managed to get about a minute of good footage of the owl and it is on vimeo if you want to see it.
I have documented some of the other koi pond visitors in the past few months as well. Below we have a baby Red Eared Slider.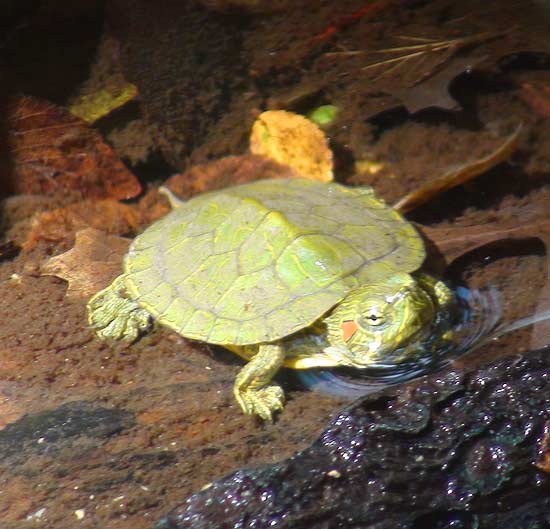 Baby Red Eared Slider
I have seen broad banded and diamond back water snakes this year, both non poisonous. We have never seen a poisonous snake in the pond. Below is one of the babies that showed up this spring..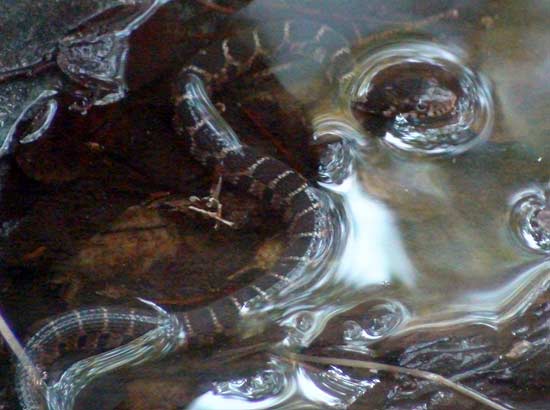 Baby Water Snake