Hairy Hot Rod Blagojevich generative hair particle sketch

This should come as no surprise to regular readers, I have made a hair particle drawing of the notorious Illinois governor Hot Rod Blagojevich!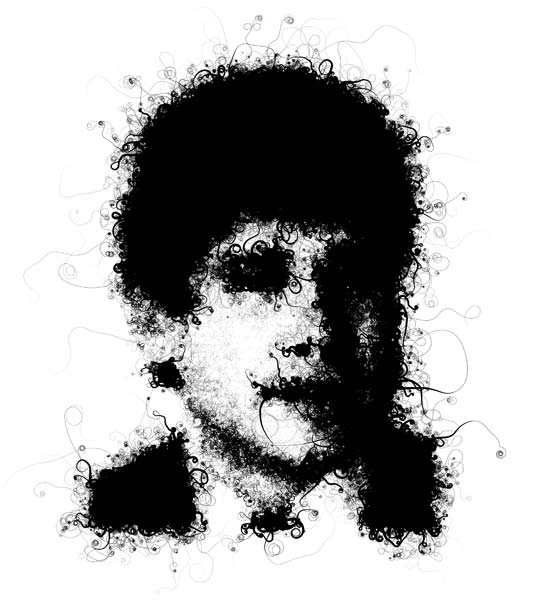 Hairy "Hot Rod" Blagojevich sketch by Don Relyea
(click to see various sizes on flickr)
This picture of Hot Rod Blagojevich was generated in the openframeworks version of my hair particle drawing program.
O ZHANG @ CRG Gallery The World is Yours (But Also Ours)
CRG Gallery
DECEMBER 12, 2008 - JANUARY 31, 2009
opening reception: Friday, Dec 12, 6-8pm


For her first solo exhibition in the United States, O Zhang transforms CRG's space with an installation that has at its center images from her latest photographic series: The World is Yours (But Also Ours). While some images are viewed as conventionally treated photographs others have been blown up to well beyond life-size in the form of large printed banners, a format deemed appropriate by the series' historical inspiration; propaganda posters from the Chinese Cultural Revolution. The exhibition also includes a sound installation and a wall mural and is accompanied by a catalog with a short text by the artist.

Having divided her time equally in recent years between the East and the West, Zhang describes the experience of her home country as one of profound ambivalence. In her recent body of work she explores that ambivalence by exploiting the collision of her work's influences and in doing so, she strives to capture the economic and political conflicts in modern day Chinese culture, among them, the identity crisis facing Chinese youth. The title of the exhibition comes from a speech made by Chairman Mao addressing the youth of the nation at the time of the Cultural Revolution.

Zhang creates personal revisions of the propaganda that she grew up seeing in Guangzhou, China. The visual impact of such political ephemera is described by Zhang as that which fades away into the periphery of daily life though imbedding itself into one's subconscious in much of the same way that brand advertising is experienced in America and the West; the message is often forgotten, but the method is not. For Zhang's series she constructed scenes depicting Chinese youth standing in front of various significant facades in China; some with political history and others with more current resonance. In each image the children wear T-shirts with phrases in what is often called Chinglish –Chinese that has either been poorly translated into English or an emerging new form of modified English that can result in seemingly nonsensical expressions, but that serves as a unique record of China's current cultural state of convergence and transformation. The slogans at the bottom of Zhang's images are taken mostly from Mao Zedong's little red book, to which Zhang's exhibition catalog bears a likeness, and from speeches by former Chinese leaders like Deng Xiaoping. Together these basic visual and textual elements combine, reinforcing or subverting each other to suggest various political, economic or cultural meanings, often to comic effect.

In the exhibition space Zhang has installed the same public address style horn speakers that once blared government announcements on the streets in China, though here they broadcast a cacophony of street sounds; popular Chinese music, the sounds of restless youth, shoppers, and storefront touters clapping and fervently competing for passer's attention, -sounds that didn't exist twenty years ago. On one of the gallery walls Zhang has painted in large red Chinese characters: Long Live the Great Unity of the People of the World -a statement that meant one thing to Maoists at the height of the revolution and perhaps another to a generation that has seen both increased prosperity and turmoil from a world more globally connected.

Zhang is the first recipient of the Queens Museum artist residency where she will have her first solo museum show this coming year.


CRG Gallery
535 W 22ND ST, NEW YORK, NY 10011 | T 212-229-2766 | F 212-229-2788 |
www.crggallery.com

Transportation: C and E trains to 8th Ave and 23rd St. or M23 Bus to 23rd St and 10th Ave
originally from [PAM] perpetual art machine

Thanksgiving Cretaceous Fossil Hunt in Blanco TX

I went to Blanco, Tx with the family, a buddy Alex, and our next door neighbors to spend part of the Thanksgiving holiday there on our neighbor's acreage. We go to Blanco now pretty regularly and always have a good time. It is in the Texas Hill Country and there is a lot to do there for adventurous kids. We always get to see plenty of nature and usually go on at least one fossil hunt.
In Blanco there are lots of great Cretaceous exposures where the roads are cut and in new residential developments. Generally I go out ahead of time to find good limestone exposures and find good fossils to put out in the open before I swing by with the kids. This way the kids always find something ensuring I will get to go fossil hunting again next time =) Unfortunately it started raining while we were out looking for fossils for the kids to find, so we just grabbed them and took them home with us.
Not shown here is a really nice Baculite Alex found. It is about 8 inches long. I found a nice piece of coral with some crystals on it as well but they are still in the back of Alex's car. We also found a whole bunch of clams.
We also found what we think is the back half of a sea scorpion, unfortunately it was totally exposed and all the segments fell apart when we tried to move it out of the exposure. The other problem with our sea scorpion theory is that they are Silurian Age creatures (over 400 million years ago). Although we found it on the lowest layer of exposure I am unsure it was low enough, only about 4ft below Cretaceous layer (only 144-65 million years ago) . It is still in pieces also probably in the back of Alex's car. We will have to reassemble it and look again.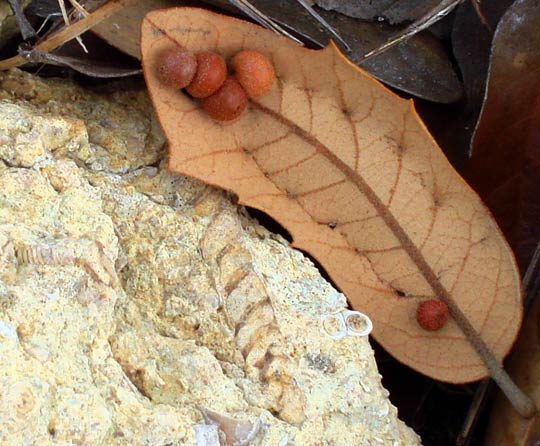 Being an aficionado of mathematical forms in nature I was excited to stumble on this combination of items. One of the things I really enjoy about wandering around in the countryside of Blanco is the abundance of interesting nature. What we have here is a lower Cretaceous concretion with embedded Turritella juxtaposed with a leaf. I found these items sitting this way and I just had to take a picture of it.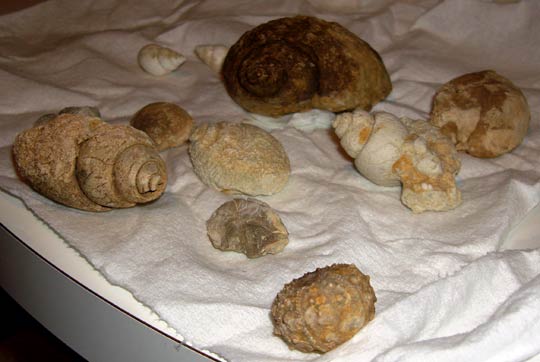 Smashed Heteraster texanus - Cretaceous Period (144-65 mya), Salenia Mexicana (foreground)- Cretaceous Period (144-65 mya), Big snails (Gastropods ) are Tylostoma tumidum Cretaceous Period (144-65 mya), small snails in the back are Drepanochilus (Anchura) Cretaceous Period (144-65 mya).
I have to admit to being pretty excited about finding the Salenia Mexicana, although these are somewhat common in Texas this was my first one. I can't wait to go back to this exposure again there was so much stuff in there we only had time to scratch the surface.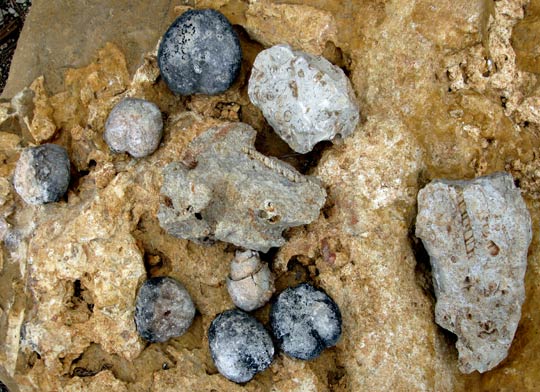 Several Echinoids, mostly Heteraster Texanus - Cretaceous Period (144-65 mya), these were in pretty bad shape from sitting out in the elements for a while so I added them to our neighbor's rock garden. Also more concretions with Turritella and a crushed gastropod.