Revelation 2213 by Claudia X. Valdes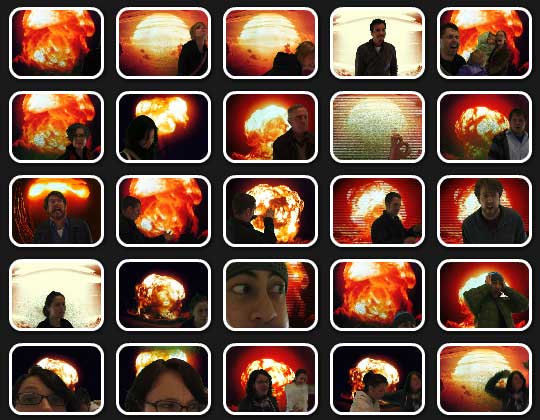 Revelation 2213 by Claudia X. Valdes is an interactive networked video installation with chroma key. The installation is configured to allow participants to see themselves mapped in real-time against an exploding nuclear bomb.
I have to admit I love this project as it is both wonderful and horrific at the same time. Seeing as how the Doomsday Clock is only 5 minutes to midnight at the time of this writing, this is such a relevant work for our times.
I have been thinking about atomic destruction a lot lately and I have recently watched some classics like Atomic Cafe, Dr. Strangelove and others which inspired me to make another atomic destruction song under my evilcomputergenius moniker called "the most beautiful sight ever seen by man" ( 2 MB mp3 right click to save to computer). I just finished the track a week or so ago which makes Valdes project that much more relevant to me.
REVELATION 2213 is currently installed in the solo exhibition, TEN MILLION DEGREES at:
Lawrimore Project
831 Airport Way South
Seattle, WA 98134
http://www.lawrimoreproject.com

originally via: http://rhizome.org/announce/view/52763#comment