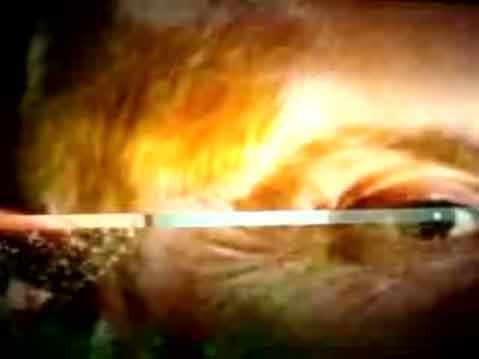 TV glitch sampler--Click to watch on my youtube account
So what we have here is a sampler of cable tv glitches captured last week. I have figured out that the old HD controller in my tv is incapable of rendering some HD signals with newer types of data streams. When the controller fails the picture is chunked and pixilated in spectacular fashion.
All I need to do next is figure out how to digitize the video directly from the TV and I will be all set up to do some great glitch videos. I am pretty sure I have all the equipment I need to hack a signal out of the TV, I just need to dig up some cables and find the external box for my media center laptop and I will be good to go!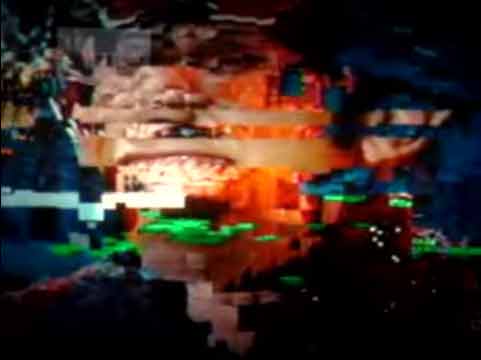 Ready mADE gLITch #2 --Click to watch on my youtube account
Ready made Glitch #2 is one of my favorites, its taken from the first series of glitches I captured a while back. It is from the tv series Lazy Town.
How I Became the Bomb - Who Dares Wins



1. Salvage Mission

2. A Formal Occasion

3. Tomorrow's Date
I get a lot of band press releases for my blog and I post very few of them. How I Became theBomb is a different story. Their mix of electronics, rock with great stylized vocoder processed vocals is fantastic. The space/military theme with Strangelove influences is awesome. Were I still playing music in the old electronic rock project I was in 10 years ago I have no doubt we would be playing similar bills.
In short, I highly recommend checking out How I Became theBomb. My favorite from Who Dares Wins is Tomorrow's Date. You can get the whole release for free in exchange for an email address.
They have released a video for "Salvage Mission" with their ep as well. It is really well done and was directed by Jonathan Kingsbury and Rob Paynter.
They got the helmet on ebay and apparently it is an authentic Russian cosmonaut helmet, at any rate it made the singer Jon Burr very sick after the several hour video shoot.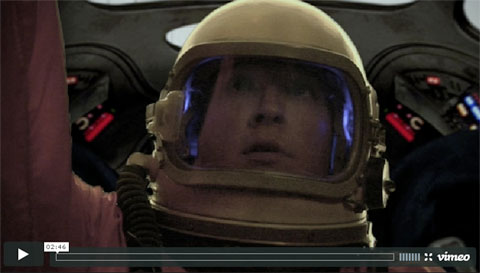 They have 4 upcoming digital releases planned through June of next year.
Each volume will have 3 songs accompanied with a video. The volumes--named after famous military slogans--will be released on various notable dates, all of which are listed below.
Vol. 1 Who Dares Wins – November 5, 2008 (Guy Fawkes Day)
Vol. 2 Foremost Sentinel – January 1, 2009 (New Years Day)
Vol. 3 They Can What It Seems They Cannot – March 15, 2009 (Ides of March)
Vol. 4 Through Adversity to the Stars – June 6, 2009 (D-Day)
David Crismon -- Dislocated Histories

David Crismon works in oil on metal panel. At first glance his works remind me of something done using XVI32 (link to Dick Cheney meets XVI32), except with actual craftsmanship rather than hacker tomfoolery.
Crismon says, "I want to show the process of recovering and constantly revising the past; to show history being altered into mere data.". His pieces are created using very traditional processes but the glitch connection is unmistakable. He paints classical historical images but recreates them with missing, repeated and incomplete data.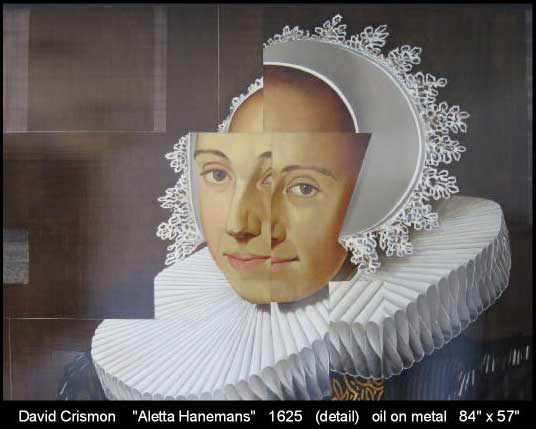 Artist statement:
"History has become subject to re-interpretation, through endless investigation, alteration, slicing and editing. Consequently, various distortions and interferences of information occur. By displacing these images from the past, into the present, my intention is to accentuate these changes; reconstructing various historical works where some information has been duplicated, altered or is missing altogether." - David Crismon 2006.
Digital Eyes: New Esthetic Dimensions in Computer Visualization Technology

My hair particle drawing project ( hairy bush ) is in this show as well as some of my favorites from Siggraph 2007 including Sheldon Brown's Scaleable City. If you are in the area you should check it out for sure!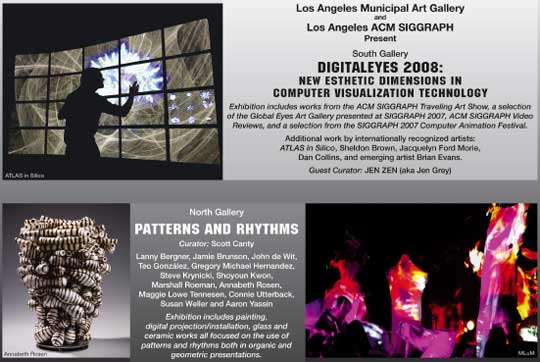 The Department of Cultural Affairs Los Angeles
Los Angeles Municipal Art Gallery
and
Los Angeles ACM SIGGRAPH
Present
DIGITALEYES 2008 - 2009:
New Esthetic Dimensions in Computer Visualization Technology
Website: www.DigitalEyes2008.org
Guest Curator: Jen Grey
November 6, 2008 – January 18, 2009
The exhibition exists in both the real world, and in cyberspace, including:
The ACM SIGGRAPH Traveling Art Show, which is a selection from The ACM SIGGRAPH 2007 Global Eyes Art Gallery
The ACM SIGGRAPH Video Reviews, which is a selection from The ACM SIGGRAPH 2007 Computer Animation Festival.
With Special Invitational Artists:
ATLAS in Silico, Sheldon Brown, Dan Collins, Brian W. Evans, Jacquelyn Ford Morie, and MLum
Los Angeles Municipal Art Gallery
(South Gallery)
Barnsdall Art Park
4800 Hollywood Blvd.
Los Angeles, CA 90027
http://www.culturela.org/lamag/Home.html

GALLERY HOURS:
Thursday – Sunday, 12 noon – 5 pm
(First Friday of the month, 12 noon – 9 pm)


FREE EVENTS
SPECIAL RECEPTION:
Sunday, November 9, 6 p.m. - 9 pm
Happening Event "Sleeper Cell" by The cellUlights 7 pm
Premiere Performance "Digital PopOpera" by MLuM 8 - 8:30 pm
Hosted by the Los Angeles Municipal Art Gallery Associates

CONVERSATIONS WITH ARTISTS SERIES:
Saturday, November 15, 2 pm: Atlas in Silico Collaborators, Sheldon Brown
Friday, December 5, 7 pm: Dan Collins, Brian W. Evans
Saturday, January 10, 2 pm: Jacquelyn Ford Morie, Marco Schindelmann,Snezana Petrovic, and MLuM Mini-Improv

FAMILY ANIMATION WORKSHOP
Sunday Dec. 14, 1- 4 pm
'Acting for Animation' and 'Animation Storytelling' with Aubry Mintz (Materials provided.)

The DIGITALEYES exhibition is jointly sponsored by
Los Angeles ACM SIGGRAPH
ACM SIGGRAPH
The Department of Cultural Affairs, City of Los Angeles
The Los Angeles Municipal Art Gallery
The Los Angeles Municipal Art Gallery Associates
CRE Computer Rentals.com
In cooperation with
Lina Yamaguchi, Chair, ACM SIGGRAPH Traveling Art Show
Paul Debevec, Chair, SIGGRAPH 2007 Computer Animation Festival