Thanksgiving Cretaceous Fossil Hunt in Blanco TX

I went to Blanco, Tx with the family, a buddy Alex, and our next door neighbors to spend part of the Thanksgiving holiday there on our neighbor's acreage. We go to Blanco now pretty regularly and always have a good time. It is in the Texas Hill Country and there is a lot to do there for adventurous kids. We always get to see plenty of nature and usually go on at least one fossil hunt.
In Blanco there are lots of great Cretaceous exposures where the roads are cut and in new residential developments. Generally I go out ahead of time to find good limestone exposures and find good fossils to put out in the open before I swing by with the kids. This way the kids always find something ensuring I will get to go fossil hunting again next time =) Unfortunately it started raining while we were out looking for fossils for the kids to find, so we just grabbed them and took them home with us.
Not shown here is a really nice Baculite Alex found. It is about 8 inches long. I found a nice piece of coral with some crystals on it as well but they are still in the back of Alex's car. We also found a whole bunch of clams.
We also found what we think is the back half of a sea scorpion, unfortunately it was totally exposed and all the segments fell apart when we tried to move it out of the exposure. The other problem with our sea scorpion theory is that they are Silurian Age creatures (over 400 million years ago). Although we found it on the lowest layer of exposure I am unsure it was low enough, only about 4ft below Cretaceous layer (only 144-65 million years ago) . It is still in pieces also probably in the back of Alex's car. We will have to reassemble it and look again.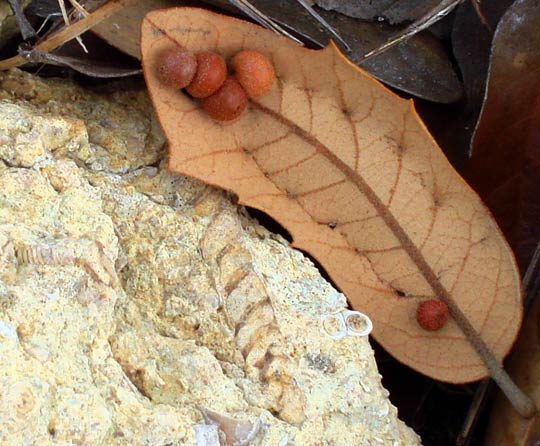 Being an aficionado of mathematical forms in nature I was excited to stumble on this combination of items. One of the things I really enjoy about wandering around in the countryside of Blanco is the abundance of interesting nature. What we have here is a lower Cretaceous concretion with embedded Turritella juxtaposed with a leaf. I found these items sitting this way and I just had to take a picture of it.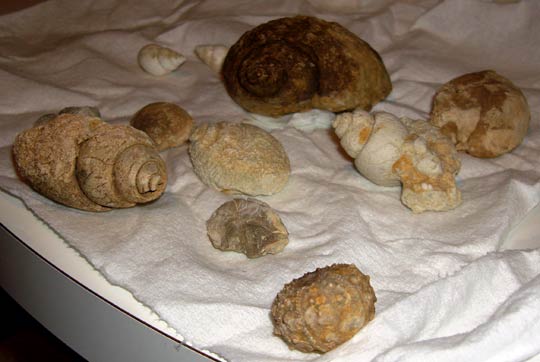 Smashed Heteraster texanus - Cretaceous Period (144-65 mya), Salenia Mexicana (foreground)- Cretaceous Period (144-65 mya), Big snails (Gastropods ) are Tylostoma tumidum Cretaceous Period (144-65 mya), small snails in the back are Drepanochilus (Anchura) Cretaceous Period (144-65 mya).
I have to admit to being pretty excited about finding the Salenia Mexicana, although these are somewhat common in Texas this was my first one. I can't wait to go back to this exposure again there was so much stuff in there we only had time to scratch the surface.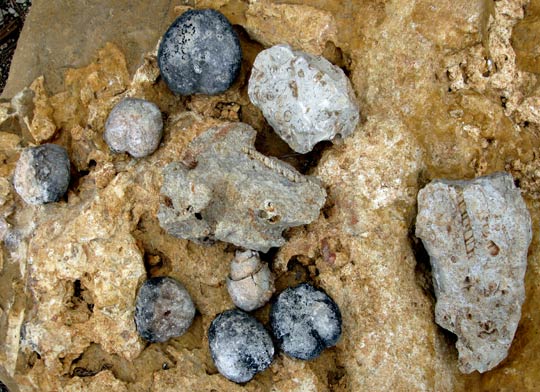 Several Echinoids, mostly Heteraster Texanus - Cretaceous Period (144-65 mya), these were in pretty bad shape from sitting out in the elements for a while so I added them to our neighbor's rock garden. Also more concretions with Turritella and a crushed gastropod.