We went on a weekend family get away with our neighbors in Blanco Texas a couple weekends ago. In addition to some fishing and fossil hunting I did some bug hunting with the kids. We found quite a few critters and got some good pictures and video. We collected the scorpions from around the house so the kids would not step on them.
When you are in a weekend house in the Texas hill country it is highly recommended to shake out your shoes before putting them on. Two of these scorpions were found in the children's shoes inside the house in the morning.
We also found an Ironclad beetle and a Wolf Spider, also pictured below.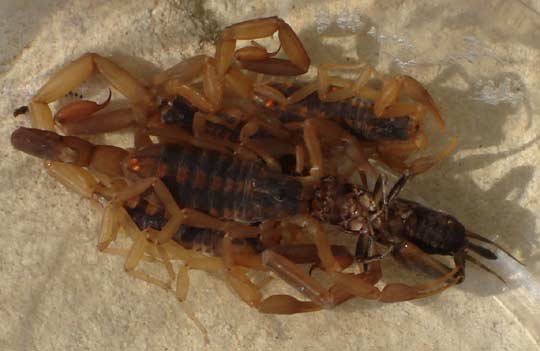 Scorpions enjoying a free lunch.

Video of scorpions vs. crickets, the picture above probably gives an idea of the outcome.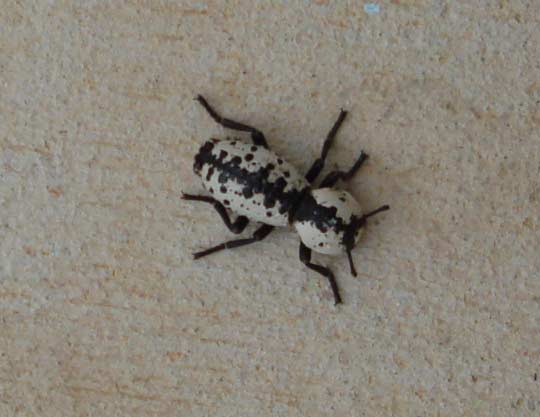 Ironclad Beetle, Zopherus nodulosus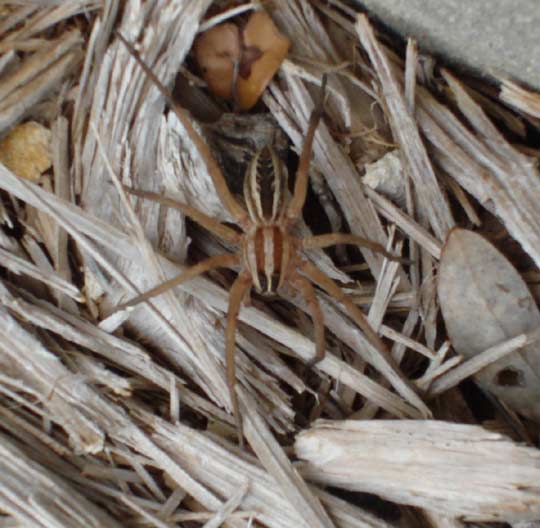 Wolf Spider, Family Lycosidae
Kurt Ralske - Alphaville and Zero Frames per Second
I have seen Kurt Ralske's work before while doing some research on time in art. His work is as aesthetically pleasing as it is intellectually stimulating. I had not seen excerpts from "Alphaville" until the other day and it was one of those works that made a great impression on me.



Above screen shots from " Alphaville" (from Motion-Extraction-Reanimation Series) (excerpt) 2008, Single-channel HD video by Kurt Ralske. The "Alphaville" project page is here. Be sure to watch the quicktime movie excerpt, it is very impressive.
He writes on the project page...'Shown here is a scene from Jean-Luc Godard's "Alphaville" (1965). The motions of the actors -- raising a coffee cup to the lips, hand gestures during conversation -- are revealed as surfaces, volumes, with organic and architectural qualities."

"This series has a dual function: it researches Time and the associated problem of Motion and Rest, and also reveals something about movies as cultural artifacts. The durational quality of the cinematic experience is seen in a different light."
Since I noticed Kurt writes all of his own software to create his works I asked Kurt to elaborate on his process and he wrote...

"To make my artwork, I use the Max/MSP/Jitter environment, but the
majority of the hard work gets done with C, Java, or Javascript
running inside Max. I don't feel the artwork deserves any extra
consideration because I know how to write code. The techniques are
secondary to the ideas. High art is sort of sexy; science fairs are
considerably less sexy. I'm interested in Time, and digital video
happens to offer some interesting possibilities for exploring and
researching Time. Time was a big concern for Muybridge in the 1870s
and the Futurists in the 1910 (as well as for Nietzsche and St.
Augustine). I think of what I'm doing as researching these sort of
ideas and questions that are rather old, not new (as in "new media")."
Coincidentally, Ralske is having a print show in NYC at the School of Visual Arts(SVA) in NYC. The press release is below. If you are in NYC you should check it out. It should be a good one. Below is the press release and flyer.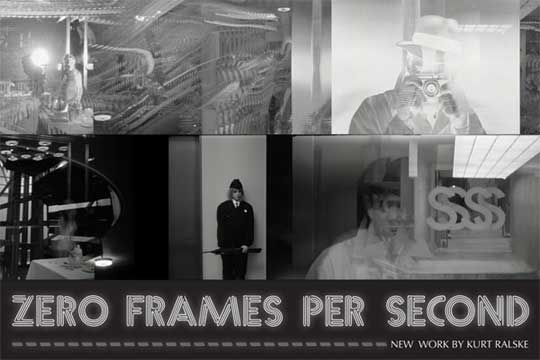 Kurt Ralske: "Zero Frames per Second"
August 18 ­ September 12, 2008
Reception: Wednesday, August 27, 6 ­ 8pm
MFA Computer Art Gallery

School of Visual Arts (SVA) presents "Zero Frames per Second," an exhibition of digital prints, slides, and video by MFA Computer Art Department faculty member Kurt Ralske. The exhibition reflects the artist's engagement with the restructuring of time based media and will be on view from August 18 ­ September 12, at the MFA Computer Art Gallery, 132 West 21st Street, 7th Floor, New York City.

Kurt's large-format prints take a new look at the way we view film by transforming an entire movie using self-programmed custom software. He reinterprets the work of Godard, Kubrick, Murnau and others by presenting each film as a single image. Within these images the cinematic experience is freed from duration, narrative, and signification, producing a visually abstract record of the information from the 150,000 or so frames per film. One set of prints represent only the motion that occurs within a film, while another represents only what was motionless within the film.

Kurt Ralske's video installations, performances, digital prints and software art have been exhibited at the Guggenheim Bilbao, Los Angeles MOCA, and the Palais des Beaux Arts, Brussels. He created the 9-channel HD video installation that is permanently in the lobby of the MoMA, in NYC. The New York Times has praised his "compelling, ingenious alliance of sound and motion" and "technical wizardry".

The MFA Computer Art Gallery, located at 132 West 21st Street, 7th Floor between 6th and 7th Avenues, will be open Monday through Friday by appointment 10am to 6pm, and is closed on weekends and public holidays. Admission is free. The gallery is accessible by wheelchair. For further information or to schedule an appointment call 212.592.2532.

School of Visual Arts (SVA) in New York City is an established leader and innovator in the education of artists. From its inception in 1947, the faculty has been comprised of professionals working in the arts and art-related fields. SVA provides an environment that nurtures creativity, inventiveness and experimentation, enabling students to develop a strong sense of identity and a clear direction of purpose.

"Zero Frames per Second" is made possible in part by The Media Arts Fellowships (a program of Tribeca Film Institute, founded and supported by the Rockefeller Foundation) and The Experimental Television Center's Finishing Funds program (supported by the Electronic Media and Film Program at the New York State Council on the Arts).

Hidenori Watanave -- OBAMApPING prototype

"OBAMApPING" for Virtual Residency Project is launched.
http://archidemo.blogspot.com/2008/08/this-is-prototype-of-obamapping-for.html
This is dynamic geo-mapping of IP-geolocation -- Place where image of "Obama" actually exists -- based on the Yahoo image search result. The words "Barack", "Obama", and Japanese Hiragana "Obama" is used for this retrieval. 150 images are displayed now.
Tracks have expanded toward each image from Honolulu that is the birth ground of Obama. This map makes "Worldwide extention of the impact of Obama" visible. And, it changes every day.
Naturally, there are a lot of images that exist in the United States. However, a lot of images exist also in Europe, Japan, and the southern hemisphere. When the image is clicked, an original website is displayed.
The map published in here now is static contents. In the exhibition with Location One, dynamic map will be exhibited. Moreover, I will produce the map of Macan and other candidates for exhibition. My work are this "OBAMApPING" and "Obamabot vs McCainbot in Metaverse".
OBAMApPING (prototype)
http://archidemo.blogspot.com/2008/08/this-is-prototype-of-obamapping-for.html
Location One: Virtual Residency Project
http://www.location1.org/location-one-virtual-residency-project/
Hidenori Watanave
Credit:
* Produce + direction: Hidenori Watanave
* Programming: Shingo Noguchi(PhotoXP)
* Powerd by GeoLite City, Yahoo! API, Google Maps API
via: http://rhizome.org/announce/view/51889
[/net_activism] permanent link
Chris Ashley and Alan Disparte at David Cunningham Projects

If you are in the neighborhood go see this show, we have one of Chris's prints in our kitchen and it looks awesome! I highly recommend his work!

html drawings by Chris Alshey

Thistle Script by Alan Desparte
Chris Ashley+ Alan Disparte
PAINTINGS | HTML DRAWINGS | PRINT INSTALLATION
David Cunningham Projects, August 7 - September 13, 2008
Opening Reception Thursday, August 7, 6-9pm
855 Folsom Street - San Francisco, CA
http://www.davidcunninghamprojects.com/
Brilliant Noise and 200 Nanowebbers by Semiconductor

I stumbled into Semiconductor on Vimeo and they are brilliant!
From their web site....
Semiconductor make moving image works which reveal our physical world in flux; cities in motion, shifting landscapes and systems in chaos. Since 1999 UK artists Ruth Jarman and Joe Gerhardt have worked with digital animation to transcend the constraints of time, scale and natural forces; they explore the world beyond human experience, questioning our very existence.



Brilliant Noise by Semiconductor on Vimeo
Brilliant Noise by Semiconductor films takes us into the data vaults of solar astronomy. After sifting through hundreds of thousands of computer files, made accessible via open access archives, Semiconductor have brought together some of the sun's finest unseen moments. These images have been kept in their most raw form, revealing the energetic particles and solar wind as a rain of white noise.


200 Nanowebbers by Semiconductor on Vimeo
For '200 Nanowebbers', Semiconductor have created a molecular web that is generated by Double Adaptor's live soundtrack. Using custom-made scripting, the melodies and rhythms spawn a nano scale environment that shifts and contorts to the audio resonance. Layers of energetic hand drawn animations, play over the simplest of vector shapes that form atomic scale associations. As the landscape flickers into existence by the light of trapped electron particles, substructures begin to take shape and resemble crystalline substances.