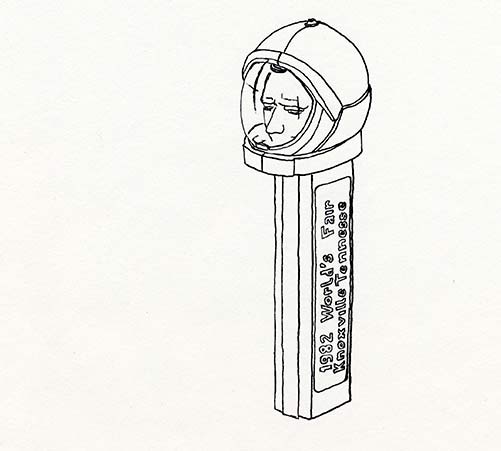 "1982 Worlds Fair PEZ Rare Astronaut B Blue Stem, 2009
Ink on Paper, 7x9" by Erik Dalzen
Erik writes on his web site..."Commodities is a collaborative project between me and spirited bidders. Art pieces are created based on specific marketable goods and cater to niche audiences of collectors and enthusiasts. The works are then exhibited on the auction website, eBay, under search terms that coincide with the vernacular from which each piece derives. Potential buyers may experience the thrill of shopping and the excitement of competition by vying against one another to win the art piece. The culminating action occurs at the close of each auction once rival bidders complete each piece by determining its value. "

View Active Listings

Erik's Project blog
Commodities is a great conceptual net art piece and fine example of how you don't need to be a technologist or extreme programmer(apologies to Erik if he is an extreme programmer) to create a very clever and well done net art project. I'll put my money where my blog is and bid on this one!
Twitter Mountains by Yann Le Guennec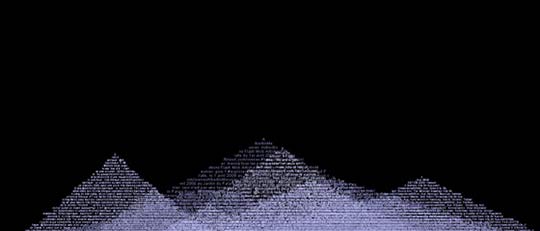 Twitter Mountains by
Yann Le Guennec
Yann Le Guennec runs http://www.datapainting.com/ and you can see a wider variety of his work there. He uses data to make pictures. He maintains a blog as well, you can see it below:
http://www.yannleguennec.com/blog/2009/03/23/twitter-mountains/
Via Rhizome Announce
Recent publications in Itch Magazine and Art Digital Magazine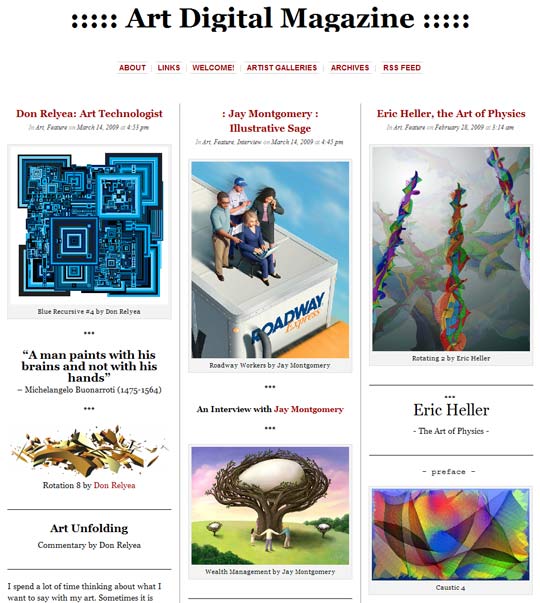 Big thanks to Max Eternity for publishing a piece on my work in his Art Digital Magazine, the article was titled "Don Relyea: Art Technologist". This Issue features work by me ( Don Relyea ), Jay Montgomery and Eric Heller. It is a very well put together artist run publication. Also a big thanks to artist Chris Ashley for recommending me!
Also last week my "Stick 'em Up" piece on the bailout was published in Itch magazine for their issue on Money and Greed.
Processing videos by Glenn Marshall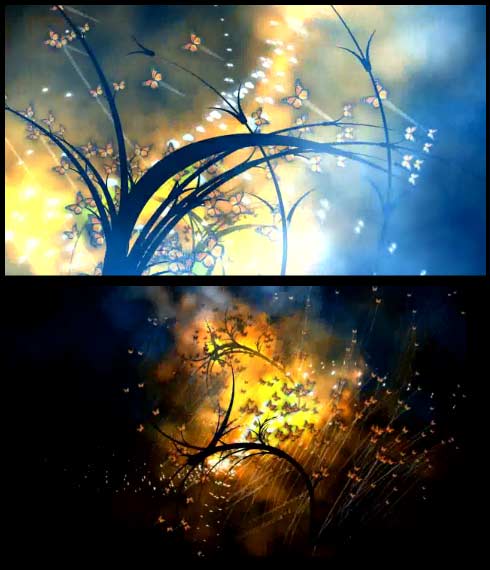 Metamorphosis by Glenn Marshall via Culture TV
Marshall writes..."Metamorphosis is programmed entirely in Processing, it's the follow up to my Music is Math video. I developed my 'zeno' animation system a bit more to allow for nebulous additive blending as well as a few other things. The music is by Boards of Canada again - the track 'Corsair' from the Geogaddi album."
It looks like Glen is doing visuals for the latest Peter Gabriel tour as well. Fun!
Keep a look out for more work by Glenn Marshall on his Blog: http://glennmarshall.wordpress.com/
new evilcomputergenius mp3 single "greed"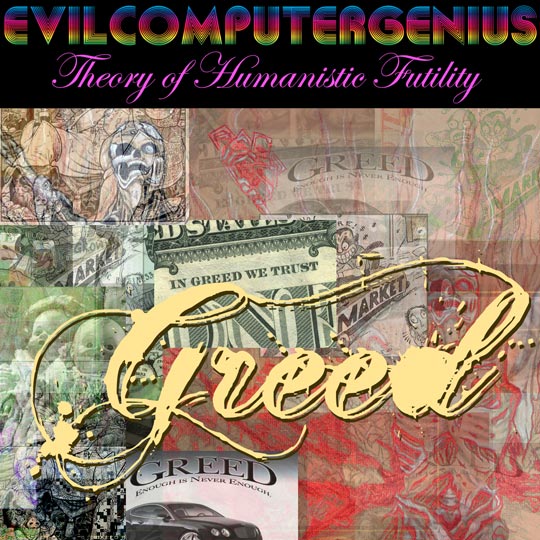 Greed ( Right click to download ) (128khz mp3 2.9mb) by evilcomputergenius
genre: dub, breaks, electronica, industrial
This is the first mp3 single from the new evilcomputergenius album "Theory of Humanistic Futility"
This song is a reaction to the greed that caused the financial collapse. How it is permissable to allow lending institutions and Wall Street barons to make bad business decisions and have citizens and taxpayers across the world foot the bill is beyond comprehension.
This single is also featured in the lates issue of Itch Magazine as an audio artwork along side the bailout artwork "Stick 'em Up" by Don Relyea
Building a More Meaningul Existence by Daniel Everett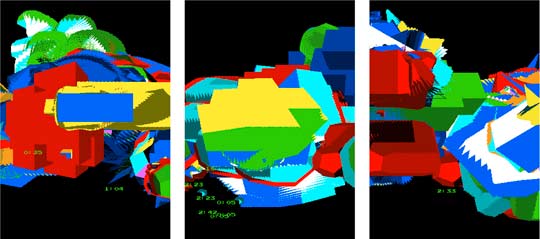 "Building a More Meaningul Existence" by Daniel Everett
Daniel writes..."For this project I used a graphics editor built into an early arcade game to convert spam emails I had received into a virtual landscape. By reconfiguring the graphics editor interface to accept keystrokes as input, I was able to build these landscapes solely by transcribing the spam messages and compiling them. For this piece I specifically chose spam messages that promised me a more meaningful life, increased happiness, and a greater sense of self-worth. "
Timeline Project by William Brovelli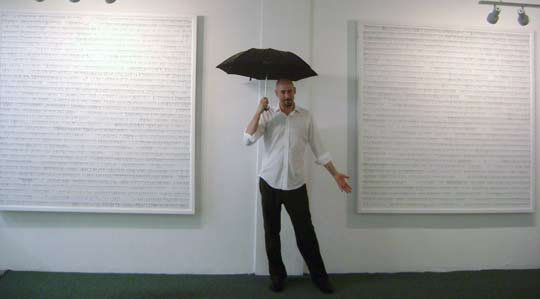 Conceptual artist William Brovelli in front of "Timeline Project"
William Brovelli is a conceptual artist living in NYC. His work "Timeline project" is process based.
Brovelli writes... "The project consists of producing hundreds of thousands of hand-drawn figures that will be used as material for a case study documenting an evolution of the image. The figure is used as mental template which can be viewed as a cylinder that is divided into distinct sections that allow for a wide variation of moves. This neurological mapping will span a lifetime with all other urges towards conventional art making to be suspended to preserve the integrity of the project."
Brovelli was strongly influenced by the arcade game phenomenon and it influences the processes and concepts of his work greatly. He writes..." The act of starts and stops, moving through levels and keeping score as well as trying to advance towards a higher score are all key factors in the overall scheme of figure production. The finished sheets are framed in a 6ftx6ft white shadowbox simulating the arcade game encasement. "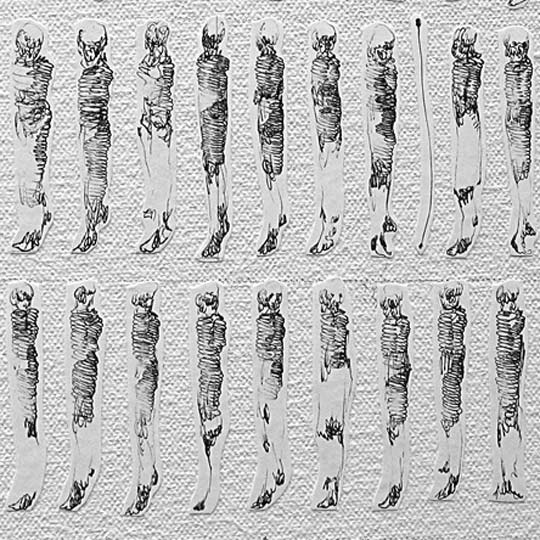 close up of "Timeline project" by William Brovelli

He relates the process to the game experience..."The core drive in the mind of the player/artist when engaging in the game is the act of racing against time and the preservation of one's immortality. This act is symbolic yet the implications are very real."
It would appear from his website that he intends to continue this process approximately 3 hours a day for the rest of his life. He estimates before he dies he will be able to complete 879.4 canvases containing around 3,120 tiny 2 inch figures per canvas.