Net Image Abstractor (NIA) Project page is up!
The NIA project page is up here! It includes some more screen shots, instructions and information on how to customize the sample URLs menu by editing a config file. Check it out!

You can download NIA from here if you want to try it out. Its windows only.
Net Image Abstractor (NIA)
New project in beta! Below is a screenshot of the application in action.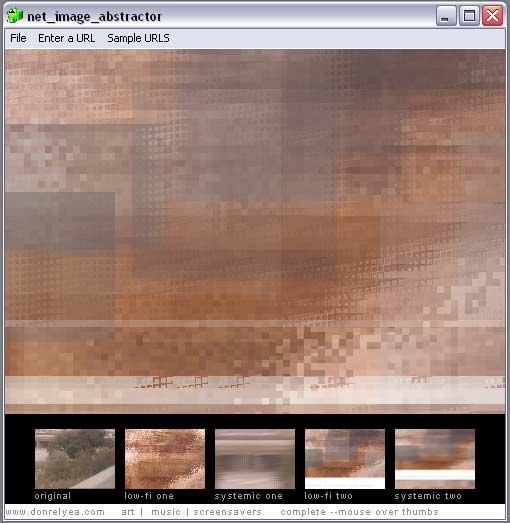 Screenshot of

Dealy Plaza Webcam

run through NIA.


New project in beta, the Net Image Abstractor. The concept is simple, it downloads an image from the internet and abstracts it using a variety of processes and then displays a composite and thumbs of steps to get to the composite. I haven't got around to building a project page for this project yet but you can download it from here if you want to try it out.

System Requirements:
Windows os nt/2000/xp and an internet connection is required for the application to locate files not on your computer. If you have security software or a firewall installed it will alert you that NIA is trying contact a dns server. This is normal, it is just trying to get output from a webcam of NYC to abstract initially.

Instructions:
Select Enter a URL from the menubar at the top. Simply cut and paste the url of an image or webcam into the text entry field and hit abstract it. If you know the absolute path to a file on your computer you can abstract it too. NIA only works with jpg, gif and png files as far as I am aware. It was originally designed to abstract webcam output.

If you try it out let me know if you have any issues.

Mass Art Project
Boris Rogge of mass-art.org has created a massively multi player pixel art project. He is interested in exploring the social potential of the Internet. The idea of this project is to make a digital pixel-art painting created by a very large number of people.

The goals of the project as stated on their site are:
1. Be the world's first work of art created by a large amount of people from all over the world.
2. Proof that people from all over the world are willing to work together in order to create something beautiful (at least we hope it will turn out to be very nice).
3. Have one million participants contribute to the project.
4. Have people from each and every country in the world participate to the project.

Boris aspires to have 1,000,000 users contribute to the project. He hopes the project will not only be the first of its kind, it will also produce a unique piece of art that has been created over languages, cultures and borders.





The scale of the multi-artist painting is huge, it is 64,000,000 pixels. The entire painting is broken down into a grid of grids until you get to the pixel scale. Drawing is easy, simply choose a color from the provided palette then click on the pixel that you wish to color.

When the painting is complete it will be printed on a large canvas. Boris is running a poll on the site ranking the museum (Smak, Tate, Moma and Prado) that the contributing artists would most like to see the finished product hanging in. If the winner of the poll does not want it, the next museum will get a shot at it and so on unless nobody wants it, in which case the mass-art.org organizers will keep it.

Currently the picture as a whole looks kind of sparse. This is because the project just went live in late December 2005. At the present there are only 60 users registered. But registration is free and easy. So is leaving your mark on what could be a piece of art history. I'm definitely adding mass-art.org to my list of projects to keep an eye on.

Modernist Generators covered by MocoLoco
MocoLoco.com, a modern contemporary design zine, has written a small article on my work and included it their ambient section. Several screens from the modernist generators are shown as well as a screenshot of the space filling curve abstract art output and also a screen shot of the Persistent Wheels and Clocks with Tentacles screensaver.

The entire article is here.

Tosoma.org Call for Entries Net + Web Art Projects

Open Call of Submissions for 'Orgasmos' a Net + Web Art Project

Deadline for submissions: March 10th 2006

Announcement of selected works: April 10th 2006

This project is an open call for artists working in Net and Web Art, to create and submit a Net or Web Art piece that portrays the sensation of an orgasm.

Selection and Awards:

Exhibition of works - 10 works only will be selected by our international panel, to be showcased online on tosoma.org from April 10th 2006

Tosoma Award - there will be a first and second Award which will be announced and sent out.

How to submit work:

For Orgasmos: [all submissions via email]

Net.Art/Web.Art Submissions: please send the URL of your piece and any specific viewing requirements in terms of browsers and software.

In your email please include the name of the piece and a short statement of who you or your group/collaborative are (300 words max). Also include your main website if you have one and your email address (please state if you wish your website and email address to be visible on the site).

Email all work to submit@tosoma.org

Important: When submitting work you will need to give your consent and confirm it is your own work in order for us to use it. If you are sending via email, you must copy and paste in your email the following paragraph, signed by yourself. If you are posting the material please copy paste this on you cover letter and sign it:

"The work I am submitting is my own, I have consent from all collaborators involved (if any), to use and submit this work. I allow http://www.tosoma.org to display my work within the tosoma website. I will not contact panel members discussing my submission."


[/art] permanent link Tosoma.org Call for Entries Net + Web Art Projects'), 'addthis', 'scrollbars=yes,menubar=no,width=620,height=520,resizable=yes,toolbar=no,location=no,status=no,screenX=200,screenY=100,left=200,top=100'); return false;" title="Bookmark using any bookmark manager!" target="_blank">
Real time contextual art generator eats itself
The Real Time Contextual Art Generator is eating itself! The original output for the default query of the art generator is now showing up in current output of the same default query.


The above images are real time algorithmically generated images from the the default search query phrase "toilet art". The first image was created by the generator in August 2005 just before its release on runme.org, the second was created by the art generator this morning January 11, 2006. Notice that the image on the left "toilet art 02" appears just under the word "art" in the image on the right.
You can play with the Real Time Contextual Art Generator by downloading the exe from this site or the project page on runme.org.
Russian Roulette
Carlos Katastrofsky has created a game of Russian Roulette that could be harmful for your computer. Click on a provided download button and get a file... but who knows which file? a picture? sound? a virus? a britney spears song or other bad data? or something really nice!
I can tell you that one of the files is the pmmg, but you will have to play the game to find out the rest...
Postmodern Modernist Generator version 3.0
New Version! New gallery up! Postmodern modernist gallery III! Click here for the main project page. This project explores automating the artist's design process in a lighthearted manner. I systematically break down and simplify the design process for automation by an art generator. This is the 3rd version of this ongoing project.

A shockwave version of the art generator version 3 is here (opens in new window 48k).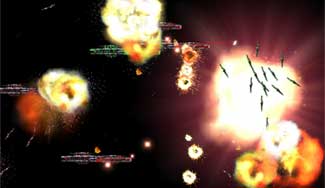 The Space Battle 1.1 Screensaver has finally been released! New for 2006 now supporting dual monitor configurations!
See two opposing space stations unleash devastating attacks against each other in an infinite unrelenting Sci Fi battle of epic proportions. Watch squads of fighters attack destroyer class ships and the survivors regroup with other fighters to form new squads. This Screensaver uses fascinating flocking and herding behaviors to manipulate the fighter squads realistically! No battle is the same! Space Battle 1.1 showcases amazing pyrotechnic displays and fantastic explosions! Version 1.1 now with improved speed optimizations and more natural star field generation.
This screensaver will scale to fit your monitor resolution on its own. Space Battle 1.1 should work on dual monitors now! (2 monitors arranged adjacent horizontally or vertically).
Requires a color monitor and screen resolution of 800x600 or higher. Pentium III 1ghz or higher recommended with 20mb of free ram.
Free Space Battle 1.1 installer (6mb Windows only).
[/screensavers] permanent link