The Root of the Root at Devotion Gallery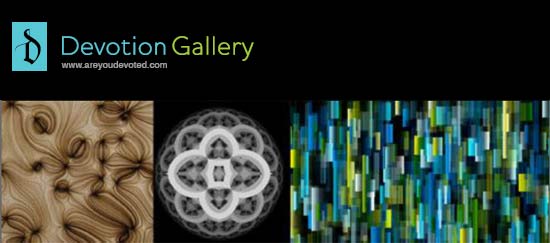 If you are in the Brooklyn area you have to check out this show. I definitely list Watz and Prudence among my inspirations and influences and Meyers work looks fantastic as well. Thanks to Miss Zapata for the heads up.
DEVOTION GALLERY PRESENTS: THE ROOT OF THE ROOT
Generative Art by Marius Watz, Paul Prudence and Aaron Meyers

Opening 6pm on Friday, October 22nd. On view until Sunday November 21st 2010.
Marius Watz will be teaching a special workshop on Processing at
Devotion Mon Oct 18th – Tues Oct 26th.
More details >

This exhibition showcases three artists working with generative code
to create abstract and reactive works. Marius Watz and Paul Prudence
have been contributing to the dialogue for computational art since
2005 with seminal essays, some of the foremost blogs and
ground-breaking software. As a seminal member of the processing
community, Marius Watz has, in many ways, defined part of the
aesthetic associated with code-based art. Paul Prudence works with
VVVV and with visual feedback systems to create audio-visual
performances. Aaron Meyers is an artist and programmer using
generative strategies in the creation of software and moving image. He
is currently a fellow at the Eyebeam Art & Technology center where he
recently led the Visual Music Collaborative workshop in collaboration
with Ghostly International.

In generative art, works are created at least in part by some process
that is not under the artist's direct control. Generative processes
have been applied to music, dance, and all forms of visual art over
thousands of years. With the advent of computers, complex digital
generative art has become one of the defining art forms of the
twenty-first century. While this art may harnesses the power of
computation to create work enacted via machine, the human originator
is ever present, even if acting by proxy. The works in this show
amalgamate the organic and the methodical, seducing with pattern,
texture and beauty.

BIOS:

Marius Watz
Works: Blocker, sound-reactive software piece
Images: http://www.box.net/shared/7uxsnych5i
Materials: Realtime software, PC speakers or headphones
Size: Variable (32" screen)

Artist Statement: Marius Watz is an artist using software processes to
explore visual abstraction. His work is known for its bold colors and
hard-edged geometries.

Biography:  Watz (NO) has lectured and exhibited his work
internationally at venues that include Künstlerhaus (Vienna),
Fondation Vasarely (Provence), Victoria & Albert Museum (London), Itau
Cultural (Sao Paulo) and Club Transmediale (Berlin). He is a lecturer
at the Oslo School of Architecture and Design.

Aaron Meyers
Works: 5 generative laser-etched wood pieces
Images: http://www.flickr.com/photos/admurder/4252091173/in/set-72157623158008618/
http://www.flickr.com/photos/admurder/4252182538/in/set-72157623158008618/
http://www.flickr.com/photos/admurder/4778254758/in/set-72157623158008618/
Materials: Laser-etched birch plywood
Size: 3 x 30"x16", 2 x 16"x16"



Artist Statement: Often interactive, Aaron's work playfully forges
rich perceptual experience through the manipulation of generative
systems, physical simulation, data and media. Using a laser cutter and
custom software written in Processing, Aaron's work on plywood pulls
into sharp focus the interaction of complex line work with the organic
burning process.

Biography: Currently a fellow at the Eyebeam Art & Technology Center,
Aaron's work has been shown at Ars Electronica (Linz), the Performa
Biennial (New York), Fondation Cartier (Paris), Eyebeam MIXER (New
York), Wired NextFest (New York), and Where 2.0 (San Francisco). As a
teacher, Aaron has taught at UCLA Design|Media Arts and led the Visual
Music Collaborative workshop at Eyebeam in creative partnership with
Ghostly International.

Paul Prudence
Works: Autotroph series 4 x b/w prints & Bioacoustic Study [Video,10mins]
Video: http://www.vimeo.com/14903121
Images: http://www.flickr.com/photos/transphormetic/sets/72157612289168910/
Materials:  Prints: Archival Ink Jet.  Video: HD mp4
Size: 25" x 25" including frame.

Artist Statement: Paul Prudence is an artist and real-time visual
performer working with generative and computational systems. He is
particularly interested in the ways in which sound, space and form can
be synthaesthetically amalgamated.

Biography: Paul has performed and lectured at various international
shows, festivals and conferences globally including: The International
Symposium for Electronic Arts, Dortmund; Quartz Electronic Music
Festival, Paris; Sonic Acts XIII, Amsterdam; Artware 5, Lima;
Hacktronic, Boston; Art.ficial Emotion, Sao Paulo and Decibelio,
Madrid.

Postmodern Modernist Art Generator Updated in 2010!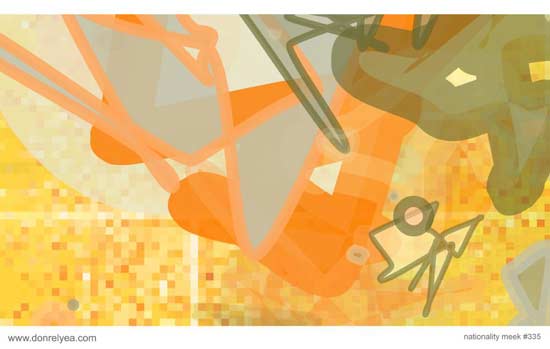 Postmodern Modernist featured in Art Digital Magazine September-October 2010 check it out!
Postmodern Modernist updated with modified algorithms and the ability operate autonomously! This project now creates art and promotes itself on the web without any intervention on my behalf.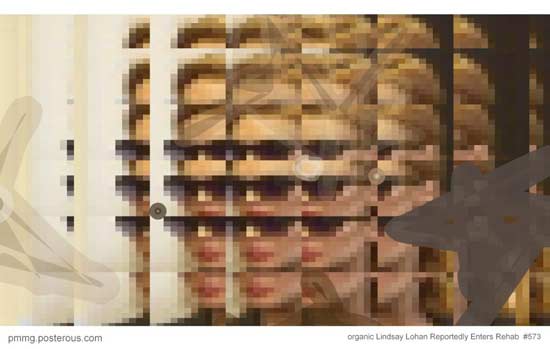 I have added the ability for the Postmodern Modernist to read news feeds and create works based off of current events. At the time of this update Lindsay Lohan is in the news so it will create works seeded by her image with greater frequency.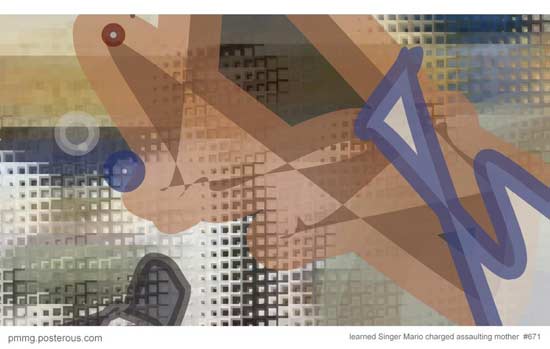 The updated algorithm is much improved from the old version. It now has a much wider variety of types of abstractions at its disposal. Its color database has been updated with new colors and it can generate a suite of color relationships from photos it discovers while reading the news feeds. The above color combination is pulled from a photo of R&B artist Mario who recently is alleged to have assaulted his mother.
The naming of the current event seeded works is handled crudely for now, I am thinking of ways to make this more interesting. Even so it will still make me laugh from time to time as it typically assigns an adjective to beginning which can transform the stripped headline in amusing ways, for example...."demonic Jon Stewart mocks Rick Sanchez controversy #320"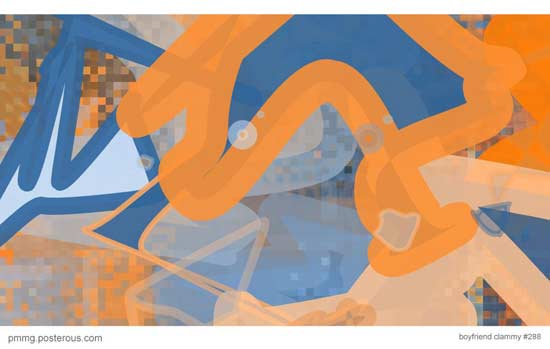 One of the things I always liked about this algorithm was the intentional big pixels that boldly yet nerdishly assert its digital lineage, I definitely kept the big pixels. The new algorithm still generates works completely from scratch like "boyfriend clammy #288" (shown above), and it now saves out a print resolution version of each file before it resizes it down to a more web friendly size. If you would like a print send me an email and let me know.
You can follow the Postmodern Modernist on its blog, twitter, tumblr or facebook page:
http://pmmg.posterous.com/
http://twitter.com/Hawt_Modernista
http://hawtmodernist.tumblr.com/
Add Hawt Modernista as your facebook friend today!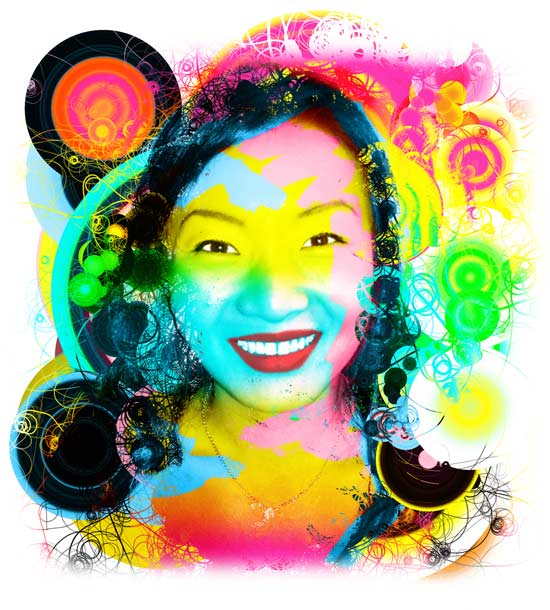 portrait of Hye Relyea by Don Relyea May 2010
I have been working on a new version of my particle drawing/painting program in openframeworks based on the code used in the "Bombshell" video I made for this years Digital Graffiti. This project still needs a lot of work. There are several math errors and some other problems that need to be solved but it is still fun to play with and I can get some decent results.
There are generative elements to this work but its not pure generative art by any means. I am working on the right balance between "loss of control" and "control" in this project. As the particles do their thing the artist loses control of the image but I have added more direct paint like particles that give the artist the ability to push and pull the image in real time. The process of image creation becomes somewhat of a battle between the particles and the artist.
It will be interesting to see where this goes. If I can get all the bugs out of it and get the usability a little better I may put some effort into releasing this as an iPad app. I have been using it on an HP tablet with a stylus and its pretty fun.

OBEY Obama poster near Bush's House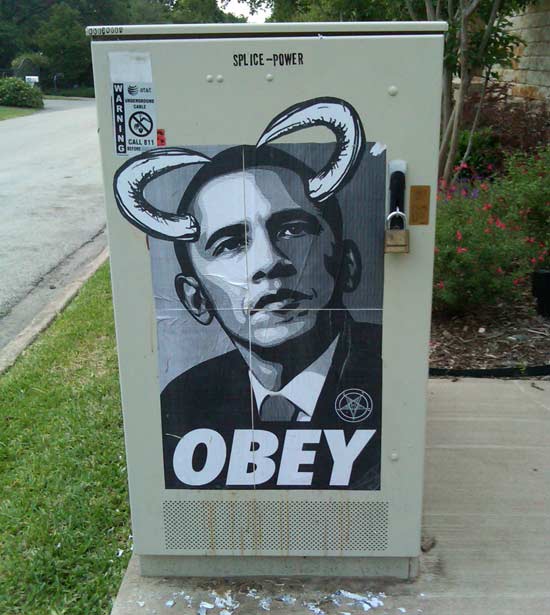 Saw this OBEY knockoff poster near former President George Bush's Preston Hollow house here in Dallas and had to chuckle.
I immediately had a mental image of dubya in a hoodie sneaking around at night pasting these up. I like the way the horns go outside the boundaries of the poster.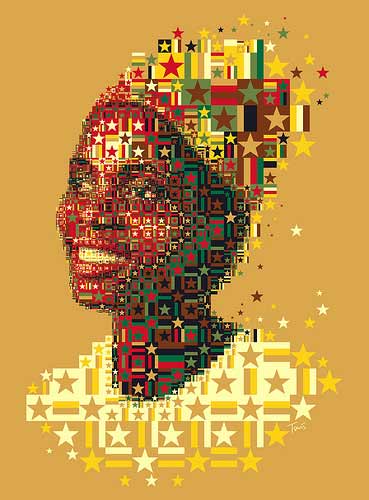 "My African Star" by Tsevis
I have been doing some research on patterns for my particle drawing project and found Tsevis photo stream on flickr. Tsevis is an artist/designer and professor living in Greece who uses scripting combined with Photoshop and Synthetik Studio Artist. Tsevis' entire photostream is extremely compelling and worth checking out.
Space Filling Curve Project and interview in +81 Vol. 47 Pattern Graphics Issue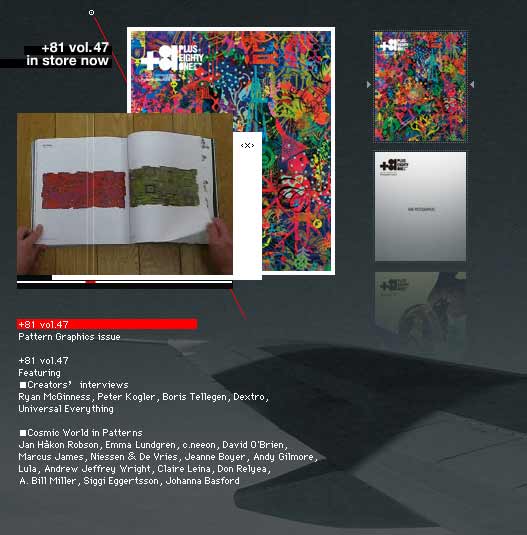 I have a couple Space Filling Curve works and an interview in the Spring 2010 issue of +81, Volume 47, the Pattern Graphics issue. +81 magazine is a visual inspiration art and design magazine published in Japan in its 13th year of publication. It is in both Japanese and English. Check it out if you get a chance.
This issue contains works and interviews for Ryan McGinness, Peter Kogler, Boris Tellegen, Dextro, Universal Everything, Jan Hakon Robson, Emma Lundgren, c.neeon, David O'Brien, Marcus James, Niessen and De Vries, Jeanne Boyer, Andy Gilmore, Lula, Andrew Jeffrey Wright, Claire Leina, Don Relyea, A. Bill Miller, Siggi Eggertsson, Johanna Basford.
LA INCUBADORA by Grimanesa Amorós 2010 at Lab Gallery at Roger Smith Hotel NYC


La Incubadora, by Grimanesa Amorós, explores the interplay between biology and society. Amorós asks the questions: To what degree are gender-specific roles biologically determined? What happens to those roles as both society and biology evolve?
From her Artist Statement....
"The ideas arose in a very personal context; during my pregnancy, and afterwards when I was nursing our daughter, I noticed how curious my husband was about my experiences. More than once he pressed Shammiel against his own nipple to see if she would suckle. I wanted to create a piece around motherhood, and the unbridgeable gulf between the male and female bodies, specifically in the area of reproduction. Then I began to imagine ways in which that gulf might be bridged."

"Central to this work is the concept of male pregnancy. Given recent startling developments in our understanding of genetics and medicine, we may soon see a future in which women and men will both have the opportunity to carry a pregnancy. This shift would have not only enormous biological ramifications, but would also motivate a reexamination, if not total upheaval, of deep-rooted social conventions. In You Cannot Feel It..., I fantasize what such a world might be like.'


The images of LA INCUBADORA are very effective at challenging viewers to think about the roles we have inherited by our genders. While I do not fantasize about male pregnancy, I do have three kids and I am quite familiar with this element of life experience. I have often wondered what it would be like and I have marveled at my wife's ability to deal with all of the physical changes that occur.
My wife and I do a lot together and I get in the habit of saying "we" when I refer to whatever we are doing or planning all the time. I made the mistake at a brunch with several friends of saying "we are pregnant again". I was corrected immediately by one of our mom friends that only my wife was pregnant, not me. She was right though, I cannot really feel what my wife feels throughout the pregnancy.
Be sure to check out more of Grimanesa Amorós work at her web site.
THE LAB (for installation + performance art) is a New York based, converted storefront turned fishbowl producing 20+ fast paced performance art and installation exhibitions annually. Aimed at the furious midtown foot traffic, THE LAB's programming is designed to confront modern relationships between art and audience and seeks to force interaction between high energy, "outrospective" exhibitions and nearly 25,000 daily passersby. For more information: www.thelabgallery.com

The Aikon Project: computational drawing system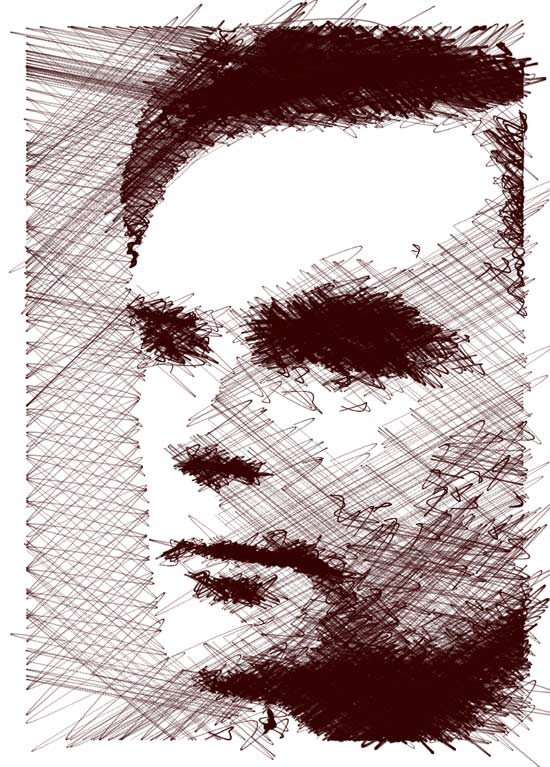 Alan Turing, 23 June 1912 – 7 June 1954. (Aikon, 2010)
Goldsmiths University of London has a great project called the Aikon Project. They have been awarded a grant to explore artistic drawing focusing on portraits. The Aikon Project is supported by a Leverhulme Trust 3 year research grant.

From their web site..."What can explain that for a non-draughtsman it proves so difficult to draw what they perceive so clearly, while an artist is able to do so sometimes just with a few lines, in a few seconds? Furthermore, how can an artist draw with an immediately recognizable style/manner? How can a few lines thrown spontaneously on paper be aesthetically pleasing? "
The sketch of Alan Turing above is really nice, it appears to be drawn with a single line. I love how at the point where the line takes a turn the lines weight gets a bit heavier just like it would with a felt tip pen.
From their web site..."The main objective of our investigation is to implement a computational system capable of simulating the various important processes involved in face sketching by artists. The ensemble of processes to be simulated, including; the visual perception the subject and the sketch, the drawing gestures, the cognitive activity: reasoning. the influence of the years of training, etc., the inter-processes information flows. "
The Aikon Project is very interesting to me as I have a similar one. I have been evolving my Hair Particle Drawing Project into a plain old particle drawing project that will employ a variety of types of marks, open cv, face recognition, etc. My strategy is to keep the particle framework and modify the particle classes to accommodate several marks, continuous line regions, erasing, emphasis, etc. I plan to use the face recognition libraries to determine where to place the really important lines and add extra emphasis. I have been reflecting a lot on how I draw in real life for this project and I have been trying calculate ways to approximate this process based on my own experience.
I am not as far along though and right now I only have some hatching, erasing and emphasis going on. Below is some output from last Fall.
Our British friends at Goldsmiths are basing a lot of their work on archives of sketches and artists notes so I imagine they will have a lot more information to feed their computational drawing system. I really look forward to following the progress of this project. They have a mailing list you can sign up for on their web site if you are interested in following it as well.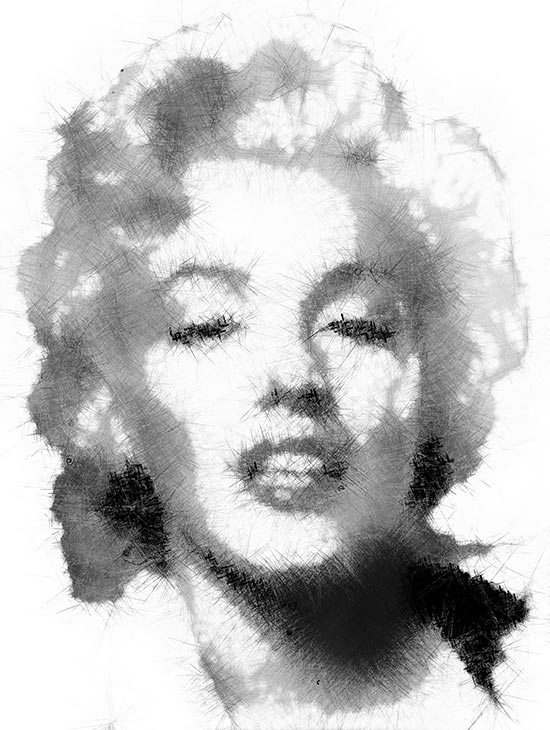 Marilyn Monroe, Don Relyea, Particle Drawing Project, 2009
Jen Stark hand cut paper sculptures and drawings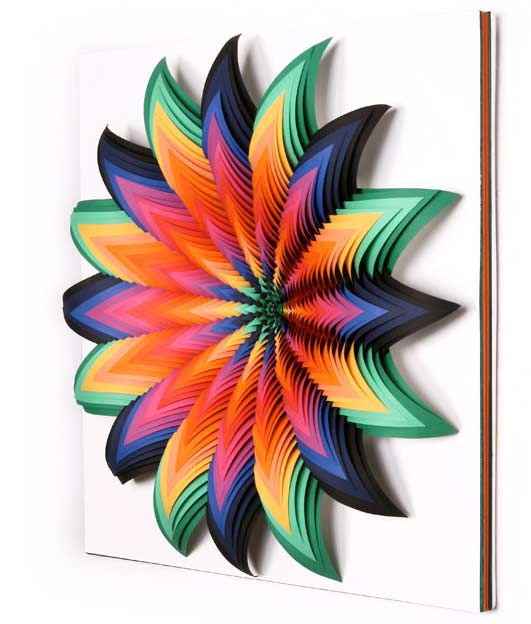 Jen Stark, Prismacolor, hand cut paper 2009
I ran across Jen Stark's work a while back somewhere and then ran across it again while reading a friends blog the other day and meant to post on her work.
Stark is primarily known for her hand cut paper sculptures but she also draws and designs. Her use of color is smart and well done.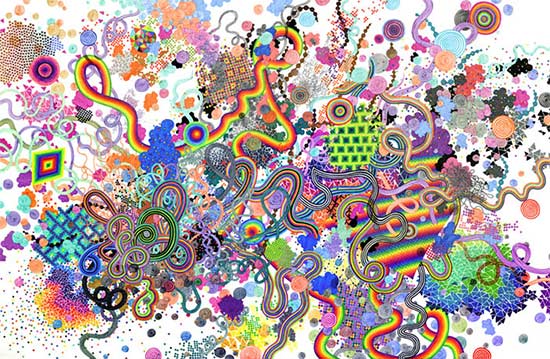 Jen Stark, High on Constellation, felt tip pen on paper, 2009
Stark's hand cut paper works and her drawings exhibit a great natural use of pattern as well. Be sure to visit her site. Her entire site is very well done, reminding me I have been meaning to clean my site up a bit this year as well =)
401_06 in Moscone Center and Meret Oppenheim at LAL Nude 2010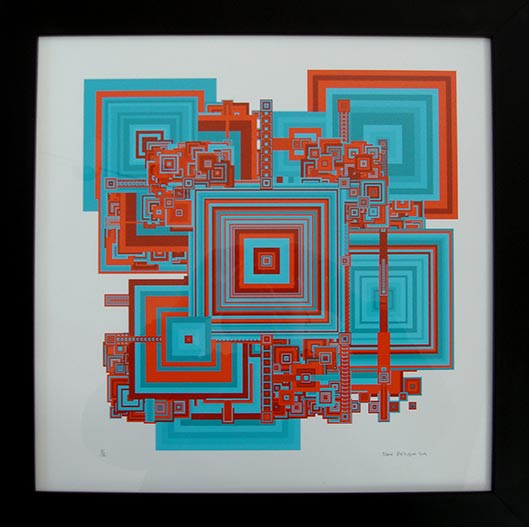 "401_06"
by Don Relyea at JMM 2010 Moscone Center, San Francisco
"401_06" from my Space Filling Curve project at the Mathematical Art Gallery in Moscone Center, San Francisco, CA. January 13-16, 2010, as part of the 2010 American Mathematical Society - Mathematical Association of America Joint Mathematics Meetings.

"Meret Oppenheim" from my Hair Particle Drawing Project will be on display at Nude 2010 January 16 – March 28, 2010 at the Lexington Art League galllery, Lexington Kentucky.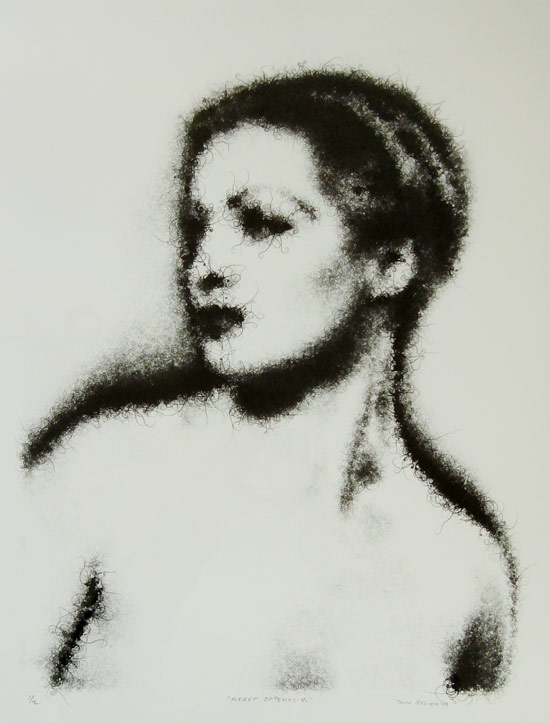 "Meret Oppenheim"
at LAL Nude 2010,
Lexington Art League galllery
, Lexington Kentucky
I received a lot of questions about the Meret Oppenheim piece from LAL and I thought I would share my commentary on the piece here as well.
The Meret Oppenheim piece was developed in C++ using Openframeworks.

Meret Oppenheim was the the artist loosely associated with the Dada movement who made the very famous fur lined teacup. The photo this image is sampled from was taken in 1937 by Man Ray. I thought Meret Oppenheim would be a great subject for a hair particle drawing project.

My "blank canvas" looks a little different from the usual artists "blank canvas". I create my work in a software compiler ( Code Blocks ) so my "blank canvas" looks more like a word processor. Only when the program is executed is the visual output realized.

The hair particles are not real hair but virtual approximations of growing hair generated by my software. I have several works using this drawing engine. It is based around a particle fx engine I wrote for a game some time ago. I altered the particles to behave like growing hair. In the early stages of development the particles rendered long and flowing hair with loose curls. In general, hair growing in darker areas grows longer, thicker and maintains a tighter curl. This is to preserve some of the detail that would get overgrown otherwise. Hair will continue to grow over time.

What is a hair particle? Video games are a good context to think about particles. When something explodes in a video game, debris flies everywhere. The debris is described visually using particles that keep track of various properties such as velocity, physics, scale, luminosity, color etc as the debris flies across the screen. Particles in the context of the Hair Particle Drawing Project can be thought of the same way but instead of a explosion metaphor, imagine 10's of thousands of pencils or dry point tools emanating from everywhere leaving a mark on the drawing plane to draw the portrait all at once. The particles are capable of behaving on their own and no two will ever behave exactly the same.
Ellen Jantzen -- Patricia Vanishing Mother

I have written about Ellen's work before. This series caught me as most folks in my generation are now dealing with aging parents..
Ellen Jantzen writes......
I normally deal with issues of reality in my artwork. I am intrigued with what is real, what is imagined. Are dreams real? Is what one sees, hears, and feels real? Aren't elements of the world flavored and altered by one's own emotional makeup and history?
With all of this in mind, I was drawn to the reality of my mother-in-law's mental state as she slips into dementia. I created a series of images depicting my mother-in-law, Patricia Jantzen, as she goes about her daily business while suffering from Alzheimer's Disease. I have titled the photo essay "Patricia – Vanishing Mother."
Her isolation is evident in No Mail but her humor is intact.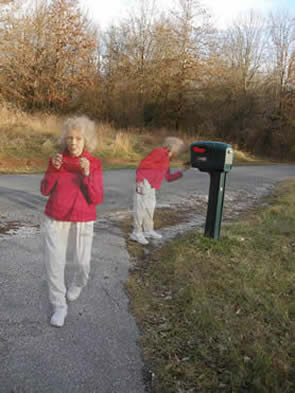 No Mail - (2009)
16"H x 12"W
Archival inkjet on heavyweight matte paper

You can see some more of these interesting pieces as well as read more about what Ellen has to say about this project and her experience with her mother-in-law's Alzheimer's Disease published at medical journal www.hektoeninternational.org. More by Ellen Jantzen at her website http://www.ellenjantzen.com/
BUYPASS: an exhibition at Salvation Army Stores within all 5 boroughs NYC

William Brovelli is orchestrating a conceptual art exhibition across the 5 bouroughs during the month of January 2010.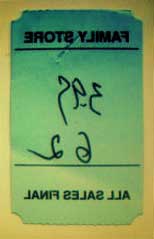 BUYPASS 
The idea is to encourage the spectator to purchase an item that will become the art object (À la readymade) This event is dedicated to the life and work of Ann T. Kenyon 1932-1994.
This (multiple space) solo exhibition is to take place within a 30 day period (Jan.1, 2010 –Jan.30, 2010) Location: all *Salvation Army locations within the five boroughs of NYC. 
The purchased (personalized) item as well as the exhibition card and documentation of the event (the receipt) becomes the art object. The artwork will not be recognized as such without all three elements in place.   Through the act of selection and purchase, the buyer becomes the main player via aesthetic control in the realization of the art object. It must be understood that this project is less about the Readymade per se as it is about using the readymade as a vehicle that will enable greater control on the part of the spectator in terms of deciding what or even if the art object is going to be.
There will be no artist reception, signatures or any other interaction between artist and spectator(s) during the exhibition.  Anytime after the 30 day exhibition period, participants may contact the artist for a free exhibition card that will validate the object.  (Postage paid by artist.)  www.williambrovelli.com   
*Note: The artist only suggests purchasing the object from the Salvation Army store. Any object not purchased from a Salvation Army store and accompanied by a receipt that falls within the exhibition date, will be considered void in terms of  its relation to this project and exhibition. The Salvation Army is not affiliated with the artist or this project.
From William Brovelli and ArtSlant
A. Bill Miller: Samples from the Gridworks Collection Project @ Some Walls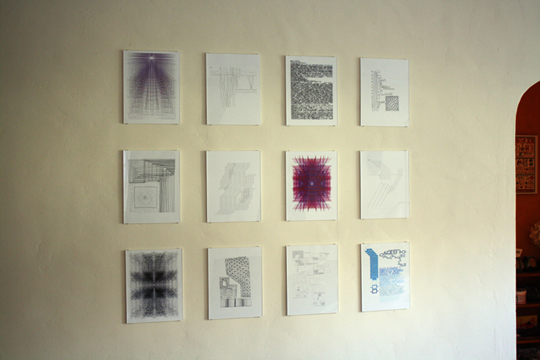 A. Bill Miller: Samples from the Gridworks Collection Project Archives
November 15, 2009 – January 10, 2010

A. Bill Miller is currently an Associate Lecturer at the University of Wisconsin, Milwaukee, and an Instructor at the Milwaukee Institute of Art and Design. He lives and works in East Troy, Wisconsin. He is noted for his Gridworks Project, which comprises abstract ASCII drawings, ink drawings, animated GIFs, video, and performances which are frequently shown in the U.S. and internationally.
Some Walls is pleased to exhibit twelve of Miller's inkjet prints, with additional prints available for viewing. This is Miller's first solo exhibition in California. Additional ASCII drawings can be seen on Miller's blog, and more images, animations, and video are at his website.
A. Bill Miller's ASCII drawings are made at the keyboard with text– characters and letters.  He draws/types grid-based and grid-defying images that are surprisingly varied and dynamic,  pictorial and spatial, rhythmic and dynamic. As writing has overwhelmingly moved from the pen to the keyboard and monitor, it also makes sense that drawing might make a similar move from the pencil. By making prints, Miller transports his images from the flickering, pixilated digital realm to our analog, tactile world of paper and ink. Seeing his drawings outside the monitor is an entirely different experience from online viewing; where the digital image scrolls by intangibly, the art work as object allows the viewer to see and contemplate a crisp, satisfyingly still, human-scaled image. In these prints one can fully assess Miller's range of ideas, visual invention, and unique skill.
Some Walls is open by appointment only. To view the exhibition online please visit somewalls.com.
from Chris Ashley
Generated tentacled eyeball monsters halloween 2009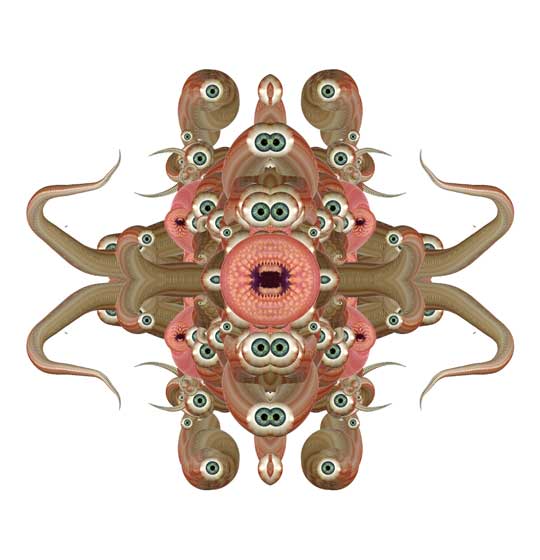 Generated Monsters -- done in OF 0.06
I wrote a quick program to generate monsters for my kids this halloween. This is not a serious art project but fun for my family that turned into something cool enough to share.
It was done in c++ in openframeworks 0.06 using code blocks. You can download the source here (right click) and the textures here! I'm sure you can swap out different eyes and mouths for different looking monsters.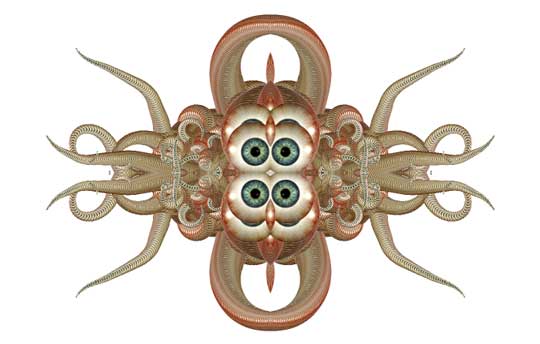 It uses a version the hair particle drawing class I wrote to do my hair drawings, I just swapped it out with opaque textures of eyeballs and mouths and placed the drawing origins in the lower right corner. I then copy the screen to a FBO Texture and draw that to screen flipped so the creature is both vertically and horizontally symmetrical and voila...a tentacled eyeball creature!
You can see all of these monsters at my flickr set "Generated tentacled eyeball monsters halloween 2009" there are over a hundred of them!
500x Open Show Theme: Landscape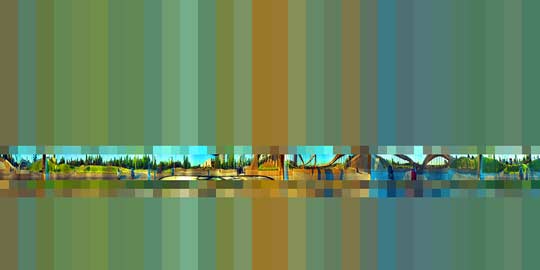 "635 Commute" by Don Relyea
The 500x annual open show has moved from the end of the Spring season to Fall. This years theme is "Landscape". I always try to support 500x since it is the first place I showed anything a very long time ago.It is also a great place to try out new work and see what peoples reactions are at the opening.
This year I entered a piece titled "635 Commute" that uses two of my projects combined, my slit scan photography project and the good old reductionizer. I recorded several minutes of my commute to work and generated a slit scan image of the video, I then reduced it using the reductionizer and combined the images. The result is a 22 x17 photo print which looks fantastic. You can pick it up for cheap at the show.
There is still one more day to drop off art at 500x, they are taking stuff Tuesday night from 5-8pm as well.
Open Show Theme: Landscape
Exhibition Dates: October 10-31, 2009
Opening Reception: Saturday, October 10, 7-10pm Delivery Times: October 5 & 6, 5-8pm Pick-up: Sunday, November 1, 2009, 12-5 pm

All work in the Open Show must explore the image, presence, or idea of the landscape. Work in any media is accepted.

Requirements:
$25 per entry -5 entries maximum
Each piece must include name of artist(s), address, phone #, e-mail address, title of work, media, year of execution and sale price on the back.
Payment may be made with credit card, check or cash.
All work must be ready to hang-canvases, frames, etc. must have "D" rings or wire; unframed works on paper will be pinned to the wall unless other hanging systems are provided and prepared.
All video, sound, and media work must come with equipment, and the artist is required to come during the installation time to set up the work.
Work must not exceed 60" in any direction.
500X Gallery will retain a 30% commission on all sales.
Work will remain on view until the show closes at 5pm on Saturday, October 31, 2009
Exhibited works must be picked up Sunday, November 1, 2009, 12-5pm.
Other information
A storage fee of $50 will be charged for work that is not picked up on November 1, 2009. 500X Gallery carries no insurance and accepts no responsibility for work damaged while in storage. Stored work not picked up by Sunday, November 29 will become the property of 500X Gallery.
161 02 space filling curve art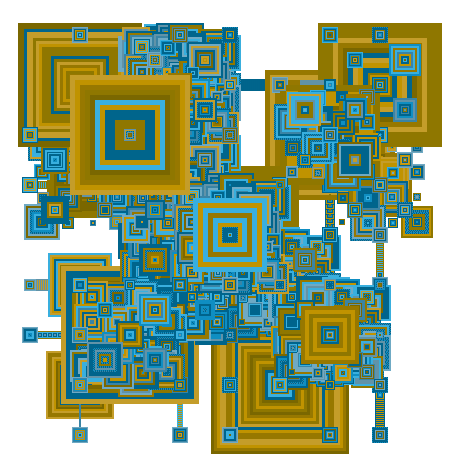 "161 02"
by Don Relyea
I have been using my space filling curve program to generate some textures with transparency for an open gl music visualization program I am working on for fun. "161 02" was a keeper.
I have ton of new ones I need to get around to posting on Flickr or here on my site soon.
Jeffrey Cortland Jones at Some Walls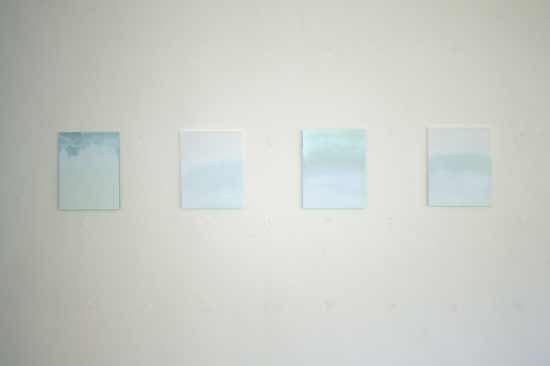 Some Walls is a new curatorial and writing art project located in a private home in Oakland, California. For the inaugural exhibition, Some Walls is proud to present "Jeffrey Cortland Jones: Recent Paintings," from September 10 – October 31, 2009. Images and an essay about the exhibition are at Some Walls.
Jeffrey Cortland Jones is Associate Professor at University of Dayton in Dayton, Ohio. A painter as well as a curator, he is much admired by peers for his lush and serious work, disciplined and productive practice, broad and active exhibition schedule, and friendly and generous spirit.
Some Walls will show four small recent paintings made with enamel on acrylic panels. Known for his use of industrial materials, institutional colors, complex layering, and vigorous mark-making, Jones had in the recent past used a more wild and vibrant palette. The four paintings in this exhibition head in a slightly different direction, however. Returning to his previous use of green and white, Jones has quickened, reduced, and softened his paint application, resulting in images that, though abstractions with a strong physical presence and object quality, with their vertical format and horizontal spatial divisions hint at the wintery-like atmospheric image of haze just as the sun is about to burst through.
Some Walls is open by appointment only. To view the exhibition online visit somewalls.com.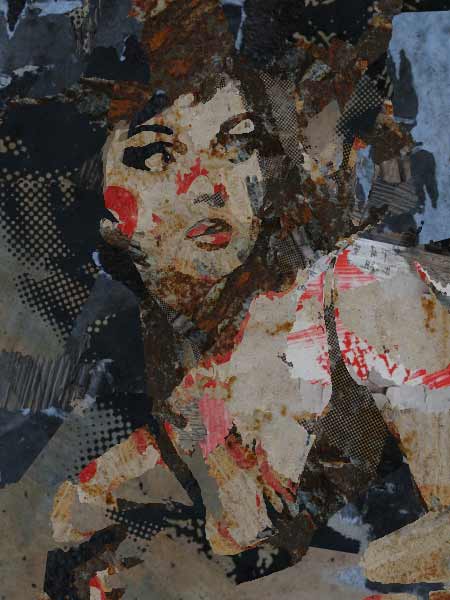 Collagenator preview image by Flickr user Quasimondo
Quasimondo is teasing us with a generative collage project that blends several images based on a source photo. This particular piece looks great. I have been working on something very similar in openframeworks but Quasimondo's choice of source texture images is impeccable. Very well done.
New digital slit scans on Flickr

I have uploaded 144 new images to my Flickr account that I have been tinkering with for the past several months.
These images were created using a digital slitscan process. I wrote a program that generates several groups of 3d primitives. The separate groups of primitives are rotated in slightly different directions slowly while every frame of rotation a column of pixels is sampled from the middle of the image and used to make a picture.
This issue of Vague Terrain(journal 14) is a must read for computational artists and enthusiasts...from Rhizome
A selection of artists, architects and writers were invited to contribute work that dealt with biological, botanical and morphogenetic ideas and processes. Some keywords and ideas to reflect upon were: Morphogenesis, Algorithmic Botany, Emergence, Genetic Algorithms, Cellular Automata, L-systems, Bacterial Aesthetics, Biomineralsiation, Autogenesis, Self-generation; Cellular Division, Cosmobiotechnics, Biomimicry and DNA sequences.

Contributing artists include: Alisa Andrasek (Biothing), Daniel Widrig, David Lu, Emma McNally, Jonathan McCabe, Kat Masback, Mark Fornes (THEVERYMANY), Michael Hansmeyer, Robert Hodgin (Flight404) and Wilfried Hou Je Bek.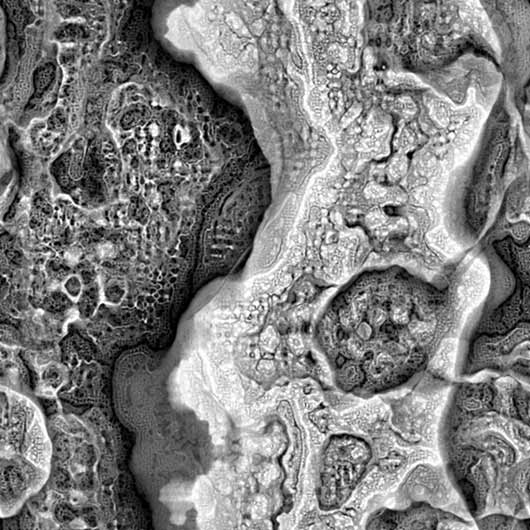 Muti-Scale Radially Symmetric Turing Patterns
by Johnathan McCabe