The Aikon Project: computational drawing system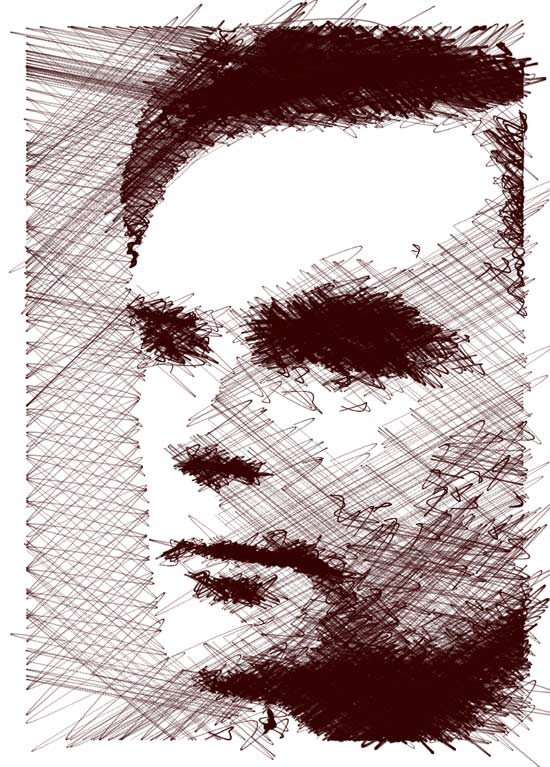 Alan Turing, 23 June 1912 – 7 June 1954. (Aikon, 2010)
Goldsmiths University of London has a great project called the Aikon Project. They have been awarded a grant to explore artistic drawing focusing on portraits. The Aikon Project is supported by a Leverhulme Trust 3 year research grant.

From their web site..."What can explain that for a non-draughtsman it proves so difficult to draw what they perceive so clearly, while an artist is able to do so sometimes just with a few lines, in a few seconds? Furthermore, how can an artist draw with an immediately recognizable style/manner? How can a few lines thrown spontaneously on paper be aesthetically pleasing? "
The sketch of Alan Turing above is really nice, it appears to be drawn with a single line. I love how at the point where the line takes a turn the lines weight gets a bit heavier just like it would with a felt tip pen.
From their web site..."The main objective of our investigation is to implement a computational system capable of simulating the various important processes involved in face sketching by artists. The ensemble of processes to be simulated, including; the visual perception the subject and the sketch, the drawing gestures, the cognitive activity: reasoning. the influence of the years of training, etc., the inter-processes information flows. "
The Aikon Project is very interesting to me as I have a similar one. I have been evolving my Hair Particle Drawing Project into a plain old particle drawing project that will employ a variety of types of marks, open cv, face recognition, etc. My strategy is to keep the particle framework and modify the particle classes to accommodate several marks, continuous line regions, erasing, emphasis, etc. I plan to use the face recognition libraries to determine where to place the really important lines and add extra emphasis. I have been reflecting a lot on how I draw in real life for this project and I have been trying calculate ways to approximate this process based on my own experience.
I am not as far along though and right now I only have some hatching, erasing and emphasis going on. Below is some output from last Fall.
Our British friends at Goldsmiths are basing a lot of their work on archives of sketches and artists notes so I imagine they will have a lot more information to feed their computational drawing system. I really look forward to following the progress of this project. They have a mailing list you can sign up for on their web site if you are interested in following it as well.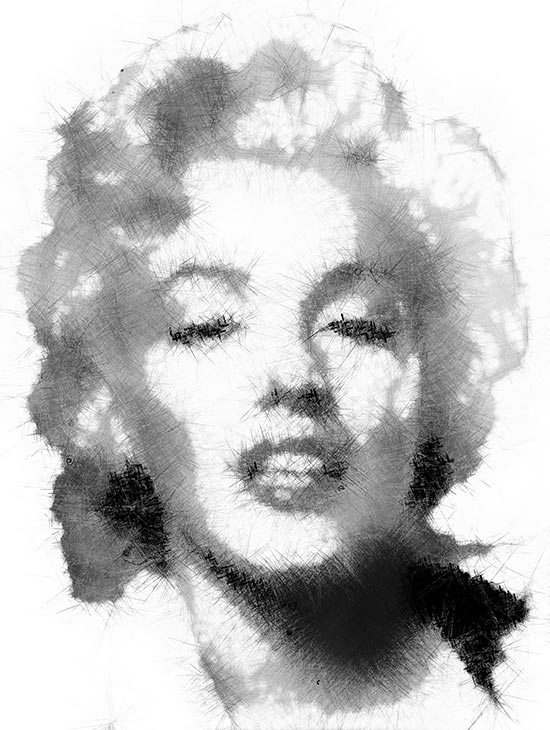 Marilyn Monroe, Don Relyea, Particle Drawing Project, 2009