Motörhead - Ace of Spades - Songsmith Version

Microsoft songsmith has become somewhat of a phenomenon on the internet and most of what I have seen is pretty aweful. Songsmith uses algorithms to generate music for your vocals. But this is suprisingly not as aweful and pretty funny. Lemmie does a ballad, hmmm =)


new evilcomputergenius mp3 single "greed"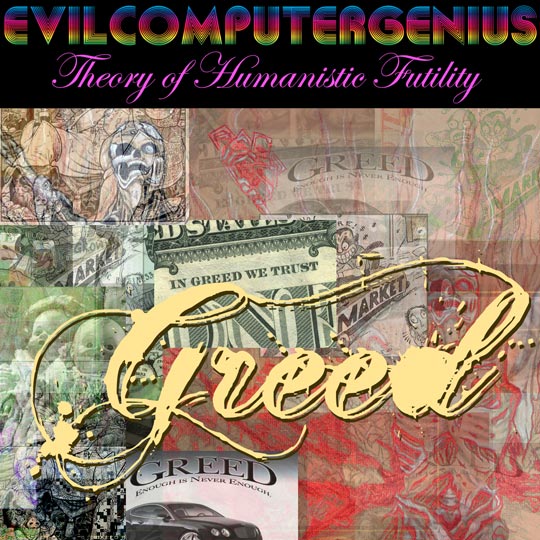 Greed ( Right click to download ) (128khz mp3 2.9mb) by evilcomputergenius
genre: dub, breaks, electronica, industrial
This is the first mp3 single from the new evilcomputergenius album "Theory of Humanistic Futility"
This song is a reaction to the greed that caused the financial collapse. How it is permissable to allow lending institutions and Wall Street barons to make bad business decisions and have citizens and taxpayers across the world foot the bill is beyond comprehension.
This single is also featured in the lates issue of Itch Magazine as an audio artwork along side the bailout artwork "Stick 'em Up" by Don Relyea
How I Became the Bomb - Who Dares Wins



1. Salvage Mission

2. A Formal Occasion

3. Tomorrow's Date
I get a lot of band press releases for my blog and I post very few of them. How I Became theBomb is a different story. Their mix of electronics, rock with great stylized vocoder processed vocals is fantastic. The space/military theme with Strangelove influences is awesome. Were I still playing music in the old electronic rock project I was in 10 years ago I have no doubt we would be playing similar bills.
In short, I highly recommend checking out How I Became theBomb. My favorite from Who Dares Wins is Tomorrow's Date. You can get the whole release for free in exchange for an email address.
They have released a video for "Salvage Mission" with their ep as well. It is really well done and was directed by Jonathan Kingsbury and Rob Paynter.
They got the helmet on ebay and apparently it is an authentic Russian cosmonaut helmet, at any rate it made the singer Jon Burr very sick after the several hour video shoot.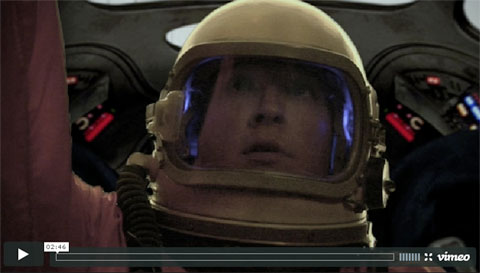 They have 4 upcoming digital releases planned through June of next year.
Each volume will have 3 songs accompanied with a video. The volumes--named after famous military slogans--will be released on various notable dates, all of which are listed below.
Vol. 1 Who Dares Wins – November 5, 2008 (Guy Fawkes Day)
Vol. 2 Foremost Sentinel – January 1, 2009 (New Years Day)
Vol. 3 They Can What It Seems They Cannot – March 15, 2009 (Ides of March)
Vol. 4 Through Adversity to the Stars – June 6, 2009 (D-Day)
Spar mangled banter on boombox.org

I found this mix while vanity googling, it has one my tracks Atomic which I had forgot about and one of my favorite Messian Dread tracks... the mix is political in theme with entertaining samples and free for the downloading...check it out!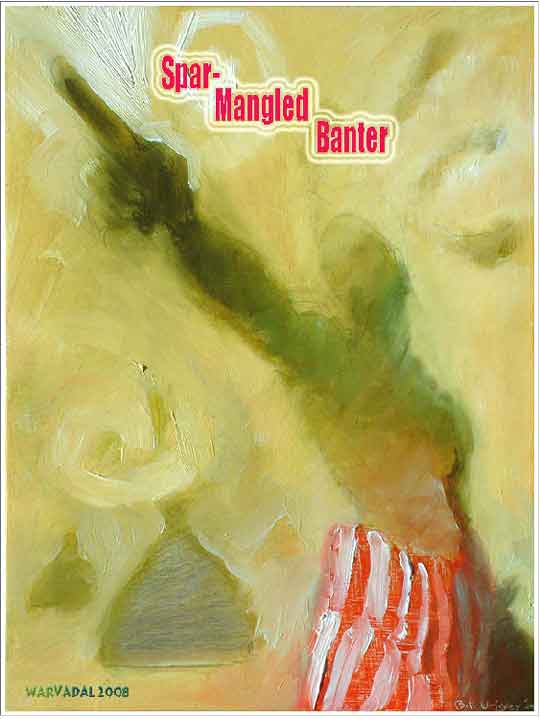 Warvadal - Spar-Mangled Banter on http://www.b00mb0x.org/
Tracks…
Stealth Overture - Apollo 440
Presidential Address - Tryad
Noam Chomsky (Intro) - Bassnectar
American Military Operations (Remix) - Cat Five
Good Vs. Evil - Guerrilla News Network
War (If It Feels Good Do It) - Dj's of Mass Destruction
Captain Scarlet Destroys The Terrorists - Dj Blue
Well Ard Guns (Mix) - Condition Human
Art And Protest - Post FixE
Liberation Radio - Lunatic Calm
Once Over - Quiet American
To The Teeth (Shoot Out Remix) - Ani Difranco
Dusty Boots And Dogtags - Ryan Harvey
War Progaganda (Irresistible Force Mix) - R.J. Marshall
Rastaman Chant (Ft. Busta Rhymes) - Bob Marley
Excerpt from the film Occupation 101 - Various
Seiksub - John Holowach
History Lesson - Boyd Rice & Friends
The World As a Company Town - Greg Palast & Ed Edner
Skin on the Drum - Michael Franti & Spearhead
Spread the Love - Lazy Boy
Atomic - Don Relyea
Psychotronix - Messian Dread
Colours - Anima Sound System
Political State - Unknown
Foreign Objects - Dirty Elegance
Ah! Terror (Excerpts) from the film Embedded - Various
Abu Ghrub - Deadbeat
Masters of War - Bob Dylan
Whose Money - Fila Brazillia
The Voice 0f Safety Speaking - Lyndon Lorenz
The Price of Oil - Noise Collector
Media (Neutral Mix) - Kayne West
War Is Over - Double Beat
End Credits from the film The Tripper - Various
Merce Death: Real Time Canon Test

Found this while checking out Chris Ashley's blog. As usual lots of nice new html drawings there and then this video. I had heard of Merce Death before but never taken the time to check him out until I saw this video on Chris's blog. It is cool check it out. He records himself with samplers and plays over them in real time. Nice work.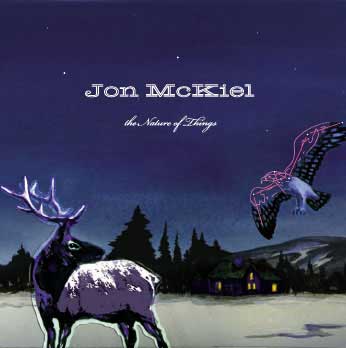 "The Nature of Things" by Canadian singer/songwriter Jon McKiel and his band is a great indie pop find. Their label emailed me a couple weeks ago to check it out and I did. It is great! The whole record good solid indie pop.
"The Nature of Things" recently won a place on The Coast's "Top 50 Album of 2006" and earned him the title of "Best New Artist", and was recorded by Thom Flowers at Boston's Fort Apache Studio, home to such indie staples as the Pixies' "Come on Pilgrim" and Radiohead's "The Bends". The record was mastered by Noah Mintz (The Dears, Stars, and Broken Social Scene) at Lacquer Channel in Toronto.
On February 12th Jon McKiel will release his "The Nature of Things" on Wednesday Records.
You can check out "War on You", which can be found at:
http://www.wednesdayrecords.com/waronyou.mp3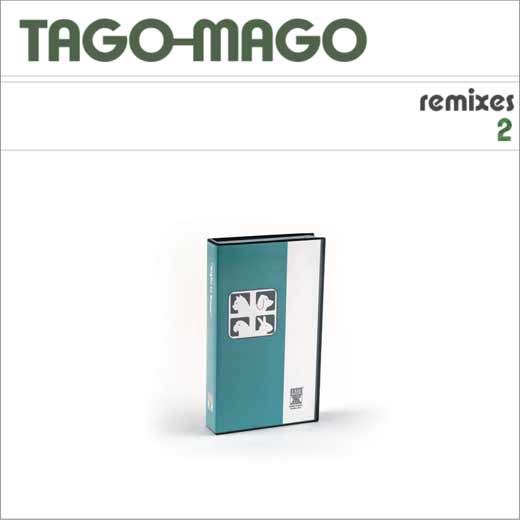 Bruno Sugai of Tago-Mago has been up to it again. A nice new collection of ginsu hacked up remixes. I would like to know how he gets such good sound from remixing mp3s. Nice work. Check it out.
evilcomputergenius Unmastered pre-release out there on the internet now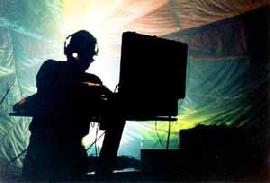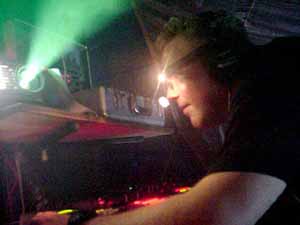 The evilcomputergenius often performed live at the
sub-tronic theatre
in 1999-2002
For the last almost 2 years I have been working on a collection of new dub influenced bass driven tracks for my project evilcomputergenius. Since my focus is primarily visual art, the collection is just something I have been working on in my spare time. However the tracks are starting to sound really good even in their unmastered state. The collection is beginning to come together to tell a complete story as well.
So...I have decided to just release all the unmastered preview tracks in various forms for free full download on the internet so people can check them out and so I can see if folks respond to any of the tracks. So if you need some fodder for your ipod for the drive to grandmas for turkey day go get em here and here!
The tracks are a wide range of tempo from 80 bpm to 130bpm. Most are very dub influenced electronica with some electro-rock and some progressive breaks and some drum and bass influenced tracks as well. If you have a sub woofer it will get a good work out.
The tracks are mostly finished but they are still unmastered. Casey Hess, old band mate of mine and member of the Burden Brothers is going master them soon when I finfish fiddling with them. I gave him some really early stuff to play with and he assures me the mastered versions will be a marked improvement.
In the mean time feel free to check out the unmastered tracks and put them on your Facebook page and put them in your lastfm.com play lists.


My site on iLike: http://www.ilike.com/artist/evilcomputergenius

My site on Facebook to add files to your facebook page: http://apps.facebook.com/ilike/artist/evilcomputergenius

lastfm.com: http://www.last.fm/music/evilcomputergenius/Unmastered+pre-release
Feel free to contact me if you like them or hate them or just want to say drum break at 4:18 in song whatever is driving you mad.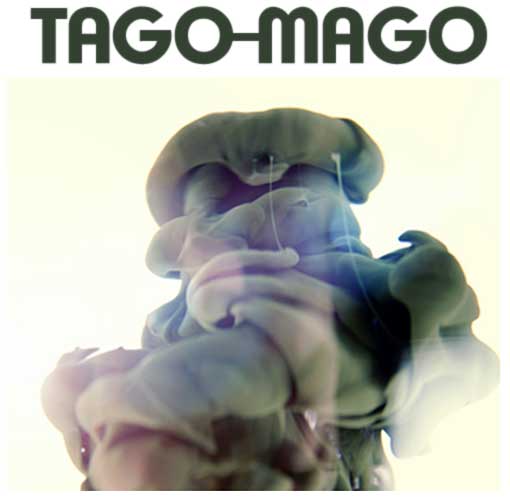 One of the nice things about having a site and blog is that from time to time I get emails from artists and djs that really have some nice stuff going on and I get to experience new things that I would not have otherwise had time to go looking for on the internet. This is one of those great finds.
Tago-Mago is a remix mashup blog. Bruno Sugai remixes rap and r&b accapellas with hip hop, breaks and rock mashups. He makes his own midi compositions to go with them. His style is fresh, I have most of those accapellas in my library of samples and stuff and haven't come up with anything as fun as what he has. He has several mix collections up with mashups like Missy Elliot vs Supergrass or Japan vs. Unkle and Bizzy Bone vs. Six Finger Satellite.
Bruno Sugai writes... I've been making electronic music for 7-8 years now, and recently got into remixing a capella tracks. (On his first album) i'd say 70-80% of the music not including voice is me on midi; the rest is an assortment of samples, including ones of tracks my friends made. my other stuff is at http://inkstink.com/bruno and http://inkstink.com/fasafas. askinazi has mp3s up at http://inkstink.com/askinazi.

New sort of ....Don Relyea mp3 tracks...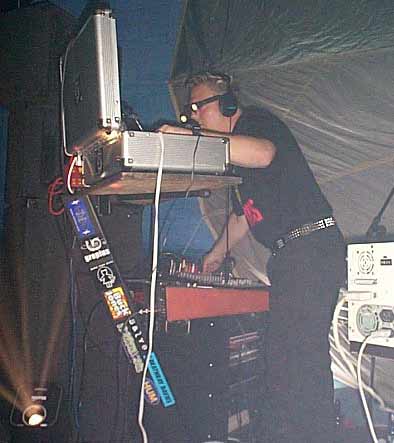 Don Relyea (me) playing live several years ago =)
Well, I completely forgot to post these mp3 songs. They are about 9 months old but better late than never I guess.
The very observant may have noticed them in my flash music player off and on but I never posted them. There are a couple more songs I can't find 128khz versions of so I will have to post them later. I have some new evilcomputergenius downtempo dub stuff coming soon too.

Don Relyea - Serpentine(6.4mb) MP3 100BPM
Progressive | Breaks | Electronica

Don Relyea - Silver Tongue (7mb) MP3 125bpm
Progressive | House | Electronica

Don Relyea - The Longing (7.1mb) MP3 120 BPM
Progressive | House | Electronica

Don Relyea - Komputer Kontrol (6.3mb) MP3 125BPM
Progressive | House | Electronica
Four New evilcomputergenius MP3 tracks!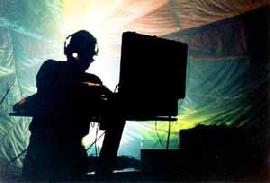 evilcomputergenius

I have been listening to a lot of bass music, Dub, Dub-Step, Half-Step and Grime and noise lately. One of my old producer friends Jason Mundo turned me on to the new sounds. There are lots of good tracks to get into and download at dubstepforum.com as far as dub-step goes. Also check out Argon Records if you get a chance.

Needless to say the Dub vibe is working its way back into my tracks. I have always liked dub and ragga sounds and I made several downtempo dub tracks in the past with my old project Ropelab. The evilcomputergenius sound continues to evolve in a direction all its own.

evilcomputergenius - Hermaphrodite (4.9mb) MP3 69BPM
DUB | Dub-step | Electronica Hermaphrodite is a little busy for straight up Dub-Step but I like it like that so I release it that way. Big lumbering distorted beats with deep subs, heavily filtered dnb bass and a weird sample about some kind of inbred mutation.

evilcomputergenius - Dubpocalypse (6.9mb) MP3 69BPM
DUB | Dub-Step | Breaks | Electronica Dubpocalypse is also little to busy and breaky for straight up Dub-Step, it is a rework of an older Messian Dread track Apocalypso. I'm pulling the usual tricks of deep subs with heavily filtered bassline halfstep breaks with some double-time dnb breaks over the top.

evilcomputergenius - Discipline (6.1mb) MP3 85/170BPM
DUB | Drum and Bass | Electronica Discipline is named for the big distorted lead synth patch used in the track. This one has deep ragga dub sub sounds with filtered guitar sounds halfstep breaks with some tight 170 bpm dnb sampler work over the top. Discipline descends in and out of layered noise from time to time. There are some elements of this track that remind me of times back in the old days when our hardware setup would start to get trapped in feedback loops and analog delay.

evilcomputergenius - Kick Your A$$ (3.5mb) MP3 130BPM
Breaks | Electronica Kick Your A$$ is a rocked out breaks track. A tight break with old vinyl samples, big guitar chords with sick angry solos over the top lightly frosted with some moog. Also some speak and spell noise. I think I was in a bad mood when I made this one.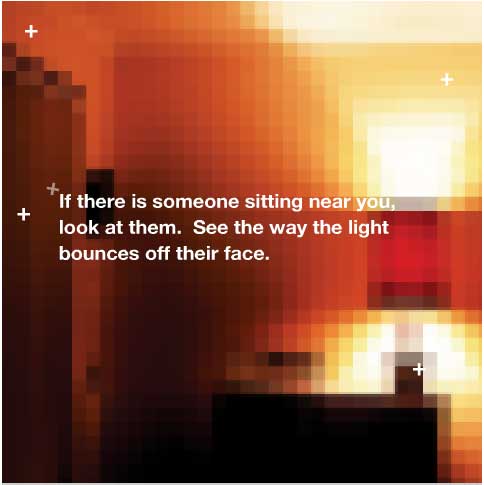 Screenshot of http://www.henrygwiazda.com/




Since 1986, Gwiazda has worked with sampling and sound effects to create the unique musical language that is derived from the interior musical characteristics of noise itself. His recent work is concerned with creating immersive musical works and computer multimedia. Performing live with sampler, guitar, and tape, he has given concerts, workshops, and lectures throughout the United States, Canada, and Europe.

Gwiazda produces animated audioscapes, oddly situating twisted and chopped real-sound samples . . . combining elements that don't have any clear relationship into compositions of surprising unity.
- reviewed in CMJ by Robin Edgerton Douglas Wolk.

Check out Henry Gwiazda noTnoTesnoTrhyThms at Innova recordings.

Be sure to squish the roach at U4EA Design.

New evilcomputergenius track -- It came from the sky

| | | | | |
| --- | --- | --- | --- | --- |
| | evilcomputergenius | It came from the sky(3.5mb) | Experimental electronica/breaks. Big lumbering distorted beats with odd synth noise and a sci fi sample. | |

I totally spaced on posting this track when I finished it a couple months ago, enjoy if you like this sort of thing. I finished a pretty dark heavy evilcomputergenius track a month ago too, just have not had time to upload it. I Will have to get around to it between baby feedings some time.

20 min documentary on the Amen Break
Being a reformed drum and bass producer, I still hold an affinity for the Amen break. This documentary is some good schooling on the most important 6-sec drum loop ever created by mankind.





Courtesy of dailydrone.org(in German)

Fijuu 2
Fijuu 2 is a 3D audio/visual installation. Using a PlayStation-style gamepad, the player(s) of Fijuu dynamically manipulate 3D instruments to make improvised music. Fijuu is built using the open source rendering engine OGRE and runs on Linux. In the future fijuu will be released as a Linux live CD project, so players can simply boot up their PC with a compatible gamepad plugged in, and play without installing anything (regardless of operating system). This effectively turns the domestic PC into a console for game based audio performances.

The gamepad controlled 3D improv and composition environment Fijuu recently reached its second version, thanks to a commission from CyberSonica.

Unlike the previous version of Fijuu, Fijuu2 provides the ability to sample from each of the six 3D instruments as they are being used, which in turn are recorded to segments on circular 'tracks'. tracks can be sped up or slowed down independently of each other. simple effects can be added also.

Here's a short clip of Fijuu2 in action (heavily compressed Flash):





Courtesy of ruccas.org and dailydrone.org(in German)

New evilcomputergenius track --Domination



I have been working on some new evilcomputergenius and Don Relyea tracks. Three tracks in all coming soon. I'm taking a little more time to let these new songs simmer. I had some regrets about overdoing some of the phased drum tomfoolery on The Cleaner. So I am going back and taking some of it out and posting a new version soon. So if you like The Cleaner the way it is you might want to save a copy.

Unfortunately I suffered a catastrophic hard drive crash right after I mixed this version of Domination(4.9mb) so I lost the original. I had intended to add some more analog synth sounds to the breakdown in the middle, but after listening to it for a while I think it sounds fine the way it is. This track is the one I used for the soundtrack to one of my video entries for the [PAM] perpetual art machine project.
New progressive house mix of Unstoppable.
I have been working on some new solo music in the progressive house and breaks genres and I am getting my sound down. I have a new track called The Cleaner. It is a pounding track with lots of guitar work, a driving bass and house beat accentuated with breaks. The Cleaner is a song for people who solve problems if you know what I mean.
The Cleaner (2006 prog mix alt)(5.3mb)