Well... for the past 5 years my Bloxsom Blog has served me very well. But with my time in short supply and so many things to share I need a very fast, mobile and integrated plaform I can pipe content in from real time projects as well as blog on the run with my mobile device.



So it is time to upgrade to a more flexible and supported platform, so this is my last post here...
From here on out my new blog will exist here:
http://www.donrelyea.com/blog/
Be sure to update your links =)
Interview in Artworks Magazine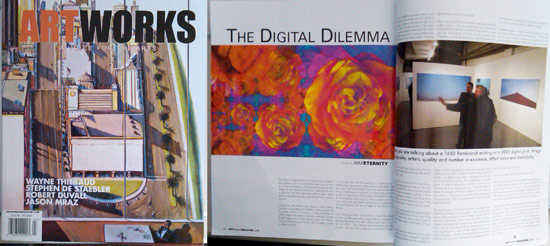 Big Thanks to Max Eternity, contributing writer to Artworks Magazine and editor of Art Digital Magazine who interviewed me a while back on my thoughts on digital art and provenance. He also interviewed Kristin Heming of Pace Prints, David Rudd of Cycleback, Rex Bruce of Lacda and Andy Weimer of Spaightwood Galleries.
The article is published in the Fall 2009 issue of Artworks Magazine and features a frame from my Generative Flowers III video art work.
evilcomputergenius + Blixaboy record listening party + Don Relyea's 40th!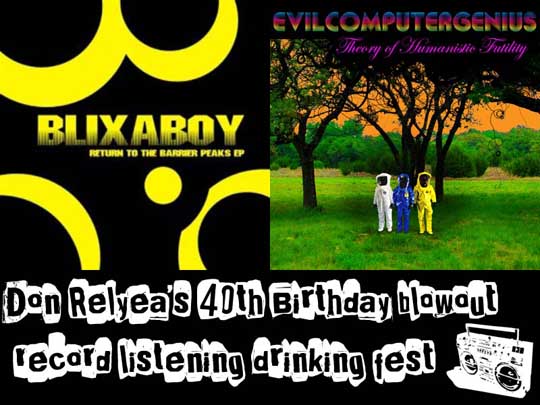 This Saturday the 18th of April I am celebrating my 40th and the release of my new evilcomputergenius album with my old sub-tronic theatre buddy Mwanza aka Blixaboy.
The party is at the Whisky Bar on lower Greenville ave in Dallas TX. 8-11pm but will surely go until later but get there early to hear the new records. This event is open to the public so consider yourself invited!
If you are on Facebook you can rsvp to the event here:

http://www.facebook.com/home.php#/event.php?eid=93675835902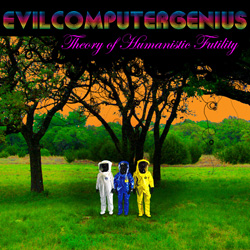 evilcomputergenius - theory of humanistic futility
Available now at these online stores:



We went on a weekend family get away with our neighbors in Blanco Texas a couple weekends ago. In addition to some fishing and fossil hunting I did some bug hunting with the kids. We found quite a few critters and got some good pictures and video. We collected the scorpions from around the house so the kids would not step on them.
When you are in a weekend house in the Texas hill country it is highly recommended to shake out your shoes before putting them on. Two of these scorpions were found in the children's shoes inside the house in the morning.
We also found an Ironclad beetle and a Wolf Spider, also pictured below.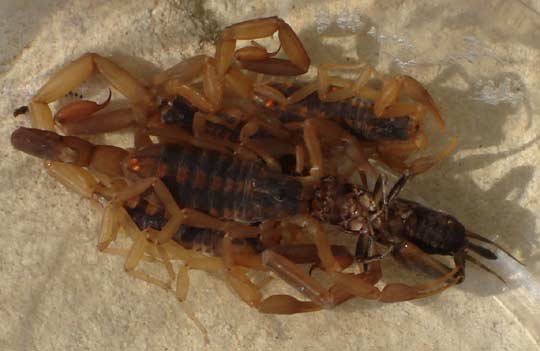 Scorpions enjoying a free lunch.

Video of scorpions vs. crickets, the picture above probably gives an idea of the outcome.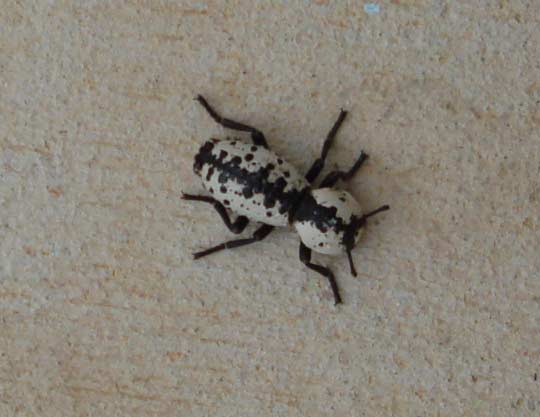 Ironclad Beetle, Zopherus nodulosus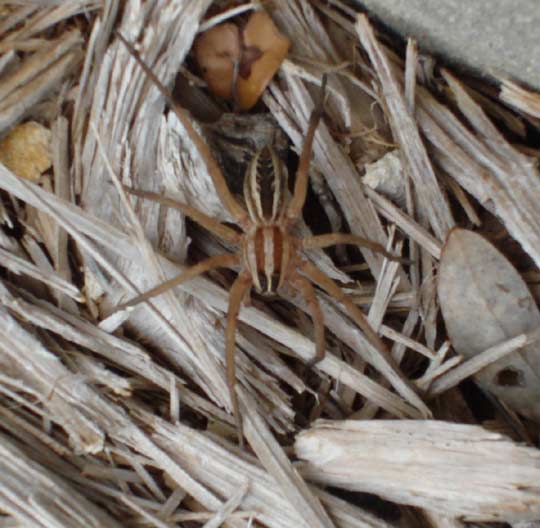 Wolf Spider, Family Lycosidae
Timothy Leary for President 08 - Question Everything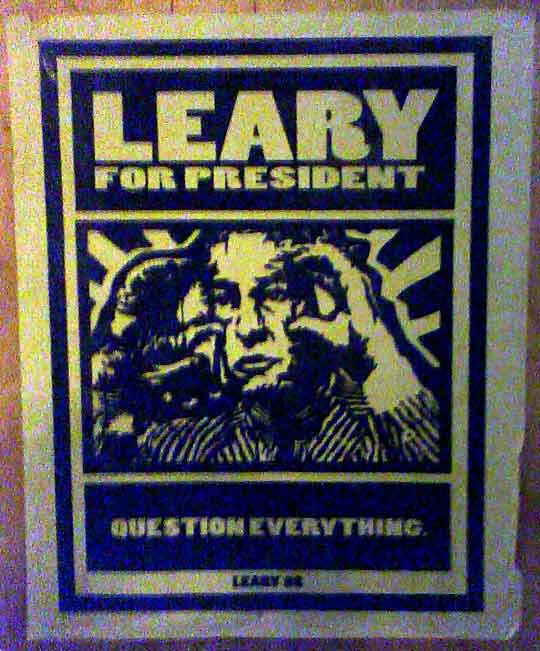 I stumbled past this poster while in San Diego on business...proof of cryogenics?
My friend Alex on the last leg of his world tour / vacation stopped in Shanghai for Chinese new year. Clearly there are no laws governing the use of fireworks over there and no one is concerned for anyones personal safety. It is awesome!
Butterflies, spiders and fossils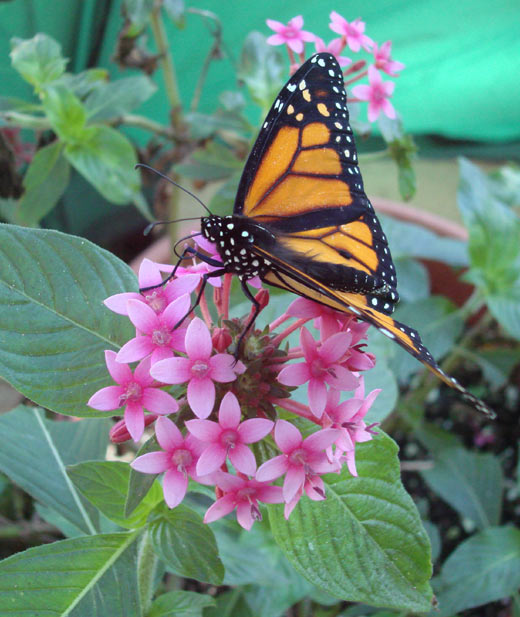 Click photo to enlarge
The whole family went to the Riley Elementary school open garden today to see the garden and an exhibit of Monarch butterflies, caterpillars, and chrysalis. The butterflies were contained inside of a tent and the kids were able to get up close and check them out. The butterfly guy had chrysalis' for sale and we got some to see them turn into butterflies in about a week. Should make for a good show and tell for Sophie's school.
The butterfly in the flowers is one of the migrating butterflies. Long ago when I was in college I participated in a study to tag and track the butterflies migratory patterns. Lots of fun.
Kids marveling over the caterpillars dining on some leaves.
This yellow garden spider aka Argiope aurantia, is dining on what appears to have been a skipper butterfly. This spider was quite large, that is a 5 inch steel pipe behind it. It was so large I failed to notice the much smaller male spider also in the picture and several small babies also crawling over the web. You can see that the female's abdomen is deflated, the large egg sacks, nearly golf ball sized may have had something to do with that.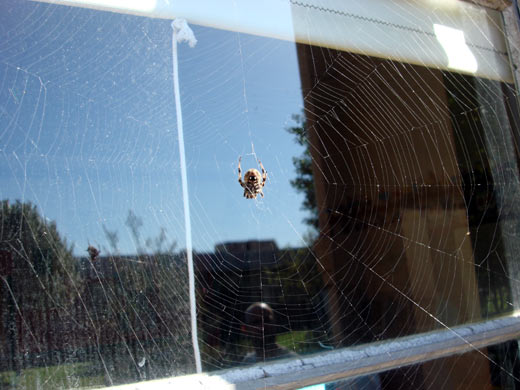 Click photo to enlarge
This is a different species of orb weaver spider, Neoscona oaxacensis. This one is a female and has an impressive web.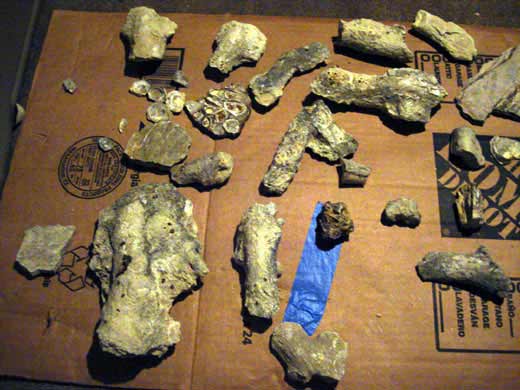 Click photo to enlarge
Later in the day I went fossil hunting with my son. We had a great time and found a surprising bounty of fossils. We went hunting near White Rock Lake off of Buckner. We found several shell impressions, some shells, some bone fragments and some larger bone impressions. I was really surprised to find this much stuff and I should have brought a bigger sack to carry everything in.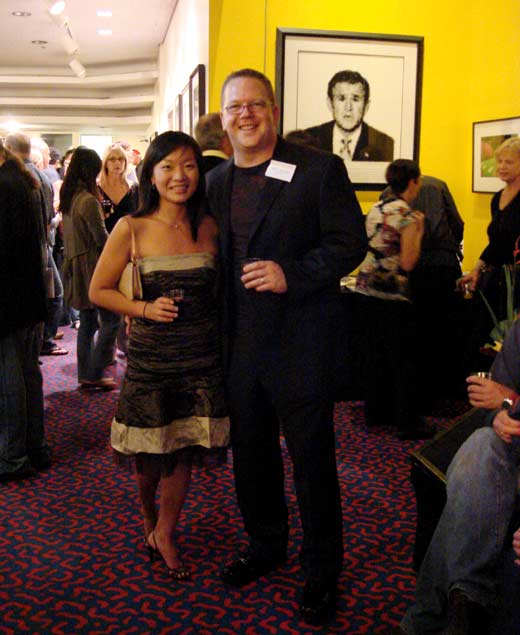 Hye and I went to the Art of Digital Show in San Diego, California to see the reception since we heard it was going to be awesome. In short, it was awesome. We had a fantastic time.
The show was packed and most of the downstairs was shoulder to shoulder. The show was very well put together as the artwork was selected by Neal Benezra, director of the San Francisco Museum of Modern Art (SFMOMA). It did seem a little heavy on the digital photography side but all the pieces worked well together. There was a great section of video art works that were all fantastic.
We were able to meet up with Joe Nalven from the digital art guild and his wife and several other fantastic artists. Some nice ladies even asked me to autograph their catalog of the show. I have to say I was flattered to the point of being somewhat in shock and at a loss for what to say other than "thanks!".
I will post pictures of my favorite works and and videos shortly when I get caught up with work.
Be sure to check it out if you are in San Diego! It runs through November 11th.
The Art of Digital Show
An international exhibition of digital art
at the elegant Lyceum Theatre Gallery
in San Diego's historic Gaslamp Quarter
Exhibition: October 6 - November 11, 2007
Judge: Neal Benezra
Director of the San Francisco Museum of Modern Art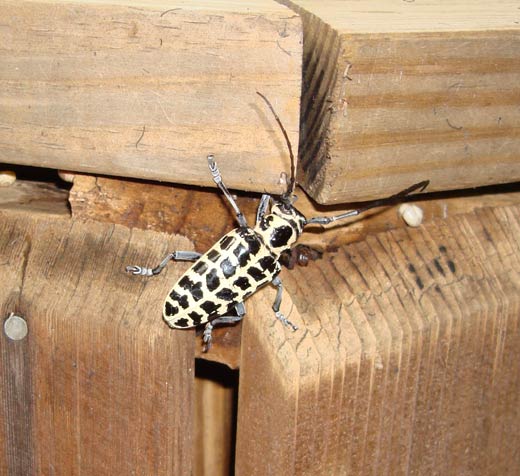 Plectrodera Scalator, also known as the cottonwood borer
This big beetle was crawling outside on the railing of our deck the other day. It is primarily found on cottonwoods, willows and maples. It was massive and the kids were amazed and scared at the same time!
Saving the LBJ 635 median tree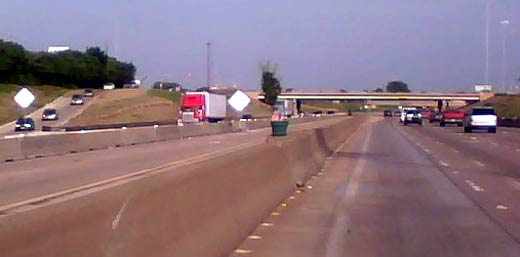 Tree and pot with soil that some nice/brave person left for the workers to save the tree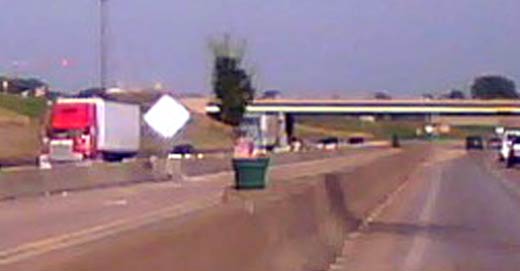 close up
Every day on my commute to work for the past 3 years I pass this small tree that is growing seemingly impossibly from a crack in the center median of LBJ 635 Highway here in Dallas. During the holidays someone puts decorations on it. It has become a symbol of the persistence and resilience of nature for me.
Now pre-construction widening of 635 to support the proposed trans-Texas corridor requires the destruction of this median. Some very brave soul got out of their car in the middle of the highway and left a pot with soil and a flag in it for construction workers to place the tree when the median is torn town.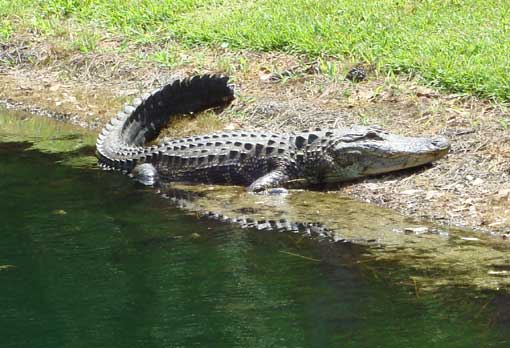 We just got back from vacation last week in South Carolina. The kids had a great time and so did we. We saw all kinds of nature on vacation, crabs, birds, turtles, dolphins, big fish, and this alligator.
Every day I kept telling the kids to look in the lagoons for alligators as we would drive by and we never saw any. They stopped believing me that there were alligators in the lagoons. The last day we saw this big 6 footer out tanning on the shore of a lagoon near my grandmothers place. They believe me now =)
I went to go check out the open show at 500x today too. It was much bigger than last year and almost overwhelming. It is most definitely worth checking out, I will try to post my pictures with a brief review soon.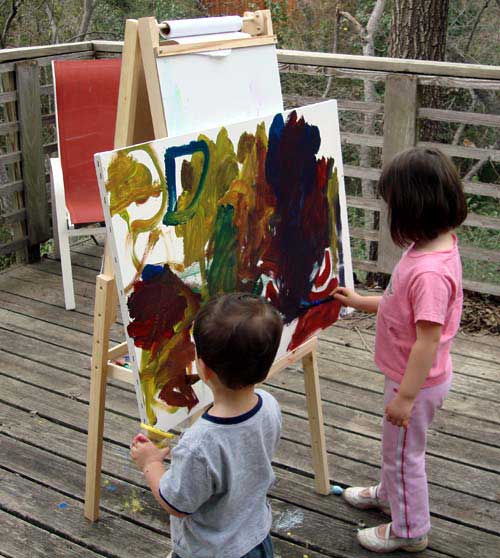 Sunday I had a spectactular time setting up my kids with paint and painting supplies out on the back deck. They had even more fun and filled the canvas. They were totally covered with paint by the end of the afternoon.
Sorry for the pause in posting. I just got a new computer last week and only recently managed to get all set up. ARS Combinatoria review with pictures coming soon!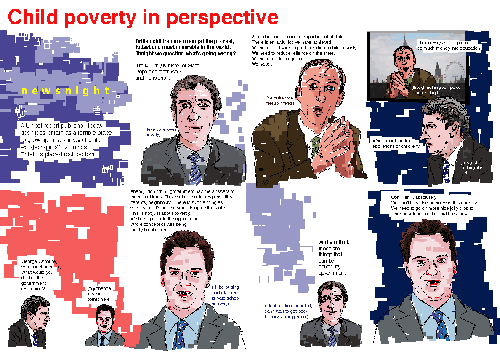 illustration by Dave Miller
"The UK has been accused of failing its children, as it comes bottom of a league table for child well-being across 21 industrialised countries." according to a BBC article. Dave Miller (whose blog I read) watched the UK politicians debate the issues and writes.."I felt angry: the politicians don't listen and look for excuses, they seem disinterested and disconnected, why should they care- their kids go to private schools, they went to private schools, they're unqualified to do these jobs, they have no interest in kids, they are discussing lives/ worlds they have no contact with or understanding, they just think of themselves."
This is sad but the same thing rings true here in the US where we only rank one notch higher in the UNICEF study than the UK. The polticians here don't care either. They campaign based on popularity polls not the issues and change their goals from what they promise the people to what they promised their campaign contributers as soon as they get into office.
I have 3 kids now and they get plenty of loving and nurturing, but it is a constant concern of mine how I am going to afford to get them the kind of education they deserve. The public school system in the US is a joke and the school system in Texas is ranked among the worst of the school systems in the US. Our current plan is to suck it up and save for private schools, my wallet says ouch!
It is amazing to me with the vast amount of tax dollars the govenment gets from us that they can't get the school system right. We are supposed to be a world super power but our schools can't afford advanced math, advanced science, art programs, bi-lingual or physical education programs. It is maddening.
theMillionDollarSite
A 19 year old college student who goes by the name of Joey has put up a site where he is selling pixels. You can buy pixels in 100 pixel blocks(10x10) for .05 cents a pixel right now, he just raised the price and plans to sell them for a dollar at some point. This is a pretty clever idea and an interesting experiment, so I had to get in on the action. I purchased a small plot of pixels right underneath the "journal" button at the top of the page. For 5 years I get a link from theMillionDollarSite.com to my site, a little ad, and a mouse rollover. Currently theMillionDollarSite.com is getting a lot of traffic and press including an article in wired. It is such an unusual concept its dificult to say whether it will work or not or whether it will be worth the money I spent.

A guy I work with runs a site called Lucid Pixel. He got in at .01 cent/ pixel and is a few inches below my ad. He is going to track his traffic too.

So I am tracking the number of unique visitors I get from this experiment. We will see if it is a lot of traffic or not.
Shockwave Arcade added to site
I have added a Shockwave Arcade to my site. The arcade games features several games I made myself while working at Blockdot or contracting for them. It also features several additional games. All the games are free and are tied in to the Kewlbox score boards and community.