Headbangers of the World Unite...Hell is Here by Marco Roso
Artwork removed at the request of the artist...Check out what Marco is doing now at www.dismagazine.com
Digital Graffiti 2010 Finalists announced
From http://www.digitalgraffiti.com/ the finalists for 2010 festival are announced. This year's Digital Graffiti looks like it is going to be even bigger than last year.
Organizers of the third annual "Digital Graffiti Festival at Alys Beach" said that they were overwhelmed by hundreds of extraordinary submissions from local, domestic and international artists.
Digital Graffiti is the world's first projection art festival, where artists use the latest technologies to project their original video and interactive artworks onto the iconic white walls of an entire beach resort town.
"We received entries from all over the U.S. as well as from digital artists in 17 other countries, including places such as Slovenia, Poland, Mexico, Greece, Australia, Bulgaria, Israel, Scotland, Argentina, Ireland, Italy, The Netherlands and Belgium, among others," said Kelli Arnold, Alys Beach's Events Coordinator. "From a field of nearly 300 entries, our selection committees narrowed it down to 36 amazing finalists."
On the night of Saturday, June 12th, those 36 finalists will compete for $10,000 in cash prizes, including a $5,000 "Best of Show" award sponsored by Alys Beach, a $2,000 prize for the most innovative/experimental creation sponsored by the Florida Office of Film & Entertainment, and a $1,000 "Best Local Submission" award sponsored by 30A.com. The 30A.com "Best Local Submission" honor will be awarded to an artist who resides full-time in Florida's Walton, Bay, Okaloosa, Santa Rosa, Bay or Washington County.
Winners will ultimately be decided by a panel of celebrity and industry judges, including Alan Hunter, film producer and MTV's very first "VJ"; Lucia Fishburne, The State of Florida's Film Commissioner; Colleen Duffley, professional photographer and owner of Studio b; and Brett Phares, professor of interactive media at Marist College in New York, among others.
The festival will be held from 8:30pm until Midnight on Saturday, June 12th, 2010, rain or shine. Advanced tickets are on sale now at www.alysbeachevents.ticketleap.com. Tickets are $15 for adults (12+) and $5 for children (ages 3-12) until May 14th. From May 15 through June 11, tickets are $20 for adults and $5 for children. Any tickets sold at the event gate will be $25 for adults and $10 for children.
2010 DIGITAL GRAFFITI FESTIVAL AT ALYS BEACH FINALISTS
The following works have been selected for display and competition during the 2010 Digital Graffiti Festival at Alys Beach:
"Aesthetic Species Maps" by David Montgomery of Fernandina Beach, Florida
"Alys Beach 3D Structure Projection" by Christopher Lee of Dothan, Alabama
"Eye Spy" by Russell Beans of Seacrest, Florida
"Five Portraits in Five Minutes" by Kasumi of Cleveland, Ohio
"Flightpattern" by Gwen Vanhee of Zedelgem, Belgium
"Frosti" by Matt Pearson of Brighton, United Kingdom
"Geometry of Poi" by Kate Riegle – van West of Chicago, Illinois
"Greenray" by Andre Rangel of Portugal
"Human Flux" by Nikola Mihov of Sofia, Bulgaria
"Inner Klänge" by Lemeh42 of Moterado, Italy
"JD's Fun House 2010? by John Daniel of Panama City, Florida
"Kaleidoscopia" by Andy McKeown of Shrewsbury, United Kingdom
"Laser Art" by Christopher Lee of Dothan, Alabama
"Luminous Curiosities" by Christina Pierson of Los Angeles, California
"Moonlit McGill" by Amber Bushnell of Missoula, Montana
"Night Walkers" by Yandell Walton of VIC, Australia
"Organic Cycles" by Kristen Regan of Pensacola, Florida
"Part of the Surge and Not the Sea" by Kevin Romoser of Wayne, New Jersey
"Planet Caliza" by Kurt Lischka of Santa Rosa Beach, Florida
"Re-Birth" by Said Dokins and Mauricio Rodriguez of Cuauhtemoc, Mexico
"Resonance" by Charles Raffety of Missoula, Montana
"Roberto" by David Terranova of New York, New York
"SAN" by Jackson Petit of The Bahamas
"Sousbleu" by Gwen Vanhee of Zedelgem, Belgium
"Take Care" by Matt Pearson of Brighton, United Kingdom
"The Ancient Mariner" by Michael Burton of Lincoln, Nebraska
"Transmission (32 channels)" by Sam Holden of London, United Kingdom
"True Fictions: Home of the Brave" by The Light Surgeons of London, United Kingdom
"UGOKU" by Kasumi of Cleveland, Ohio
"untitled_(memory)" by Matthew West of Sioux Falls, South Dakota
"Vacio" by Daniel Ivan of Amecameca, Mexico
"Void?" by Bala Boyd of Freeport, Florida
"Walkers" by Nick Rands of London, United Kingdom
"White Dishes" by Stephanie Paine of Lafayette, Indiana
"Winnipeg Stories: Sacrificial Memories" by Clint Enns of Winnipeg, Canada
Sincere thanks to the hundreds of artists worldwide who submitted amazing works of video art this year, and congrats and good luck to this year's 36 finalists!
Bombshell a new generative video by Don Relyea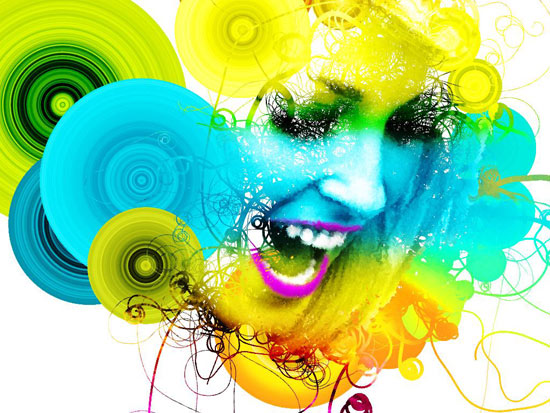 Still of Sharon Tate from Bombshell by Don Relyea 2010
Bombshell
This video is created real time in a custom particle painting program I created using c++ in openframeworks 0.06 + code blocks.
Influenced by the cold war, bombshells, Brigitte Bardot, Jane Mansfield, Marilyn Monroe, Elke Summer, Ann Margaret, Sophia Loren, Stella Stevens, Audrey Hepburn and artist Ed Paschke.
Music: "If we live our lives the right way" by Don Relyea, because I feel too lazy to bother getting this into itunes you can just have it, see the link below.
"If we live our lives the right way"(Bombshell Mix) ( 192khz MP3) Right Click to Download MP3
Bombshell from Don Relyea on Vimeo.
I made this piece specifically for the Alys Beach Digital Graffitti festival in the format they specified of 1024x768. Of course there is no guarantee Bombshell will get accepted as that festival is pretty competitive. Wish me luck =) So I will probably make standard aspect ratio HD versions for Culture TV and Janet Oh Gallery as well.
Generative Flowers II to be screened at the opening of the Oslo Screen Festival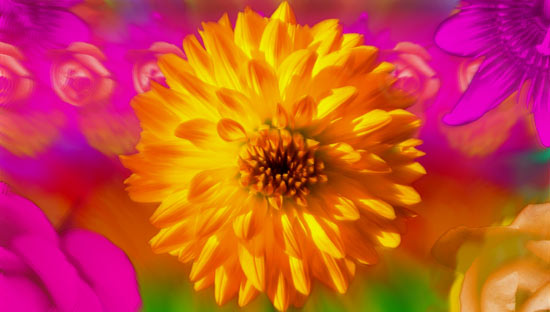 Still from Generative Flowers II by Don Relyea
Generative Flowers II will be screened at the opening of the Oslo Screen Festival, International Festival for Experimental Film & Video Art. The program looks fantastic this year! I am honored to be a part of it. The opening program is curated by Marjan van Mourik of CultureTV
International Festival for Experimental Film & Video Art
March 12th-14th
www.screenfestival.no

FRIDAY, MARCH 12th at BLÅ
Brenneriveien 9
21:00 Special screening Culture TV
Somnio, by Paulo Fernandez; Generative Flowers II, by Don Relyea; Baum, by Nicola Jeremic; Comedy, by Christophe Thockler; Parametabolic, by Robin Voshardt; Imaginary Numbers, by Daniel Piker; Fluxion.curb, by Christopher Warnow
www.culturetv.tv
21:30 Concert Center of the Universe
Inspired by Balkan music, jungle, dubstep, Arabian music, Greek rebetiko, French progrock and lo-fi; Center of the Universe has it's own remarkable sound. They have created music for installations, ballet and performance, published 11 albums, a bundle of remixes, and have performed an insane amount of concerts.

SATURDAY, MARCH 13th at FILMENS HUS
Dronningens gate 16
13:00 - Program 1
The delicate art of the bludgeon, by Jean-Gabriel Périot (FR); Still life with Mattias, by Endre Tveitan (NO); Train Watchers, by Agung Nugroho Widhi (ID); LYMS, by Ottar Ormstad (NO); Into Daylight, by SJ.Ramir (NZ); Distances, by Liliana Resnick (HR); Westcoast, by Ulu Braun (DE); Red Tape, by Lucas Treise (DE); Stone on Stone, by Rob Carter (USA).
14:20 - Program 2
En Milonga, by Guri Guri Henriksen (NO); Trapez Shortcut, by Josephin Böttger (DE); Silent Cry, by Wilfried Agricola de Cologne (DE); Edicisum, by Candas Sisman (TR); LoopLoop, by Patrick Bergeron (CA); Syncronisation, by Rimas Sakalauskas (LT); Way Fare, by Sylvia Schedelbauer (DE); Getaway, by Ingeborg Stana (NO); Cartolina Cellulare, by Peter Vadocz (HU); Dropping Furniture, by Harald Hund & Paul Horn (AT); Windshield Baby Gameboy Movie, by Clint Enns (CA).
15:30 - Special screening LOOP, Barcelona
Ailleurs, Katia Bourdarel, 2008. Courtesy of BK Galerie Bernhard BIschoff, Bern.
Last Year At Marienbad, Kota Ezawa, 2007. Courtesy of Galerie Anita Beckers, Frankfurt.
El Olvido II, Amparo Sard, 2009. Courtesy of N2 Galeria, Barcelona.
Planar, Arturo Fuentes, 2009. Courtesy of Galeria Llucià Homs, Barcelona.
Witness II, Michael Nyman, 2008. Courtesy of Galeria Senda, Barcelona.
La Licorne, Maïder Fortuné, 2006. Courtesy of Martine Aboucaya, Paris.
Sobremesa, Kaoru Katayama, 2007. Courtesy of Galeria Tomás March, Valencia.
Figuring Grounds, Gary Hill, 1985. Courtesy of Polígrafa Obra Gràfica, Barcelona.
*The video Figuring Grounds has been edited to accompany the book An Art of Limina. Gary Hill's Works and Writings, by George Quasha and Charles Stein, edited by Polígrafa, Barcelona, 2009.
www.loop-barcelona.com

16:40 - Program 3
Mamo, by Anders Weberg (SE); disLocation, by Katy Morrison (AU); The sun tattooed, by Shwan Dler Qaradaki (NO/IQ); Raumsonde, by Jürgen Hille (DE); Space Drawing No. 5, by Sai Hua Kuan (UK/SG); Requien Granular, by Tomaz Klotzel (BR); You and Me, by Karsten Krause (DE); Footsteps, by Robert Ciesla (FI); In the mix, by Jan Machacek (AT); Cheval Blême, by Philippe Rouy (FR); Is It Just Another War?, by Espen Faugstad (NO); Natur Kultur, by Geir Esben Østbye (NO).

19:00 - Artist talk and film screening with Per Teljer
Per Teljer (1970) is a Swedish artist working with video in a script based/narrative genre and he's mostly known for the videos Festen (English title: The Celebration, 2001) and Som det nu var (English title: Solidarity Lost, 2006). He's the leader of the time-based art department at Trondheim Academy of Fine Art.
Teljer is screening his latest film Stugan (English title: The Cabin, 2010, 53'). A compact chamber play between two old friends incarcerated in a lonely cabin during an ice-cold winter night. During the Oslo Screen Festival The Cabin will be screened for the first time.
www.teljer.com

SUNDAY, MARCH 14th at FILMENS HUS
Dronningens gate 16
13:00 - Norwegian Video Award/International Video Award
13:20 - Program 4
an*AMOR*phosis, by bicefaliKo (FR); Motholic mobble part 3, by Kaia Hugin (NO); Contra, by Vicent Gisbert Soler (ES); In Transit, by Reinhold Bidner (AT); Par Hasard, by Bull.Miletic (NO); Black Hole, by Johanna Reich (DE); Flights of Sleeping Birds, by Gayatri Kodikal (IN); Planet A, by Momoko Seto (FR/JP).
14:20 - Presentation with curator Wilfried Agricola de Cologne and special screening CologneOFF V - Taboo! Taboo?
White, Lin Fangsuo (China); How to clean a puddle, Roland Wegerer (Austria); Corporate Warfare, Casey McKee (USA); Noli Me Tangere, Masha Yosefpolsky (Israel); (Buried) Over the Roofs, Alex Lora (Spain); Siebensachen-One's Bits and Pieces, Anna Porzelt (Germany); ?Slapstick Social By, Frank Gatti (France); ?Pass, Istvan Rusvai (Hungary)
http://coff.newmediafest.org/
15:40 - Program 5
Copy City, by Denise Hauser (NO); Regents Canal, by Marc Atkinson & Leslie Deere (UK); Exótica, by Sérgio Cruz (PT/UK); Lek, by Wolfgang Lehmann (SE); The Red City, by Sabina Jacobsson (NO); There is a Lot of Joy too, by Johanna Lecklin (FI); My Father's Letters, by Yana Sakellion (RU); Aanaatt, by Max Hattler (UK); Stultifera Garden, by Johanna Domke (DE).
16:50 - Program 6
Vehicles, by Tina Willgren (SE); Jazkamer, Live at Club Urga, Tokyo, by Håvard Gjelseth (NO); The Shelling of Neon Lights, by Paola Vela (PE); Body Trail, by Michael Palm & Willi Dorner (AT); India, by Noemi Sjöberg (ES/SE); Heart Beat, by Mia Nikolic (RS); Grid, by Volker Schreiner (DE); In the Hall of the Mountain King, by Svein Johan Reisang (NO); Sansula, by Dirk Rauscher (DE); React, by Fabien Bourdier (FR).
18:30 - The Dream That Kicks presents 8ISM (Lillebil)
As a domestic format Super8 was wiped out by the rise of the camcorder, but its still around and used by filmmakers and artists the world over - its the gauge that wouldn't die! These six films show Super8 in all its dirty beauty, and highlight the love affair between the streets, Super8 and transgressive music. The Dream That Kicks is a project run by Greg Pope.
This Is A History Of New York (The Golden Dark Age Of Reason), Jem Cohen; Jimmy's Ballet, Jaap Pieters;
Guerillère Talks, Vivienne Dick;
De Blikjesman (The Tin Can Man), Jaap Pieters;
Patti Smith: Long For The City, Jem Cohen;
TG Physic Rally In Heaven, Derek Jarman.

Free entrance.
International Streaming Festival the Hague, Netherlands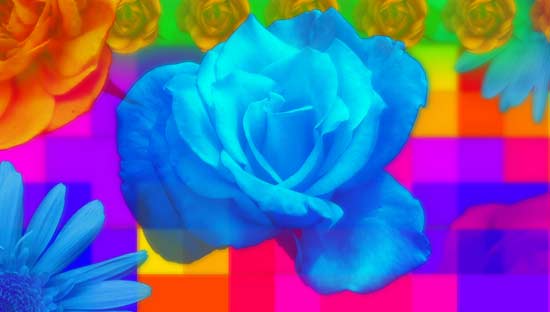 Still from Generative Flowers II by Don Relyea
Generative Flowers II is featured as part of the Generative X February 2010 Program International Streaming Festival the Hague, Netherlands.

This months program focuses on generative art with artworks from Daniel Piker, Glenn Marshall, Gwen Vanhee, Takmi Ikeda, Don Relyea and Christopher Warnow.
The program is curated by Marjan van Mourik for CultureTV
Data, it fails us now... youtube playlist updated

I have updated my glitch playlist on youtube with a ton of new videos, check it out if you have some time and enjoy digital detritus. The above video I think is my new favorite "Mac the Knife", it is Ben Hernstrom's entry for the 3rd Annual Public Domain Private Dominion - The Pittsburgh Creative Commons Film Festival. It is uploaded by user ambulantic.
I have also added the very well done and informative "how to datamosh part 1" by Datamosher the genius behind the Chairlift, Evident Utensil video. This video provides step by step instructions on how to data mosh in three parts as well as a link to the free software you need.
See: Data, it fails us now.
Alys Beach Digital Graffiti article in Art Digital Magazine

Well I can't believe it but I have stuffed my web server I have 3GB of space now all used up with art, music and content. I had to delete some old stuff just make this post. So I may be quiet for a week or so in order to move my hosting account to an unlimited space plan.
We went on vacation the other week and had a great time! I got some great footage of dolphins, jumping and flipping devil rays and some ok footage of the Alys Beach Digital Graffiti party we went to in Florida.
We had an awesome time at Alys Beach Digital graffiti party! MAX ETERNITY from Art Digital Magazine has published an article on my experiences there.

-
link to web site
-
June is going to be a busy month for me as far as video art goes. I will have stuff in NYC, Seoul Korea and Florida through most of June.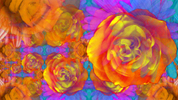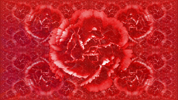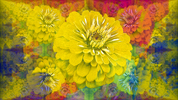 Video stills from Generative Flowers III by Don Relyea
Generative Flowers III in Digital Graffiti festival at Alys Beach Florida June 6th. Generative Flowers III is a computational piece and is intended to be a celebration of life. It draws flowers from gray scale alpha channels and then feeds back on itself. Environmentalist Mark Charneski contributed the magnificent flower photos and scans from which the alpha channels were extracted. Mark is with the Florida EPA.  
The Generative Flowers III algorithm creates a mathematical variant of the Cantor Set. Flowers are also naturally occurring mathematical expressions and work very well with the Cantor Set effect. The geometric progression of the Cantor Set is symbolic to me of the natural progression of life
Systemic Sky and Generative Flowers II on display at the W Hotel Wu Bar in Downtown Seoul, Korea through Lee Wells [PAM] and Janet Oh Gallery. May through the end of June
Slit scan projects part of Archetime Conference NYC brought to you by the Lower Manhattan Cultural Council, the Tank Space for Performing & Visual Arts, and the NYC Future Salon June 4th-June18th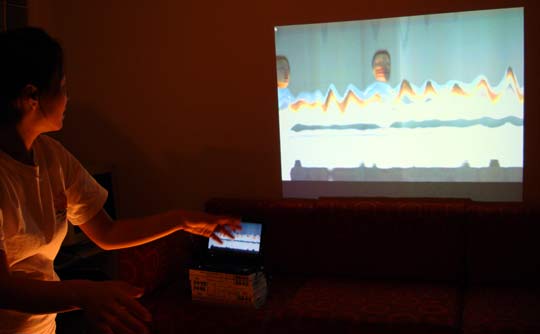 Hye and I were working on an installation proposal/proof of concept the other night for a slit scan video installation and got some cool pictures.
There are a several flavors of slit scan video that I am aware of, there is the kind like Zbig did back in the 80s, s where horizontal of vertical pixels of video are buffered and time displaced in some fashion so there is a time differential between the top and bottom of the video or between the left and right of the video as it plays. There is also the the more traditional variety that is similar to the original photographic process where columns or rows of pixels are scrolled vertically or horizontally.
What I am doing with this version is buffering the whole frame of video, while time is progressing from left to right we are making the horizontal slit position we are sampling variable and linking it to an fft making it audio reactive. This project is built in openframeworks. It is working really well and I will have to post a video of it soon.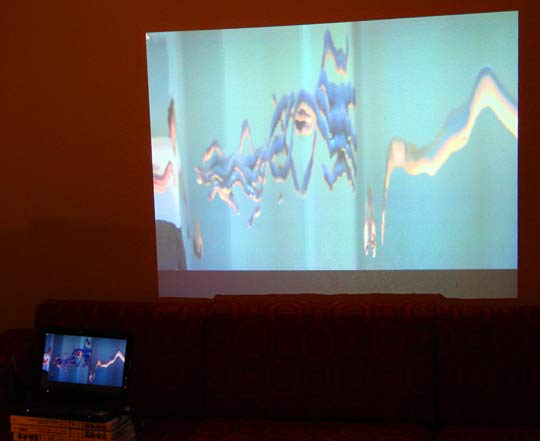 This project will published as part of the Archetime Conference and Exhibition. The actual installation will happen at a later date some time in 2010 in NYC.
The conference is at:
THE TANK SPACE FOR PERFORMING AND VISUAL ARTS
354 West 45 th St., New York, NY, 10036
Conference: June 6 - 7, 2009
Exhibition: June 4 - 14, 2009
ArcheTime conference and art exhibition aims to foster critical discourse between artistic, academic and scientific thought on Time. We endeavor to examine and compare the various models of Time that have been suggested across disciplinary boundaries. We invite participants from these divergent disciplines to come together and share their visions of Time in the spirit of multi-disciplinary collaboration and the search for new perspectives.
Processing videos by Glenn Marshall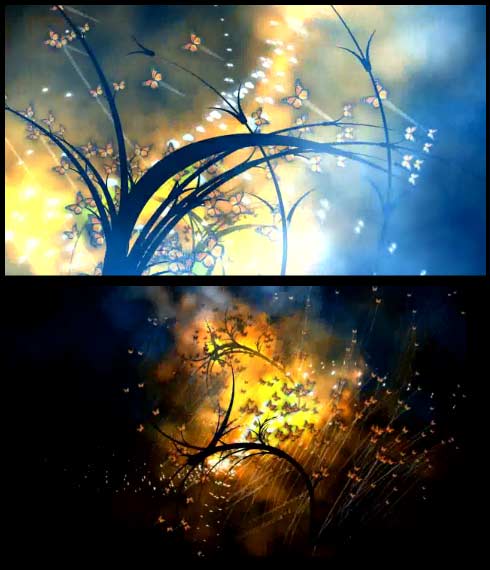 Metamorphosis by Glenn Marshall via Culture TV
Marshall writes..."Metamorphosis is programmed entirely in Processing, it's the follow up to my Music is Math video. I developed my 'zeno' animation system a bit more to allow for nebulous additive blending as well as a few other things. The music is by Boards of Canada again - the track 'Corsair' from the Geogaddi album."
It looks like Glen is doing visuals for the latest Peter Gabriel tour as well. Fun!
Keep a look out for more work by Glenn Marshall on his Blog: http://glennmarshall.wordpress.com/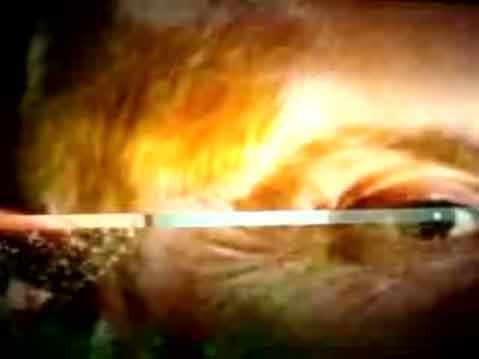 TV glitch sampler--Click to watch on my youtube account
So what we have here is a sampler of cable tv glitches captured last week. I have figured out that the old HD controller in my tv is incapable of rendering some HD signals with newer types of data streams. When the controller fails the picture is chunked and pixilated in spectacular fashion.
All I need to do next is figure out how to digitize the video directly from the TV and I will be all set up to do some great glitch videos. I am pretty sure I have all the equipment I need to hack a signal out of the TV, I just need to dig up some cables and find the external box for my media center laptop and I will be good to go!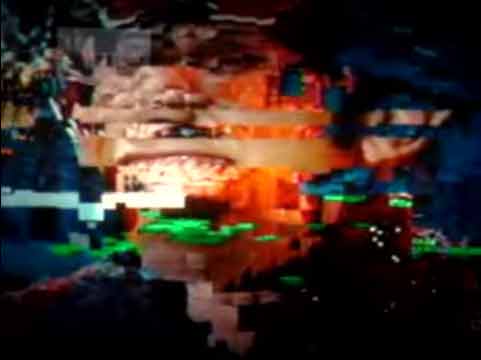 Ready mADE gLITch #2 --Click to watch on my youtube account
Ready made Glitch #2 is one of my favorites, its taken from the first series of glitches I captured a while back. It is from the tv series Lazy Town.
Dallas Video Festival is here again November 6-9th 2008

The Dallas Video Festival is fast approaching and once again I am kicking myself for not entering anything this year. I had some shorts to enter but just plain missed the call. Well maybe next year. It will be a good festival to check out.
One person who is not kicking themselves is my old buddy Thorrific who entered his piece Machine Gun Nose. Machine Gun Nose is an animated narrative that is funny, low brow, disturbing and thought provoking at the same time. Thor has a keen eye for cultural exaggeration and he exaggerates in this work quite nicely.
Disclaimer: Check this out in the pseudo - privacy of your home, it is not safe for the typical workplace. This short is not politically correct at all. You may want to skip this one if you have kids around or are easily offended.
If you watch this at work you may have to visit the Unemployment Processor at Analazation Amalgamation Corporation possibly get fired and be found Liable to be Rendered for Unemployment Processing.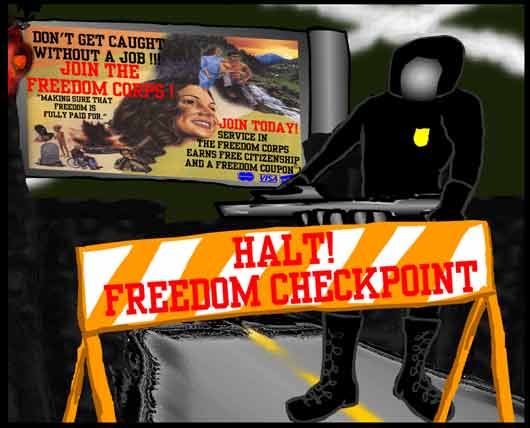 Machine Gun Nose by Thor Johnson aka Thorrific
Angelika Film Center, Sat. November 8, 10:45 pm
Brilliant Noise and 200 Nanowebbers by Semiconductor

I stumbled into Semiconductor on Vimeo and they are brilliant!
From their web site....
Semiconductor make moving image works which reveal our physical world in flux; cities in motion, shifting landscapes and systems in chaos. Since 1999 UK artists Ruth Jarman and Joe Gerhardt have worked with digital animation to transcend the constraints of time, scale and natural forces; they explore the world beyond human experience, questioning our very existence.



Brilliant Noise by Semiconductor on Vimeo
Brilliant Noise by Semiconductor films takes us into the data vaults of solar astronomy. After sifting through hundreds of thousands of computer files, made accessible via open access archives, Semiconductor have brought together some of the sun's finest unseen moments. These images have been kept in their most raw form, revealing the energetic particles and solar wind as a rain of white noise.


200 Nanowebbers by Semiconductor on Vimeo
For '200 Nanowebbers', Semiconductor have created a molecular web that is generated by Double Adaptor's live soundtrack. Using custom-made scripting, the melodies and rhythms spawn a nano scale environment that shifts and contorts to the audio resonance. Layers of energetic hand drawn animations, play over the simplest of vector shapes that form atomic scale associations. As the landscape flickers into existence by the light of trapped electron particles, substructures begin to take shape and resemble crystalline substances.

more slit scan kids test renders

I posted a few more test renderings of sample motion to get a better idea of where I want to go with this project. I am fortunate enough to have some people I can sort of choreograph to do these motion tests with, sort of =).
The video samples are not recorded on the best digital video camera in the world. My next test to try out some HD footage and see how painful that is going to be for my computer to process. I'm guessing it may take a while.
Experiment with a door and a spinning child.
I narrowed the gap in the frame displacement to yield a longer twist in the above sample..
All three kids totally abandoning their choreographic instructions, lol.
slit scan video test render done in openframeworks

I have been doing some new projects in openframeworks lately. I have been having lots of fun. This is a test render from one of my variations on slit scan video. I have bigger concept I am working towards with this project. It will be interesting to see where I get with it.
If you are into generative art and software based art and art tools you should check openframeworks out. It is very similar to processing except it is a framework for c++ and open GL. It is cross-platform and highly extensible. Having played with openframeworks now for a week or so I am pretty impressed with the ease I was able to get something up and running.
New audio visualizers in processing by Flight404


Solar, with lyrics. from flight404 on Vimeo.
Made with Processing. Audio by Goldfrapp ("Lovely Head" off her first album).

Working on a way to integrate lyrics into the visualizers. Read more about the process here...
flight404.com/blog/?p=111


Magnetic Ink, Process video from flight404 on Vimeo.
Made with Processing. Audio by Flashbulb ("In an Instant" from the album "Red Extensions Of Me") This is a time-based documentation of how the Magnetic Ink prints are created. The orbital vector is quite noticeable in this video. flight404.com/blog/?p=106
theflashbulb.net
A buddy of mine sent me this link today, Zumbakamera.com which is a collection of nice short animated films by Jossie Malis. These are quite well done, fun, entertaining and have interesting social commentary as well. Check them out.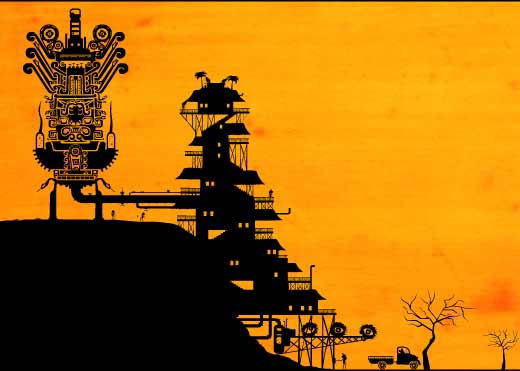 Bendito Machine by Jossie Malis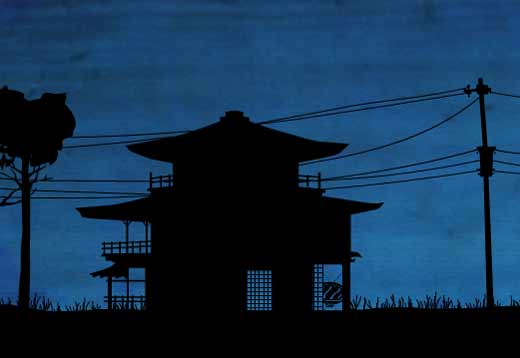 Good Morning Isamu by Jossie Malis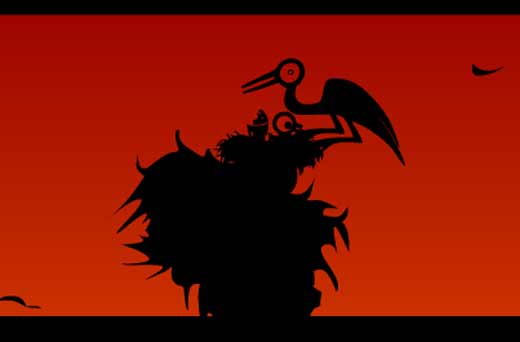 Pacha by Jossie Malis
Generative Flowers II now showing at Victory Plaza in downtown Dallas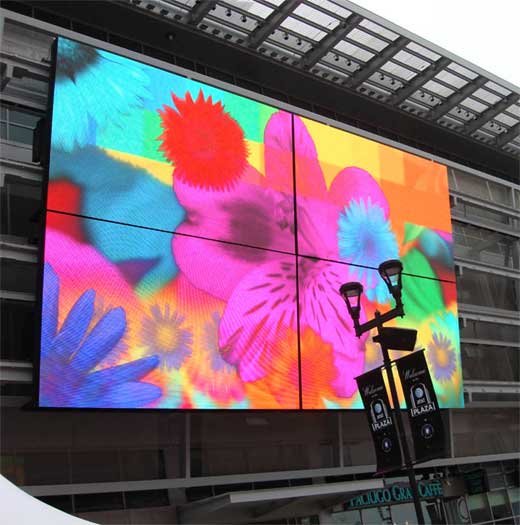 Generative Flowers II at Victory Plaza in downtown Dallas






Generative Flowers II at Victory Plaza in downtown Dallas (click to enlarge)
My work Generative Flowers II is now playing every day at Victory Plaza in Downtown Dallas. It looks really good although I wish I had made it a little longer. I bundled up the kids since it is really cold today and took them down there to go see it. They ran around the courtyard and got really excited when it came on. Then it started snowing a little and they lost interest in art all together.
Victory Media Network launch party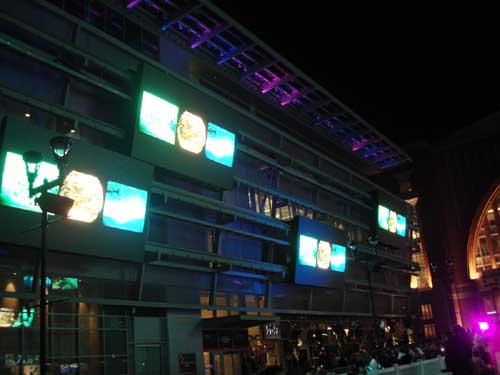 My wife and I went to the Victory Media Network launch party last night. It was impressive. The giant HD screens looked fantastic. This place should be a video art heaven provided it does not get whored out to too much advertising. That said, some of the advertising that they had between the art segments was actually better than some of the video art I saw. The Target ads were particularly well done. My work, Generative Flowers II will not be showing on these screens until some time next week. When I get the schedule I will post it on my main site page.
The entertainment for the evening was Addictive TV from the UK. They put on a very energetic and entertaining set. Their powers of live AV manipulation were impressive. They appeared to be scratching video much like a normal DJ scratches a record.
Real Time Contextual Art Generator video frame export added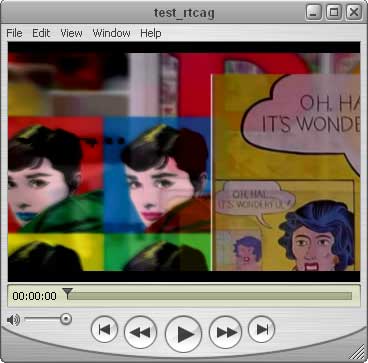 Above video generated with search for
"pop art" and "contextual art"

(click to launch 2.4mb quicktime in new window)
I got up early today and I went ahead and added the video frame export to the Real Time Contextual Art Generator. Now you can generate your own custom contextual video art by simply entering a search query. Download itHERE! (4mb rtcag_1_1_VID_Alpha.zip) ! Please email me( don at donrelyea.com ) with any bugs you find.
To export PNG Video Frames do the following:
1. Enter a Search query, "Billy Idol" for example.
2. Under the Video Mode pulldown menu select on off preview and you should see video moving now.
3. Under the Video Mode pulldown menu select on off render frames and you will be asked to chose a file name and location to save your video frames. The file name will be appended frame numbers automatically.
It is possible to adjust fonts and transparency while it is running. I like it best with maximum transparency, it tends to accidentally make fades and blends.
The Real Time Contextual Art Generator generates art from user entered queries.