The Aikon Project: computational drawing system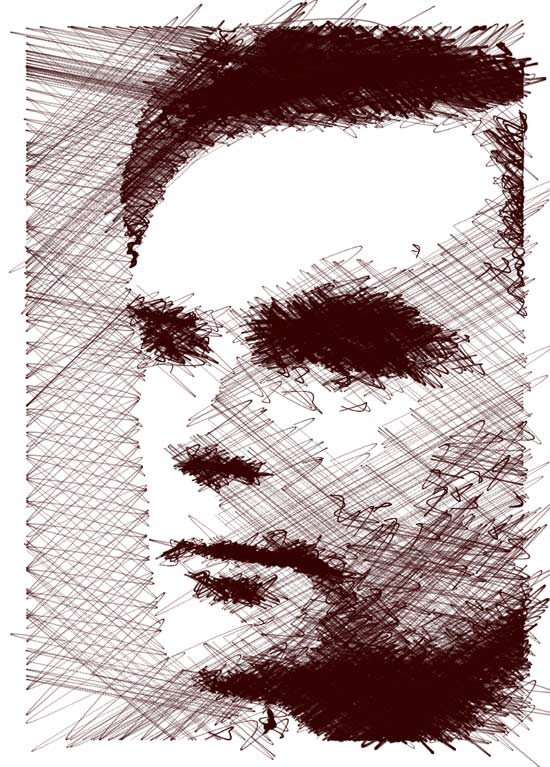 Alan Turing, 23 June 1912 – 7 June 1954. (Aikon, 2010)
Goldsmiths University of London has a great project called the Aikon Project. They have been awarded a grant to explore artistic drawing focusing on portraits. The Aikon Project is supported by a Leverhulme Trust 3 year research grant.

From their web site..."What can explain that for a non-draughtsman it proves so difficult to draw what they perceive so clearly, while an artist is able to do so sometimes just with a few lines, in a few seconds? Furthermore, how can an artist draw with an immediately recognizable style/manner? How can a few lines thrown spontaneously on paper be aesthetically pleasing? "
The sketch of Alan Turing above is really nice, it appears to be drawn with a single line. I love how at the point where the line takes a turn the lines weight gets a bit heavier just like it would with a felt tip pen.
From their web site..."The main objective of our investigation is to implement a computational system capable of simulating the various important processes involved in face sketching by artists. The ensemble of processes to be simulated, including; the visual perception the subject and the sketch, the drawing gestures, the cognitive activity: reasoning. the influence of the years of training, etc., the inter-processes information flows. "
The Aikon Project is very interesting to me as I have a similar one. I have been evolving my Hair Particle Drawing Project into a plain old particle drawing project that will employ a variety of types of marks, open cv, face recognition, etc. My strategy is to keep the particle framework and modify the particle classes to accommodate several marks, continuous line regions, erasing, emphasis, etc. I plan to use the face recognition libraries to determine where to place the really important lines and add extra emphasis. I have been reflecting a lot on how I draw in real life for this project and I have been trying calculate ways to approximate this process based on my own experience.
I am not as far along though and right now I only have some hatching, erasing and emphasis going on. Below is some output from last Fall.
Our British friends at Goldsmiths are basing a lot of their work on archives of sketches and artists notes so I imagine they will have a lot more information to feed their computational drawing system. I really look forward to following the progress of this project. They have a mailing list you can sign up for on their web site if you are interested in following it as well.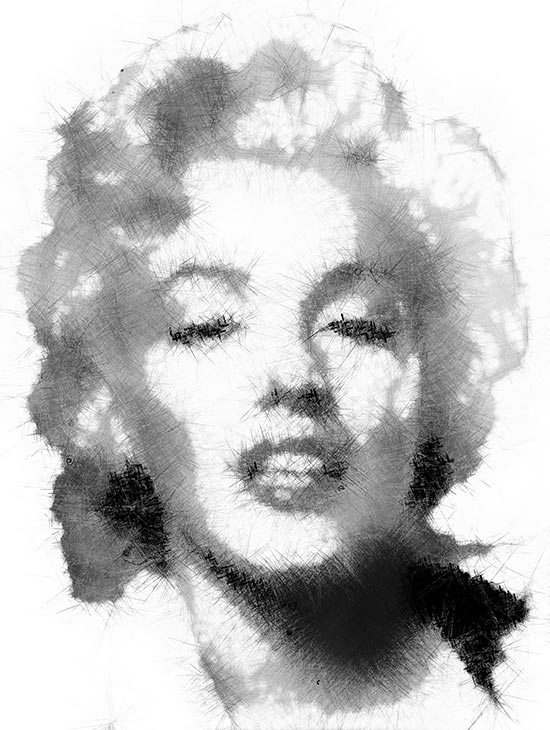 Marilyn Monroe, Don Relyea, Particle Drawing Project, 2009
Jen Stark hand cut paper sculptures and drawings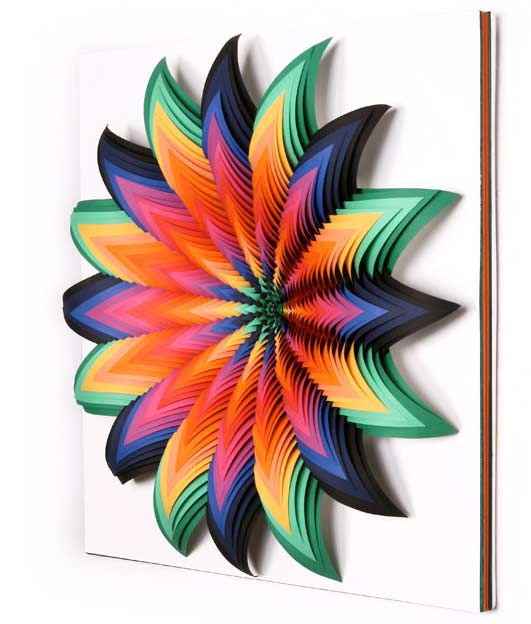 Jen Stark, Prismacolor, hand cut paper 2009
I ran across Jen Stark's work a while back somewhere and then ran across it again while reading a friends blog the other day and meant to post on her work.
Stark is primarily known for her hand cut paper sculptures but she also draws and designs. Her use of color is smart and well done.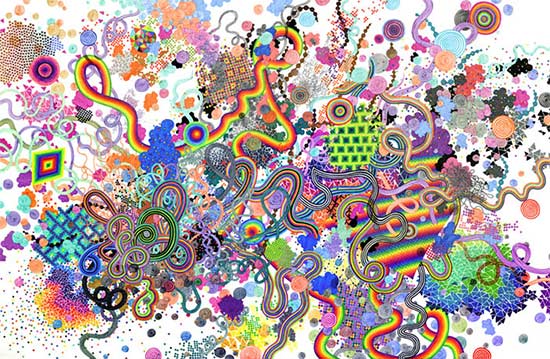 Jen Stark, High on Constellation, felt tip pen on paper, 2009
Stark's hand cut paper works and her drawings exhibit a great natural use of pattern as well. Be sure to visit her site. Her entire site is very well done, reminding me I have been meaning to clean my site up a bit this year as well =)
401_06 in Moscone Center and Meret Oppenheim at LAL Nude 2010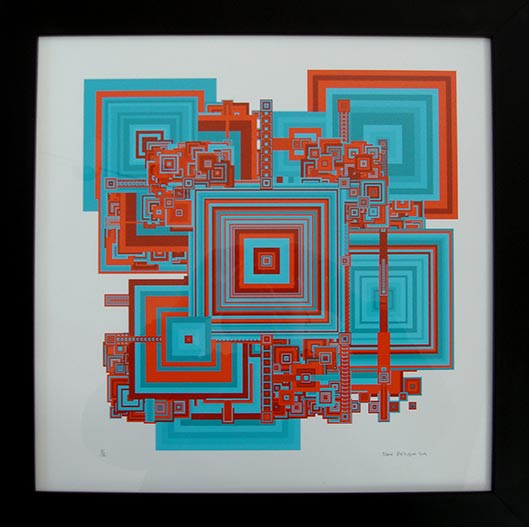 "401_06"
by Don Relyea at JMM 2010 Moscone Center, San Francisco
"401_06" from my Space Filling Curve project at the Mathematical Art Gallery in Moscone Center, San Francisco, CA. January 13-16, 2010, as part of the 2010 American Mathematical Society - Mathematical Association of America Joint Mathematics Meetings.

"Meret Oppenheim" from my Hair Particle Drawing Project will be on display at Nude 2010 January 16 – March 28, 2010 at the Lexington Art League galllery, Lexington Kentucky.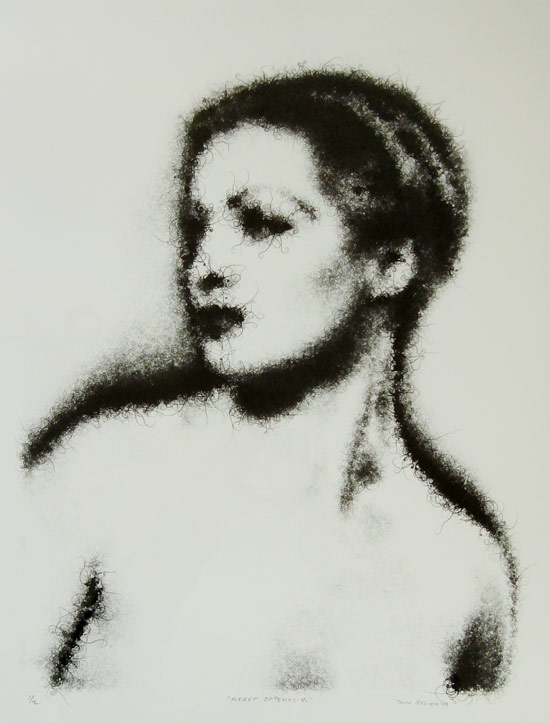 "Meret Oppenheim"
at LAL Nude 2010,
Lexington Art League galllery
, Lexington Kentucky
I received a lot of questions about the Meret Oppenheim piece from LAL and I thought I would share my commentary on the piece here as well.
The Meret Oppenheim piece was developed in C++ using Openframeworks.

Meret Oppenheim was the the artist loosely associated with the Dada movement who made the very famous fur lined teacup. The photo this image is sampled from was taken in 1937 by Man Ray. I thought Meret Oppenheim would be a great subject for a hair particle drawing project.

My "blank canvas" looks a little different from the usual artists "blank canvas". I create my work in a software compiler ( Code Blocks ) so my "blank canvas" looks more like a word processor. Only when the program is executed is the visual output realized.

The hair particles are not real hair but virtual approximations of growing hair generated by my software. I have several works using this drawing engine. It is based around a particle fx engine I wrote for a game some time ago. I altered the particles to behave like growing hair. In the early stages of development the particles rendered long and flowing hair with loose curls. In general, hair growing in darker areas grows longer, thicker and maintains a tighter curl. This is to preserve some of the detail that would get overgrown otherwise. Hair will continue to grow over time.

What is a hair particle? Video games are a good context to think about particles. When something explodes in a video game, debris flies everywhere. The debris is described visually using particles that keep track of various properties such as velocity, physics, scale, luminosity, color etc as the debris flies across the screen. Particles in the context of the Hair Particle Drawing Project can be thought of the same way but instead of a explosion metaphor, imagine 10's of thousands of pencils or dry point tools emanating from everywhere leaving a mark on the drawing plane to draw the portrait all at once. The particles are capable of behaving on their own and no two will ever behave exactly the same.