401_06 in Moscone Center and Meret Oppenheim at LAL Nude 2010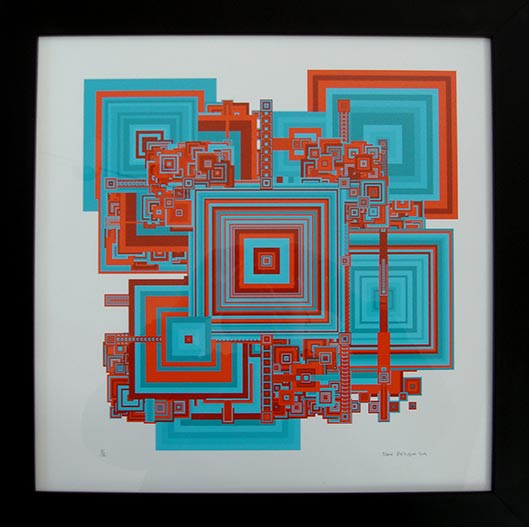 "401_06"
by Don Relyea at JMM 2010 Moscone Center, San Francisco
"401_06" from my Space Filling Curve project at the Mathematical Art Gallery in Moscone Center, San Francisco, CA. January 13-16, 2010, as part of the 2010 American Mathematical Society - Mathematical Association of America Joint Mathematics Meetings.

"Meret Oppenheim" from my Hair Particle Drawing Project will be on display at Nude 2010 January 16 – March 28, 2010 at the Lexington Art League galllery, Lexington Kentucky.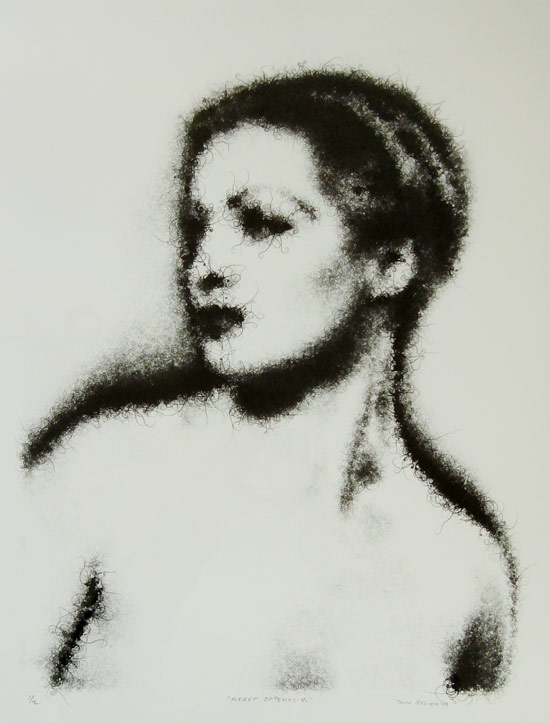 "Meret Oppenheim"
at LAL Nude 2010,
Lexington Art League galllery
, Lexington Kentucky
I received a lot of questions about the Meret Oppenheim piece from LAL and I thought I would share my commentary on the piece here as well.
The Meret Oppenheim piece was developed in C++ using Openframeworks.

Meret Oppenheim was the the artist loosely associated with the Dada movement who made the very famous fur lined teacup. The photo this image is sampled from was taken in 1937 by Man Ray. I thought Meret Oppenheim would be a great subject for a hair particle drawing project.

My "blank canvas" looks a little different from the usual artists "blank canvas". I create my work in a software compiler ( Code Blocks ) so my "blank canvas" looks more like a word processor. Only when the program is executed is the visual output realized.

The hair particles are not real hair but virtual approximations of growing hair generated by my software. I have several works using this drawing engine. It is based around a particle fx engine I wrote for a game some time ago. I altered the particles to behave like growing hair. In the early stages of development the particles rendered long and flowing hair with loose curls. In general, hair growing in darker areas grows longer, thicker and maintains a tighter curl. This is to preserve some of the detail that would get overgrown otherwise. Hair will continue to grow over time.

What is a hair particle? Video games are a good context to think about particles. When something explodes in a video game, debris flies everywhere. The debris is described visually using particles that keep track of various properties such as velocity, physics, scale, luminosity, color etc as the debris flies across the screen. Particles in the context of the Hair Particle Drawing Project can be thought of the same way but instead of a explosion metaphor, imagine 10's of thousands of pencils or dry point tools emanating from everywhere leaving a mark on the drawing plane to draw the portrait all at once. The particles are capable of behaving on their own and no two will ever behave exactly the same.