Sara AKA bonzaibondo is working on a MA degree project and stumbled onto my work while doing research. Bonzaibondo wrote a nice blog post about my work and had some questions about my use of geometry in my art and my thoughts on geometry in art.
I really like your work involving the generation of geometric shapes with programming in interactive applets. What would you say triggered your desire to use these types of shapes in your designs?
Since most of my work is created in some kind of programming language, it is natural to describe shapes and forms with math and both 2d and 3d geometry. I have always enjoyed math. From about 1999-2003 I developed severe sleep apnea, this deprived my brain of oxygen and meaningful sleep. Over that time I began to lose the ability to do math, solve complex problems, and even routine programming exercises became extremely difficult.
I thought I was losing my mind. When I figured out what was wrong and started treatment, it was as though I had just emerged from a thick fog into daylight. I immersed myself in math and exploratory programming with a new found zeal. The recovery and subsequent rediscovery of my love for math was the catalyst for the burst of abstract geometric and space-filling curve works.
And also considering how much emphasis has been placed on geometry in the past and the desire to create artwork based on exact measurements of shapes (e.g. the use of golden ratio), where do you see geometry fitting in contemporary art? And finally I would love to hear any comments you may have about the subject in general.
Geometry will always have a place in the world of contemporary art. Successful artists are successful manipulators. Geometry is a great foil for manipulation. Why is it that people are drawn to compositions with certain proportions? When something is out of proportion, why is it so jarring?
I think that a lot of the answers to these questions lie in neuroscience and the way our brains are wired to recognize patterns and forms. There have been a lot of recent studies that show that we have at a minimum 2 brain functions going on at the same time, the executive mind and the habitual mind. The executive mind is what we engage when we encounter something new or need to solve a problem, the habitual mind is our autopilot. This is not a new concept, ancient Zen masters were aware of this. The habitual mind is programmed through repetition to detect patterns and shapes and it keys in on certain proportions like golden ratios, facial symmetry, etc. As an artist you can play with this feature in your viewers brains to evoke a response.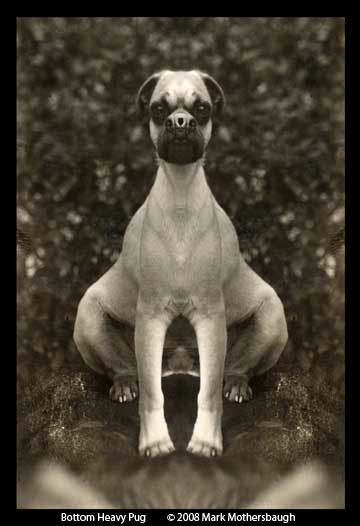 Mark Mothersbaugh's current exhibit at LACDA titled "Beautiful Mutants" is great example this manipulative technique in action. http://www.lacda.com/exhibits/mothersbaugh.html
In "Bottom Heavy Pug" Mothersbaugh is challenging both the executive and habitual mind simultaneously, the picture looks enough like the original that your habitual mind immediately identifies it as a dog. Your executive mind also immediately recognizes that there is something proportionally awry with the picture. The internal conflict makes the picture memorable and engaging.
Along the same line of reasoning, works that are geometrically exact are equally engaging. Geometric perfection is actually quite rare in nature and we can recognize when a form is artificially perfect. In "Bottom Heavy Pug" the vertical symmetry is exact, we recognize that this is uncommon and take note.
Stick em Up! Paulson, Bush and Bernanke execute the greatest heist in the history of the world

I finished my big bailout piece today. This sucker is designed to be printed big ( about 7 ft wide ) and does not translate well to the scale of the web. The cowboy bodies are from The Great Train Robbery (1903), directed and photographed by Edwin S. Porter from the close of the movie where the leader of the outlaw band, takes aim and fires point blank at the audience.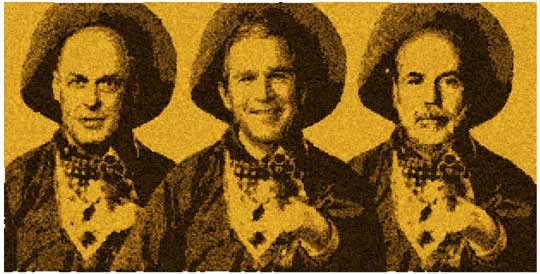 Stick em up! by Don Relyea (click to view all sizes on Flickr)
Paulson, Bush and Bernanke execute the greatest heist in the history of the world.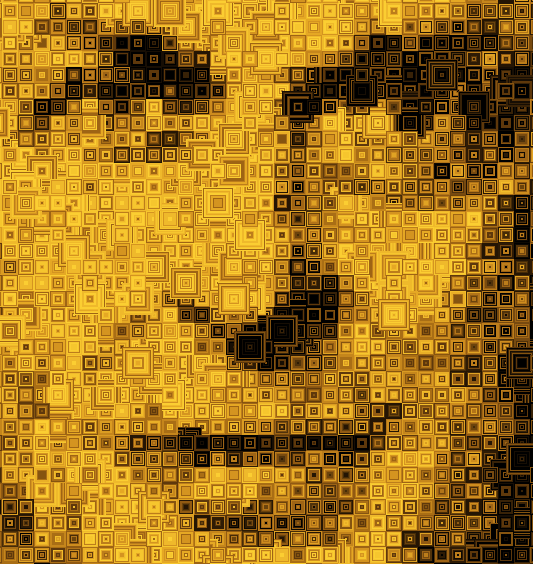 (click to view all sizes on Flickr)
Above a close up of Paulson. This work was created using a large format version of the Monochrome Generator. Monochrome Generator is part of the MONOCHROME Series at Incident.net
MONOCHROME / Series / Incident.net / 2007-08
I always forget to mention that I got the idea for this generator while checking out some Chuck Close prints at Dunn and Brown Contemporary here locally. If you look at the pictures of Close's work you can see what I was thinking.
Harry Reid hair particle sketch.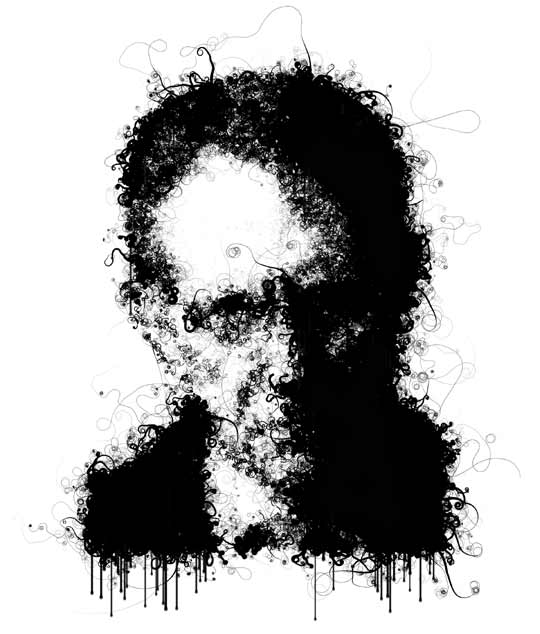 Hairy Reid sketch by Don Relyea
So after "110th Assembly, worst ever!" I was going to move on with other projects once again and try to put political art behind me. The horrendous bailout bill that my kids will be paying for with their hard earned tax dollars for the rest of their natural lives has angered me. So I am doing some exploratory sketches on the Senate leadership who pimped this atrocity to the congress against the will of the general population. Make no mistake about it, a general population is what we are.
I realize something needs to be done to free up the credit markets but it is disturbing to me that we are going to reward bad business decisions on such a massive scale while the individual tax payer gets little relief. The pork aspect of this bailout bill is insulting, CNN and Taxpayers for Common Sense have some insight into the pork factor, it includes a race track and provisions for wooden arrows among other things.
This picture of Harry Reid was done in the openframeworks version of my hair particle drawing program.
I may have to do another series on these senate clowns. This time though I am going to stick to black and white. I may choose to do fewer portraits and spend some time hunting for higher resolution source images. This sketch was done from a 147 pixel tall jpg. I think I need some better source images other than what I have been getting from the congress and senate web sites.
I also have a parody idea for a larger piece involving Bush, Paulson and Bernanke all in the same picture.
Artist Roy Stanfield is ejected from the Met

Artist Roy Stanfield is displaying new photos he is collecting in a daily blog format. They make for an interesting narrative and he is posting fairly regularly almost daily. Check them out. Click on the Photos to go his posts on his site.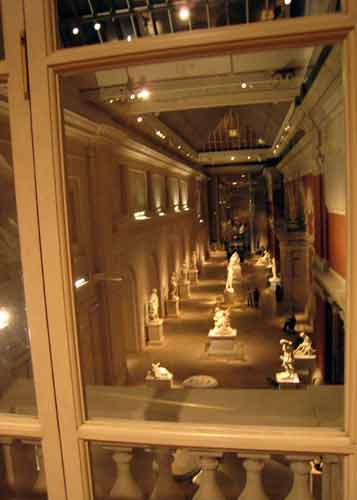 Stanfield took this photo of European sculpture while being ejected from the Met by security. Having been ejected from various places before I got a good chuckle out of this.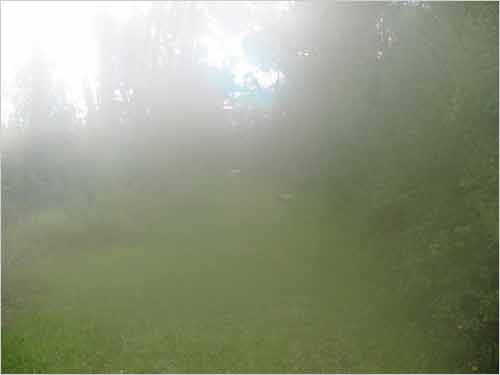 This is the last photo from dying camera that drank too much water from the humid gulf coast.
Dallas Video Festival is here again November 6-9th 2008

The Dallas Video Festival is fast approaching and once again I am kicking myself for not entering anything this year. I had some shorts to enter but just plain missed the call. Well maybe next year. It will be a good festival to check out.
One person who is not kicking themselves is my old buddy Thorrific who entered his piece Machine Gun Nose. Machine Gun Nose is an animated narrative that is funny, low brow, disturbing and thought provoking at the same time. Thor has a keen eye for cultural exaggeration and he exaggerates in this work quite nicely.
Disclaimer: Check this out in the pseudo - privacy of your home, it is not safe for the typical workplace. This short is not politically correct at all. You may want to skip this one if you have kids around or are easily offended.
If you watch this at work you may have to visit the Unemployment Processor at Analazation Amalgamation Corporation possibly get fired and be found Liable to be Rendered for Unemployment Processing.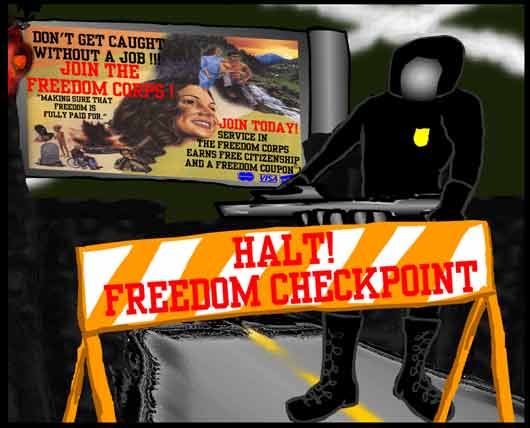 Machine Gun Nose by Thor Johnson aka Thorrific
Angelika Film Center, Sat. November 8, 10:45 pm