I have recently discovered the joys of digital slit scan imaging. This is nothing new in the world of imaging technology and photography, it has been around for a while. In fact Golan Levin has compiled a great page tracing the history of artists using slitscan imaging. There are also some interesting examples on Flickr. The basic concept is simple, you capture a row or column of pixels from a frame of a video to make one static image that represents a block of time.
I have all this HD video laying around from Systemic Sky so I had to try some experiments. The clouds make great subjects for this technique. 10 min of sunrise has a moving slit that traverses across the video frame as it is recording columns of pixels and reverses direction to capture the sun before and after it passes behind the cloud. I look forward to exploring this process further.
Chris Ashley Online Exhibition at Marjorie Wood Gallery

Only a few more days to go check out this exhibition online, it is really nice! It is up until January 31st 2008. Chris is selling these works as 8x11 prints as well, get them while they are hot!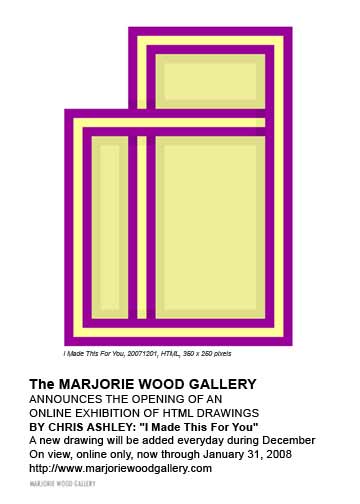 The MARJORIE WOOD GALLERY (http://www.marjoriewoodgallery.com) ANNOUNCES THE OPENING OF AN ONLINE EXHIBITION OF HTML DRAWINGS BY CHRIS ASHLEY
"I Made This For You" by Chris Ashley on view, online only, now through January 31, 2008 at THE MARJORIE WOOD GALLERY...
http://www.marjoriewoodgallery.com/exhibitions/ashley
*
The Marjorie Wood Gallery is pleased to present Bay Area artist Chris Ashley's "I Made This For You." Chris Ashley uses HTML to make colored tables that are rendered as images by a web browser. He calls these "drawings," which he has makes and posts daily on his blog (http://chrisashley.net/weblog/). Although the images he makes are typically "abstract" they often reference and allude to the real world. He tries daily to to make something that is beautiful, that is pictorially Interesting, and that responds to or embodies an idea or subject.
Each day during December he will make an HTML drawing that will be posted online at the Marjorie Wood Gallery Website, where they will accumulate during the month. The completed set of drawings will be exhibited through the end of January.
The exhibition is accompanied by an essay, "Painting on Water," by Oakland artist George Lawson (http://georgelawson.com/).
*
FOR MORE INFORMATION
Contact:
Marjorie Wood (415) 641-4967
The MARJORIE WOOD GALLERY is devoted to promoting innovation and experimentation in the visual and literary arts. commissioned projects by emerging and mid-career artists and writers are available to view at: http://www.marjoriewoodgallery.com.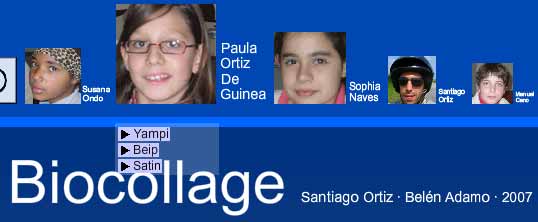 Biocollage is a technique for fantastic character's creation based on the combination of paper cutting, drawing and assembling (material collage) with parts digitalization, assemblage and kinetics and behaviour definition based on code writing (digital collage).

On a workshop with 5 to 10 kids, each kid creates one or more characters that will live on the island. While more workshops are done the island will increase its population.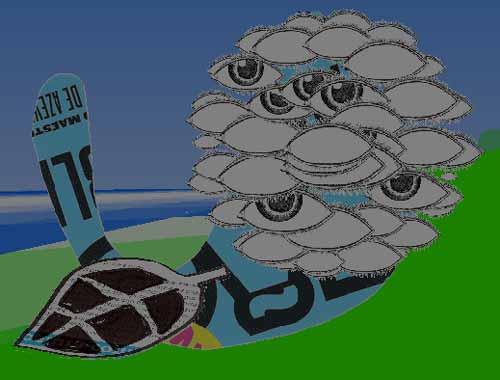 The first inhabitants of the island were created at La Laboral Art Center on 1st and 2nd December of 2007.
from rhizome artbase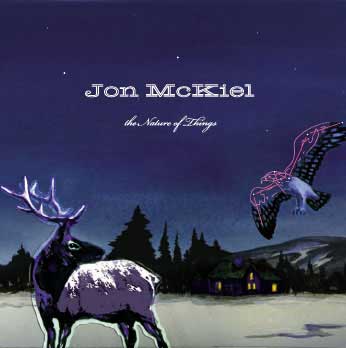 "The Nature of Things" by Canadian singer/songwriter Jon McKiel and his band is a great indie pop find. Their label emailed me a couple weeks ago to check it out and I did. It is great! The whole record good solid indie pop.
"The Nature of Things" recently won a place on The Coast's "Top 50 Album of 2006" and earned him the title of "Best New Artist", and was recorded by Thom Flowers at Boston's Fort Apache Studio, home to such indie staples as the Pixies' "Come on Pilgrim" and Radiohead's "The Bends". The record was mastered by Noah Mintz (The Dears, Stars, and Broken Social Scene) at Lacquer Channel in Toronto.
On February 12th Jon McKiel will release his "The Nature of Things" on Wednesday Records.
You can check out "War on You", which can be found at:
http://www.wednesdayrecords.com/waronyou.mp3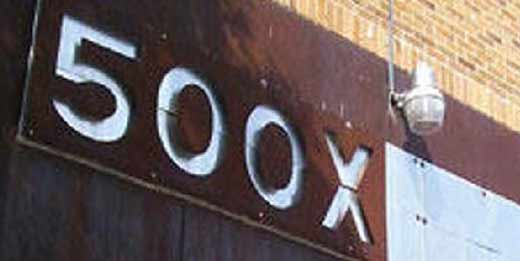 EXPO 2008
January 12 - February 2
Reception, featuring DJ Jeff Ross, January 12, 6-10PM
500X Gallery, Texas's oldest artist-run space, presents EXPO 2008, one of North Texas's most anticipated annual juried competitions. The exhibition, juried by Terri Thornton, is a survey of contemporary art including drawing, painting, sculpture, installation and video by Texas artists.
EXPO 2008 features works by:
Paul Abbott . Daniel Avazpour . Lane Banks . Kelly Berry . Michelle Brandt
Lori Brennen . Ezequiel Cambranis . Jennifer Dawson . Lanie DeLay
Oscar Duran . Josh Fletcher . Havi Frost . John Frost
Christine Garza-Mitchell . Lori Giesler . Nathaniel Glaspie
Bryan Gooding . Andrew Grimes . Ben Hancock . Mary Emma Hawthorne
Logan Hill . Clayton Hurt . Sean Ibanez . Kelly James . Jenny Jones
Kathryn Kelly . Joel Kiser . Amanda Kutsch . Anne Lawrence
Erin Machniak . Pate MacKenna . Devon Nowlin . Rosane Vochan O'Conor
Dylan O'Riley . Keri Oldhan . Barbara Pfaffenberger . Alicia Philley
J.R. Phillips . Nathan Porterfield . Jeffrey Primeaux . Michelle Proksell
Don Relyea . Ryder Richards . Brian Row . Brian Neal Sensabaugh
Terry Shuck . John Spriggins . Andrea Stigdon . Loran Thrasher
Kelly Ulcak . Mary Wester . Murielle White
About the Juror:

Terri Thornton is an artist and the Curator of Education at the Modern Art Museum of Fort Worth. Her work has been included in exhibitions throughout Texas and in Louisiana and Oklahoma. Her most recent exhibitions include Exhibition #11 at and/or Gallery in Dallas, Cherry Picked: 2007 Survey of Texas Art and Artists at Wichita Falls Museum of Art at Midwestern State University, and Ether, a collaboration with Frances Colpitt, at Testsite, Fluent~Collaborative in Austin. She earned a Master of Arts and a Master of Fine Arts from University of Dallas and a Bachelor of Fine Arts from University of North Texas.
1978 - 2008
30 Years of Promoting Emerging Texas Artists
Support your local art scene!