Verostko, Chiplotle and pen plotters

Roman Verostko , one of the original algorists, is also one of my favorite artists. He has been making exquisite algorithmic drawing using BASIC code and pen plotters outfitted with a variety of drawing tools including ink brushes since the 80's. I have seen some of his works in person and they quite nice. I hope to have one in my house one day as his work has been an inspiration..
From Verostko's site...."Exhibition platform displaying Verostko's plotted drawings and his DMP52 pen plotter. The opening event for FEEDBACK included his historic pen plotter actively creating work with algorithms dating from the 1980's. The original HODOS, written in BASIC, is implemented  using DOS running on a laptop.  The works on display include a painting (far left) generated with Roman's code driving  paint brushes mounted on the plotter's drawing arm."
I have always thought Verostko's plotter approach to algorithmic drawing and painting was clever and I have have always had an urge in the back of my mind to try a pen plotter project. The barriers to entry for just such a project have been lowered with Chiplotle!
Victor Adan and Douglas Repetto have released Chiplotle: an HPGL (Hewlett-Packard Graphics Language) Python API for HPGL compatible pen plotters.

From the release on Eugene...."Chiplotle is a Python library that implements and extends the HPGL (Hewlett-Packard Graphics Language) plotter control language. It supports all the standard HPGL commands as well as our own more complex compound HPGL commands, implemented as Python classes. Chiplotle also provides direct control of your HPGL-aware hardware via a standard usb<->serial port interface."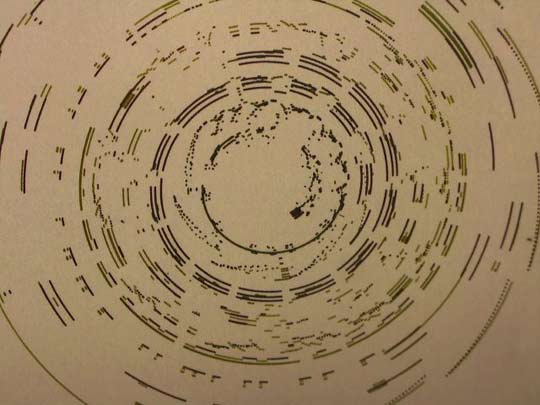 Above is most likely one of Victor Adan's scores visualized and then plotted using Chiplotle
A quick survey of Ebay shows that you can get some decent large format pen plotters for 80-400 dollars, not too bad.

See:
http://chiplotle.org
Chiplotle manual:
http://music.columbia.edu/cmc/chiplotle/manual/

More slitscan photo experiments from the weekend...here on my Flickr slit scan set. This piece has a lot of nice horizontal stripes from camera auto white balance settings.