Data, it fails us now... youtube playlist updated

I have updated my glitch playlist on youtube with a ton of new videos, check it out if you have some time and enjoy digital detritus. The above video I think is my new favorite "Mac the Knife", it is Ben Hernstrom's entry for the 3rd Annual Public Domain Private Dominion - The Pittsburgh Creative Commons Film Festival. It is uploaded by user ambulantic.
I have also added the very well done and informative "how to datamosh part 1" by Datamosher the genius behind the Chairlift, Evident Utensil video. This video provides step by step instructions on how to data mosh in three parts as well as a link to the free software you need.
See: Data, it fails us now.
Interview in Artworks Magazine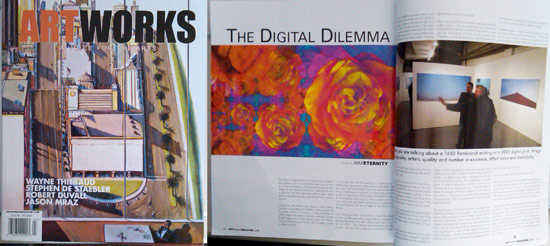 Big Thanks to Max Eternity, contributing writer to Artworks Magazine and editor of Art Digital Magazine who interviewed me a while back on my thoughts on digital art and provenance. He also interviewed Kristin Heming of Pace Prints, David Rudd of Cycleback, Rex Bruce of Lacda and Andy Weimer of Spaightwood Galleries.
The article is published in the Fall 2009 issue of Artworks Magazine and features a frame from my Generative Flowers III video art work.