Postmodern Modernist Art Generator Updated in 2010!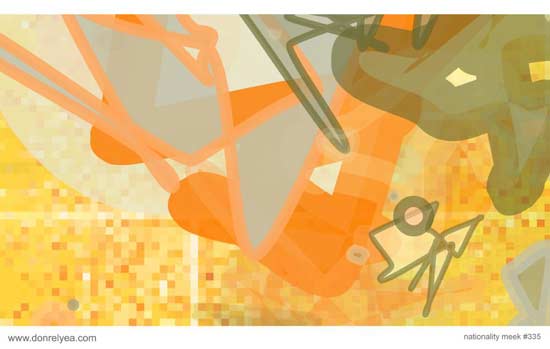 Postmodern Modernist featured in Art Digital Magazine September-October 2010 check it out!
Postmodern Modernist updated with modified algorithms and the ability operate autonomously! This project now creates art and promotes itself on the web without any intervention on my behalf.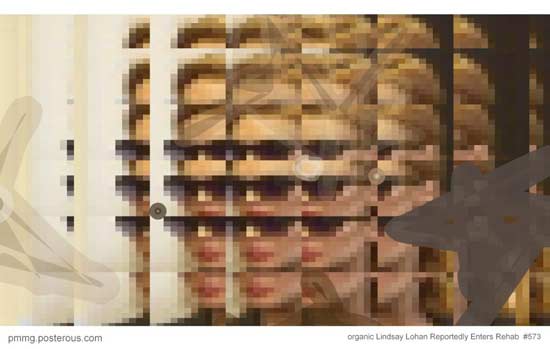 I have added the ability for the Postmodern Modernist to read news feeds and create works based off of current events. At the time of this update Lindsay Lohan is in the news so it will create works seeded by her image with greater frequency.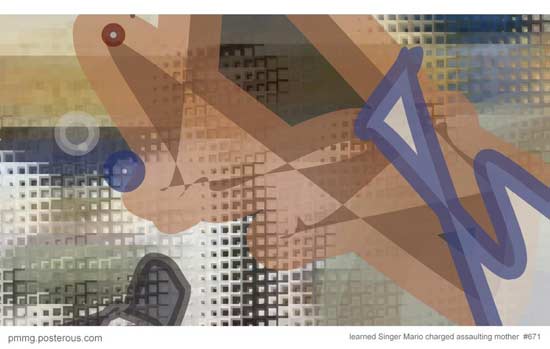 The updated algorithm is much improved from the old version. It now has a much wider variety of types of abstractions at its disposal. Its color database has been updated with new colors and it can generate a suite of color relationships from photos it discovers while reading the news feeds. The above color combination is pulled from a photo of R&B artist Mario who recently is alleged to have assaulted his mother.
The naming of the current event seeded works is handled crudely for now, I am thinking of ways to make this more interesting. Even so it will still make me laugh from time to time as it typically assigns an adjective to beginning which can transform the stripped headline in amusing ways, for example...."demonic Jon Stewart mocks Rick Sanchez controversy #320"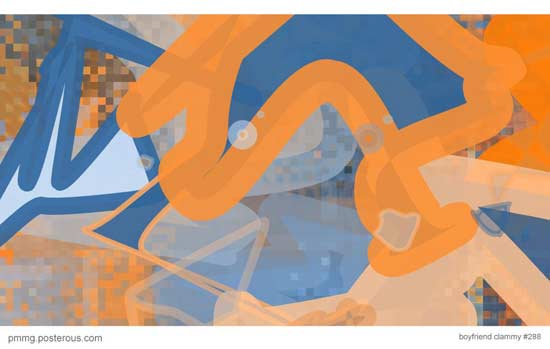 One of the things I always liked about this algorithm was the intentional big pixels that boldly yet nerdishly assert its digital lineage, I definitely kept the big pixels. The new algorithm still generates works completely from scratch like "boyfriend clammy #288" (shown above), and it now saves out a print resolution version of each file before it resizes it down to a more web friendly size. If you would like a print send me an email and let me know.
You can follow the Postmodern Modernist on its blog, twitter, tumblr or facebook page:
http://pmmg.posterous.com/
http://twitter.com/Hawt_Modernista
http://hawtmodernist.tumblr.com/
Add Hawt Modernista as your facebook friend today!