BUYPASS: an exhibition at Salvation Army Stores within all 5 boroughs NYC

William Brovelli is orchestrating a conceptual art exhibition across the 5 bouroughs during the month of January 2010.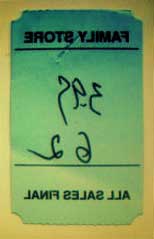 BUYPASS 
The idea is to encourage the spectator to purchase an item that will become the art object (À la readymade) This event is dedicated to the life and work of Ann T. Kenyon 1932-1994.
This (multiple space) solo exhibition is to take place within a 30 day period (Jan.1, 2010 –Jan.30, 2010) Location: all *Salvation Army locations within the five boroughs of NYC. 
The purchased (personalized) item as well as the exhibition card and documentation of the event (the receipt) becomes the art object. The artwork will not be recognized as such without all three elements in place.   Through the act of selection and purchase, the buyer becomes the main player via aesthetic control in the realization of the art object. It must be understood that this project is less about the Readymade per se as it is about using the readymade as a vehicle that will enable greater control on the part of the spectator in terms of deciding what or even if the art object is going to be.
There will be no artist reception, signatures or any other interaction between artist and spectator(s) during the exhibition.  Anytime after the 30 day exhibition period, participants may contact the artist for a free exhibition card that will validate the object.  (Postage paid by artist.)  www.williambrovelli.com   
*Note: The artist only suggests purchasing the object from the Salvation Army store. Any object not purchased from a Salvation Army store and accompanied by a receipt that falls within the exhibition date, will be considered void in terms of  its relation to this project and exhibition. The Salvation Army is not affiliated with the artist or this project.
From William Brovelli and ArtSlant