Timeline Project by William Brovelli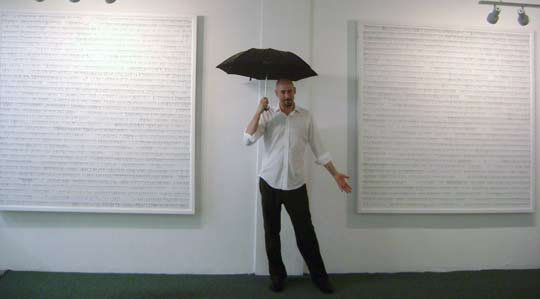 Conceptual artist William Brovelli in front of "Timeline Project"
William Brovelli is a conceptual artist living in NYC. His work "Timeline project" is process based.
Brovelli writes... "The project consists of producing hundreds of thousands of hand-drawn figures that will be used as material for a case study documenting an evolution of the image. The figure is used as mental template which can be viewed as a cylinder that is divided into distinct sections that allow for a wide variation of moves. This neurological mapping will span a lifetime with all other urges towards conventional art making to be suspended to preserve the integrity of the project."
Brovelli was strongly influenced by the arcade game phenomenon and it influences the processes and concepts of his work greatly. He writes..." The act of starts and stops, moving through levels and keeping score as well as trying to advance towards a higher score are all key factors in the overall scheme of figure production. The finished sheets are framed in a 6ftx6ft white shadowbox simulating the arcade game encasement. "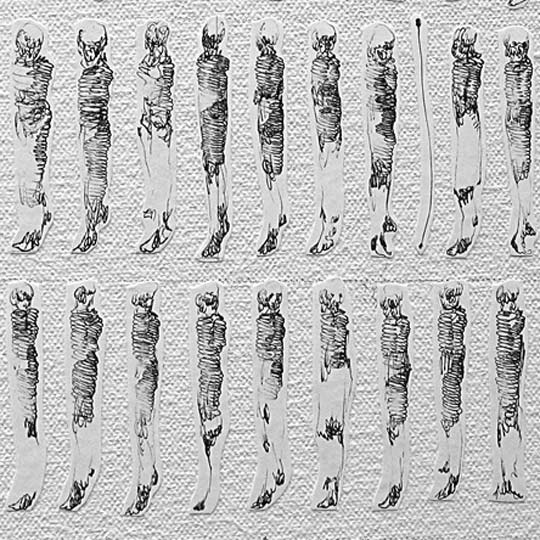 close up of "Timeline project" by William Brovelli

He relates the process to the game experience..."The core drive in the mind of the player/artist when engaging in the game is the act of racing against time and the preservation of one's immortality. This act is symbolic yet the implications are very real."
It would appear from his website that he intends to continue this process approximately 3 hours a day for the rest of his life. He estimates before he dies he will be able to complete 879.4 canvases containing around 3,120 tiny 2 inch figures per canvas.