Welcome to donrelyea.com
Welcome to donrelyea.com, the online home of Don Relyea, artist, musician and programmer. My site is undergoing a gradual reconstruction, it has evolved slowly over 10 years. I have uploaded a variety of free mp3s, art, screensavers and wallpapers all made by me. You can download mp3s from Ropelab, evilcomputergenius, and 7 Vials. Help yourselves! I have been uploading new art, music and screensavers pretty frequently so check back often.
Hilbert Space Filling Curve Abstract Geometric Art
New! Hilbert program output gallery! A dozen or so large images generated with tweaks of the algorithm.
Flowers and Stars Giclee Print Gallery
The Flowers and Stars series of museum quality giclee prints is available now. Each edition is limited to 18 prints, when an edition is sold out there will be no more of that edition printed ever. All prints are printed on heavy weight museum quality archival paper with museum quality archival ink. Each print is hand signed and editioned by the artist in pencil and comes with a certificate of authenticity also hand signed by the artist. All prints are 9x6.6 inches and suitable for framing.
To see all available prints or buy one check out the Flowers and Stars Giclee Print gallery.
The Good, the Bad and the Ugly: Animated Pixel Art Portraits



Click to enlarge image.

This series is a collection of animated pixel drawing engines that sample pixels and draw an image while you watch. I have organized the collection into three pop culture-esque categories; the Good the Bad, and the Ugly.

I am going to be adding to this section periodically as the wheels of time, pop culture and the mass media provide good candidates for these art engines to process.
Animated Algorithmic Art Studies



Click to enlarge image.

I have created a collection of animated art engines that sample pixels and draw an image while you watch. The engines directly sample pixels from source imagery as well as draw based on sine, cosine and other math functions. I am going to be adding to this series periodically as I come up with good subject matter for these art engines to process.

Currently I have been investigating how the engines process mechanical versus organic subject matter but who knows where it will lead.
Asteroid Mining Base Screensaver
Watch mining transport spacecraft run supply routes across ancient alien terrain. See drone saucers fly over the refining facilities and transport craft carry cargo to the mother ship. This screensaver is entirely modeled with lingo code. Features a Blade Runner-esque ambient electronic sound scape also by me(Don Relyea).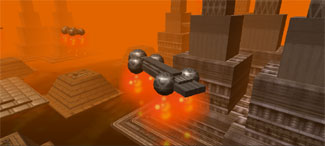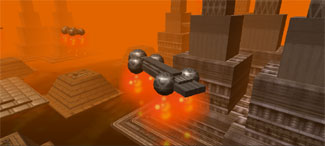 Asteroid Mining Base Screensaver with music installer(7mb Windows only).
Asteroid Mining Base Screensaver with NO music installer(4mb Windows only).
Star Wars Episode III Hunt for Grievous featured on Conan O'Brien Show!


I Developed the 3d game engine for the Chase mini-game in the Star Wars Episode III Hunt for Grievous online promotion for Skittles.com. The game was released in late March 2005 by Dallas interactive game company Blockdot. The game was featured on the Conan O'Brien show (link to video)

Real time contextual visual art on demand.
The Real Time Contextual Art Layout Generator(250k opens in new window) is the first in a series of almost a dozen interactive contextual pieces that I am working on. The concepts and theories behind the work are located on the "Real Time Contextual Art Generator Theory" page. Essentially it uses the Google image search engine to contextually match images with user entered query terms. It takes those images and text and then algorithmically lays them out using the rule of thirds and so on.
The above images are real time algorithmically generated images from the query terms "disgust", "disfigured" and "toilet art". When I complete my series later this year (2005) or next year, I intend to solicit locations for a large physical display space using projectors and some undisclosed technical tomfoolery to allow people to interact with the contextual art in real time. Go ahead and play with the Real Time Contextual Art Layout Generator, you know you want to.
Space Battle Screensaver 1.0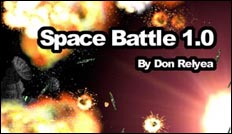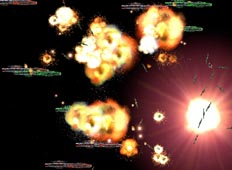 Witness an infinite unrelenting Sci Fi battle of epic proportions. Watch squads of fighters attack destroyer class ships and the survivors regroup with other fighters to form new squads.

This Screensaver features amazing pyrotechnic displays and fantastic explosions! No battle is exactly alike!
Download it for free! Free Space Battle 1.0 installer(Windows only). This is the single monitor version. I am almost complete with the dual monitor version, I will post it when I am done.
Algorithmic Art Screensaver var08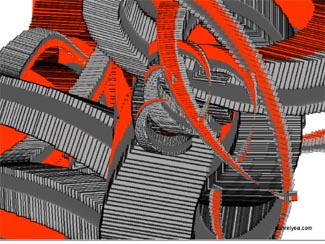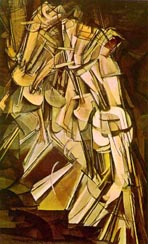 This screensaver is similar to my very old yet popular neo-futurist art generator shockwave movie done way back in 1995. That work was partially inspired by the Italian Futurist Cubist art movement. This work is based on an interactive algorithmic art work inspired by the neo-futurist art generator.
Algorithmic Art Screensaver var08(2mb Windows only).
Michael Jackson Toast on Ebay


The Michael Jackson toast auction on ebay is closed. See my blog for the details of this auction. It was great fun. Naturally I have created a screensaver and desktop wallpapers to comemorate this unusual ebay item. I'm still getting smart questions from ebay users about this auction some that makemy day! The toast has most recently been featured by the Inquirer.net

New mp3 track released! Unstoppable!
Unstoppable (breaks dance extended mix) (10mb) | Unstoppable (no sample mix) (8mb) Pounding new track, one of my most accessible tracks yet!
Beautiful Flowers Screensaver 1.0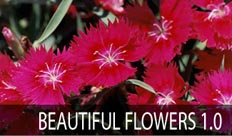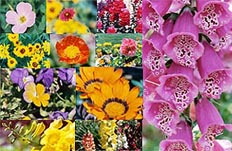 Beautiful Flowers Screensaver 1.0 released. It features a collection of 27 professional photographs of Springtime flowers from the Dallas Arboretum!
Download the Free Screensaver(9mb)